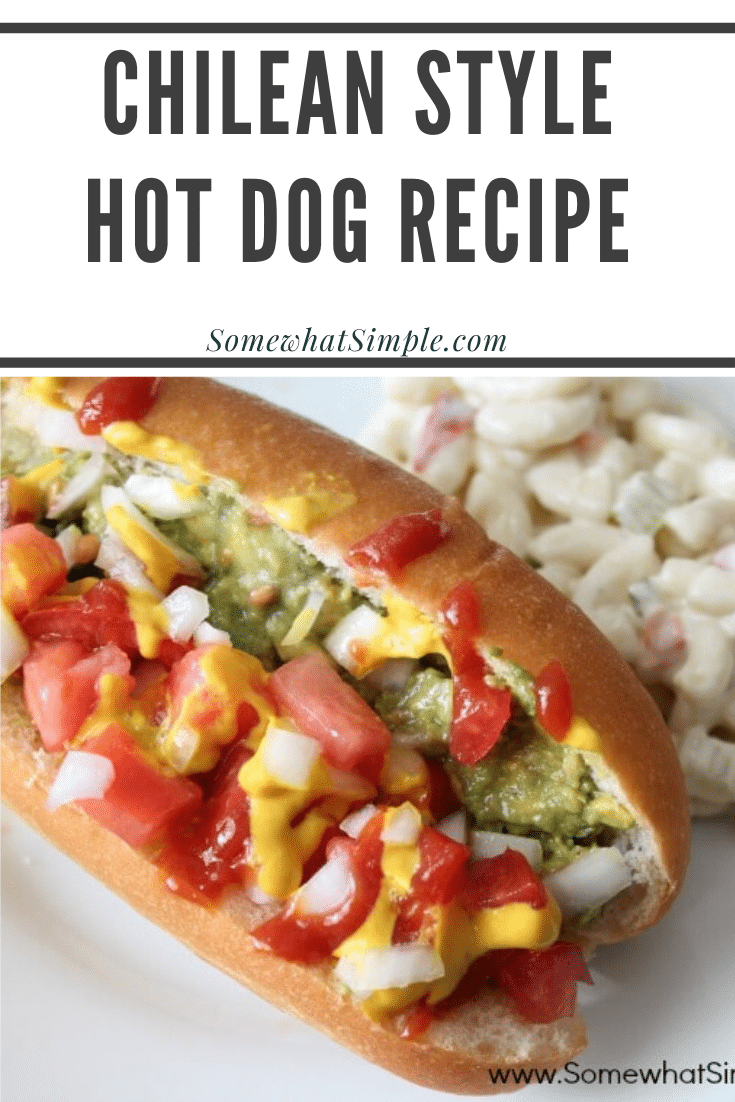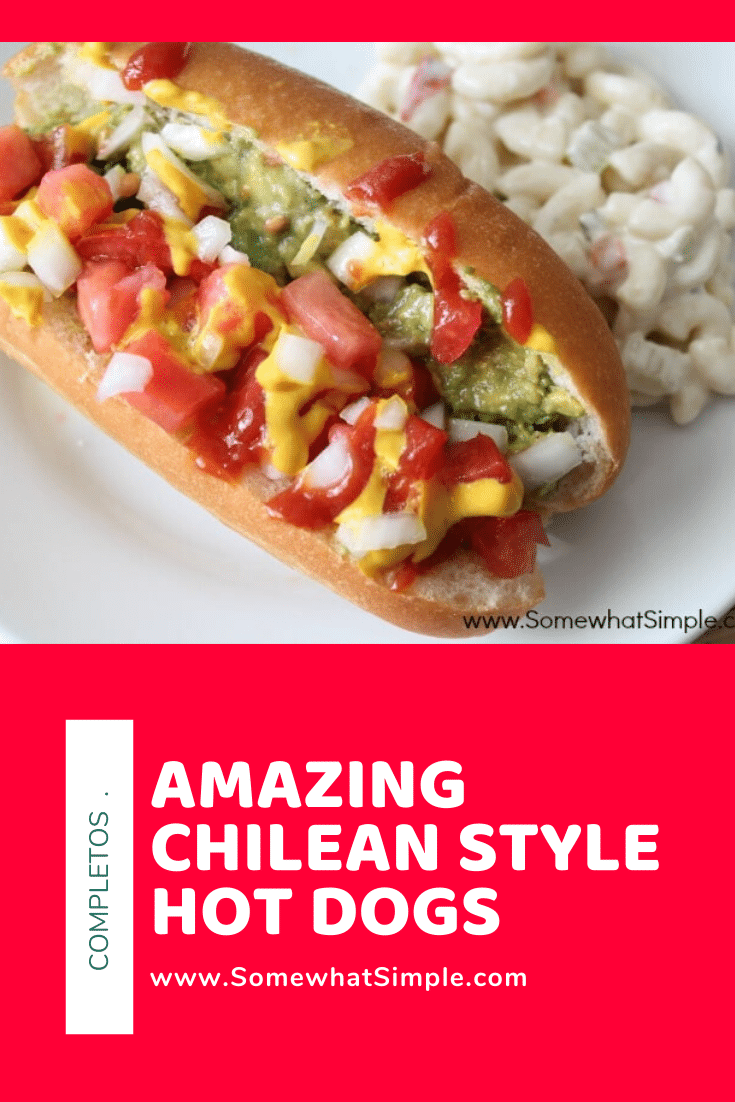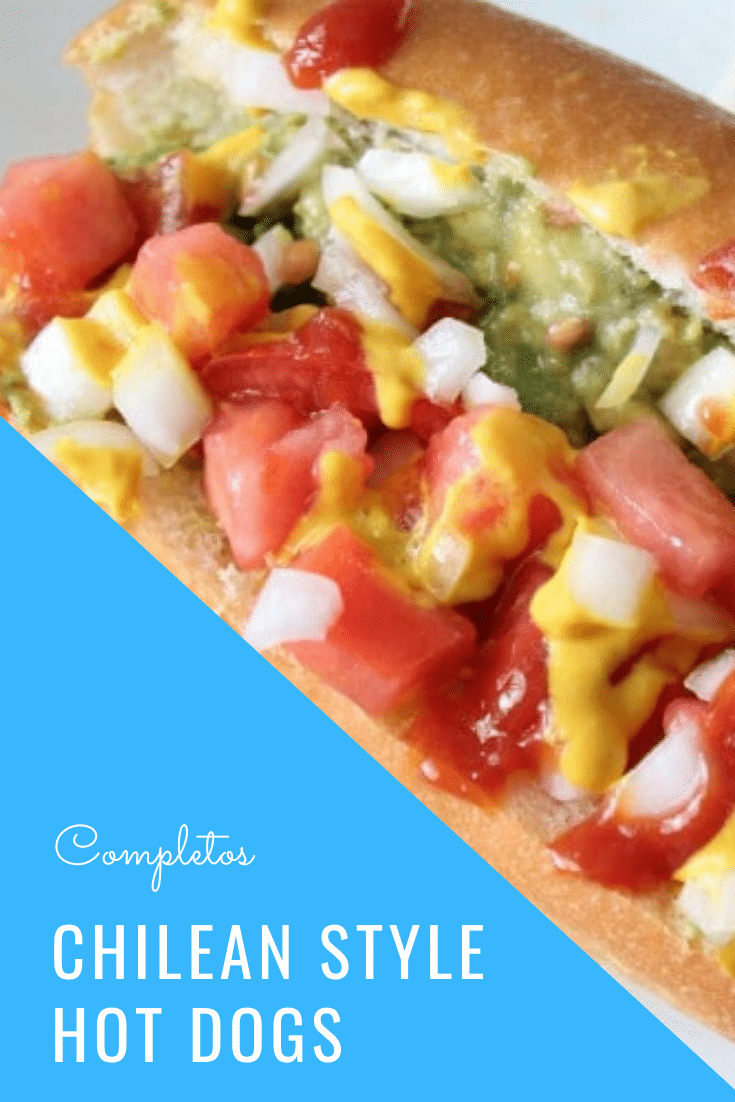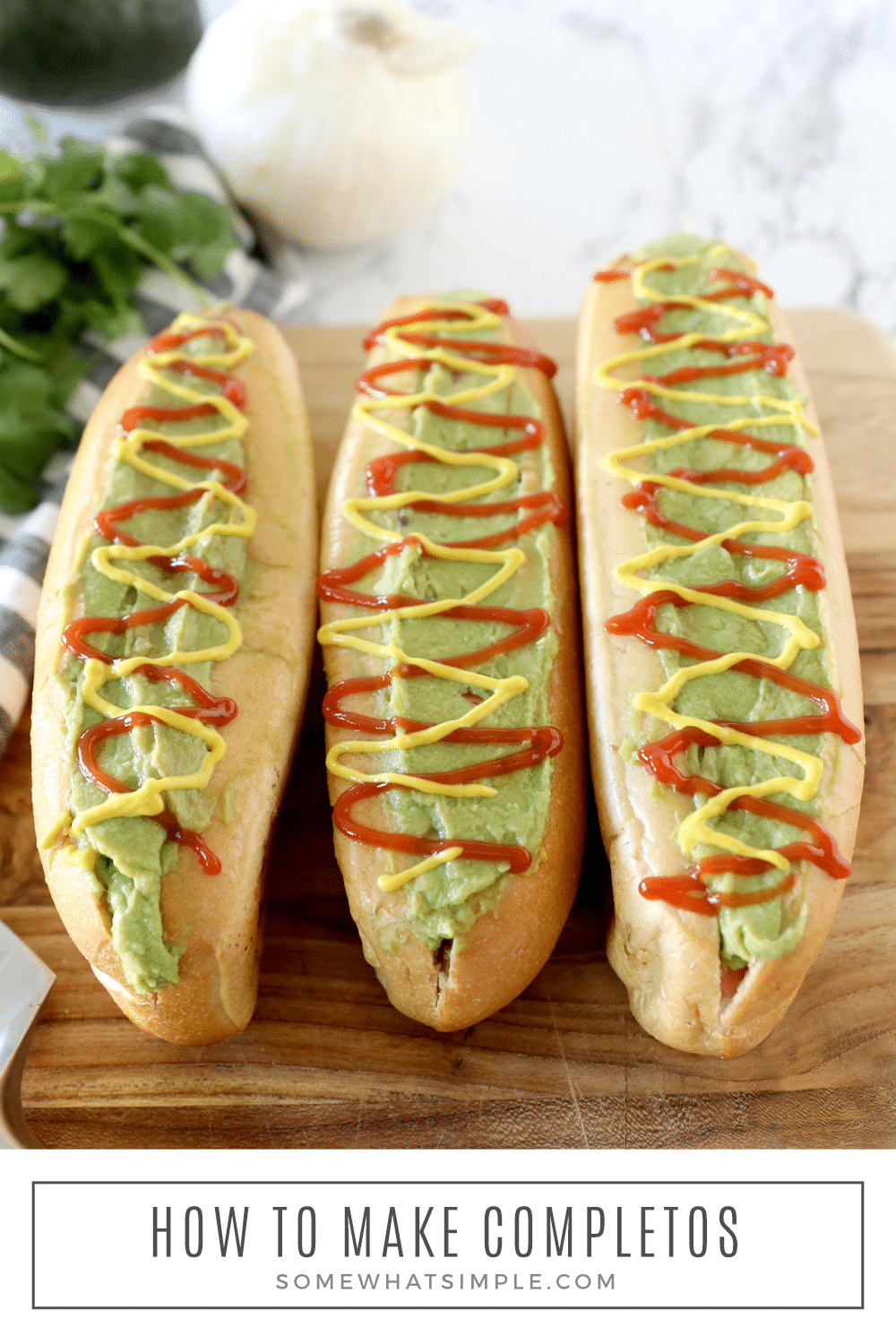 One of my husband's favorite meals, when he lived in Chile, was Chilean-style hot dogs called Completos. Filled with several delicious toppings, you'll never eat a hot dog the same way again.
We love making this fun recipe every time we host a Summer BBQ. Add a full rack of these Tender Ribs, Grilled Chicken Skewers, and Fresh Lemonade to the menu and your meal is complete!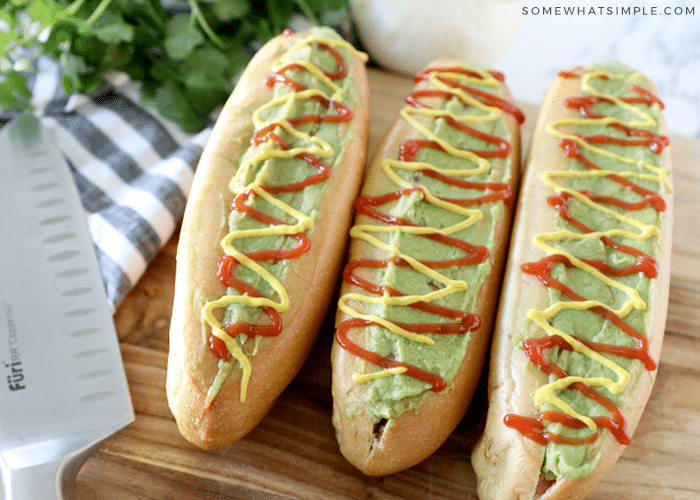 Completo Chileno
Many years ago my husband lived in Chile and ate a variety of local dishes. One of the things he absolutely loved was called a completo.
A completo is a Chilean-style hot dog (yes, there is a hot dog under there) in a fresh, soft bun that's topped with diced onions, chopped tomatoes, ketchup, mustard, and mashed avocado. In Chile, they add lots of mayo to the mix but their mayonnaise is different than ours in the US, so we decided not to use that here.
We have Completos Chilenos quiet often in our home because my whole family loves them and they are super easy to prepare! In fact, any time we're grilling hot dogs, we bring out all of the toppings.
Not only have our kids grown to love them but the friends we have over for BBQs can't stop raving about them either. There is hardly something more kid-friendly than a hot dog, and not only do they love to eat them, they can help you prepare them too!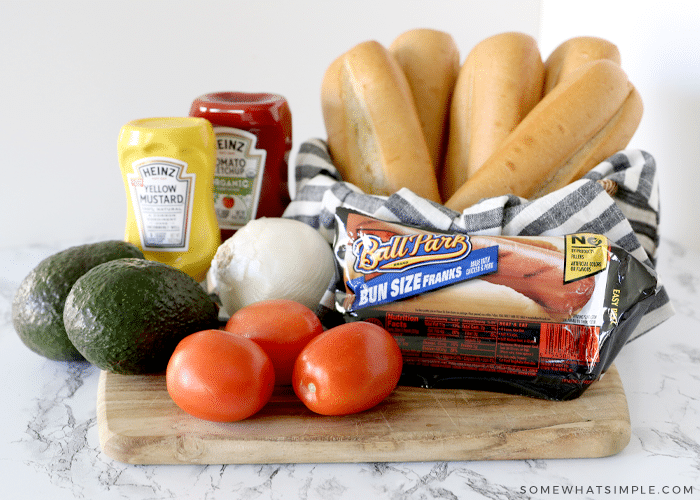 How To Make A Chilean Style Hot Dog
INGREDIENTS –
hot dog buns / hoagie rolls
hot dogs – beef or pork
diced tomatoes
diced onions
smashed avocado
ketchup
mustard
INSTRUCTIONS –
Cook – The first thing you'll want to do is boil or grill your hot dogs.
Slice & Dice – While the hot dogs are cooking, you want to chop your onions and tomatoes, as well as mash-up your avocado.
Layer – When you're building your completo it's all about layering in the proper order.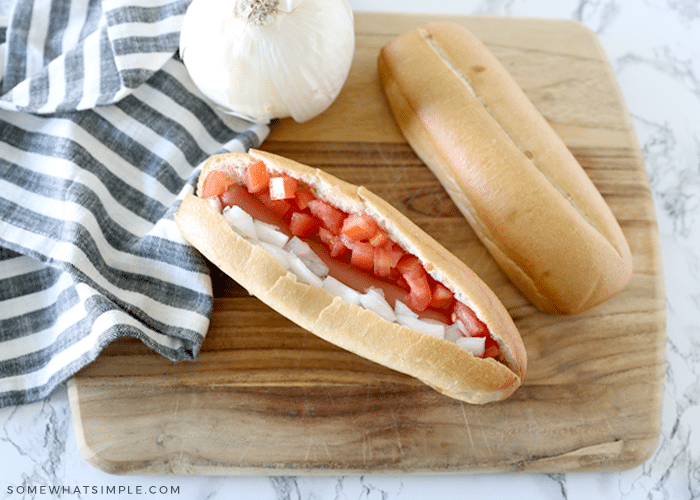 First, you'll put the diced tomatoes and onions on first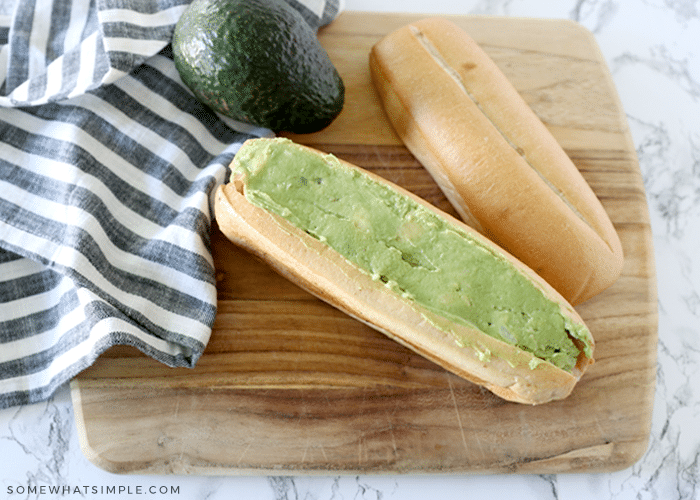 Next, spread the avocado over the top. This will "seal" them against the hot dog so they'll stay put while you're eating it.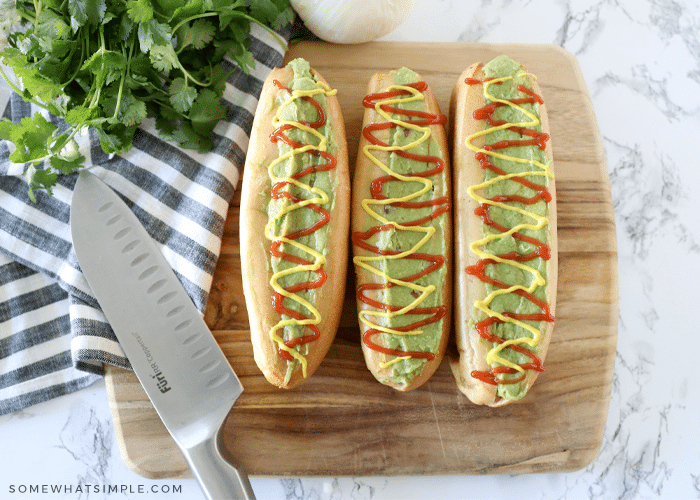 Then top everything off with ketchup and mustard and you're all done and ready to enjoy them!
Recipe Tips
Best Buns – The Chileans use big, fresh buns for their Completos, so I always make a quick run to the bakery section to find the buns for this meal. These larger buns hold the toppings in a lot better, but you can use whichever you prefer.
Toppings – This meal is very customizable and my kids love to build their own creations. In Chile, people would frequently add sauerkraut to their Completos but we've never been a fan of it, so we leave it off.
Best Completo Side Dishes
I promise, once you've tried a Completo you'll never want to eat a hot dog any other way. Leave us a comment below and let us know if you loved all of these toppings or if you added anything else to the recipe.
HERE'S A PRINTABLE RECIPE CARD SO YOU CAN SAVE THIS RECIPE –
Chilean Hot Dog Recipe
Completos are Chilean style hot dogs that are so good you'll never eat them the old way again!
Ingredients
8

Hot dogs

2

Tomatoes

,

diced

2

Avocados

,

mashed

1

Onion

,

diced

Ketchup

Mustard

8

Bakery Style Buns
Instructions
Cook the hot dogs by boiling them in water or grilling them on the BBQ.

Place the cooked hot dog in the bun

Put diced tomatoes and onions on top of the hot dog

Cover the tomatoes and onions with mashed avocado

Add ketchup and mustard on top of the avocado
Nutrition
Serving:
1
serving
·
Calories:
321
kcal
·
Carbohydrates:
36
g
·
Protein:
10
g
·
Fat:
16
g
·
Saturated Fat:
4
g
·
Cholesterol:
20
mg
·
Sodium:
526
mg
·
Potassium:
456
mg
·
Fiber:
5
g
·
Sugar:
4
g
·
Vitamin A:
330
IU
·
Vitamin C:
11
mg
·
Calcium:
97
mg
·
Iron:
3
mg
Other Notes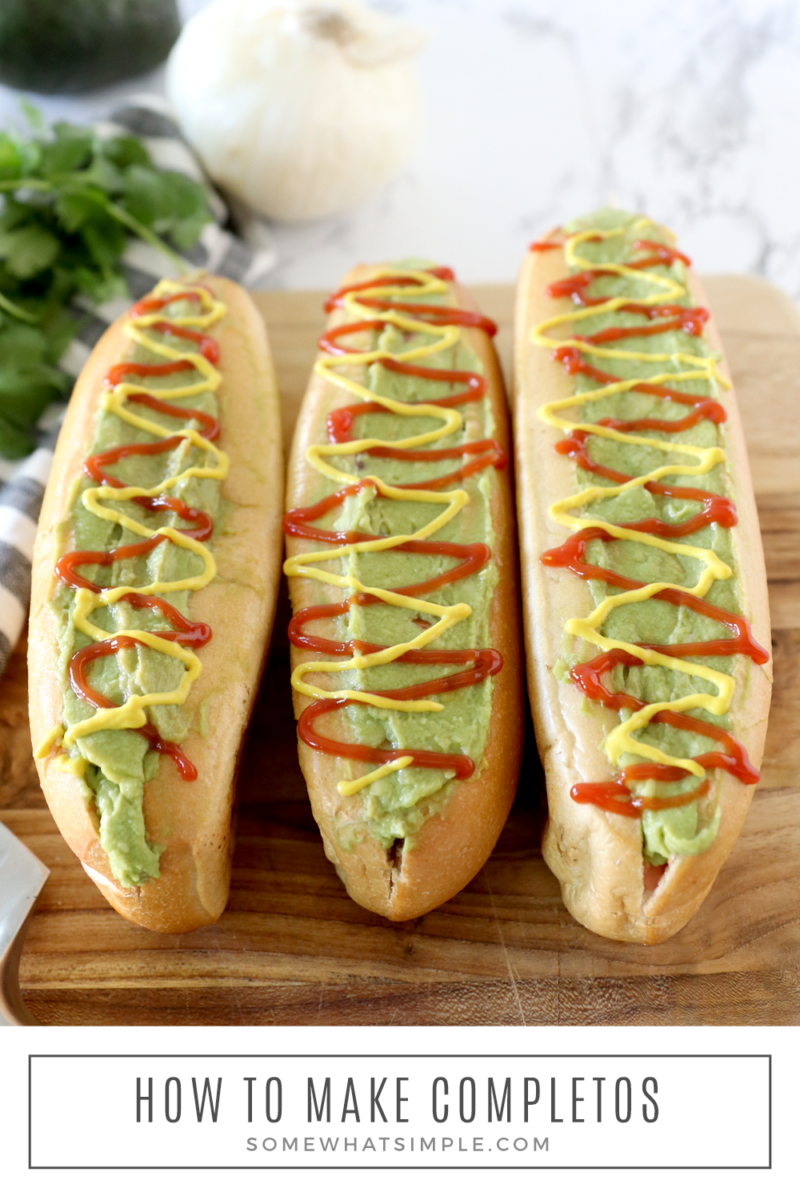 *This post was originally published on Somewhat Simple in November 2011 and was updated in August 2013.