These breakfast corn dogs need to make an appearance in your home – stat!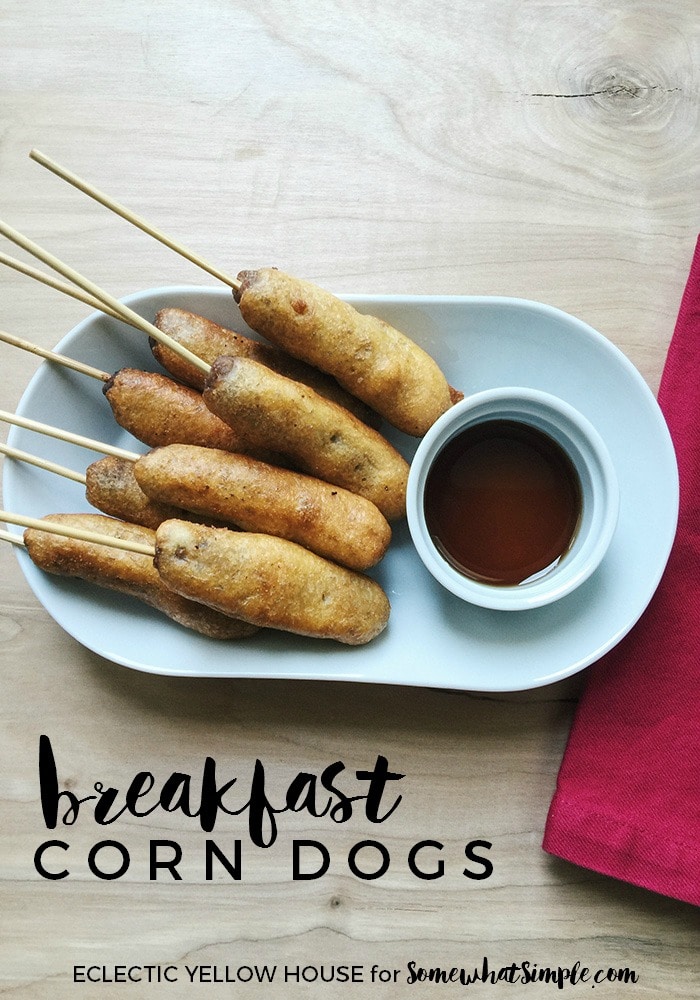 There is something so fabulous about food on a stick. Just think about every carnival or fair you've ever attended and the availability of delicious stick food. A simple hot dog dipped in cornmeal batter and fried becomes food perfection when combined with the backdrop of flashing lights, rides swooshing by, and the ever-present lingering aroma of cotton candy.
My children are no exception to being lured by food on a stick, so it was fun to figure out a way to apply that method to a meal at home. Instead of corn dogs made with hot dogs, we made corn dogs with sausages and served them for breakfast. They were a hit! Easy, delicious, and fun to eat, these breakfast corndogs will bring a little of that carnival fun to your kitchen. The little people in your life will love them, and to be fair, we're all little people at heart when it comes to food like this. Here's how to make them: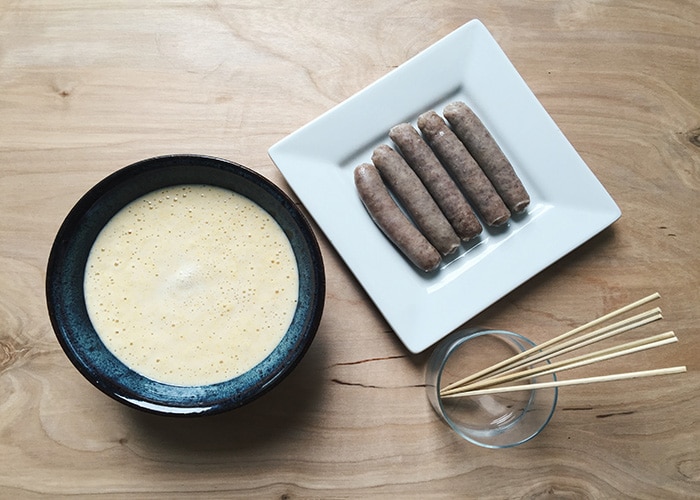 Breakfast Corn Dogs
INGREDIENTS:
1 package breakfast sausage links (about 12-14 links), cooked according to directions

1/2 cup plus 2 Tablespoons Flour, divided
1/3 cup Cornmeal
1/2 teaspoon Salt
1 teaspoon Baking Powder
3/4 cup Milk
1 teaspoon Vinegar
1 Tablespoon Honey
12-14 short Bamboo Skewers
Oil for Frying
Maple Syrup or Powdered Sugar, for serving
DIRECTIONS:
In a small, deep pot, heat oil over medium heat to about 375 degrees.

Meanwhile, place 1/2 cup flour, cornmeal, salt and baking powder in a medium bowl. Whisk to combine. Add the milk, vinegar, and honey and stir until just combined. Set aside.

Thread the sausages onto the bamboo skewers.
Place the remaining 2 Tablespoons of flour onto a shallow plate. Roll the sausages in the flour to lightly coat, dusting off any excess flour. Dip into the batter and gently lower into the hot oil, rotating as they fry to ensure even cooking. Fry for 2-3 minutes or until golden brown. Drain on a rack or on paper towels.
Serve the corn dogs with maple syrup or dust with powdered sugar.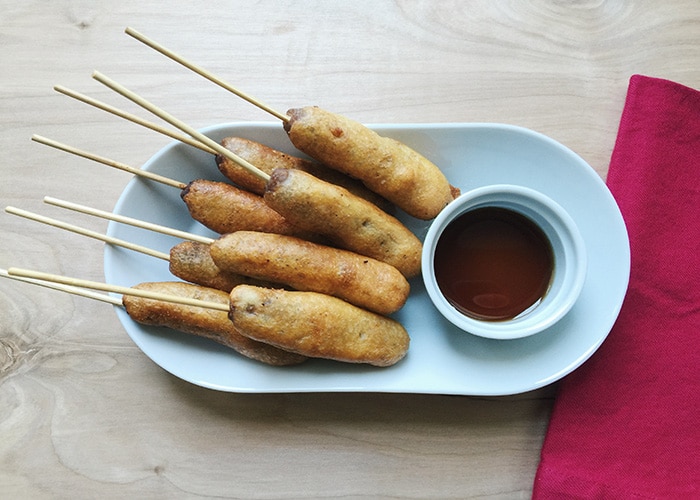 I hope you enjoy these corn dogs as much as we did!