This post is written by me on behalf of Kellogg's Rice Krispies. This spring, Rice Krispies challenged me and my kids to "Keep It Simple, Silly" and share the fun of Rice-Krispies treat-making. All thoughts and opinions are 100% my own. Thanks for supporting our sponsors so we can continue to provide fresh content to Somewhat Simple.
Not all recipes you find online have to be a culinary masterpiece! Rice Krispies Treats on a Stick are the perfect easy-to-make goodie. I found this recipe on the Rice Krispies Pinterest Page and made just some slight adjustments. You and your kids can personalize these treats too- use your favorite candies and toppings for a simply delicious handheld snack.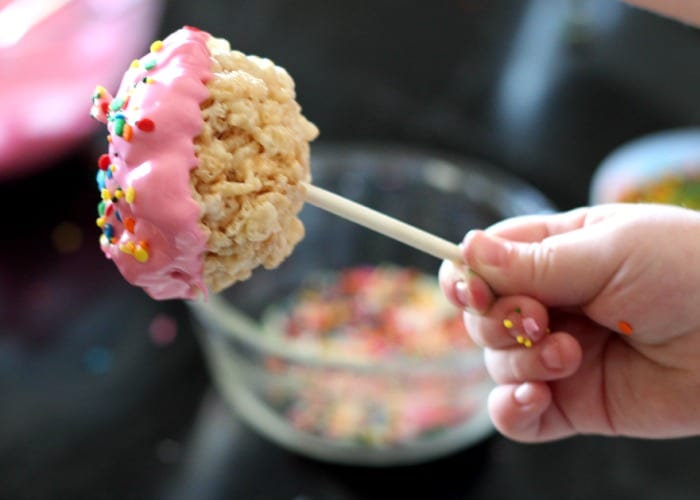 Ingredients
3 tablespoons butter or margarine
4 cups JET-PUFFED Miniature Marshmallows
6 cups Rice Krispies®
20 lollipop or popsicle sticks
Multi-colored sprinkles
Chocolate morsels, melted
Directions
In microwave-safe bowl, heat butter and marshmallows on HIGH for 1-2 minutes. Stir until smooth.
Add KELLOGG'S RICE KRISPIES cereal. Stir until well coated.
Spray your hands with non-stick cooking spray so you can handle the mixture easier. Shape a handful of the mixture into a ball and set aside. Cool for 10-15 minutes and then insert the sticks into the center of each ball.
Dip into the melted chocolate then sprinkle with sprinkles.
Let stand until firm then serve and enjoy!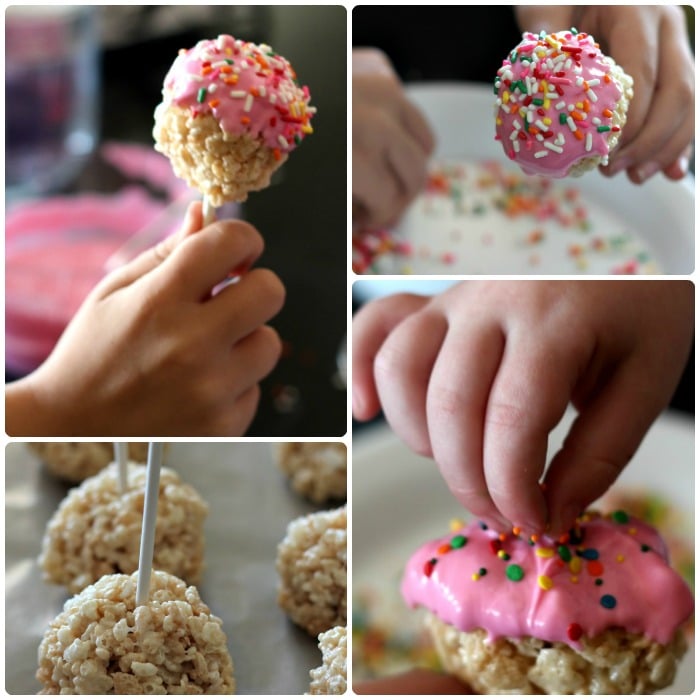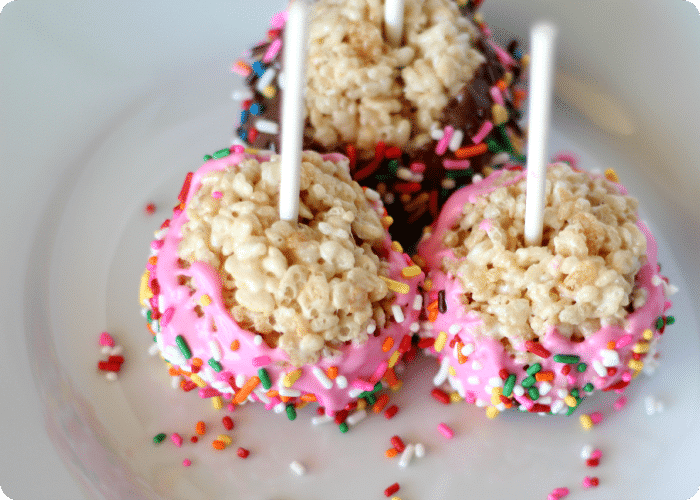 Let's Hear It!
My kids had a BLAST making these! They rated this activity a perfect 10 for taste and appearance.
What do you think? A perfect 10 in your book too? Leave me a comment on this post and let me know!
Let's See It!
Visit RiceKrispies.com and get inspired to make your own family-friendly treat.
Share your creations with your friends using the hashtag #easytomake
Let's Win It!
Enter the Rice Krispies treat-making contest on Pinterest!
(Details HERE)
Visit Rice Krispies website and follow them on their social channels for more #easytomake treats: