Simple and delicious, these Almond Joy Rice Krispie Treats are one of my new favorite treats!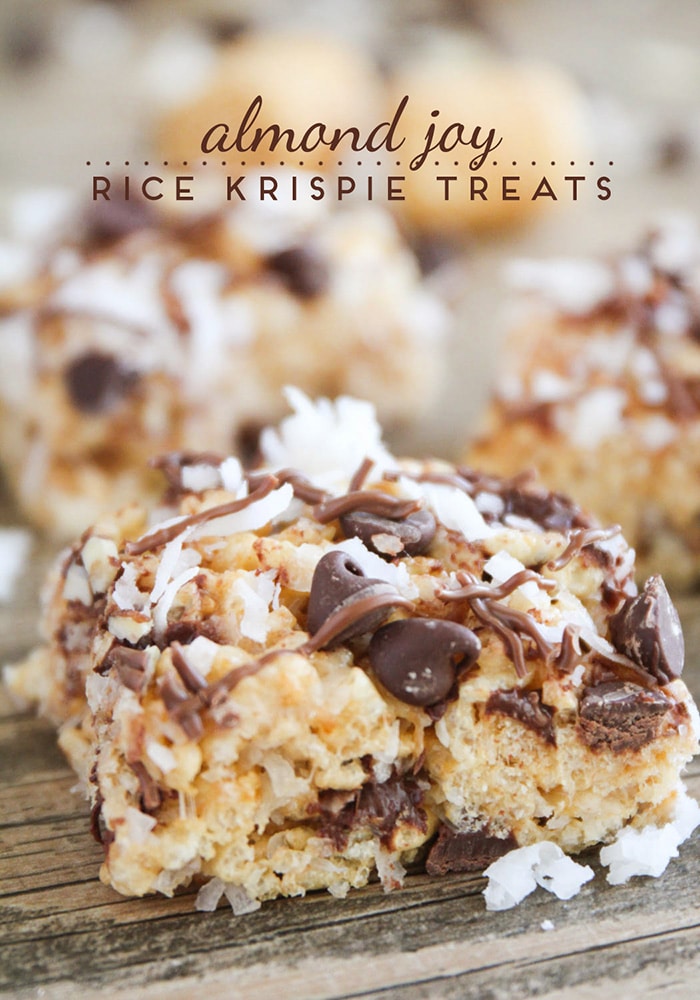 A little bit ago I stumbled upon coconut flavored marshmallows and immediately thought how perfect they would be to make Almond Joy Rice Krispie Treats. And they really are perfect, my family LOVED them! Here is the recipe!
Almond Joy Rice Krispie Treats 
INGREDIENTS: 
2 pkgs of Coconut Marshmallows
4 TBS butter
1/2 tsp almond flavoring
6 Cups rice cereal
1 cup sweetened coconut flakes
1/2 cup almond slivers
1 1/2 cups dark chocolate chip morsels
1/2 cup dark chocolate chip morsels, melted
DIRECTIONS:
Pour rice cereal in a large bowl and set aside.
Melt the marshmallows and butter in a microwave safe bowl for 1 minute. Stir. Repeat for 30 seconds at a time, stirring in between, until marshmallows are melted.
Just before pouring the melted marshmallows over the cereal, add the almond extract to the marshmallows.
Pour marshmallows over cereal and stir gently with a spatula.
Once they are combined well, add in 1/2 cup of the coconut, the almonds, and the 1 1/2 cups of dark chocolate morsels. Stir until well combined.
Dump the mixture into a greased 9×13 pan. Loosely press the cereal down until it fills the whole pan.
Sprinkle the other 1/2 cup coconut over the top and then press it firmly into the top of the cereal.
Melt the rest of the chocolate in a microwave safe container for 30 seconds at a time, stirring in between, until melted.
Drizzle the chocolate over the top of the cereal.
Let cool completely until the chocolate is hardened on the top.
Cut into bars and share the Almond Joy love.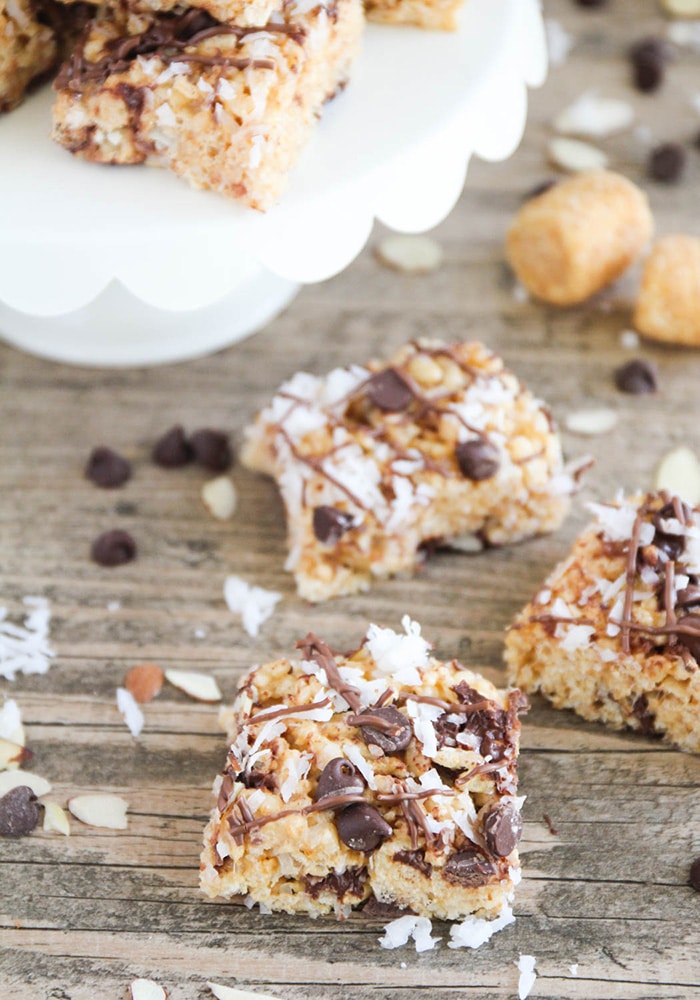 ENJOY!
. . . . .
About the Author: Larissa is a mom of 4 boys who likes to cook and create. The former Food Contributor on Somewhat Simple (2011-12), she now shares her creative adventures full-time on her own blog Just Another Day in Paradise.
This post originally published on Somewhat Simple in May 2012 and was update in February 2016