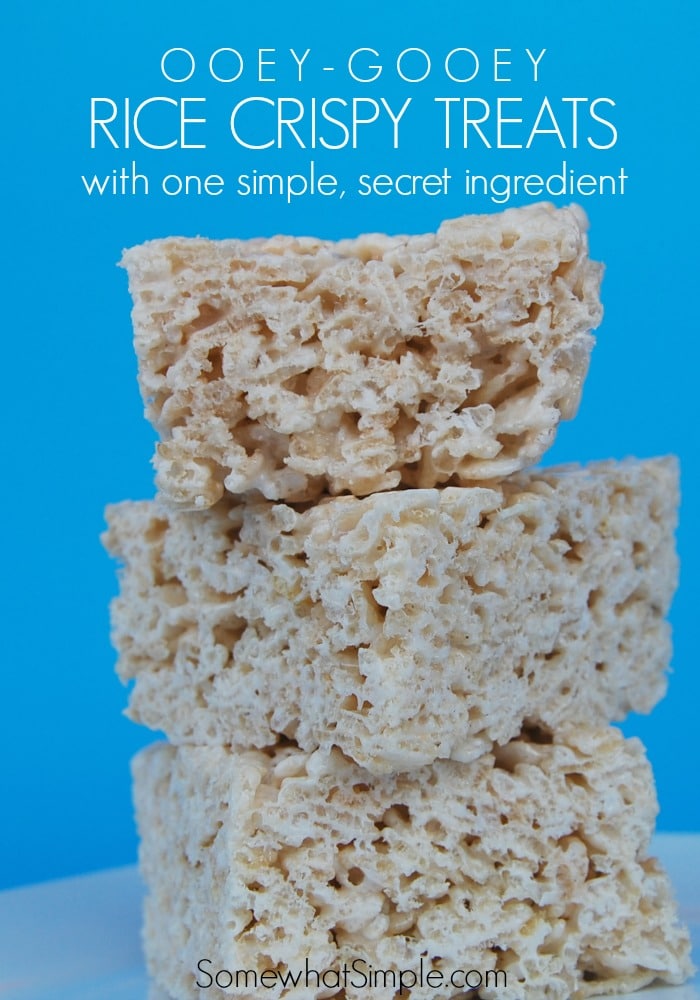 For YEARS I have been hunting for the perfect rice crispy treat recipe. I wanted something sweet, not too buttery, and it has stay soft, without being too sticky. "Is that even possible"? you might be asking yourself. And the answer to that is "Yes! Yes it does!!!" I am excited to share with you a recipe that produces the best rice crispy treats I have ever eaten, and eaten, and eaten! The secret is in the marshmallow cream! Here is how you make them:

Ooey Gooey Rice Krispie Treats
INGREDIENTS:
1/4 Cup Butter
1-10 oz. Package Mini Marshmallows
1/2 Cup Marshmallow Cream
6 Cups Crispy Rice Cereal
DIRECTIONS:
In a large pot, melt the butter over low heat until completely melted.
Add the mini marshmallows and the marshmallow cream to the melted butter and continue to cook over low heat, stirring constantly, until combined and smooth.
Slowly add the rice crispy cereal, stirring to make sure all of the cereal is coated with the marshmallow mixture.
Gently press into a greased 8×8 square pan, or 9×13 if you prefer your thinner rice crispy treats.
Let the treats cool completely.
Cut and serve!
Store your leftovers (if you have any) in and air tight container.