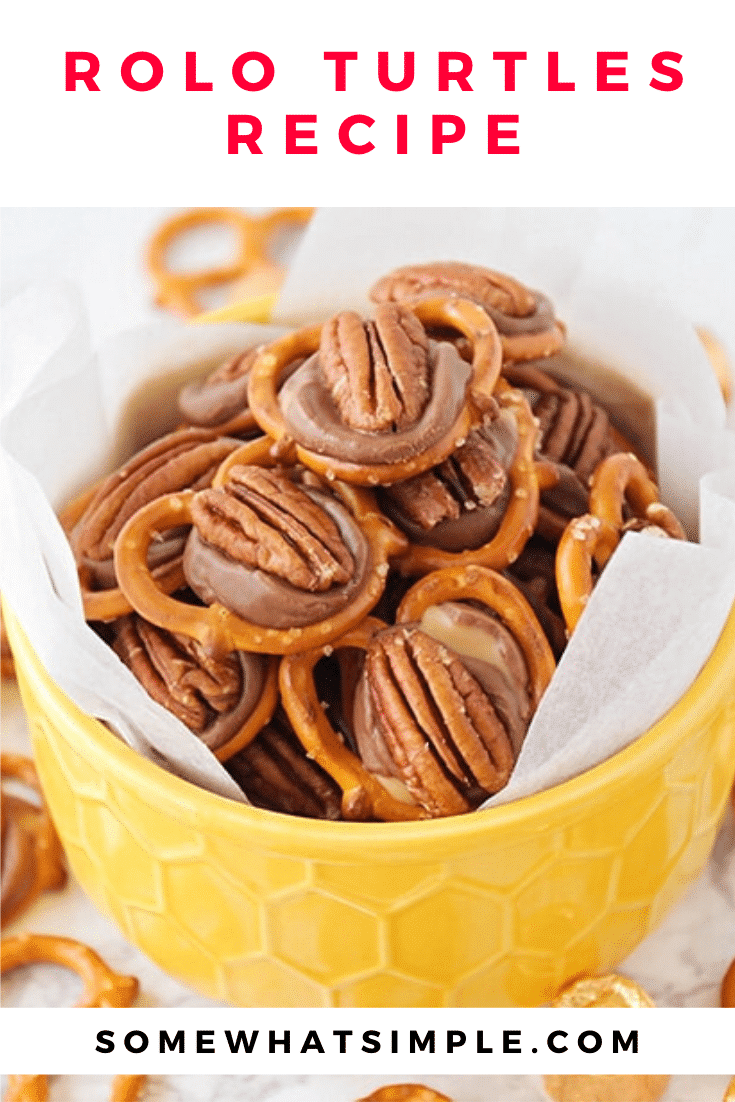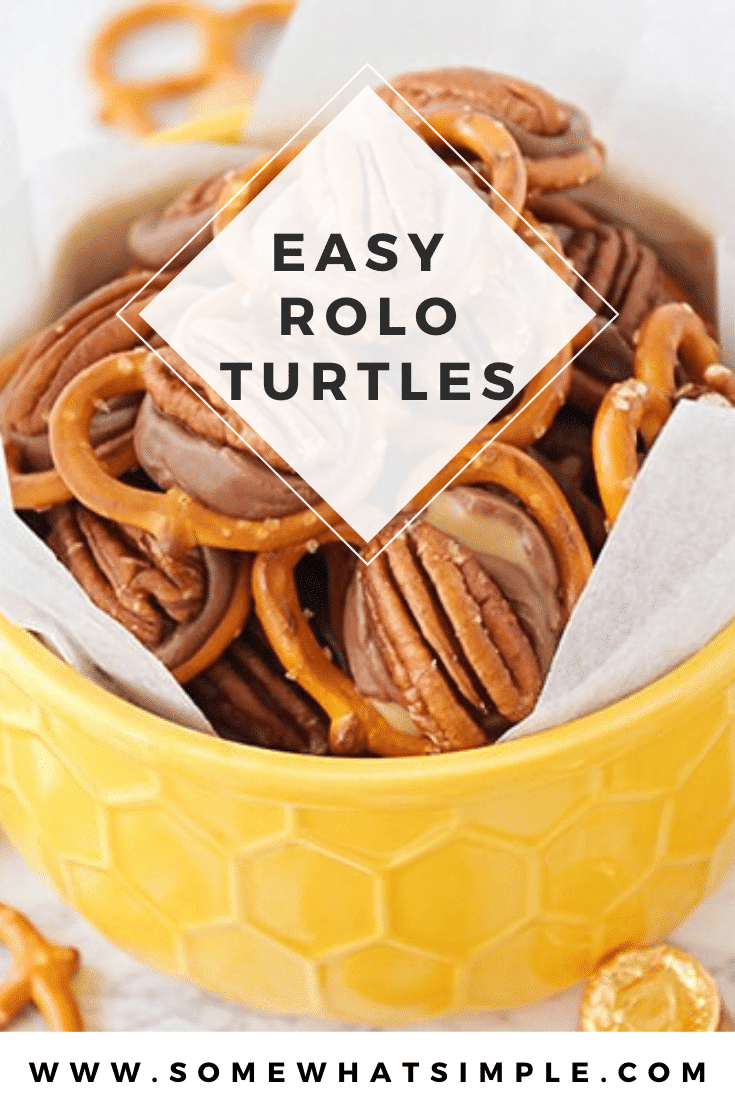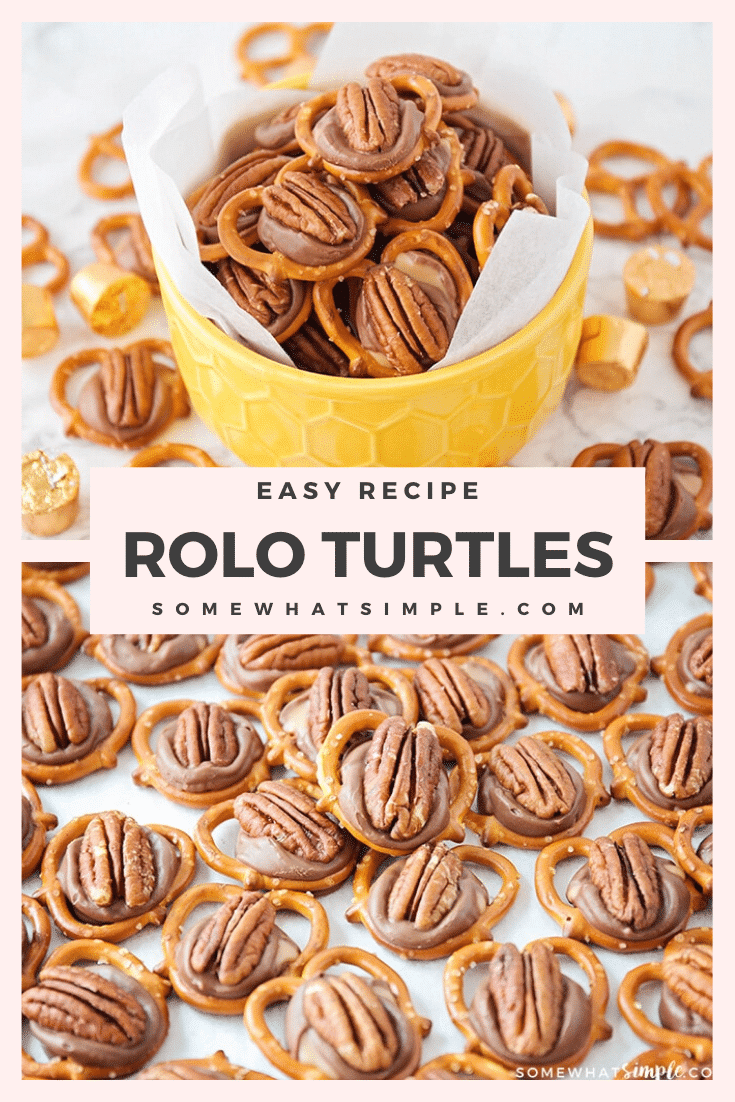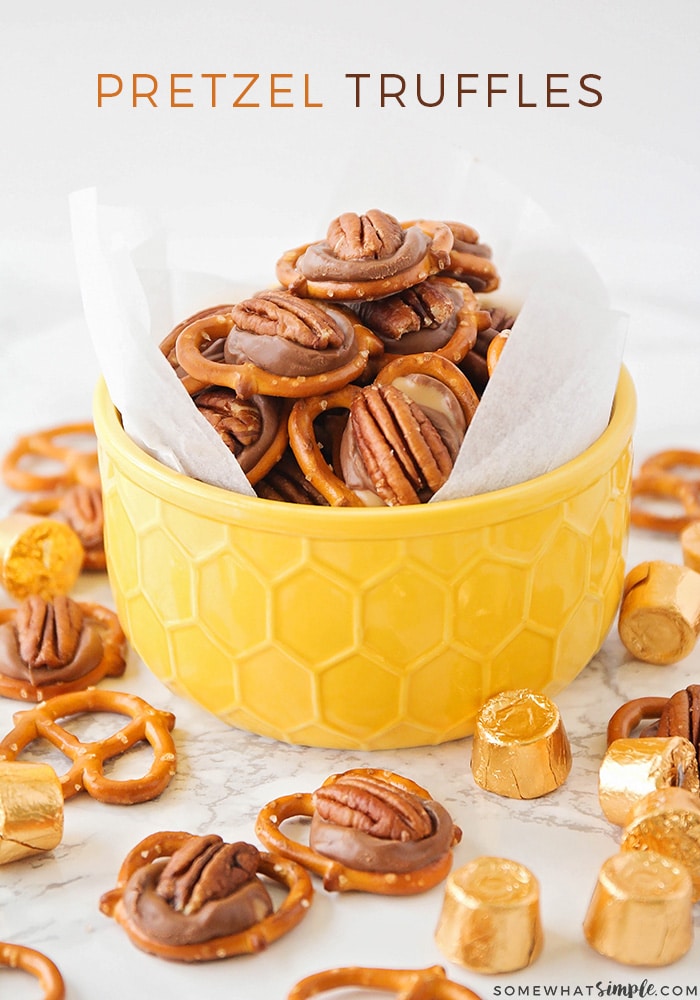 Rolo pretzel turtles are the perfect salty, sweet and nutty combo. Made with pretzels, Rolos and delicious pecans, there is nothing better! These pecan Rolo pretzels are delicious and easy to make!
If you love Rolo candy as much as I do, you should also try these Rolo Cookie Bars, Rolo Cookie Bites and Pot of Gold recipes.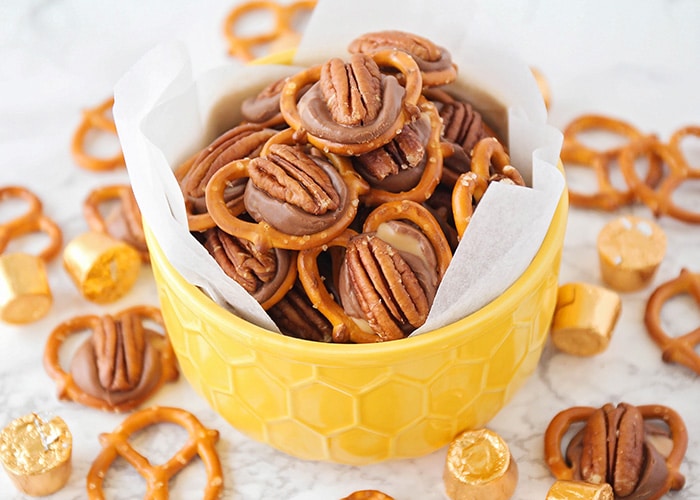 Pecan Rolo Pretzel Turtles
I love the flavor of a pretzel, Rolo, and pecan combination! That salty and sweet taste coupled with the crunchy/smooth texture is to die for. These homemade pretzel turtles are seriously delicious!
Not only are these pretzel turtles super tasty, they are so easy to make too! In fact, you can switch this basic Rolo pretzel recipe by using different candies and nuts. Hershey's Minis, Snickers, M&Ms, walnuts, peanuts…
I've never tried any chocolate pretzel truffle I didn't LOVE! Today I am going to show you my favorite variation, the classic pretzel rolo pecan recipe. (Have you tried this? Get ready to fall in L.O.V.E!!!)
Ingredients You'll Need
The best part about this recipe is that you only need these 3 easy ingredients to make them:
Pretzels
Rolo candies
Pecans (or another favorite nut)
How To Make Rolo Pretzel Turtles
Prep – Preheat the oven to 350 degrees and then line the baking sheet with parchment paper or a baking mat.
Spread'em – The first thing you'll do is lay out your pretzels onto your cookie sheet.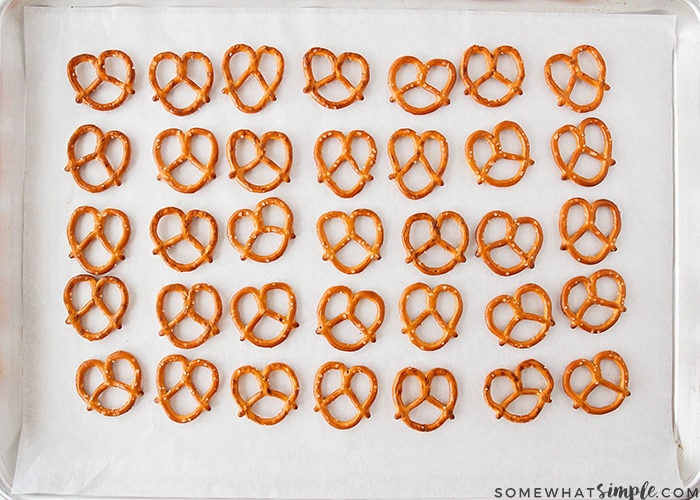 Chocolate – Next, place one Rolo candy on top of each pretzel. If you don't have Rolo's, you can use any other small piece of your favorite chocolate too. I just love that chocolate and caramel combo!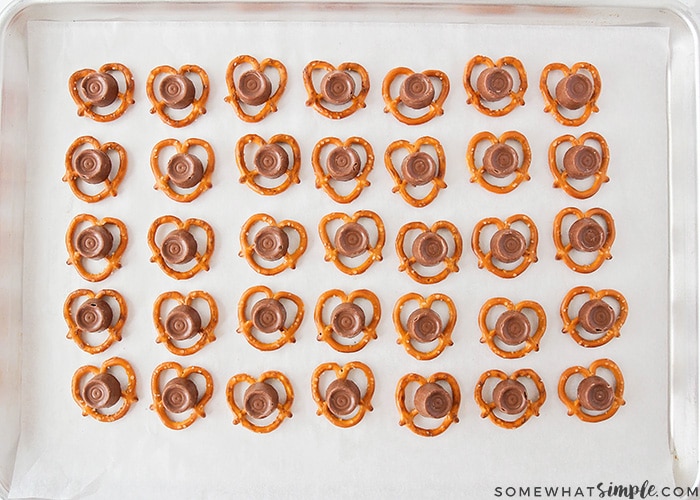 Cook – Place your baking sheet in the oven for just a few minutes until your chocolate barely starts to melt but still holds its shape.
Go Nuts – Pull the cookie sheet from the oven and immediately press the pecan into the chocolate.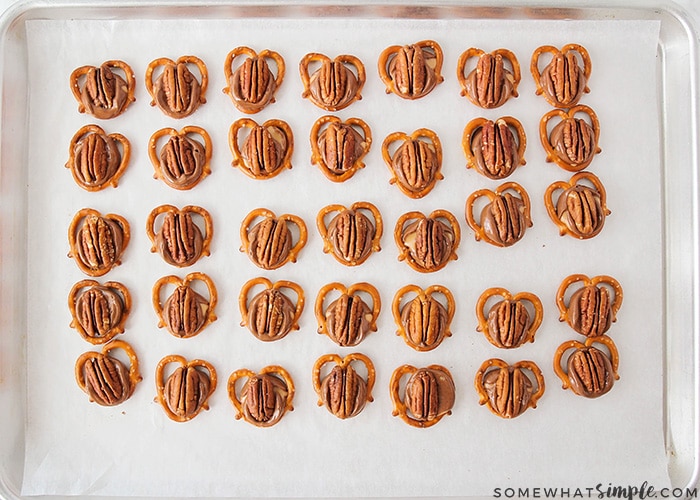 Sit – Let the Rolo turtles cool for a few minutes before popping into your mouth… if you can wait that long! 🙂 And that's it!!!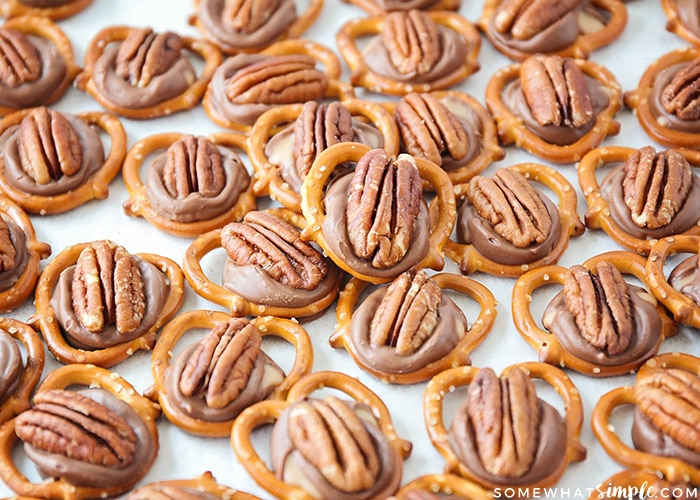 How Long Do Rolo Pretzel Turtles Last?
Proper Storage – If you're able to resist the temptation to eat them all at once, place any remaining pretzel turtles in an airtight container for storing. You can store them in the fridge or on the counter and they'll stay fresh for several days.
Tip – I prefer to leave them on the counter to keep the chocolate and caramel from getting hard. However, if they're on the counter and you have kids, don't expect these to last through the night.
More Holiday Dessert Recipes
Just a word of caution, these pretzel truffles are bite-sized, which can be very dangerous for treat-loving people like me! If I leave them out on the counter to cool, they have been known to disappear before I even know how many I ate- don't say I didn't warn you!
Leave us a comment below on your favorite variations – I'd love to try a few!
Rolo Pretzel Recipe
Salty, sweet, nutty goodness… is there anything better than that?!?! These Rolo pretzels are easy and delicious! (Your taste buds are going to LOVE you!)
Ingredients
50

pretzel twists

50

Rolos

,

or bite-sized chocolate candy (unwrapped)

50

pecan halves

,

or your favorite nut
Instructions
Heat your oven to 350.

Lay out your pretzels in a single layer on a cookie sheet.

Place one piece of chocolate on each of the pretzels.

Place the tray in the oven for 4-5 minutes or until your chocolate just barely starts to melt. You want it to retain its shape.

Remove from the oven and immediately press a pecan down on the chocolate.

Let it cool completely and then enjoy!
Nutrition
Serving:
1
serving
·
Calories:
68
kcal
·
Carbohydrates:
13
g
·
Protein:
1
g
·
Fat:
2
g
·
Saturated Fat:
1
g
·
Cholesterol:
1
mg
·
Sodium:
100
mg
·
Potassium:
34
mg
·
Fiber:
1
g
·
Sugar:
7
g
·
Vitamin A:
4
IU
·
Vitamin C:
1
mg
·
Calcium:
16
mg
·
Iron:
1
mg
Other Notes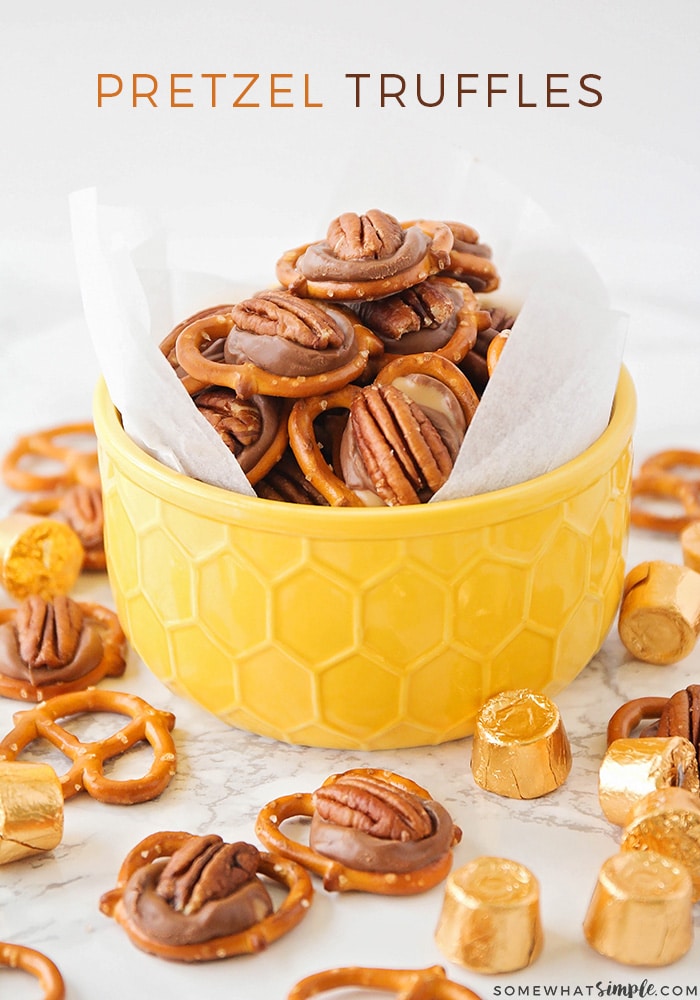 Have you tried Rolo Pretzels before?