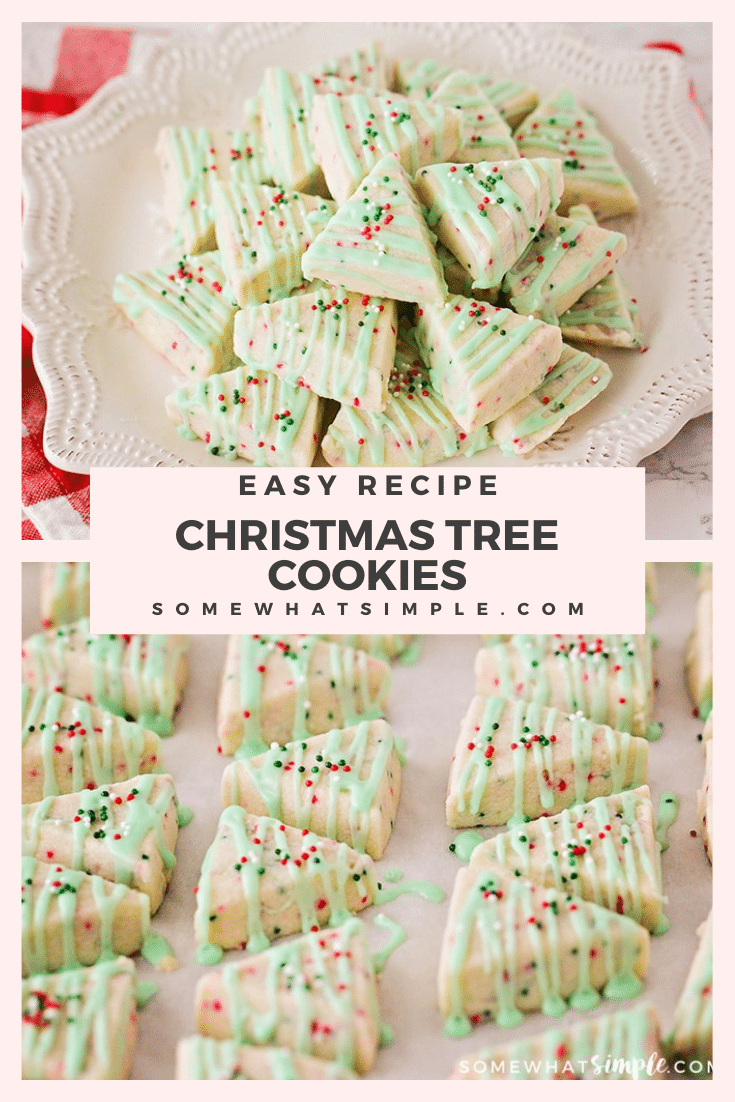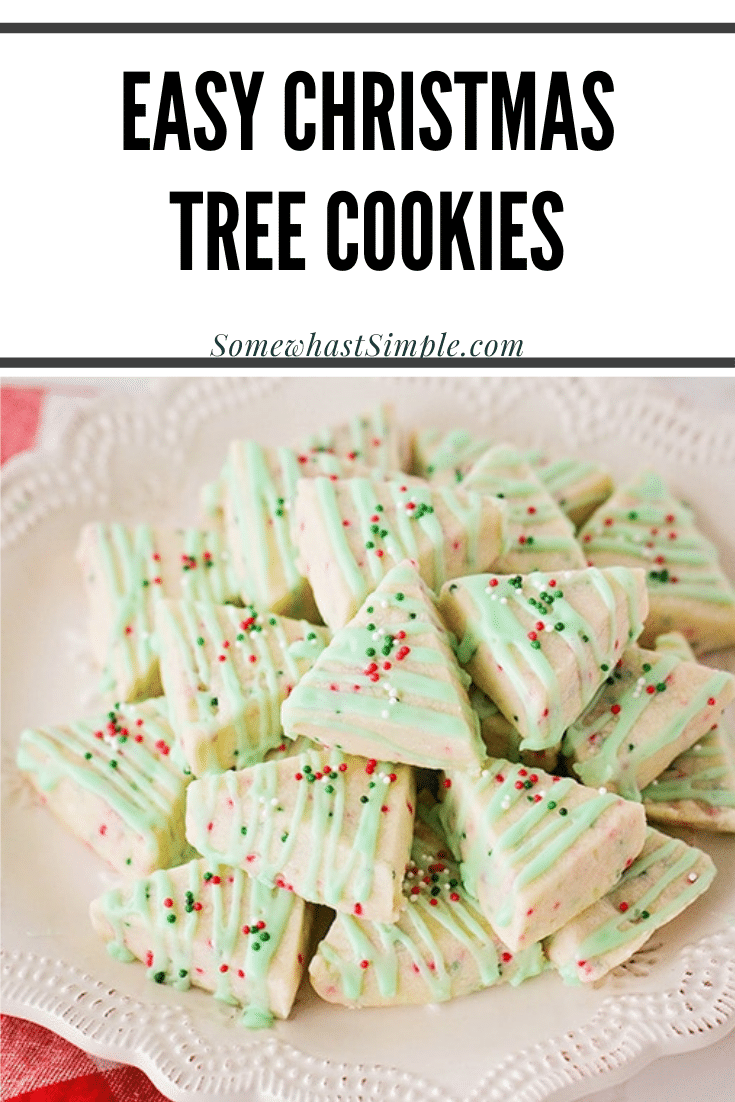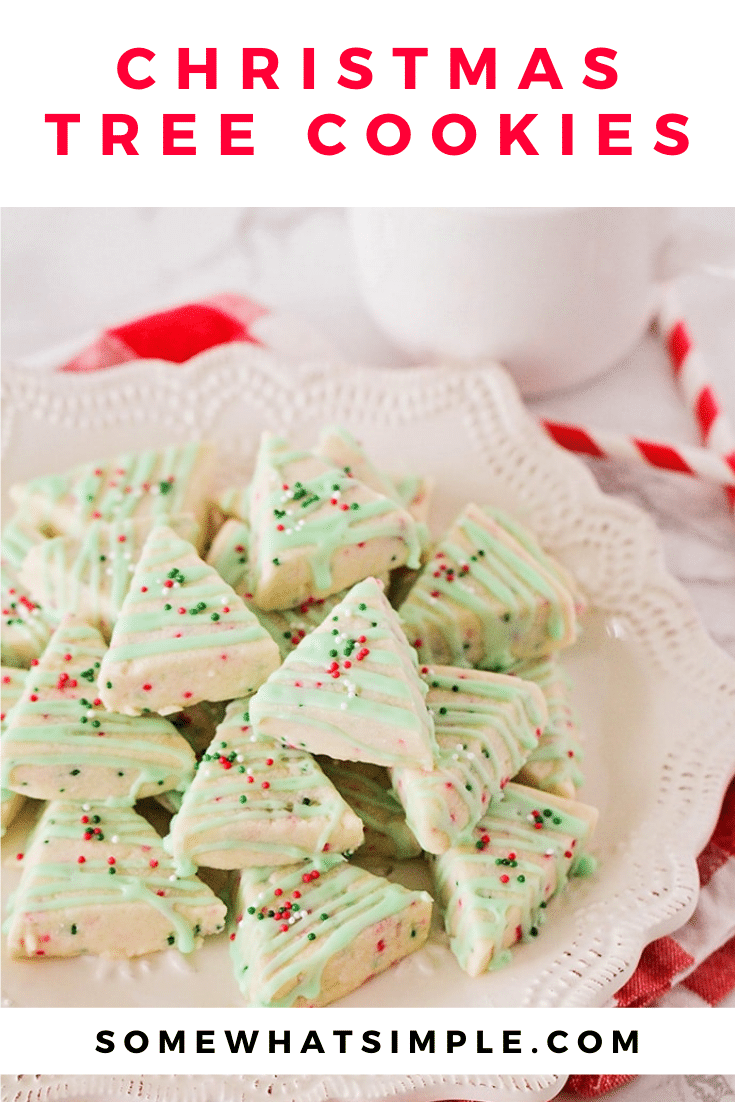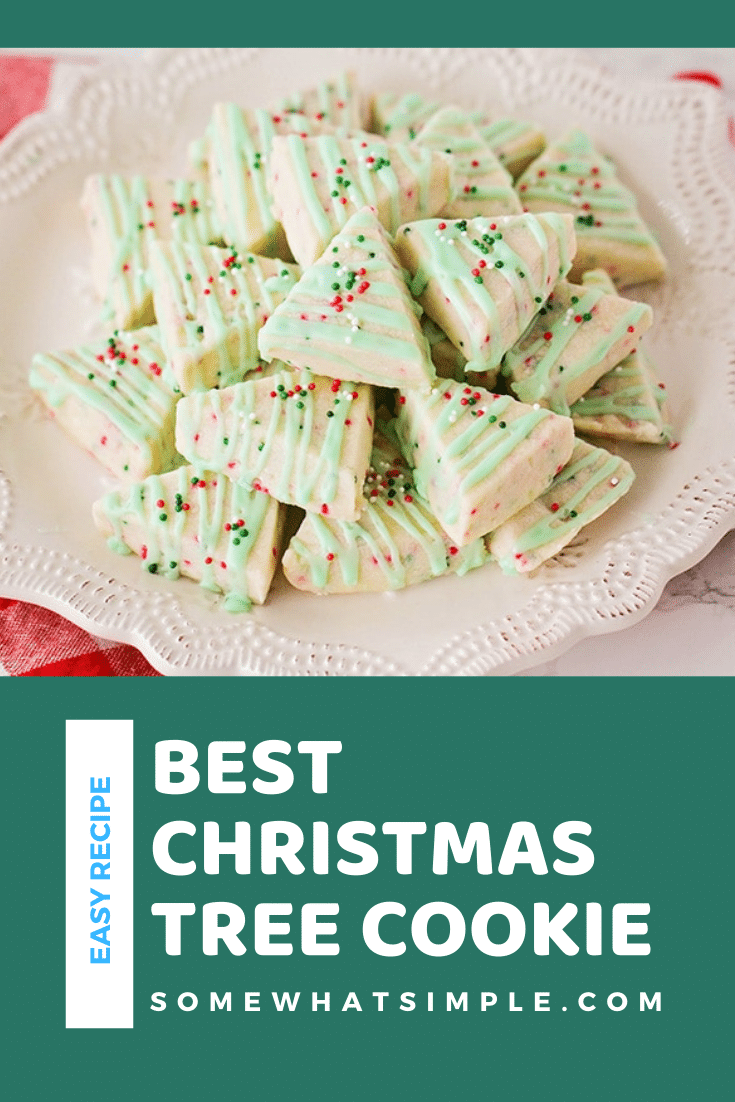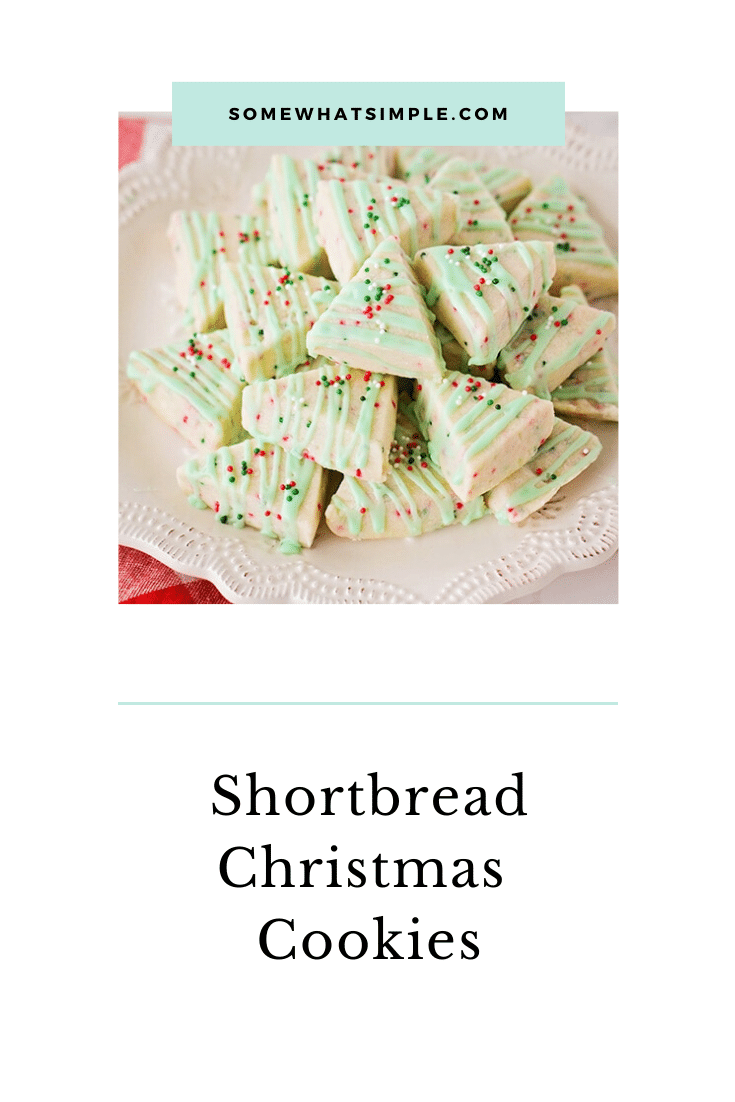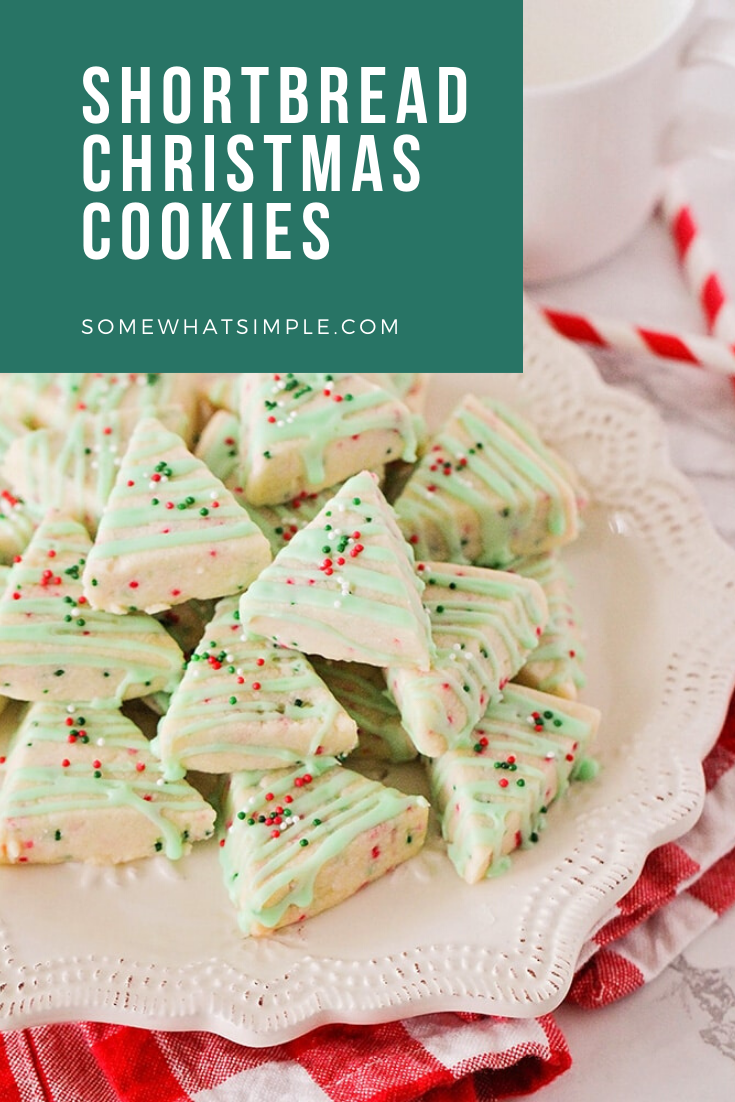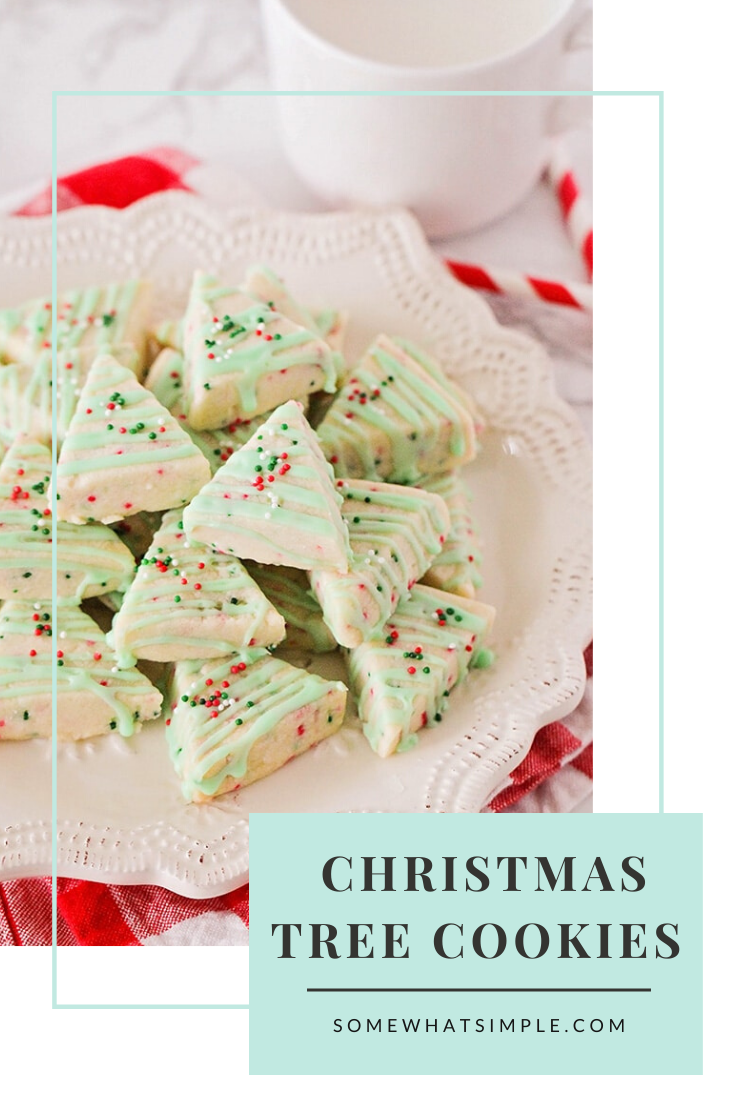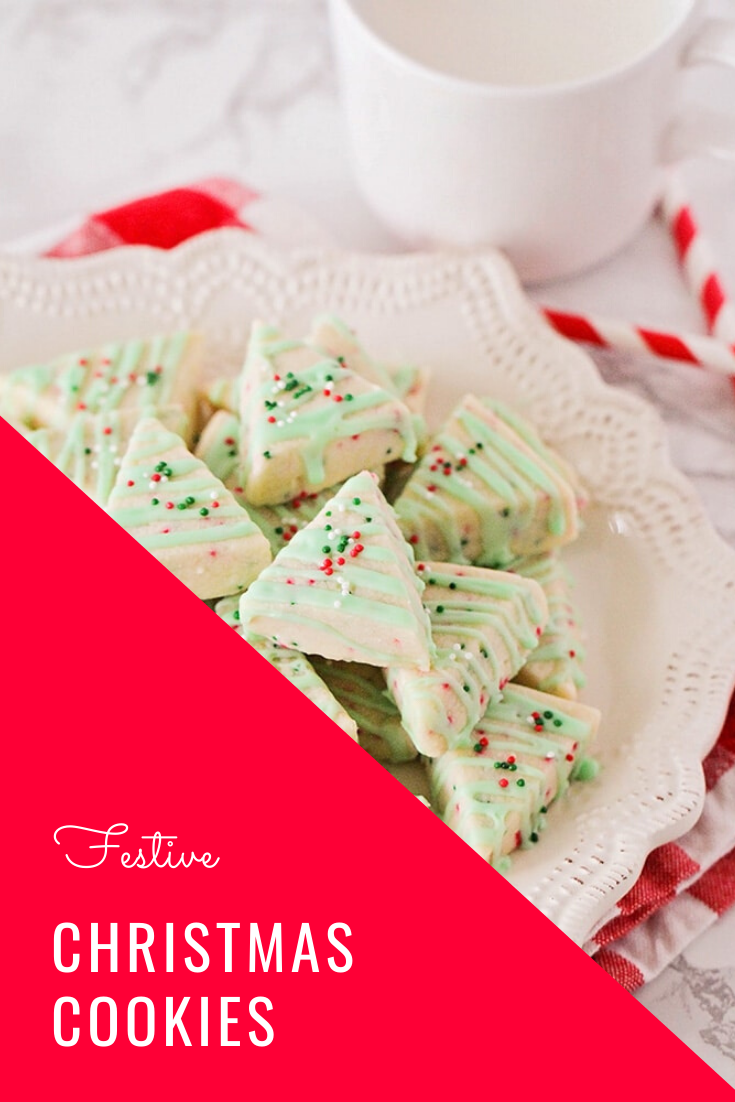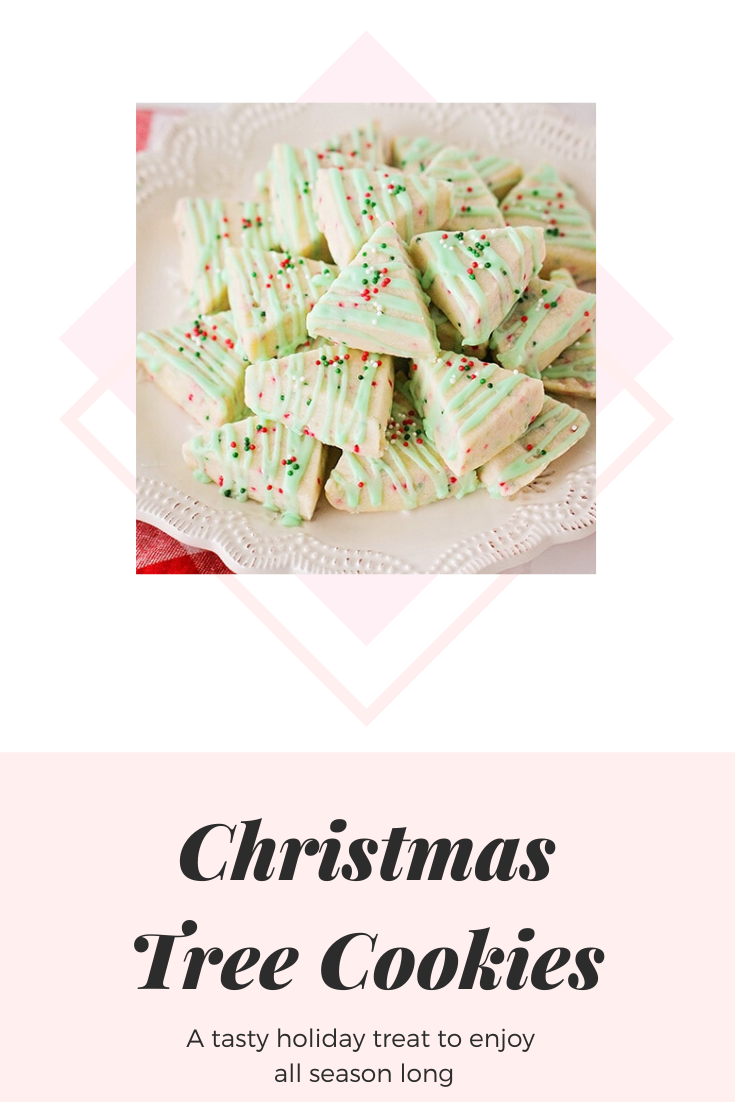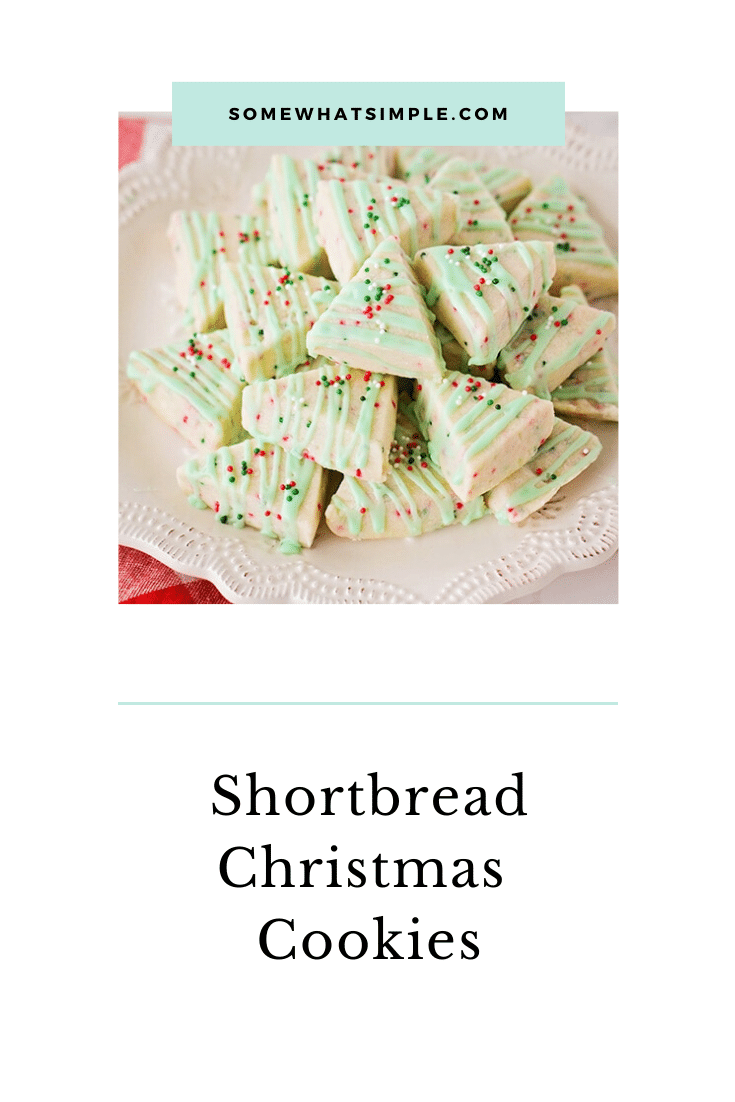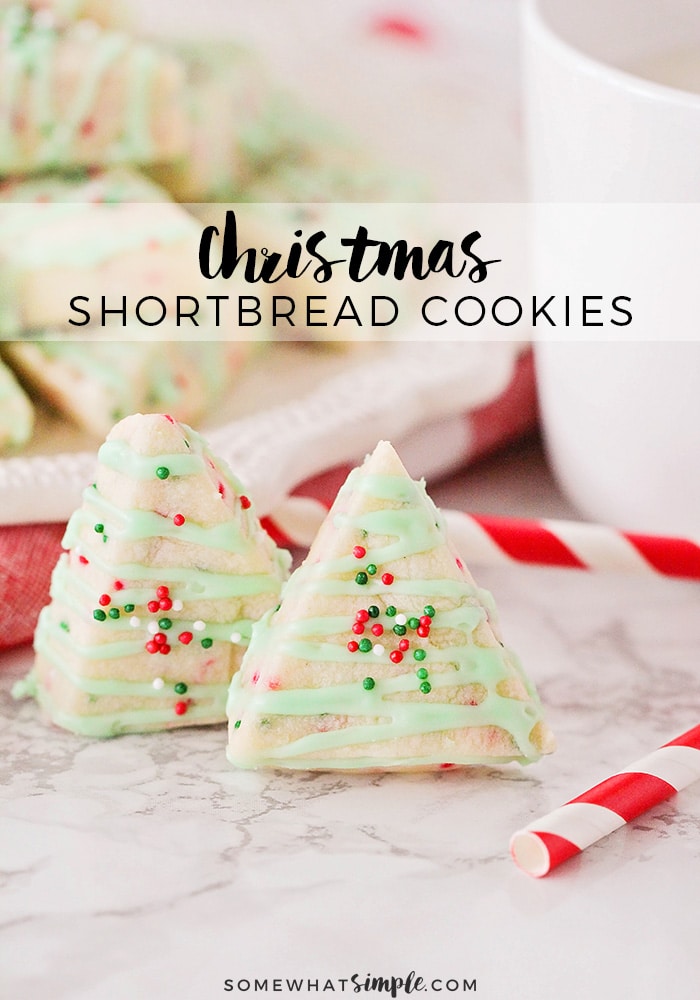 Shortbread cookies are slightly sweet and buttery and pretty much melt in your mouth! These shortbread Christmas tree cookies are easy to make and only require a few simple ingredients! YUM!
I love baking during the holidays and some of my other favorite treats to make are these festively decorated Cake Mix Cookies, Homemade Fudge Brownies and these amazing Rolo Pretzel Turtles.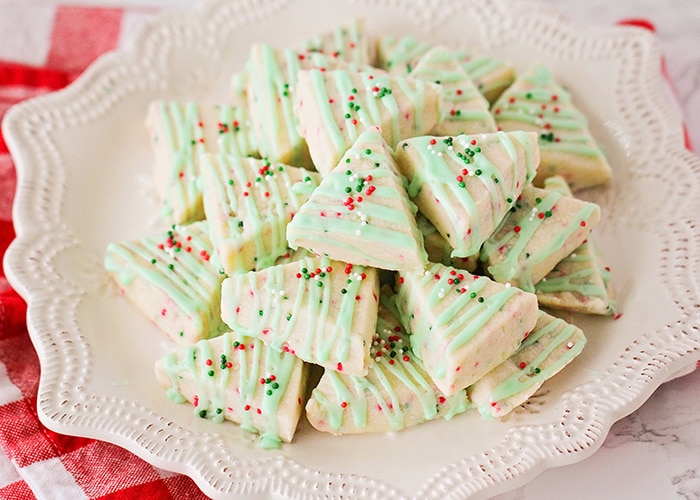 The Best Shortbread Christmas Cookies
The holidays are definitely made for baking. I love trying out new recipes and creating adorable new treats to enjoy. These Christmas tree cookies are one of my absolute favorites! Not only is this recipe super easy to make but these shortbread cookies are amazing! Your family and friends will absolutely love them. The only thing left to decide is if you want to eat them all yourself or share. I have nothing against sharing, but it might hard to do with these little guys.
How To Make Christmas Tree Cookies
Cream It – Start by mixing the vanilla and butter together until it's nice and creamy
Dry Ingredients – Add the flour, sugar, cornstarch and salt into a mixing bowl. Mix everything together until it has combined nicely. At this point the dough should be dry and crumbly but still be able to hold it's shape.
Make It Festive – Add the Christmas colored sprinkles into the cookie dough and then mix it until they are evenly distributed throughout the dough.
Into The Pan It Goes – Next, place the shortbread dough onto a parchment lined baking dish and then press it evenly into the pan. You'll want to make sure the dough is about a half an inch thick on the bottom.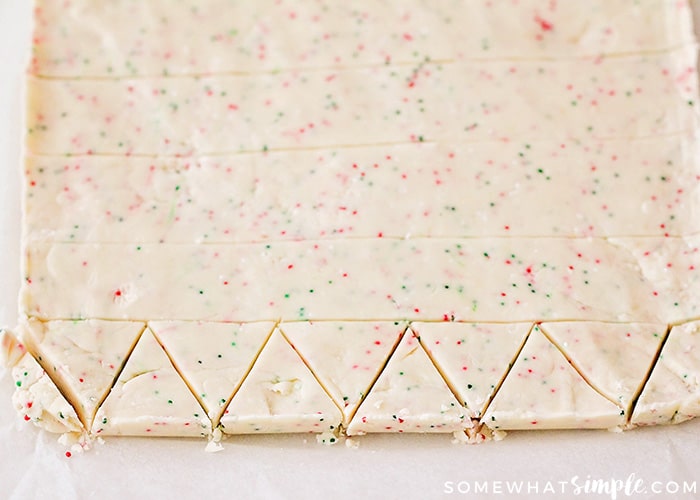 Let It Chill – Place the baking pan in the refrigerator and let the shortbread dough cool for about half an hour.
Cut It Into Trees – Remove the cookie dough from the baking pan and lay it on the counter. Using a triangle or Christmas tree cookie cutter, cut the cookies out of the dough.
Bring The Heat – Bake the shortbread cookies for about 10 minutes at 325 degrees F. They should be a light golden brown color when they're done. Let them cool completely before icing them.
Make The Icing – While the cookies are cooling, mix the ingredients in a bowl until the icing is nice and smooth. You'll want the icing to be pretty thin so that it's easy to pour over the cookies. If it's not as thin as you'd like, add another teaspoon of water until you get the desired consistency.
Color It – Mix in a couple drops of green food coloring at a time until you get the color your looking for.
Pipe It – Pour the icing into a plastic bag and then cut off the corner. Then pipe the green icing over the shortbread cookies so they resemble a Christmas tree.

More Easy Christmas Cookie Recipes
If you loved these Christmas shortbread cookies, here are a few more of our favorite Christmas cookie recipes to try!
Look how adorable these easy Christmas shortbread cookies turned out! Don't be afraid to change the shape or decorations and make them for any occasion. Leave us a comment below and let us know how much you loved these!
Shortbread Christmas Cookies
Shortbread Cookies are slightly sweet and buttery and pretty much melt in your mouth! These Shortbread Christmas Cookies are easy to make and only require a few simple ingredients! YUM!
Ingredients
Ingredients for the Shortbread Cookies -
1

cup

softened butter

1

tsp

vanilla extract

3/4

cup

powdered sugar

1/2

cup

cornstarch

1/2

tsp.

salt

2

cups

flour

3-4

tbsp.

colored sprinkles
Ingredients for the Icing -
2

cups

powdered sugar

1

tsp.

vanilla

2-3

tbsp

water

green food coloring
Instructions
Directions for the Shortbread Cookies -
Cream together butter and vanilla until smooth.

Add in all dry ingredients (sugar, cornstarch, salt, flour) and mix until evenly combined. The dough will be dry and crumbly, but will hold it's shape.

Quickly mix in the sprinkles, and then turn dough onto a large sheet of parchment. Lift parchment into a square  baking dish and then evenly press dough into the bottom, about 1/2 inch thick.

Refrigerate for about 30 minutes.

Remove from fridge and lift the dough out of the square dish using the parchment.

Cut into triangles. Bake at 325 for about 10 minutes, until light golden brown on the bottom. Let cool completely.
Directions for the Icing -
Put powdered sugar into a bowl and add vanilla and water, starting with 2 tbsp. Mix until smooth.

You want the icing to be pretty thin, so that you can easily drizzle over cookies, so add more water if necessary.

Stir in a few drops of green food coloring and then spoon into the corner of a zip-top bag for drizzling.

Lay cookies out on parchment paper and snip the corner off the bag of icing. Just pipe or drizzle over the triangles, back and forth in one direction so that they resemble trees. Add a few sprinkles if you want, and then let sit until the icing dries.
Nutrition
Serving:
1
Cookie
·
Calories:
74
kcal
·
Carbohydrates:
17
g
·
Protein:
1
g
·
Fat:
1
g
·
Saturated Fat:
1
g
·
Sodium:
27
mg
·
Potassium:
7
mg
·
Fiber:
1
g
·
Sugar:
10
g
·
Calcium:
1
mg
·
Iron:
1
mg
Other Notes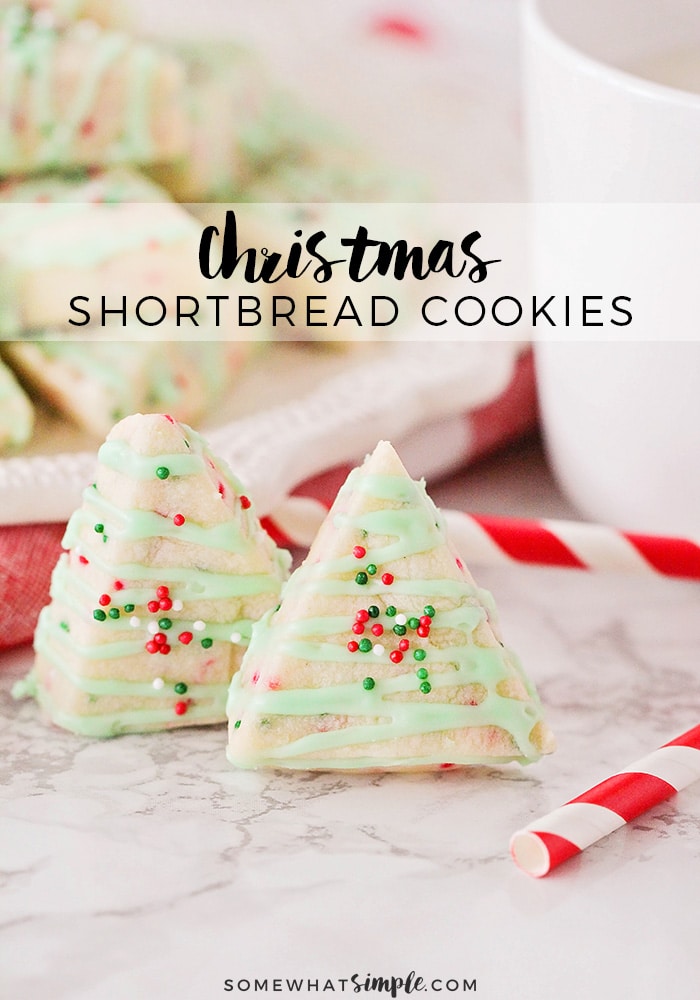 Enjoy!