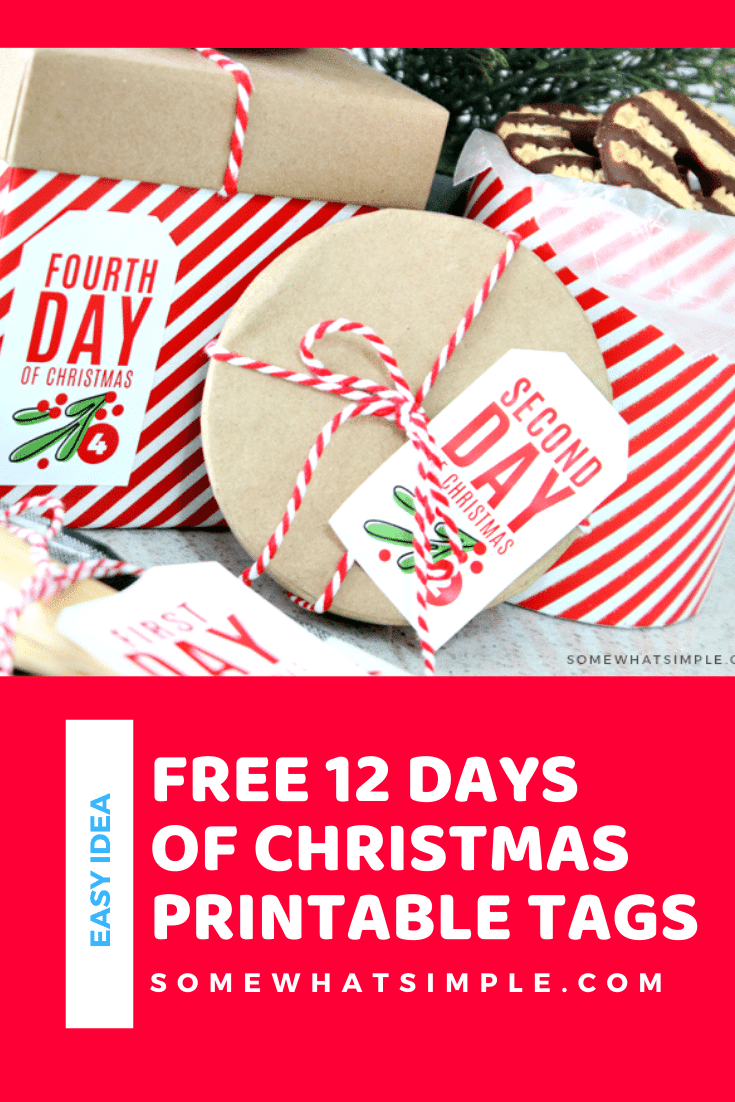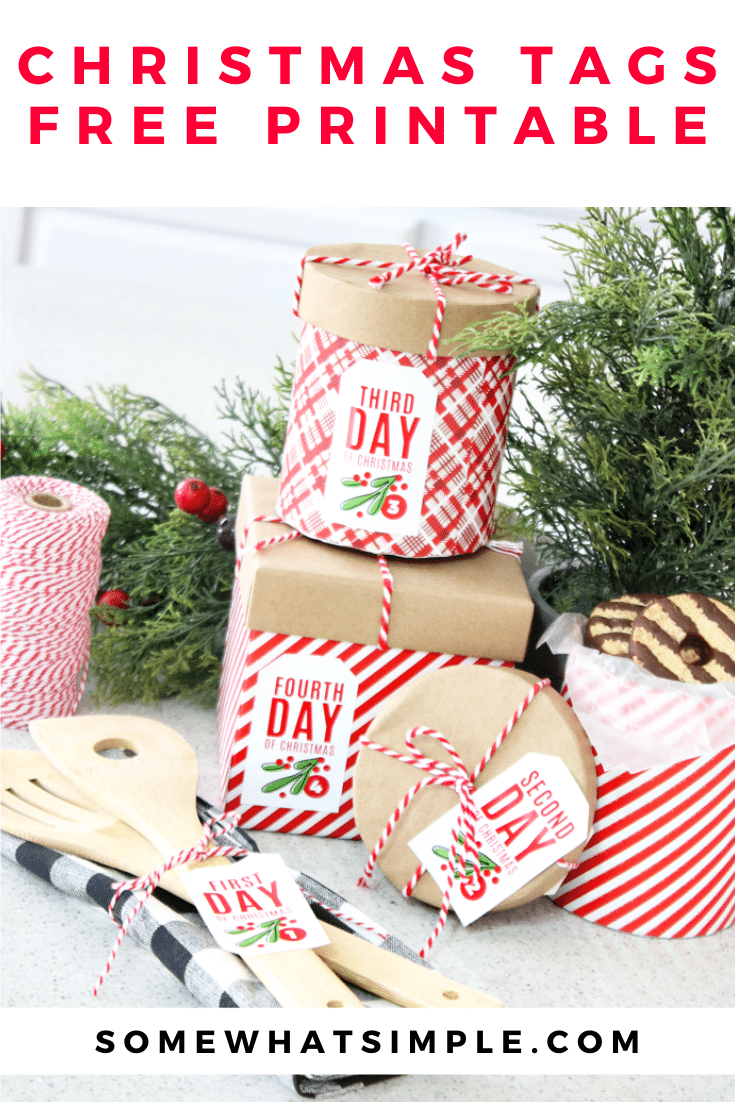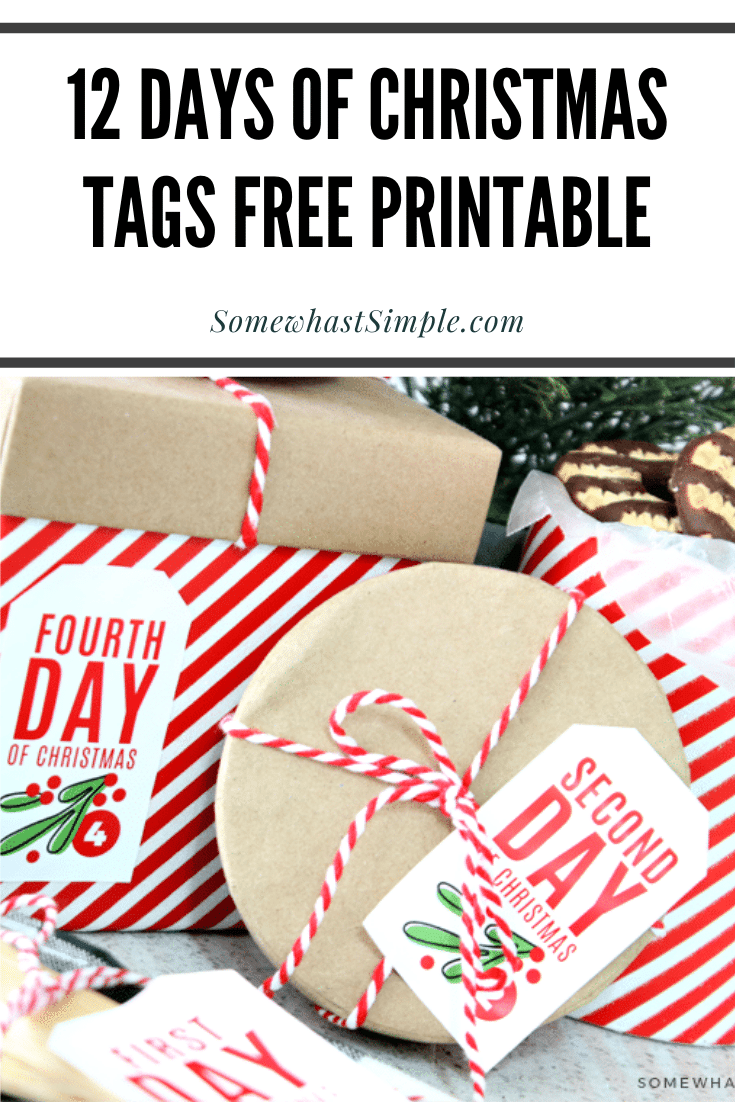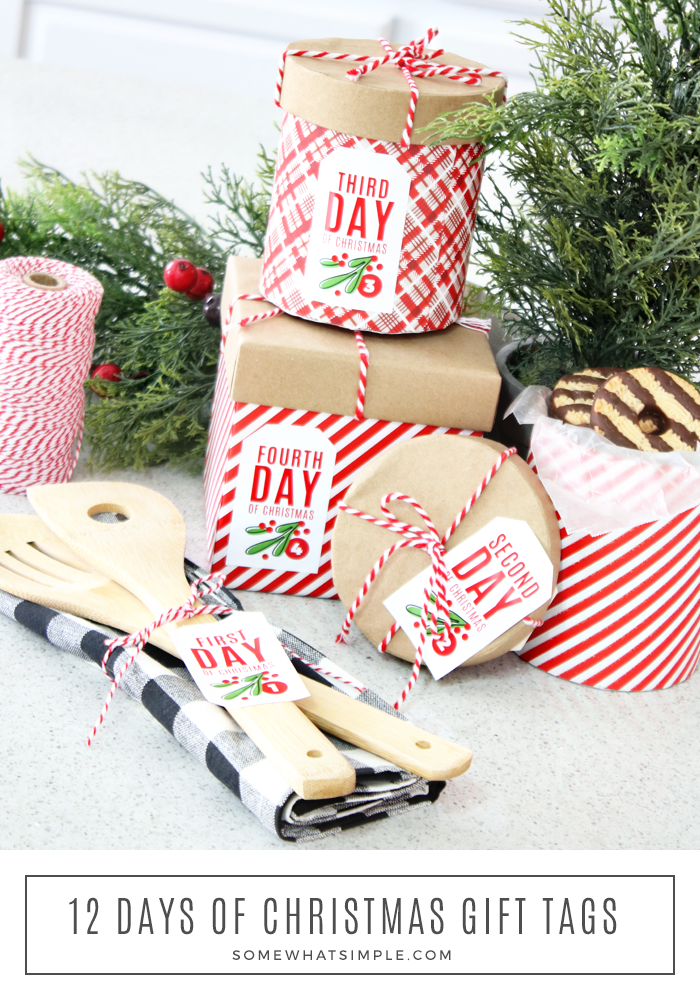 The 12 days of Christmas is the perfect way to start spreading Christmas cheer! Our free printable gift tags will help make it extra special!
We partnered with OnlineLabels.com to show you how easy it is to make gift giving this holiday season simple and memorable!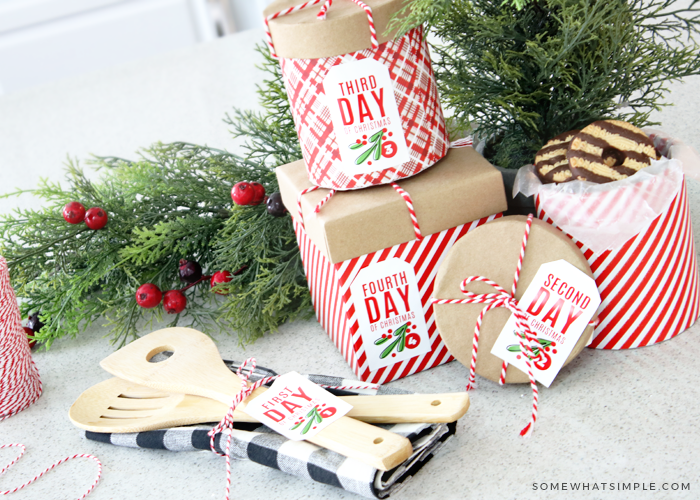 12 Days of Christmas Free Printable
Countdown to Christmas by playing Secret Santa to your neighbors, co-workers and friends! Whether you're giving baked goods, small gifts, or a partridge in a pear tree, these 12 days of Christmas tags are a great way to tie everything together! Kids will love participating in this activity, and they'll get to experience first-hand how much joy can come from giving and serving others.
We designed these darling 12 Christmas tags – one for each day – with busy families in mind! Download the free file, print them from home, then stick them to your gifts. It's creative gift giving, simplified!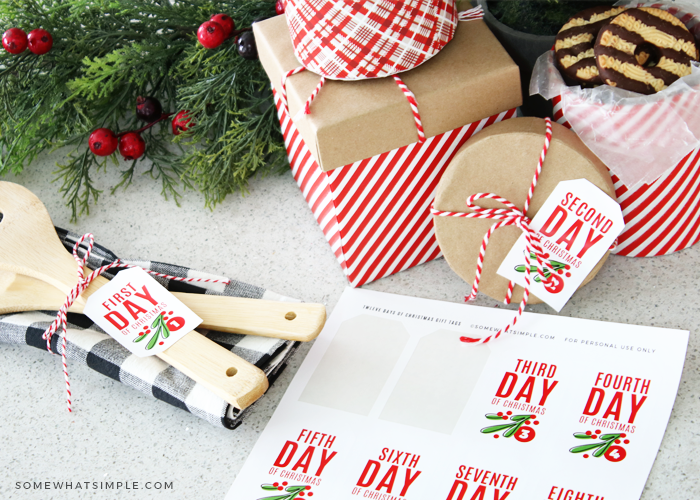 Easy Gift Tags
Our 12 Days of Christmas Tags were designed to fit a sheet of Gift / Price Tag Labels from OnlineLabels.com – have you heard of them?
OnlineLabels.com sells a variety of materials that come in handy all year… not just at Christmas time! Whether you need blank label sheets, a roll of custom stickers, or pre-made designs for your next project, OnlineLabels.com can help! They have a large selection of sizes and shapes to choose from, so you'll have no problem finding exactly what you need!
One thing I love so much about OnlineLabels.com is the ability to order in custom quantities. Gone are the days of having leftover labels once your project is done! If you only need 1 sheet of these gift tag labels for your 12 Days of Christmas gifts, you can literally order 1 sheet of labels! OnlineLabels.com makes creating labels simple and affordable – just the way I like it!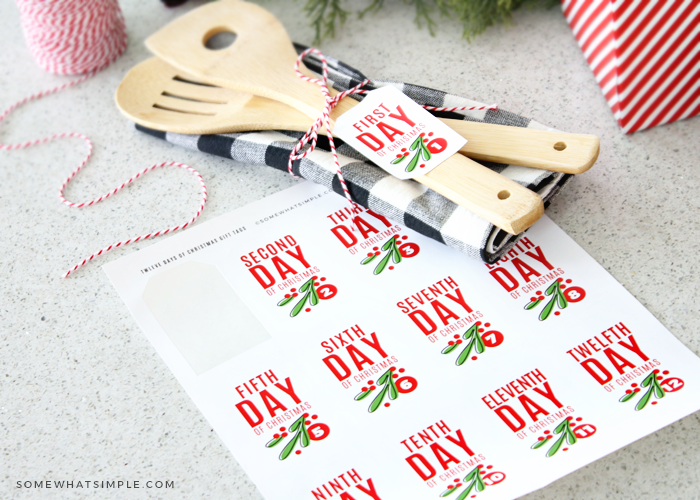 When Does the 12 Days of Christmas Start?
Traditionally, the 12 days of Christmas is a celebration of the birth of Christ that ends with the arrival of the three wise men. Thus, the first day of Christmas starts on December 25th and celebrations commence 12 days later, on January 5th.
The popular variation of this is to start celebrating twelve days before Christmas on December 13th. Leave a small gift on your neighbor's doorstep, ring the doorbell, then run away before getting caught!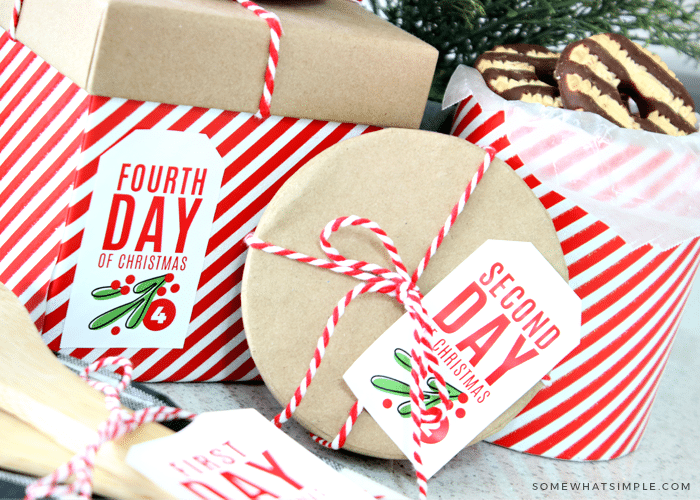 12 Days of Christmas Ideas
The gifts you give as a part of the 12 days of Christmas don't have to be expensive. They mystery makes everything special for both the giver and the receiver. Here are a few gift ideas:
12 Days of Nativity – Give a piece of a nativity scene each day with a scripture about each piece. At the end of the 12 Days, the recipient will have a whole nativity set. Here's a few 12 piece nativity sets that would be perfect!
Traditional 12 Days of Christmas with a Twist – Give 5 glazed donuts instead of 5 golden rings, and give 2 Dove chocolate bars instead of 2 turtle doves, etc.
12 Days of Family Fun – Open an envelope each day with an activity to do as a family. Make hot cocoa, read a Christmas story, go see Christmas lights, play a board game, read a Christmas story or watch your favorite Christmas movie.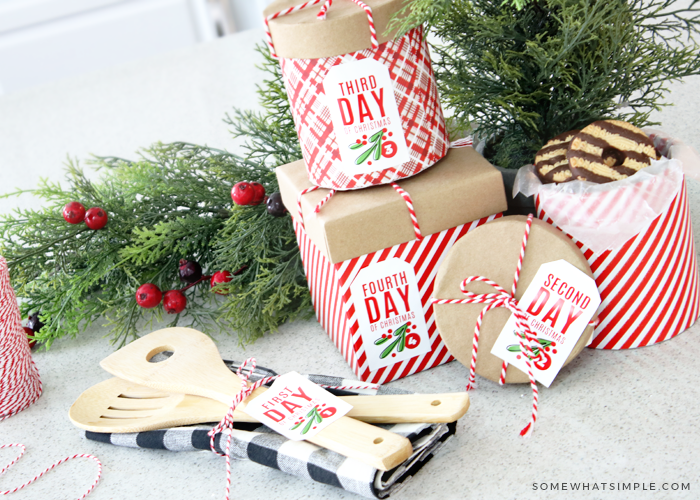 How to Make Holiday Gift Tags
However you decide to celebrate the 12 Days of Christmas this year, our fun printable gift tags sure make a fun addition!
YOU WILL NEED –
Free printable gift tag design (download below)
1 sheet of Gift Tag Labels from OnlineLabels.com
12 gifts, wrapped
DIRECTIONS –
Order you labels and have them shipped to your home.
Download the gift tags and print them on the sheet of labels.
Attach to your daily dose of cheer, and you're ready to start giving gifts!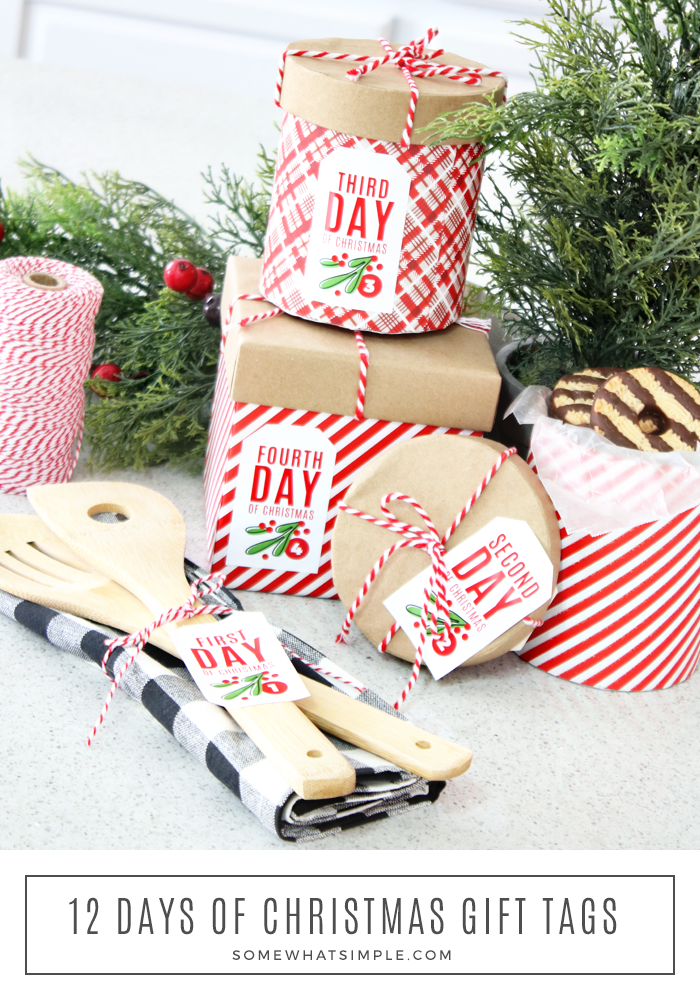 This is a sponsored post, but all opinions are my own.