Christmas doesn't have to be all about the kids! Strengthen your relationship by setting aside some Christmas Eve traditions just for the two of you! These five Christmas Eve traditions will help make this Christmas even more special.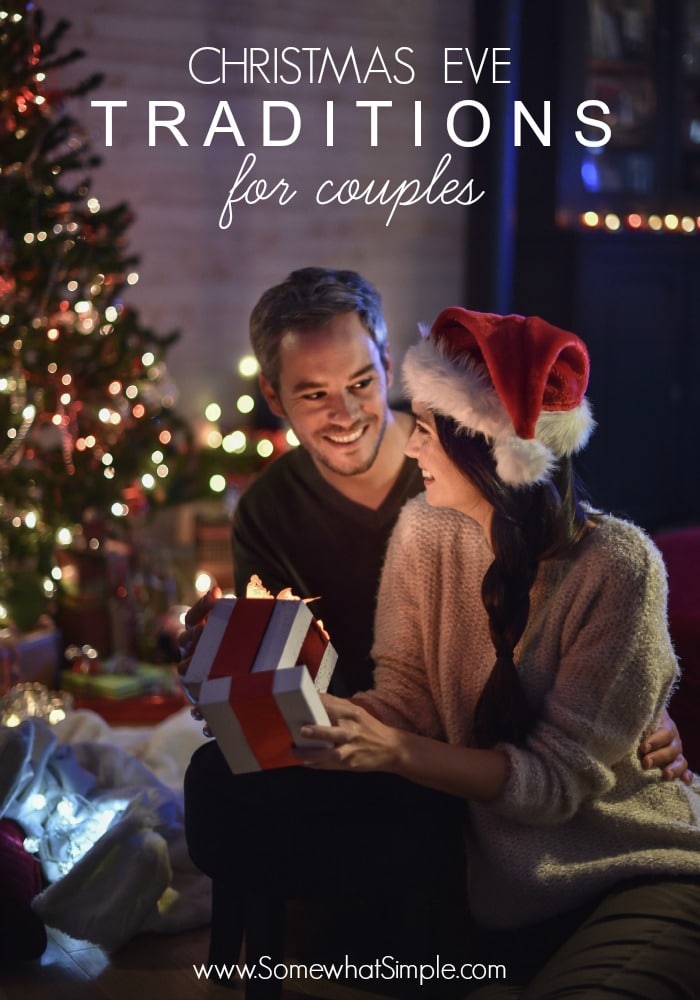 It's easy to get stressed out over the holidays, or volunteer for too much, or worry over the kids and everything they want. Sometimes the greatest Christmas joy comes out of just taking time to appreciate the season and spend time together.
Christmas Eve Traditions for Couples
Some parents, if they aren't careful, can make Christmas all about the kids. It's true, they are the ones that still believe in Santa Claus, but that doesn't mean they are the only ones who should be making memories. It's just as important to make memories with your spouse. Turn the holidays into something special just for the two of you.

MY LATEST VIDEOS
This year, my husband and I have been trying to decide what traditions we would like to make our own. I started a special Christmas stocking just for him with surprises leading up to Christmas, but I wanted to start some special traditions just for Christmas Eve. Here are a handful of ideas that I came up with:
Things To Do On Christmas Eve
Ornaments: I know a family that does this and I LOVE it. This can be a tradition just for the two of you, or you can make it a family tradition. Each year, before you go to bed on on Christmas Eve, you give each other an

ornament

that represents a favorite memory together that year. It could represent a vacation, something funny, or something meaningful. Another way to do this is to take turns buying the ornament each year. After several years of doing this, you will have a tree full of memories. You can have fun remembering them all as you pull them out each year.
Letters: Rather than ornaments, enjoy a festive treat just for the two of you (hot cocoa, sparkling cider, eggnog, etc.) and exchange letters expressing your favorite memory from that year. If you want to get creative, you can give each year a theme (funniest memory, most meaningful, funniest parenting moment, most admirable moment, etc.).
Movie in Bed. This is the last official night for Christmas movies, so enjoy one together just the two of you before you drift off. Don't have a TV in your room? Snuggle together with your phone, iPad or laptop. Have a special toast for the new year.
Kitchen Festivities. Some couples really enjoy baking together (not me). I know of several friends that have special traditions that involve making some type of food the night before Christmas. One of my friends makes doughnuts with her husband every Christmas Eve. Another couple I know gets in their Christmas pajamas and eats Chinese food together. Find a food that would be fitting for the two of you, and enjoy it (or make it) together every year as a tradition.
Predictions. This is similar to the first two traditions, but rather than reflecting on the previous year, you make predictions for the year to come. Write down where you see yourselves exactly one year from now, and tuck the predictions away until the next year. This could be funny situations you see your partner getting him or herself into, promotions you can see happening, silly things you can imagine you will fight about, or funny things your children will most likely do. This is a fun one to do with some sparkling cider!
More Fun Christmas Tradition Ideas
That's all I've got- do you have any more we can add to the list? Leave us a comment below!
I wish you all the happiest of holidays!