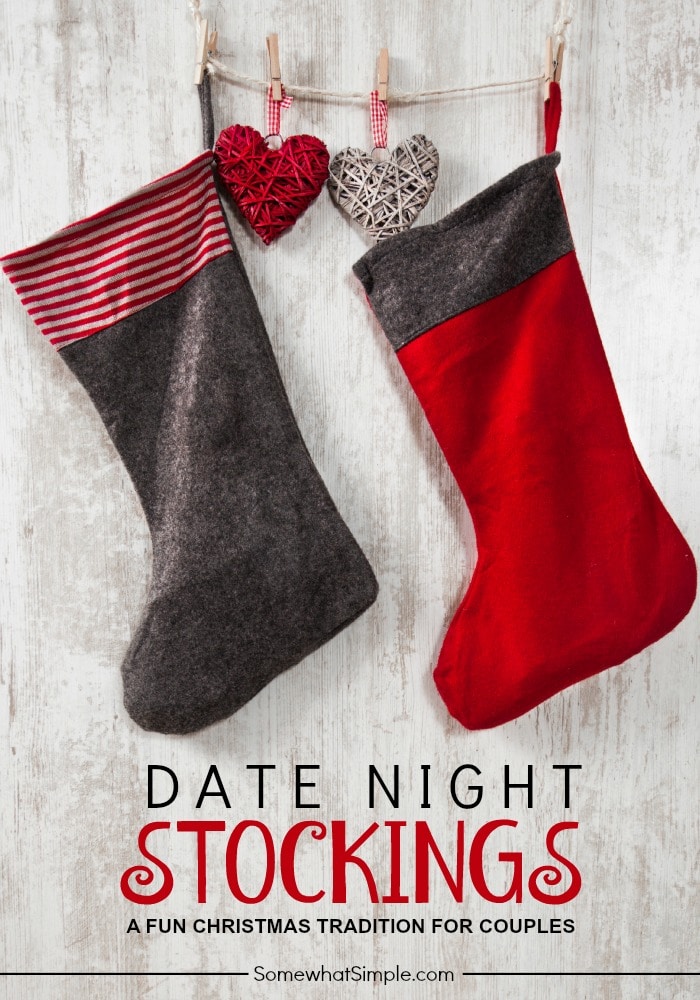 The best thing about the Christmas Season is creative new memories with the ones we love. This couples Christmas stocking tradition is a fun way to celebrate the holidays with our spouse or significant other.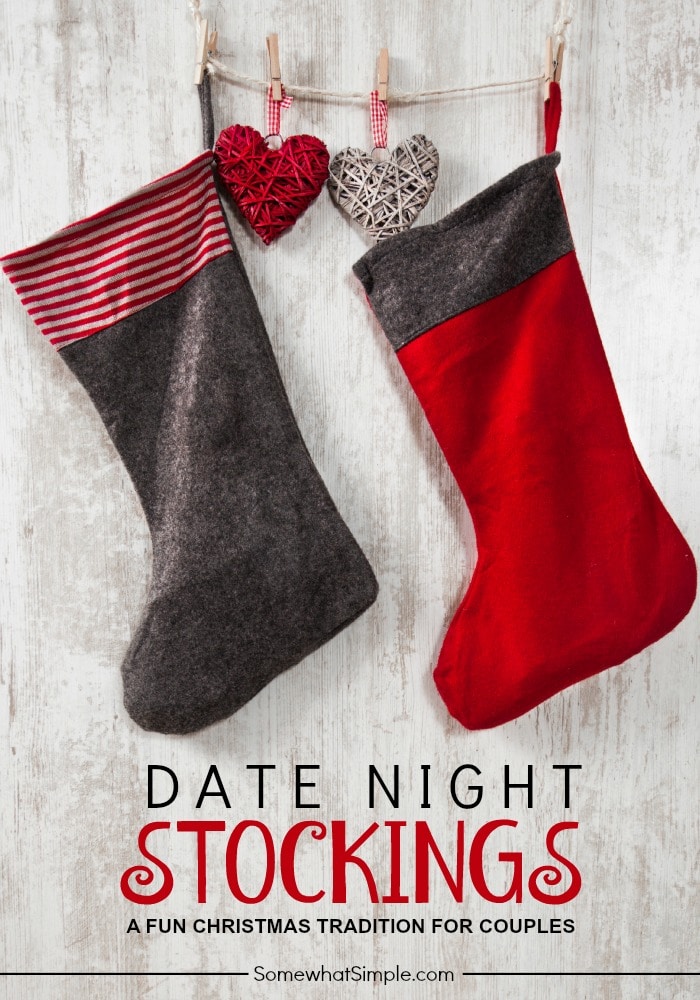 Christmas has a habit of of being mostly about the kids, and for good reason. There's nothing better than watching your kids squeal in delight over Christmas magic! However, there's another kind of magic that involves remembering to love and honor your marital commitments, even at Christmastime.
Since I'm a sucker for Christmas traditions, and I think it's especially important to have traditions as a couple, I came up with this Date Night Couples Christmas Stocking Tradition that is my new favorite way to celebrate the holidays with my husband. Here is what we do:
Fun Couples Christmas Stocking Tradition
I am in charge of filling my husband's stocking, and he's in charge of mine.
We fill each stocking with items we could use on a date night that they would enjoy. This could include gift cards, concert tickets, movie vouchers, etc. It could also include favorite snacks and treats or some fun massage oils for a date night at home 🙂
Couples Christmas Stocking Variation
If you both feel inadequate about coming up with good ideas that your spouse would enjoy, fill your stocking with ideas for dates that you would like your spouse to take you on. The point is to be creative and create a tradition that the two of you will have fun with!
My sister-in-law and I were talking last week about the fact that her and her husband stopped getting each other gifts years ago. Not because they didn't care about each other, but because they wanted to put what they had towards their kids gifts. But this Couples Christmas Stocking Tradition is proof that you don't have to spend a lot (or any money!) to remember each other. You can be as thrifty or as extravagant as you like!
What Would You Include in a Couples Christmas Stocking?
To help everyone make the best stocking, leave a comment below and tell us what you would include in your partner's Christmas stocking.
More Fun Christmas Tradition Ideas
About the Author: Kristina is the creative author of Mother's Niche, a blog full of fun ideas for families. Kristina was a member of the Somewhat Simple Creative team until 2015.
This post originally published on Somewhat Simple in December 2014.