These s'mores rice krispy treats are so gooey, chocolatey, and delicious! They're easy and fun to make, and the perfect treat to indulge that sweet tooth!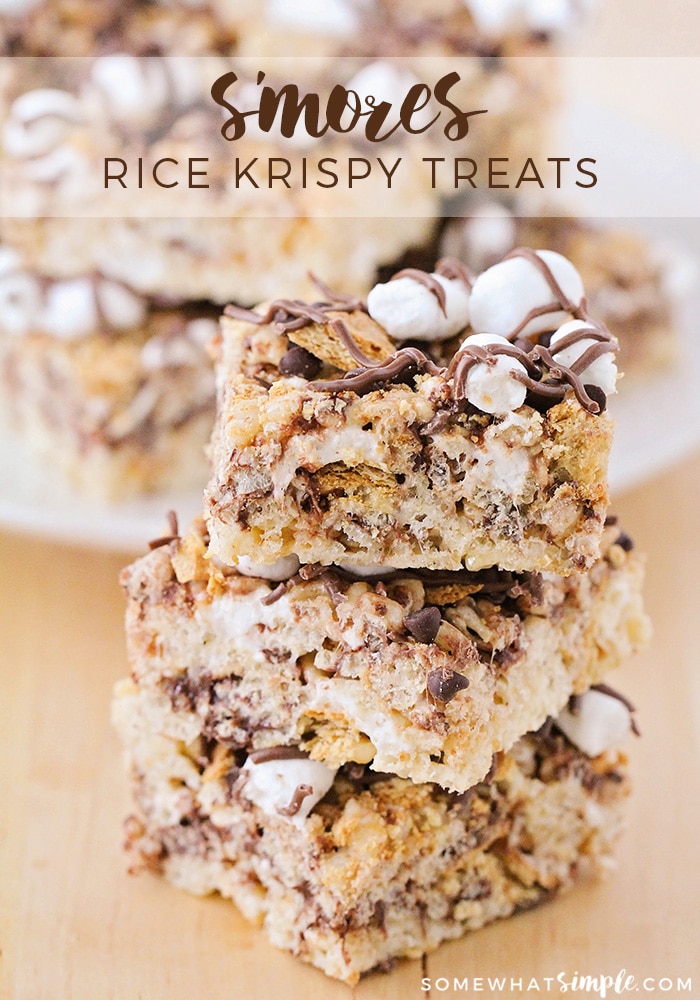 Who else loves all things s'mores? I don't know what it is about the combination of graham crackers, marshmallows, and chocolate, but I can't get enough. It's the perfect flavor for summer, and I plan to enjoy s'mores treats all summer long! These s'mores rice krispy treats are an easy and fun way to enjoy that fantastic s'mores flavor. They take just a few minutes to make, and are the perfect dessert for those nights when you don't want to warm up the house by turning on the oven.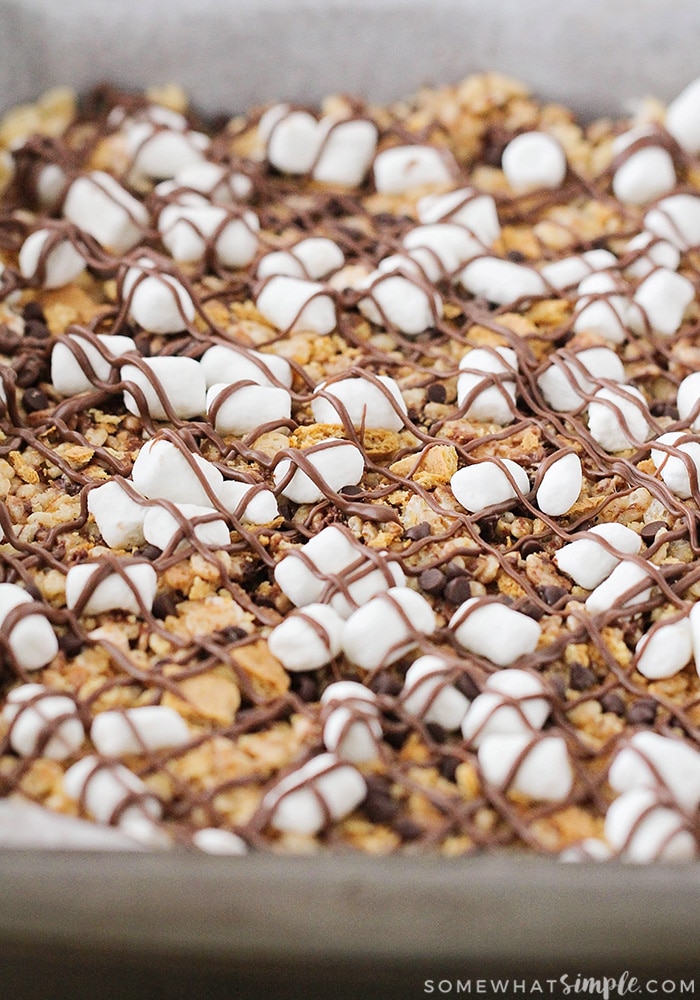 They're extra gooey, thanks to the addition of extra mini marshmallows, stirred in after the cereal is added. The marshmallows only melt halfway, so they form little pockets of marshmallowy deliciousness throughout the treats. They also have chunks of graham cracker and mini chocolate chips stirred in, creating a fantastic combination of flavors. These are some of my favorite no-bake treats that I've ever made. Yum!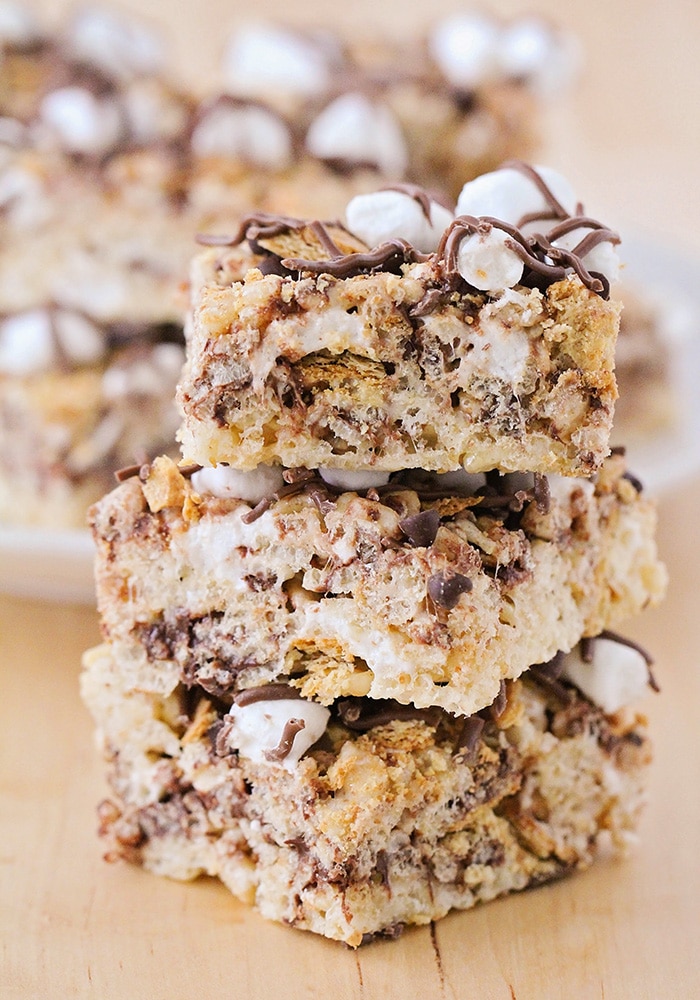 S'mores Rice Krispy Treats
INGREDIENTS –
4 tablespoons butter
1 package (10 ounces) marshmallows
5 1/2 cups crispy rice cereal
1/2 cup chopped graham cracker pieces
1 1/2 cups mini marshmallows
3/4 cup mini chocolate chips
2 ounces chocolate almond bark or chocolate candy melts
DIRECTIONS –
Spray a 9 x 13 pan with cooking spray or line with parchment.

In a medium pot, melt the butter over medium heat.

Add the marshmallows and stir until melted.

Remove from heat and g

ently stir in the cereal and graham cracker pieces. Let cool 5 minutes, then stir in 1 cup of the mini marshmallows and 1/2 cup of the mini chocolate chips, working fast to prevent the chocolate chips from melting.

Spread the mixture in the prepared pan and top with the remaining marshmallows and chocolate chips.

 Melt the almond bark according to the package directions, then drizzle over the rice krispy treats. 

Let cool, then cut into squares and serve.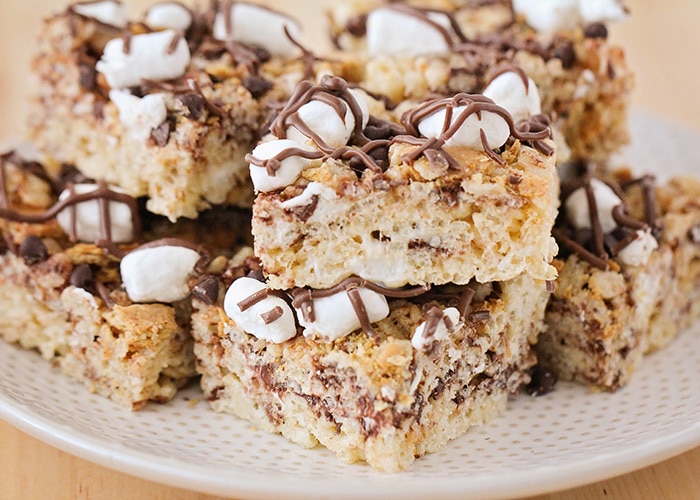 For more delicious rice krispy treat recipes, check out some of our favorites below: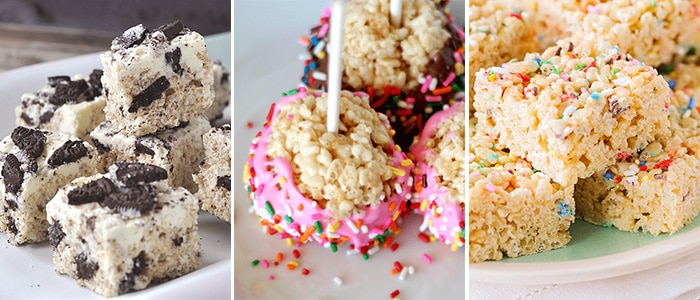 Cookies & Cream Rice Krispies | Rice Krispies Treats on a Stick | Cake Batter Krispy Treats