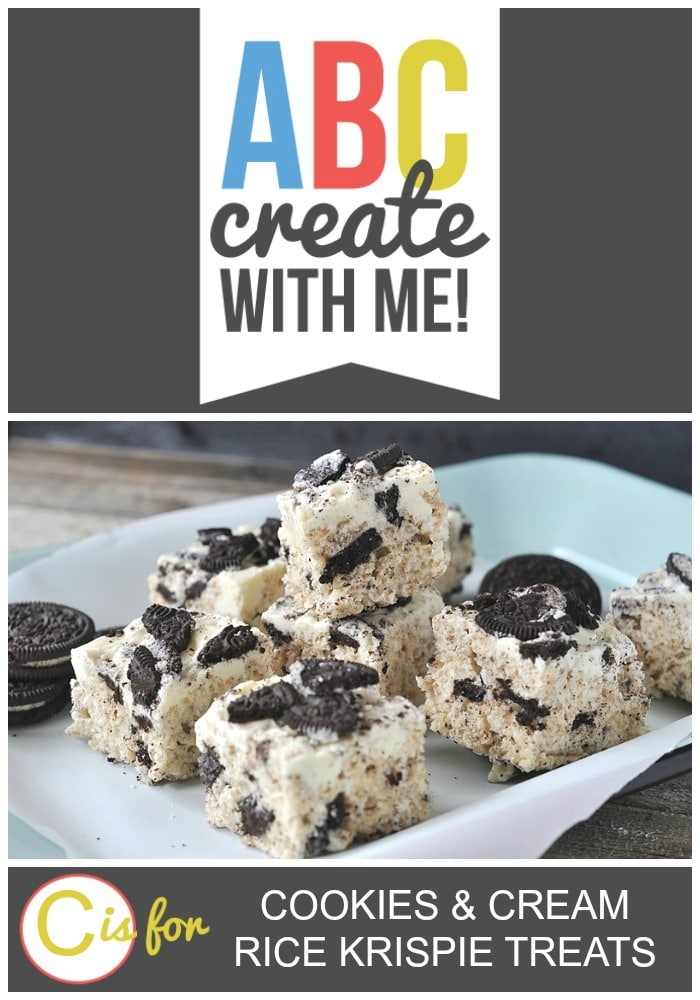 Hi! I'm Leigh Anne from Your Homebased Mom and I am so excited about this fun ABC – Create With Me Series that Stephanie is hosting.
I chose the letter C . The first thing that came to mind was the song "C is for cookie, that's good enough for me," that Cookie Monster loves to sing. So I decided that if it was good enough for the Cookie Monster, it was good enough for me. Of course chocolate also starts with C so I decided to combine cookie, chocolate and throw in cream for good measure and because it starts with C and make Chocolate Cookies and Cream Rice Krispie Treats!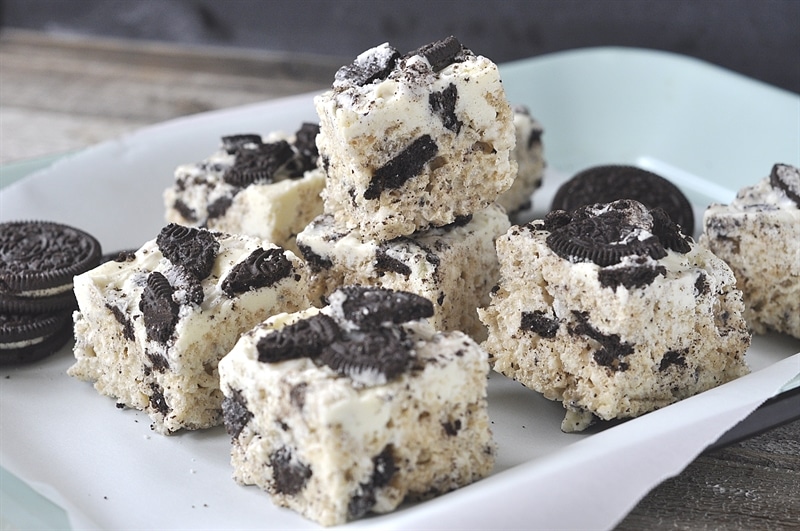 I love rice krispie treats but I make mine a little different than the recipe on the box. I like my rice krispie treats nice and gooey so I throw in extra butter and marshmallows. This time I also added in some melted white chocolate and chocolate sandwich cookies too!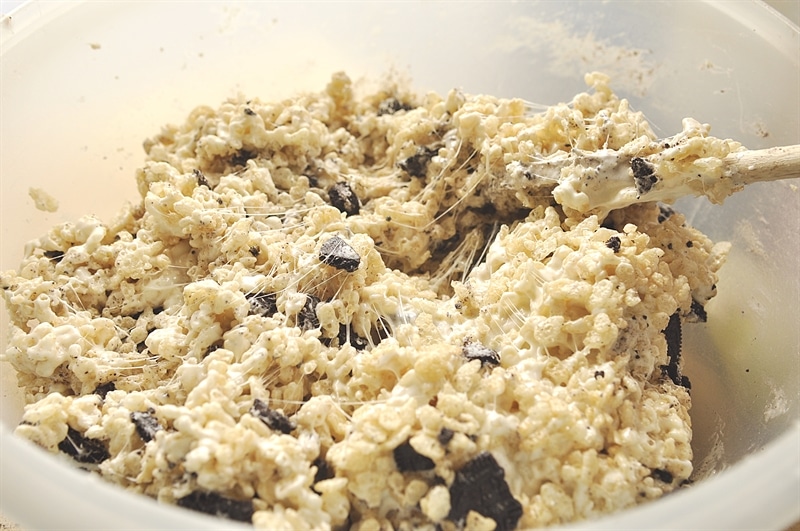 I then put them into the 9 x 13 pan and added more white chocolate and chocolate sandwich cookie goodness on top.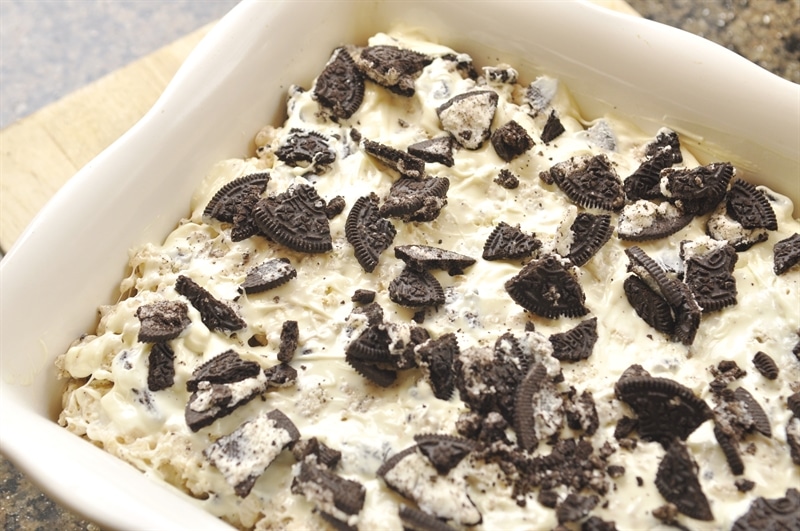 I first served these at a dessert potluck and they were one of the first things to disappear from the table! It's a fun way to dress up a family favorite.
Cookies and Cream Rice Krispie Treats
Ingredients:
1 full bag of marshmallows, I used mini but you can also use the large
1 cube of butter, 1/2 C
7 C rice krispies
2 1/2 C chocolate sandwich cookies, broken into small pieces, divided
1 1/3 C white chocolate chips, melted
1/2 C white chocolate chips or melts for top of bars
Directions:
In a heavy pan melt butter over medium heat.
Add in marshmallows and 1 1/3 C of white chocolate chips and stir until melted.
Stir in cereal and 2 C of broken cookies.
Put into a greased 9×13 pan.
Melt 1/2 C white chocolate chips and spread over top.
Sprinkle with remaining cookie.
Cool to room temperature and serve.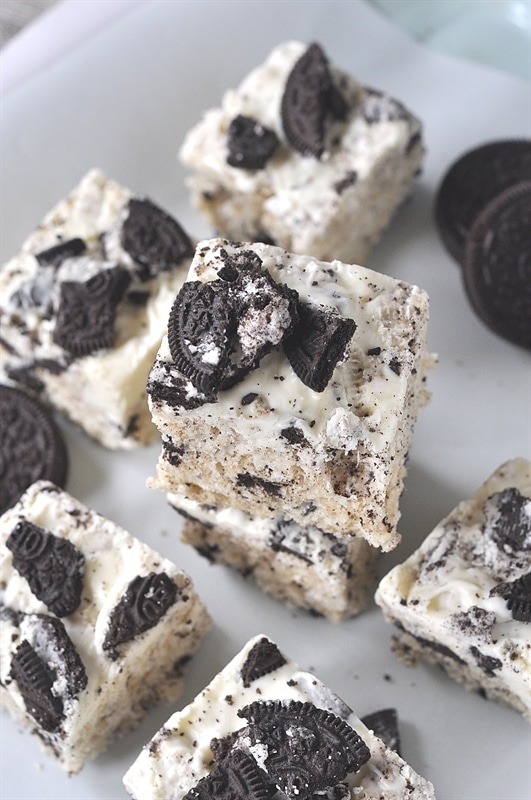 For some other yummy treats that start with the letter C check out these:
Chocolate Chip Oatmeal Cookies – Cookies & Cream Ice Cream – The Best Chocolate Cake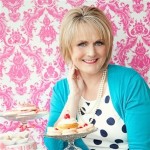 About the Author: I'm Leigh Anne and food, family and friends are three of my favorite things. I am the mother of four young adults, a new mother in law and am still trying to adjust to life as an empty nester along with my husband of over 30 years. I love throwing parties, burying my head in a book and digging in the dirt in my garden. My husband would tell you I love making messes in the kitchen and craft room and finding junk (treasures) at Goodwill. I believe that life is beautiful and it is up to us to find and create that beauty. I love sharing my journey to finding the pretty and delicious in life over at Your Homebased Mom. You can also visit me on Facebook, Pinterest, Twitter orInstagram.