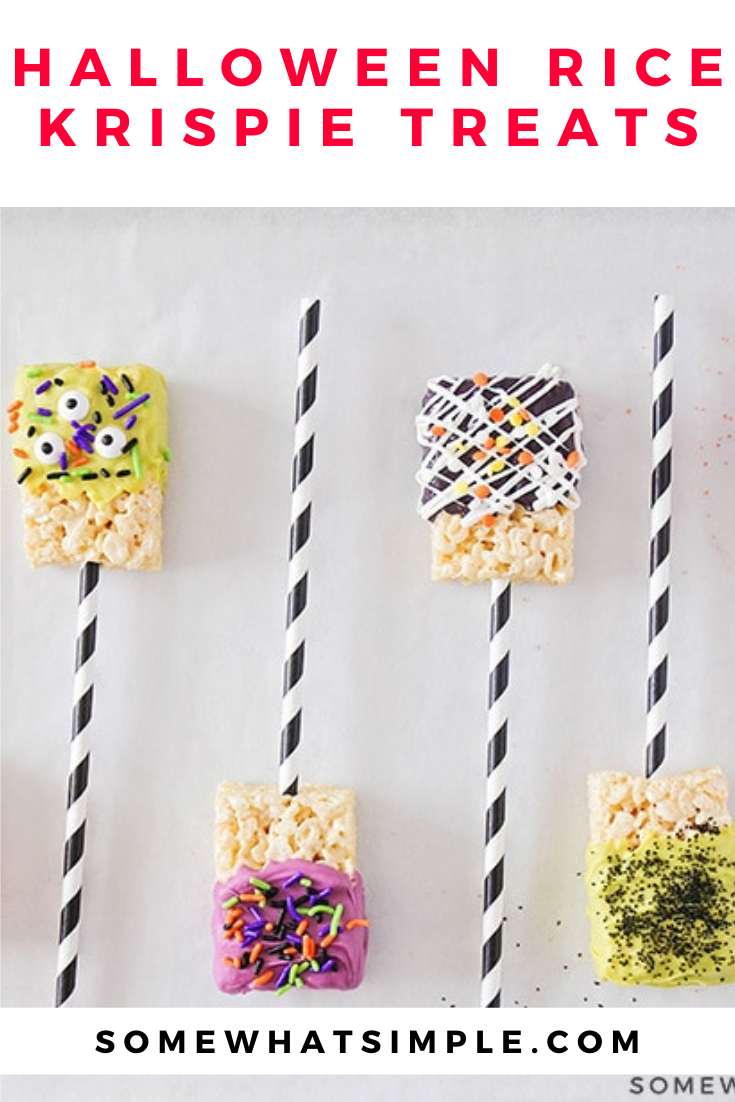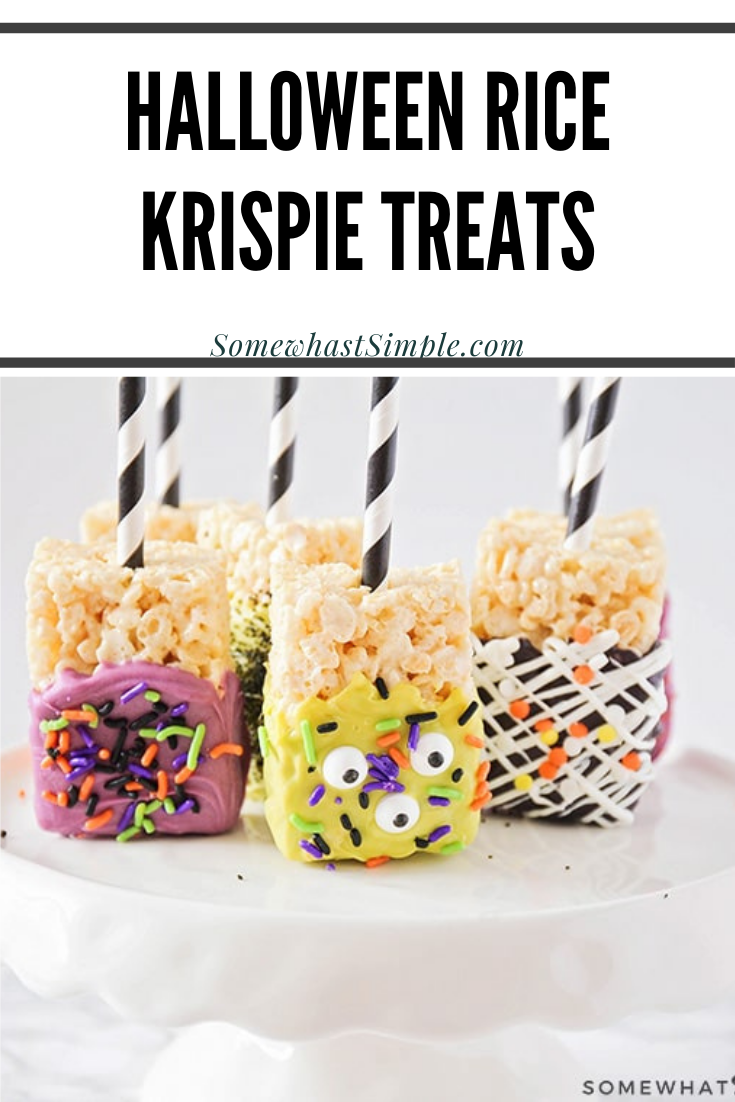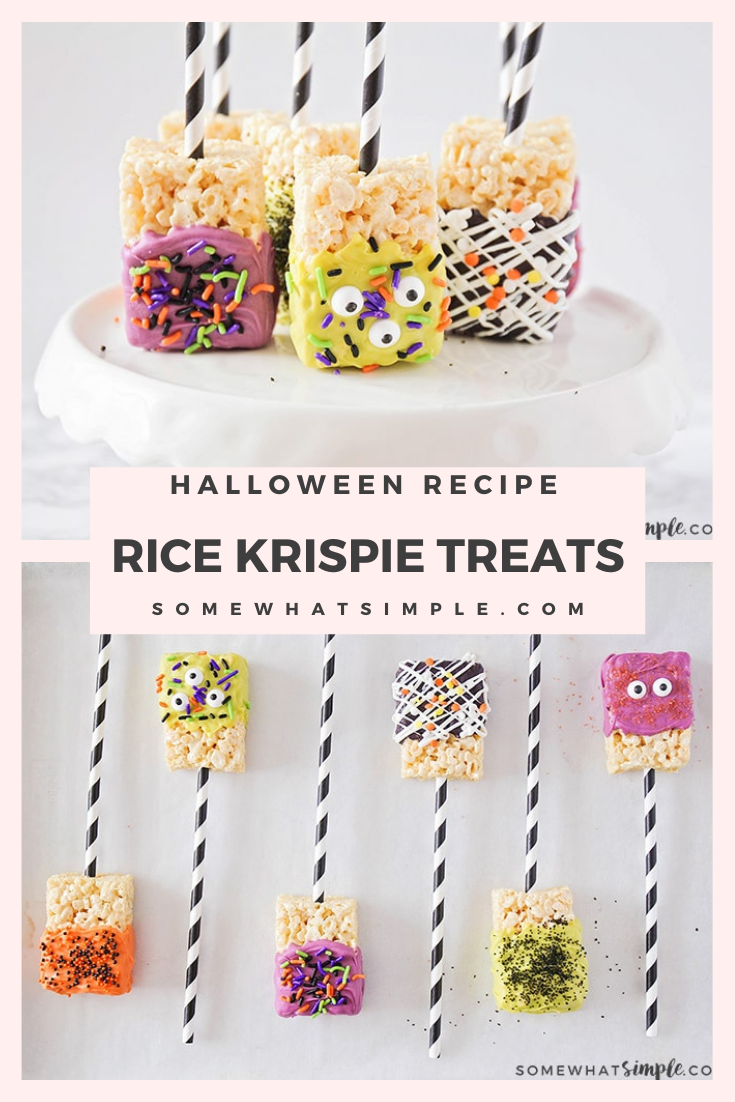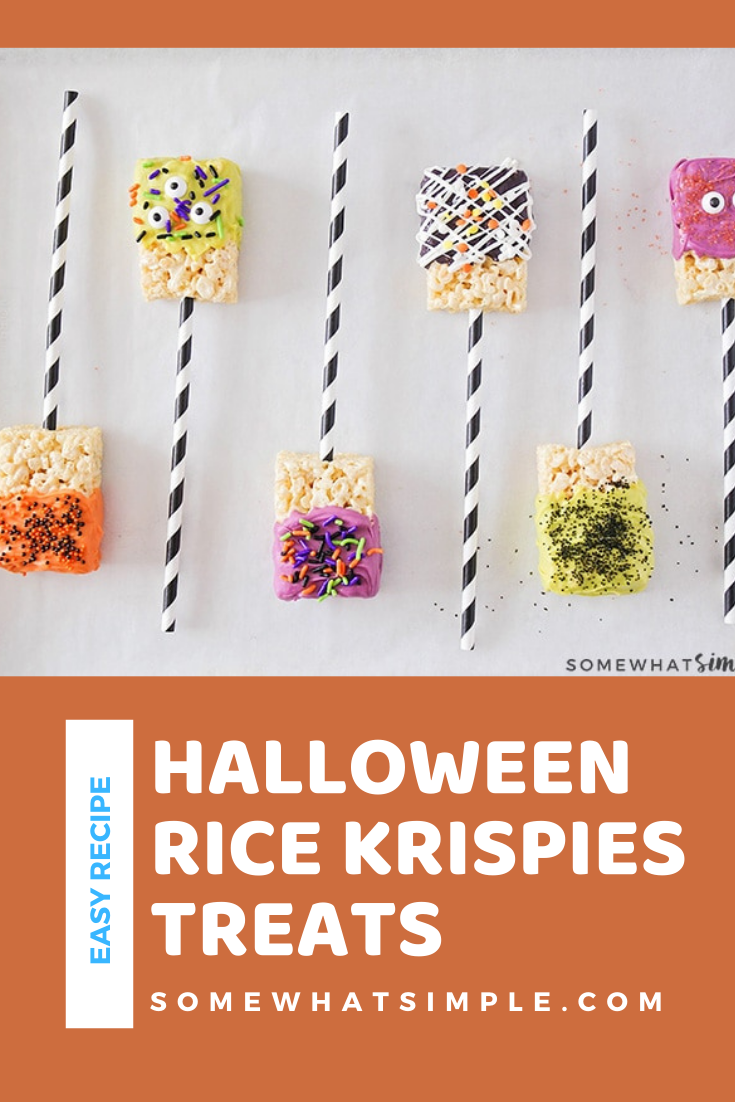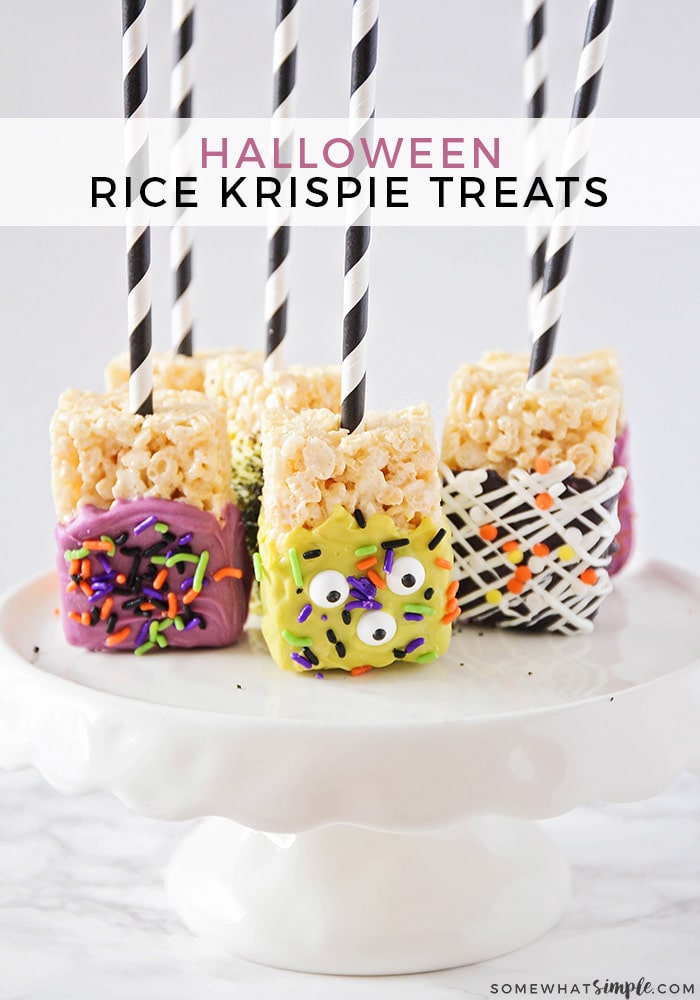 With just a few basic
ingredients and 30 minutes of your time, you can make t

hese fun chocolate dipped Halloween Rice Krispie Treats that are both cute and simple!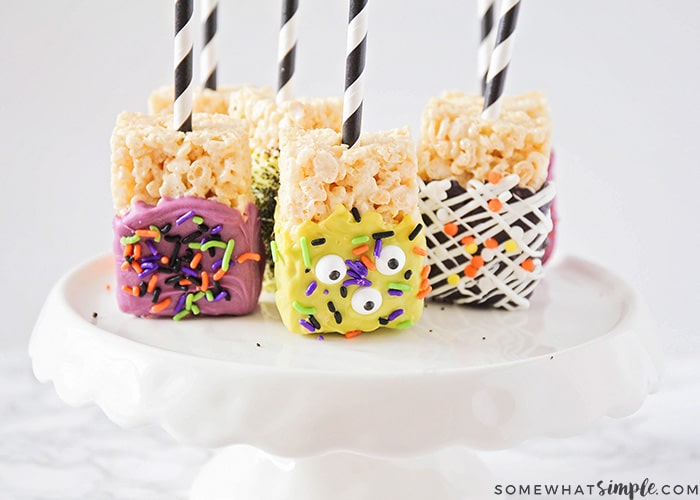 Halloween Treats
Rice Krispie Treats are one of those fun snacks that can be dressed up and decorated to match any season and holiday! These Halloween Rice Krispies are one of my favorite variations yet! Not only do the sprinkles and frostings look adorable, but we also put them on sticks. And I'm convinced, treats on sticks are always way more fun than their stick-free counterparts… am I right?
Look how cute these are –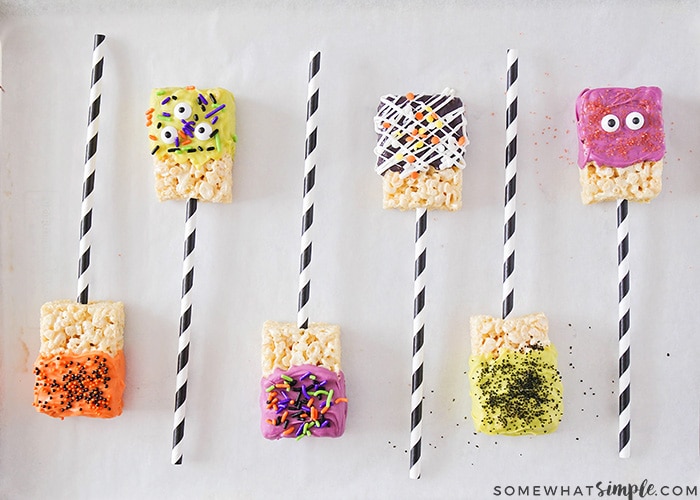 If you wanted, you could even slip these into 4×6 treat bags. Tie them closed with some ribbon and you have fun take-home favors for your Halloween party!
Here are a few more Rice Krispie Treats we LOVE –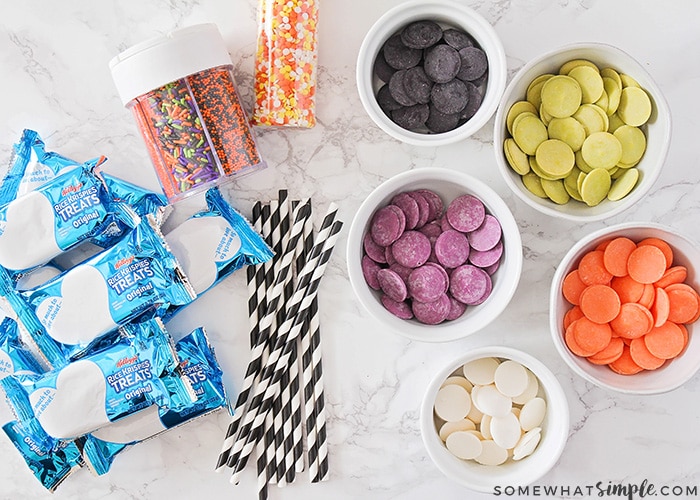 Halloween Rice Krispie Treats
SUPPLIES:
Rice Krispie Treats (store bought or homemade – we like easy, so we used store bought)
Sprinkles
Paper Straws
TO MAKE:
Melt the candy melts following the directions on the package
Insert straws into the rice krispies (leave some of the wrapper on, that way you have somewhere to hold while you push the straw in)
Dip the top half of the rice krispies square into the melted chocolate or use a spoon to drip the chocolate on
Immediately add some fun sprinkles
Let the chocolate set up and you are done!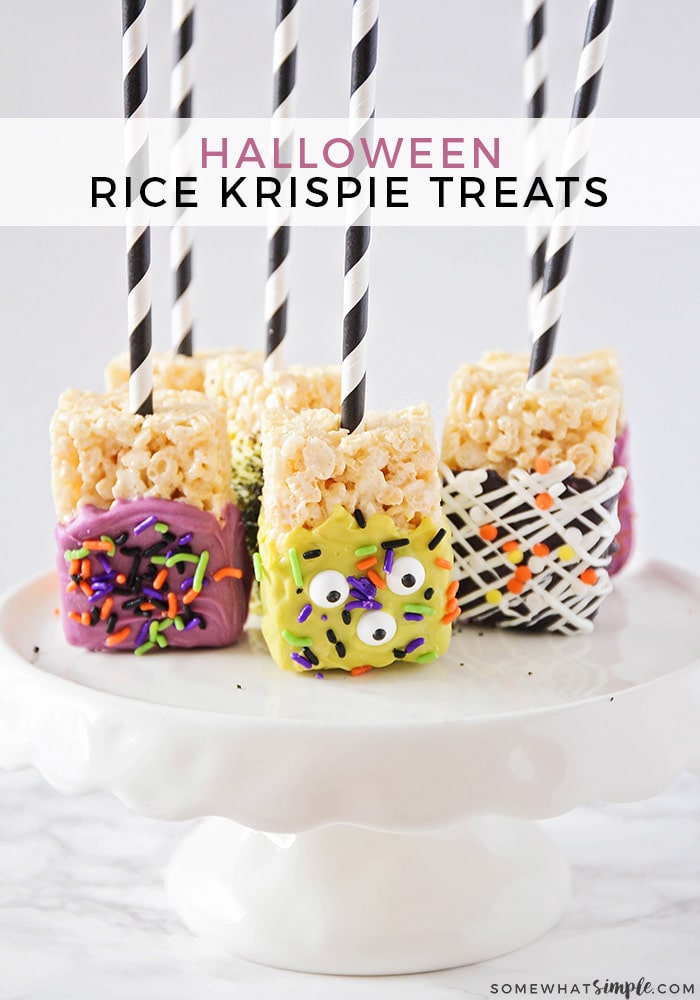 ENJOY!
. . . . .
ABOUT THE AUTHORS: Jamie. Jodie. Jennifer. Born + raised (and still here) in Vegas. Us three sisters grew up in a little brick house on the east side of town. The number hammered onto our mailbox was 1825. We live only miles from each other now and get together as much as possible to play. With 12 kids between the three of us, the more playtime, the better. We've decided to share some of our fun with you. Come over and see us at eighteen25 || Facebook || Instagram || Pinterest.
This post originally published on Somewhat Simple in October 2015. It was updated in October 2018.