This chocolate protein brownies recipe is both delicious and easy to make.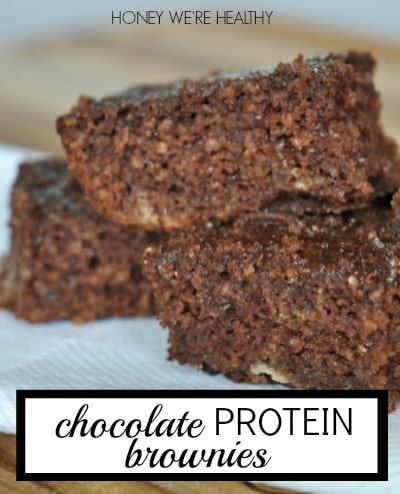 Hope you all had a wonderful holiday! If you are maxed out on fattening foods, don't worry, I have a tasty (and healthy) chocolate treat for you today! These "brownies" are so good, and filled with protein. The consistency is actually more like a cake, but you don't have to feel guilty about eating this cake. The recipe comes from Jamie Eason and I put in italics how I tweaked it. I've also made them leaving out the sugar completely and adding a 1/4 – 1/2 cup of dark chocolate chips and it's even better! You can find more healthy recipes at my blog, Honey We're Healthy.
How To Make Chocolate Protein Brownies
Ingredients
1 cup Oat Flour (I ground oats finely in a food processor)
2 scoops Vanilla Whey Protein Powder (I used chocolate protein powder)
½ tsp Baking Soda
¼ tsp Salt
3 tbsp Baking Cocoa
4 Egg Whites
½ cup Splenda (I used 1/4 cup real sugar)
8oz Berry flavored Baby Food (I used 8oz applesauce)
4oz Water
Directions
Preheat oven to 350 degrees.
Mix dry ingredients (oat flour, vanilla whey protein, baking soda, salt, baking cocoa) together in a large bowl.
Mix wet ingredients (egg whites, Splenda, berry flavored baby food, water) together in a medium sized bowl.
Add wet ingredients to dry ingredients and mix together.
Spray cooking dish (I used an 8×8 glass pan) with a non stick butter spray or olive oil spray and add batter to dish.
Bake for 20-30 minutes (mine cooked for closer to 30 minutes)
Chocolate Protein Brownies Recipe
These brownies are super delicious and packed with protein.
Ingredients
1

cup

Oat Flour

,

I ground oats finely in a food processor

2

scoops

Vanilla Whey Protein Powder

,

I used chocolate protein powder

½

tsp

Baking Soda

¼

tsp

Salt

3

tbsp

Baking Cocoa

4

Egg Whites

½

cup

Splenda

,

I used 1/4 cup real sugar

8

oz

applesauce

,

or other Berry flavored Baby Food

4

oz

Water
Instructions
Preheat oven to 350 degrees.

Mix dry ingredients (oat flour, vanilla whey protein, baking soda, salt, baking cocoa) together in a large bowl.

Mix wet ingredients (egg whites, Splenda, berry flavored baby food, water) together in a medium sized bowl.

Add wet ingredients to dry ingredients and mix together.

Spray cooking dish (I used an 8x8 glass pan) with a non stick butter spray or olive oil spray and add batter to dish.

Bake for 20-30 minutes (mine cooked for closer to 30 minutes)
Nutrition
Serving:
1
bar
·
Calories:
127
kcal
·
Carbohydrates:
26
g
·
Protein:
4
g
·
Fat:
2
g
·
Saturated Fat:
1
g
·
Sodium:
181
mg
·
Potassium:
130
mg
·
Fiber:
2
g
·
Sugar:
13
g
·
Vitamin A:
8
IU
·
Vitamin C:
1
mg
·
Calcium:
11
mg
·
Iron:
1
mg
Other Notes