With the SuperBowl coming up, and Valentine's Day shortly after, I can't help but think about desserts that a man would love.  That's when I thought of these delicious brownies!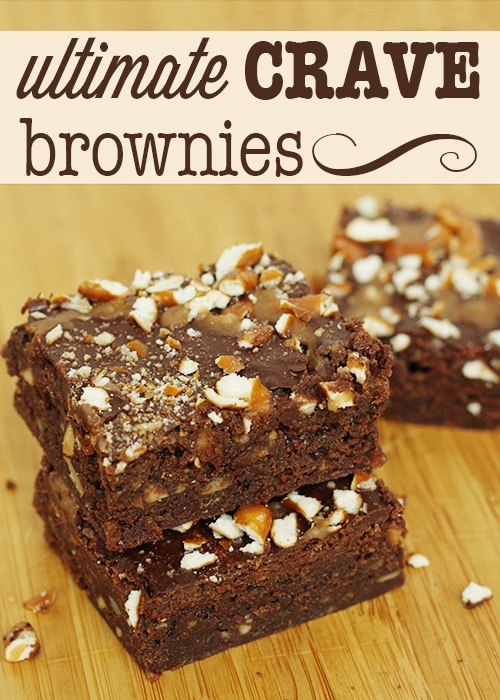 Enter the Ultimate Crave Brownie.  I made these a while back and had to send them to my husband's office shortly after in order to save myself!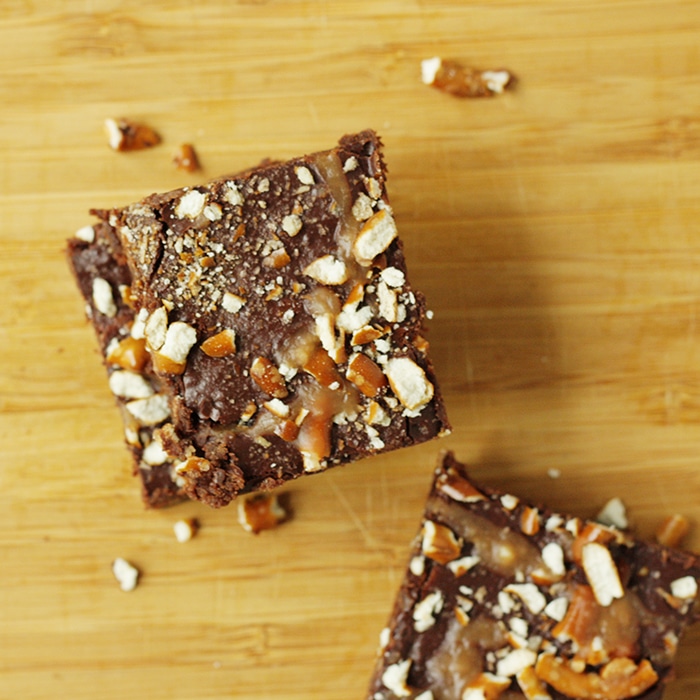 Loaded with salted pretzels, smoky bacon, salted nuts, and whiskey caramel, this brownie is not for the weak.  It would be perfect for your game-day line up.  And with the salty and sweet factor, it is sure to satisfy any craving you ladies may have too!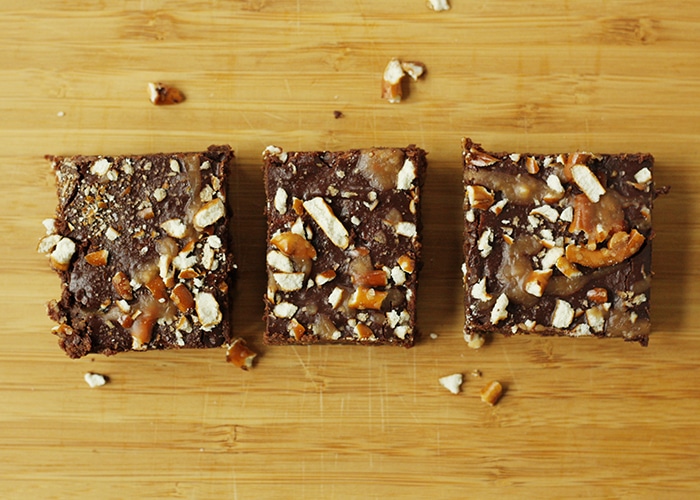 BROWNIES RECIPE
Ultimate Crave Brownies
adapted from My Baking Addiction
Brownies:
2/3 cup all-purpose flour
1/2 teaspoon salt
1/2 teaspoon baking powder
2 ounces unsweetened chocolate, chopped
4 ounces bittersweet or semisweet chocolate, chopped
10 tablespoons (1 stick plus 2 tablespoons) unsalted butter
1 1/4 cups sugar
2 teaspoons vanilla extract
3 large eggs
1/2 cup chopped, salted mixed nuts
1/4 cup chopped, cooked bacon (about 6 strips)
Caramel Sauce
Chocolate Glaze
3 ounces (90 grams) semisweet chocolate, chopped
1 tablespoon (14 grams) unsalted butter
Salted pretzels, crushed
Preheat oven to 325°.  Spray an 8-inch square baking pan with cooking spray.  Line the pan with foil or parchment paper, extending it up the sides.  Spray again with cooking spray and set aside.
In a small bowl, whisk flour, salt and baking powder and set aside.  Melt chocolate and butter in a medium bowl over a pan of simmering water. Remove from heat and whisk in sugar and vanilla.  Whisk in eggs, one at a time, fully incorporating each one before adding the next and continue whisking until the mixture is smooth and glossy.   Stir in dry ingredients until just incorporated. Stir in nuts and bacon.
Pour batter into prepared pan.  Drizzle caramel sauce over batter.  Bake at 325° for 35 to 45 minutes, or until a toothpick inserted in center comes out with some crumbs.  Remove from oven and cool in pan, on a wire rack, for five minutes.
In a heatproof bowl over a saucepan of simmering water, melt the chocolate and butter.  Spread over the brownies and top with crushed pretzels and a drizzle of caramel sauce. Refrigerate until set. Remove the brownies from the pan and cut into squares.  Try to share.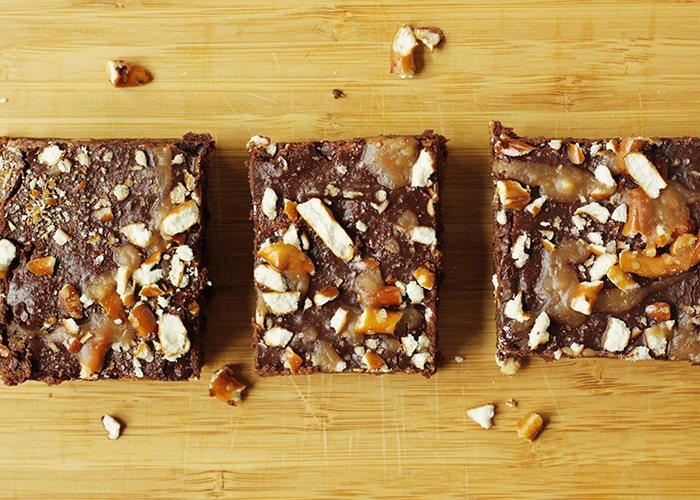 I think I will be making another batch of these very soon!