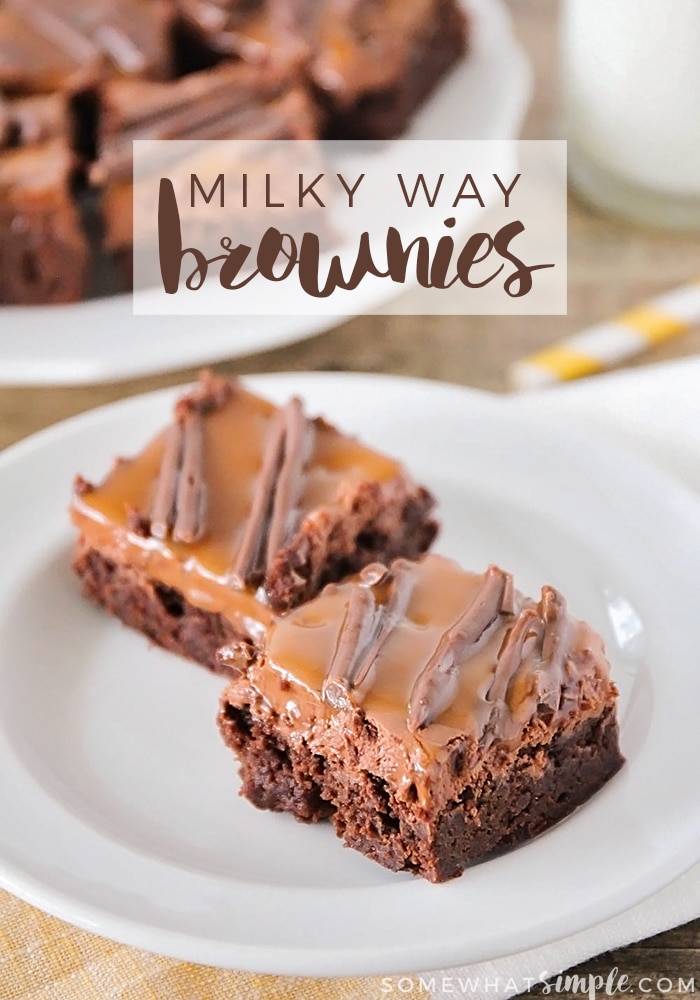 These indulgent Milky Way brownies are incredibly delicious and perfect for satisfying that sweet tooth. An indulgent treat for any chocolate lover!
I love to serve these brownies at a Birthday Party, a Super Bowl party or a Baby Shower. Just be sure to have a large pitcher of milk ready to serve with these!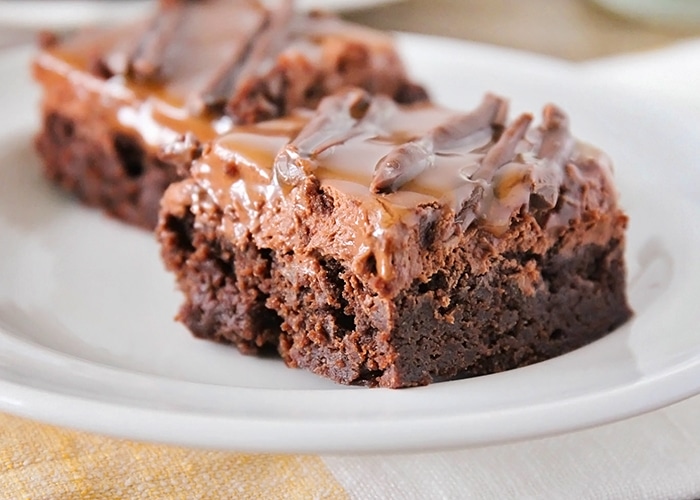 Do you have a favorite candy bar? When I was growing up, I couldn't get enough Snickers bars, but these days I'm all about the Milky Ways. I'm a sucker for anything with caramel, and I love the way the caramel blends with the chocolate nougat. They're candy perfection, as far as I'm concerned. Of course, I also have a deep and abiding love for homemade brownies, so I decided it was high time I figured out a way to combine the two. These milky way brownies were the result, and they ended up even better than I had anticipated!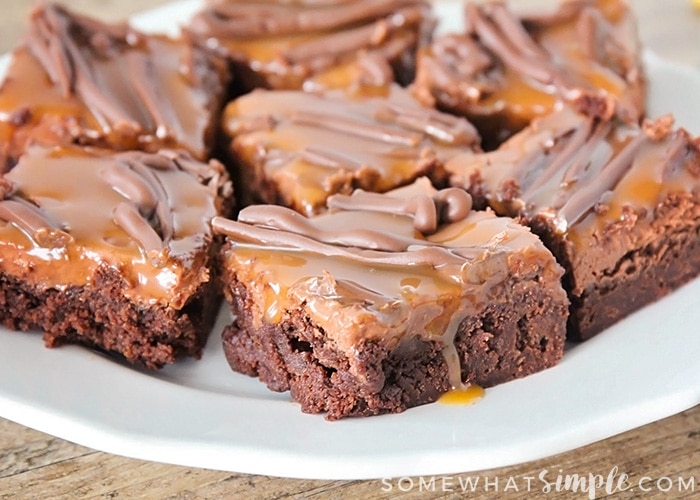 Easy Milky Way Brownies
I started with my favorite simple and tasty homemade brownies recipe, then topped them with a homemade chocolate nougat (made by combining marshmallow fluff and melted chocolate – yum!) and drizzled them with caramel and more melted chocolate. They're ooey-gooey, luscious, and amazingly delicious.
They're also so rich that you will definitely need a big glass of milk to go with them! I cut my milky way brownies into 16 pieces, and even a small piece was still so rich that I could hardly finish it. I did anyway, of course. They're the kind of brownies you just have to see through to the end. 🙂
Tools Used To Make Milky Way Brownies
More Easy Brownie Recipes
How To Make Milky Way Brownies
Easy Milky Way Brownies
These luscious Milky Way brownies are incredibly delicious and perfect for satisfying that sweet tooth. An indulgent treat for any chocolate lover!
Ingredients
for the brownies:
4

ounces

1 stick butter, melted

1 

cup

sugar

2

eggs

1

teaspoon

vanilla

2/3 

cup

flour

1/2

cup

cocoa powder

1/2

teaspoon

baking powder

1/4

teaspoon

salt
for topping:
1

cup

semi-sweet chocolate chips

2

tablespoons

half and half or heavy cream

1

cup

marshmallow cream

1/4

cup

caramel sauce

1/2

cup

milk chocolate chips
Instructions
DIRECTIONS -
Preheat the oven to 350. Line a 9 x 9 baking dish with foil or parchment, and set aside.

In a large bowl or the bowl of a stand mixer, mix together the butter, sugar, eggs, and vanilla. In a small bowl, whisk together the flour, cocoa powder, baking powder, and salt. Add the dry ingredients to the wet ingredients, and stir until just combined.

Pour the brownie mixture into the prepared pan, and spread evenly. Bake 20-25 minutes, or until a toothpick inserted one inch from the side of the pan comes out clean. Remove from oven and let cool completely.

In a microwave safe bowl, combine the semi-sweet chocolate chips and half and half. Heat on 50% power for 30 seconds, stir, and repeat, until the chocolate is melted. Stir in the marshmallow cream and spread the mixture over the brownies. Refrigerate until chilled.

Pour the caramel sauce over the top of the brownies and spread evenly. In a small microwave safe bowl, melt the milk chocolate chips at 50% power, stirring every thirty seconds. Drizzle the chocolate over the caramel layer, and serve.
Nutrition
Other Notes
Leave us a comment below and let us know who they turned out. If you made any variations to the recipe, we'd love to hear about that too!