These chocolate caramel brownies need to make an appearance in your home right away!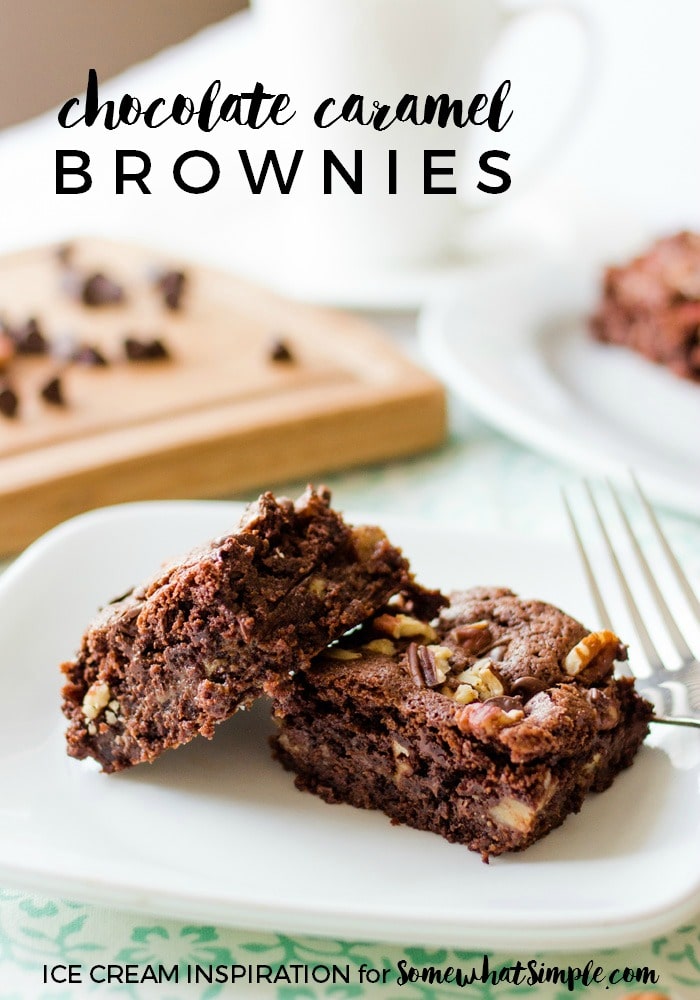 I don't know who invented the chocolate/caramel combo, but they should get an award of some kind. Chocolate and caramel are like a marriage made in heaven. Add some pecans to the mix, and you have an unbeatable brownie that is perfect for any occasion. Barbecue? You bet. Baby shower? Undoubtedly. Cradling a scoop of vanilla ice cream? Of course.
There are two options when it comes to the caramel in these brownies. One is to buy the caramel ice cream topping in the jar at the store. The other is to make your own caramel by boiling a can of sweetened condensed milk. You can find out all the particulars of that method here. I chose to use caramel I made myself.
To make the brownies, you put half the batter in the bottom of a greased 9×13 inch glass dish and bake it for 20 minutes. Then you remove it from the oven, pour on the caramel and add chocolate chips and pecans (if desired). Then you pour the rest of the batter on top (adding more chocolate chips and pecans if desired) and finish baking for another 35-40 minutes.
Just look at how thick and rich they are!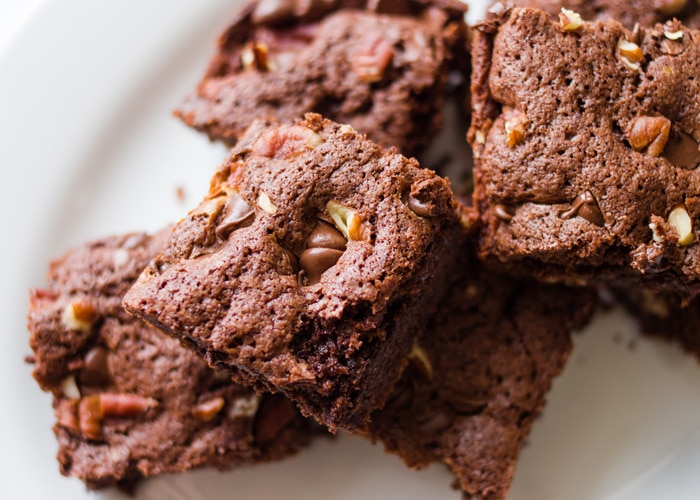 More Easy Brownie Recipes
Chocolate Caramel Brownies
INGREDIENTS:
2 cups sugar
4 eggs
1 tsp. vanilla
1 cup of butter, melted (2 sticks)
1 1/2 cups flour
1 tsp. baking powder
1 tsp. salt
3/4 cup cocoa powder
12 oz. caramel ice cream sauce, or half a can of The Easiest Caramel Sauce Ever
3/4 cup chocolate chips (optional)
3/4 cup pecans, chopped (optional)
DIRECTIONS:
Preheat oven to 325 degrees.
Cream sugar, eggs, and vanilla
Add the melted butter and mix well.
Add all the dry ingredients and mix well.
Pour half of the batter into a greased 9×13 glass baking dish.
Bake for 20 minutes, then remove from the oven.
Drizzle the caramel sauce over the brownies. At this point, you can also add half of the chopped pecans and half of the chocolate chips if desired.
Pour the remaining brownie batter over the top. Put the remaining chopped pecans and chocolate chips on top if desired.
Bake for another 35-40 minutes.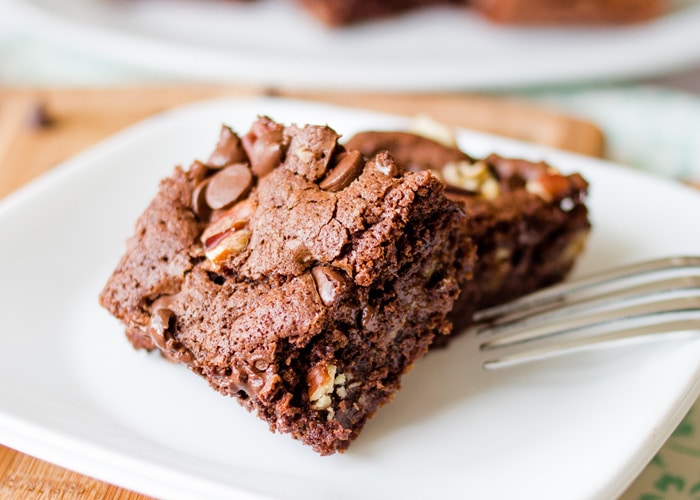 This recipe slightly adapted from Gooey Turtle Brownies in the book, Chocolate Never Faileth by Annette Lyon.