If you're looking for a simple cake that tastes amazing and will impress your party guests, this Chocolate Covered Oreo Cake is for you!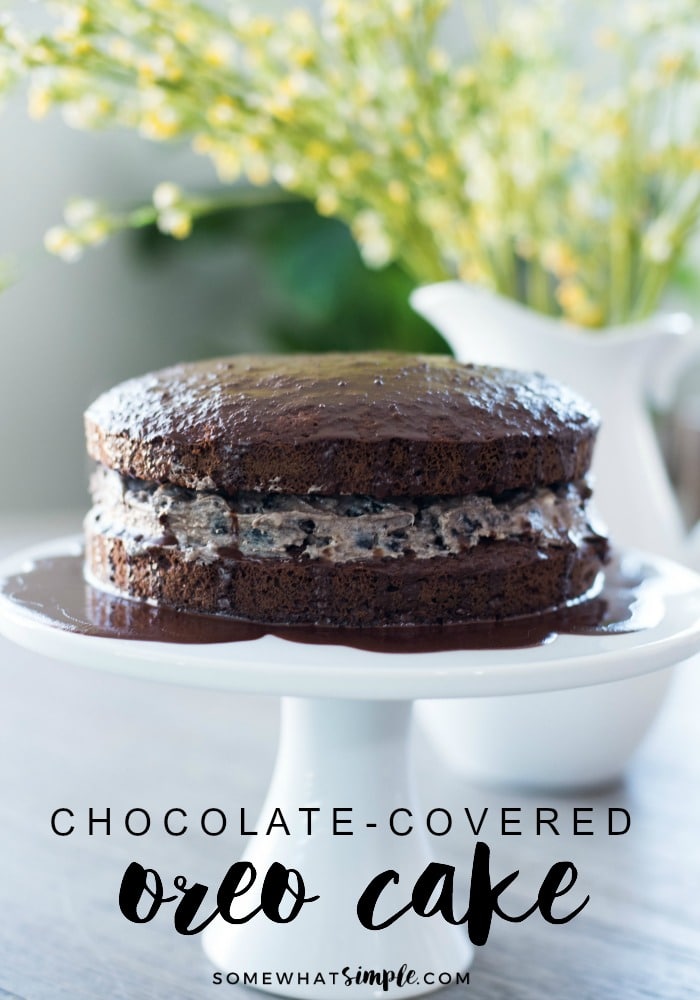 I have made this Oreo Cake several times over the years and I have never been disappointed. Not only does it taste delicious, it's also a really pretty cake that looks impressive without all the hard work. (Which is kind of the only recipes I ever attempt now a days.) 😉
And did I mention it's delicious? (I did?) It really is SUPER YUMMY! (Hello, its covered in chocolate, how can it not be fantastic?!)
Chocolate-Covered Oreo Cake
Ingredients
1 box of chocolate cake mix (plus the ingredients listed on the back of the box)
4 squares of Semi-Sweet Baking Chocolate
1/4 cup butter
1 pkg. Cream Cheese, softened
1/2 cup sugar
1 cup thawed whipped topping
15 Oreo Cookies, coarsely crushed
Directions
Prepare cake batter according to the package directions and then bake each cake in 2 (9-inch) round pans as directed on the package.  Remove the cake from the pans and let them cool completely.
Microwave the baking chocolate and the butter in a small glass bowl for 2 minutes, or until the butter is melted. Stir until the chocolate is completely melted.
Meanwhile, blend the cream cheese and the sugar in large bowl with a hand mixer. Gently stir in Cool Whip and crushed cookies. (I just put them all together in the video above, which made the mixture brown. If you want to keep the filling white, make sure you mix in the cookies by hand.)
Next, stack 1 round cake on a plate, and then spread the cream cheese mixture on top.
Stack the 2nd cake on top of the cream cheese mixture.
Pour the chocolate glaze on top of the cake and let it fall off the sides. Let the cake stand until the chocolate is firm.
Serve and enjoy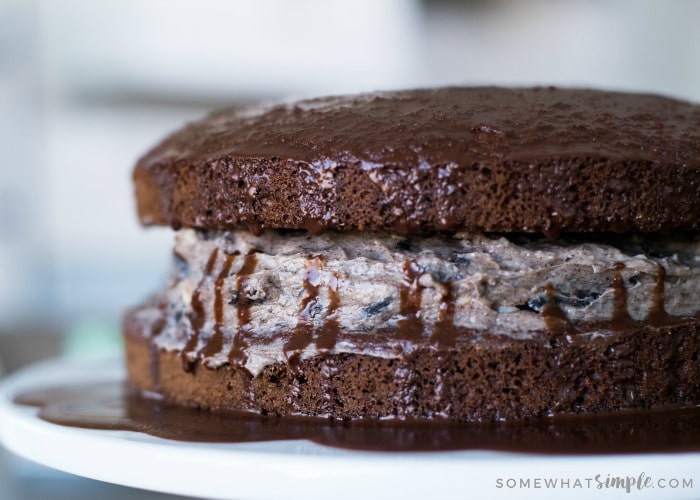 Seriously, how good does this look?? Get ready to impress your guests!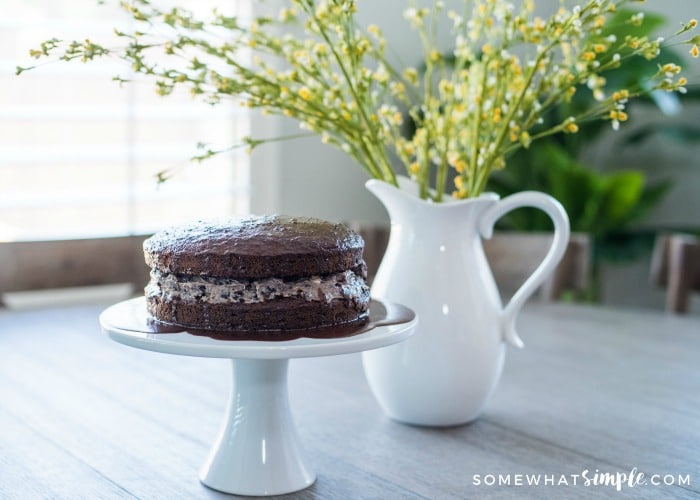 Let me know when you make it and I'll be over in 10 minutes with 2 glasses of milk!
This Chocolate Covered Oreo Cake was one of the very first recipes shared on Somewhat Simple in July 2009.
Hack Your Routine!
FREE E-COURSE
5 Time-Saving Tips for Crazy Busy Moms