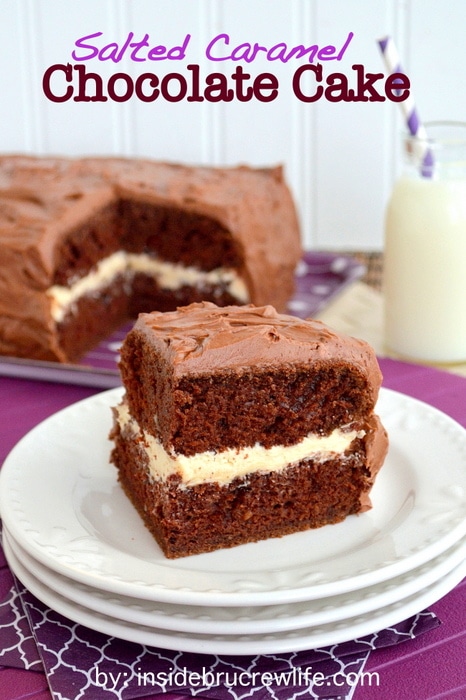 Hello, Somewhat Simple fans, Jocelyn from Inside BruCrew Life with you today. I am so excited to share my first contributor post with you. I am happily married to my best friend, and we have 3 children, ages 13, 11, and 9. With my kids in school all day, I have transitioned into a full-time dessert blogger during the day. My kids love baking with me, so most of the treats you see on my blog have been made the night before. I have found that taking pictures during the day when no one is around is much easier…for me and the hungry urchins.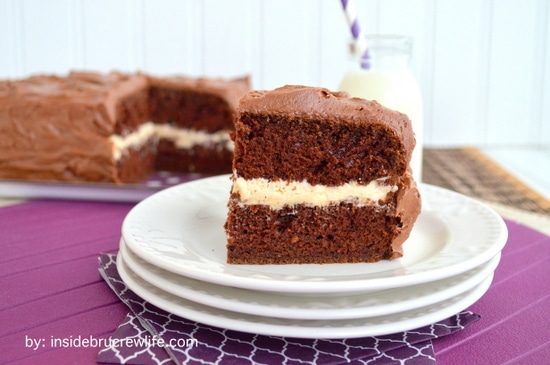 Let's get started on the cake. Most of my recipes for cake and cupcakes, start with a cake mix. I love the convenience of mixes. BUT today I am sharing with you, my all time favorite homemade chocolate cake. This cake is so easy to make and tastes delicious. The coffee in the batter just helps deepen the chocolate flavor so much more.
I baked this cake in a 9×13 pan and then cut it in half, so I could layer it with a yummy salted caramel butter cream frosting. The cake is then covered with a chocolate butter cream. Yeah, you might want to grab a glass of milk. This is one decadent cake. It would be the perfect dessert to make for your mom this coming Mother's Day.
I hope you enjoy it as much as my family did.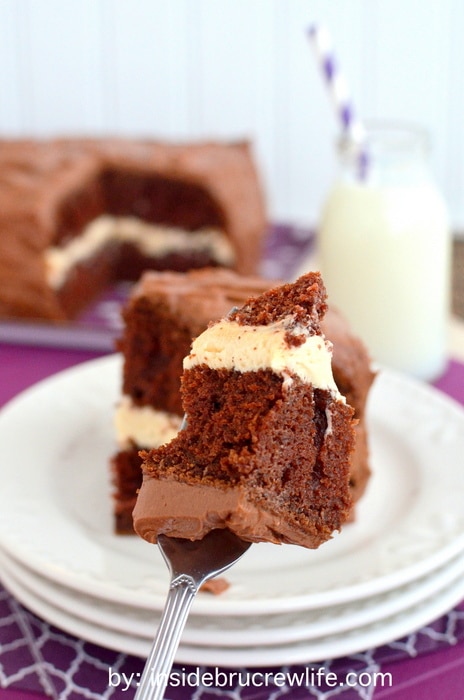 Salted Caramel Chocolate Cake
For the cake:
2 1/4 cups flour
1 1/4 cups sugar
1/2 cup cocoa powder
1 1/2 teaspoons baking powder
1 1/2 teaspoons baking soda
3/4 teaspoon salt
1/2 cup oil
3 eggs
2 teaspoons vanilla
3/4 cup buttermilk
3/4 cup strong brewed coffee, cooled
For the Salted Caramel Butter Cream:
1/2 cup butter
1/2 teaspoon vanilla extract
1/4 cup caramel ice cream topping
1/2 teaspoon sea salt
2 1/2 cups powdered sugar
1 teaspoon whipping cream
For the Chocolate Butter Cream:
1/2 cup butter
1/4 cup shortening
1/2 teaspoon vanilla extract
1/4 cup cocoa powder
1 cup powdered sugar
2 Tablespoons whipping cream
Combine all the dry ingredients in a mixing bowl. Whisk together the oil, eggs, vanilla, buttermilk, and coffee in a separate bowl. Slowly add the egg mixture to the dry ingredients. Beat for 2 minutes on low. Pour into a 9×13 pan that has been greased. Bake at 350* for 27-28 minutes. Cool completely. Cut in half, so you have two equal smaller rectangles. Cover and set aside.
In a mixing bowl, cream the butter, vanilla, caramel, and salt. Slowly add the powdered sugar and milk. Beat until creamy.
In another mixing bowl, cream the butter, shortening, and vanilla. Slowly add the powdered sugar, cocoa, and milk. Beat until creamy.
Spread the salted caramel butter cream on top of one cake rectangle. Top with the other cake piece. Cover the entire cake with the chocolate butter cream. Store covered in the refrigerator for 3-4 days.
Make sure you don't miss any of the crazy baking
by following the BruCrew here:
FACEBOOK | PINTEREST | GOOGLE+ | TWITTER | INSTAGRAM | BLOGLOVIN