This Red Velvet Better Than Anything Cake is just as simple as the traditional "Better Than" cakes, but with a few delicious twists!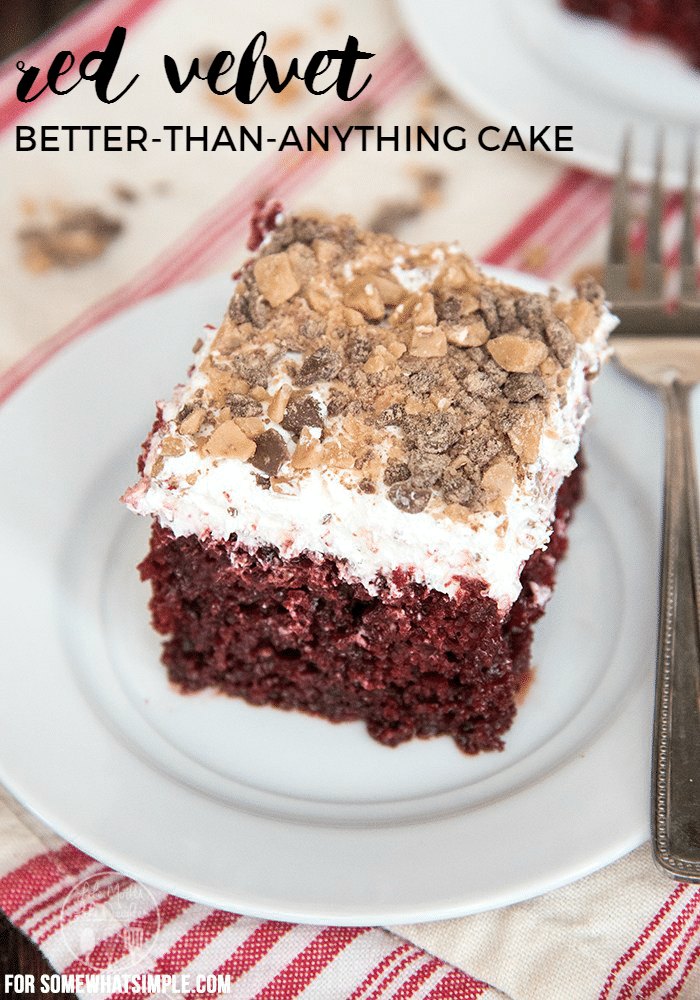 This Red Velvet Better Than Anything Cake is absolute perfection because its so easy to make, with only a few ingredients! Its a festive cake to eat in celebration of Valentine's Day, but it is also a pretty, delicious cake for any day of the week!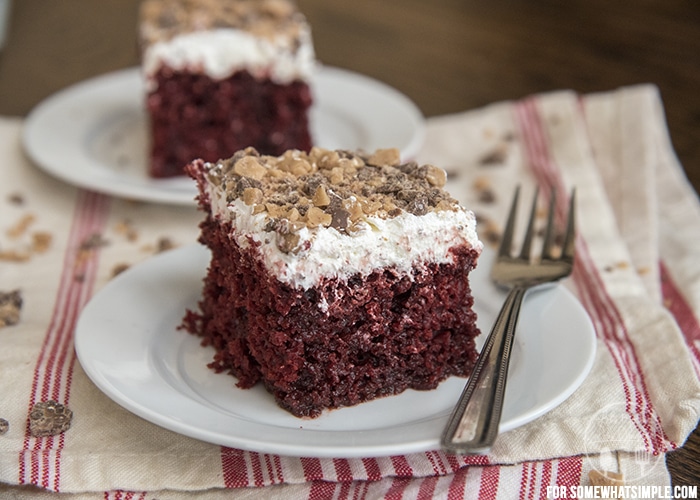 In case you haven't tried a poke style cake before, you need to try one soon! After the cake is done baking, you'll poke a bunch of holes in the cake with a fork or a knife and then drizzle it with delicious goodness that soaks into the cake to make it perfectly moist throughout and extra delicious. This one is soaked with sweetened condensed milk and chocolate syrup. (Is there anything better than that???)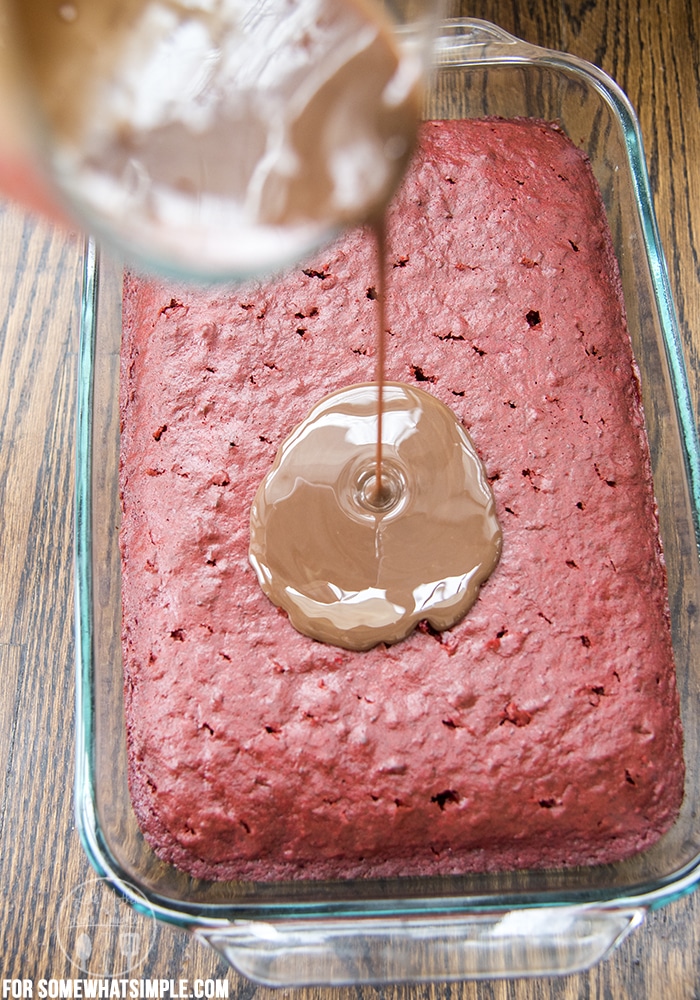 Red Velvet Better Than Anything Cake
INGREDIENTS:
1 box red velvet cake mix
eggs, oil and water as called for on cake mix
1 can sweetened condensed milk
1/2 cup chocolate syrup
8 oz cream cheese
1/2 cup sugar
8 oz cool whip (or homemade whipped cream)
1/2 cup chocolate and toffee baking bits
DIRECTIONS:
Preheat your oven and prepare your cake according to package directions in a 9 x 13 pan. (Mine was in the oven at 350 degrees for 30-35 minutes)
Remove the cake when its done baking and allow it to cool for 5 minutes.
Poke the top of the cake all over with a fork.
Combined sweetened condensed milk and chocolate syrup in a small bowl. Pour condensed milk mixture over the top of the cake, spreading to cover the cake evenly. Allow mixture to completely soak into the cake.
Put cake into the fridge for 1 hour to cool.
Whip together your cream cheese and sugar until smooth. Fold in your cool whip.
Spread coolwhip cream cheese mixture evenly over the top of your cake, then sprinkle toffee bits over the top.
Place your cake back in the fridge for 1 more hour before slicing and serving.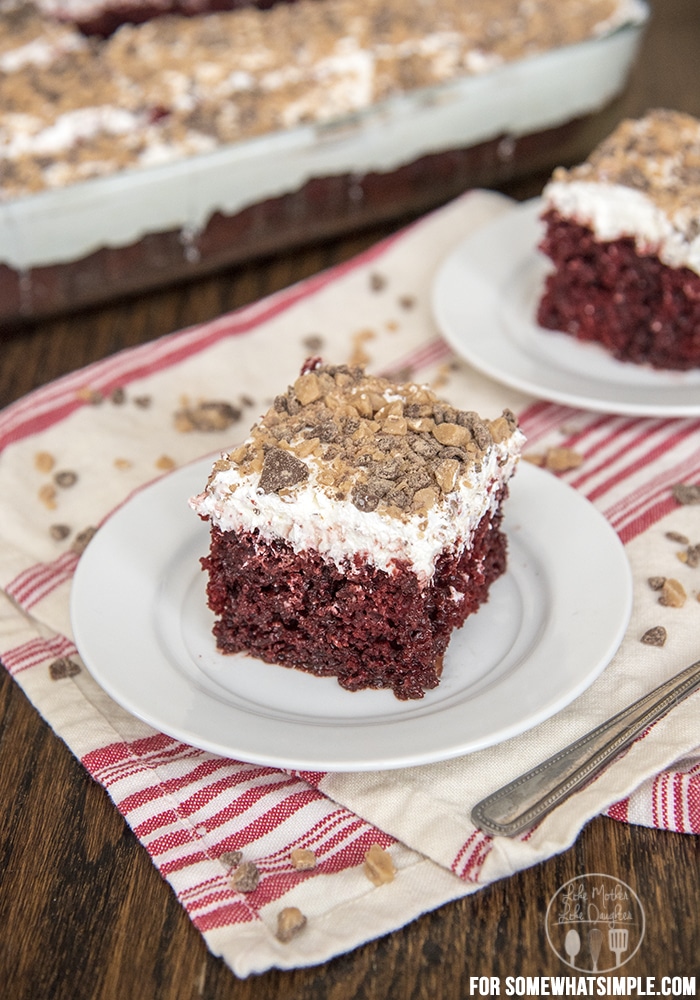 ENJOY!
. . . . .
If you like this cake, I think you'll like these recipes too!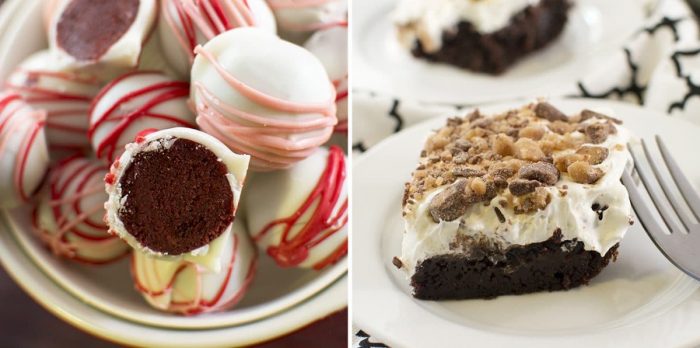 Red Velvet Cake Balls // Better Than Anything Brownies