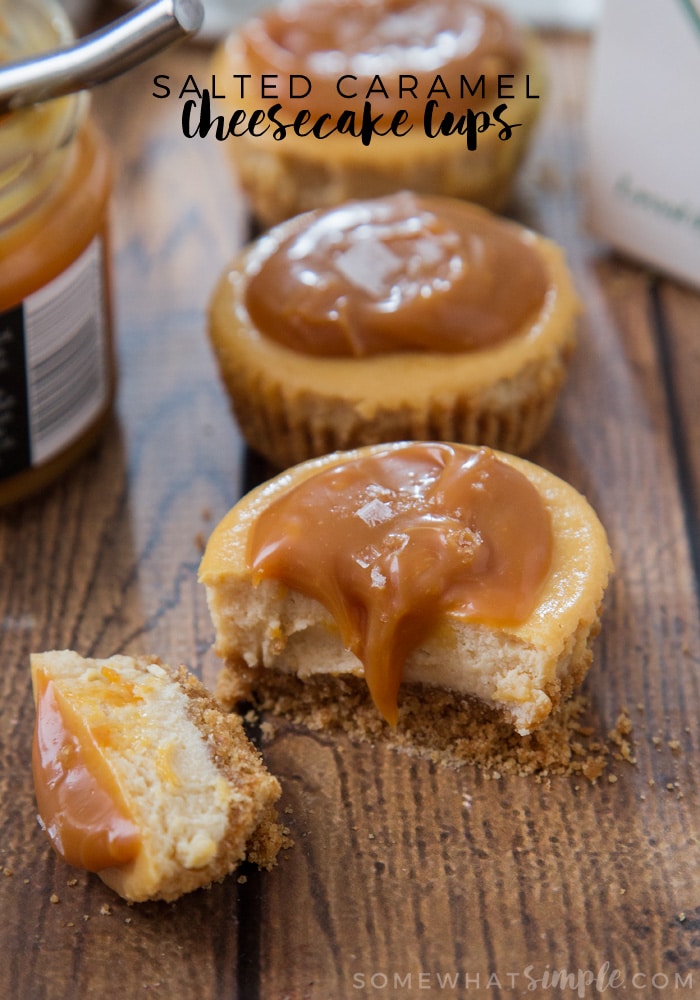 These Salted Caramel Cheesecake Cups might look sinful, but they are actually a lighter way to enjoy dessert!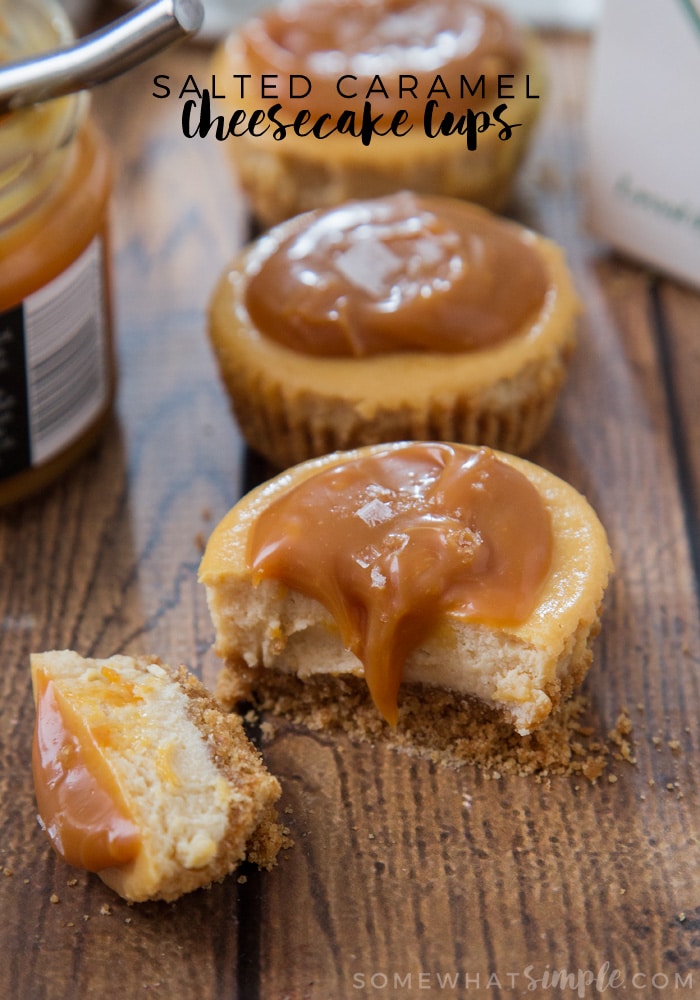 Hands up if you overindulged over Christmas! (Yep, mine is right up there!)
So, I thought it was high time I shared a lighter dessert that still tastes AMAZING. No flavour was sacrificed in these Salted Caramel Cheesecake Cups – in fact, they don't even taste light. They are made in a muffin tin – which means they are also perfectly portioned. So you can still have your (cheese) cake and eat it too. But without all the guilt. (You're welcome!)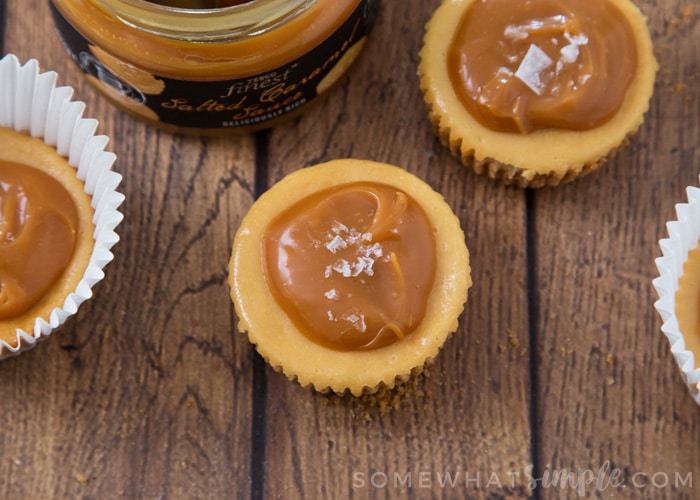 SALTED CARAMEL CHEESECAKE CUPS (LIGHTER RECIPE)
Serves: 10 || Total time: 45 mins
INGREDIENTS –
for the base:
1 cup + 2tbsp (150g) graham crackers, crushed
2 and 1/2tbsp light margarine/vegetable fat spread, melted
for the cheesecake:
8oz/225g Light cream cheese, at room temperature
1 cup (240g) Greek Yoghurt
1 large egg
2tsp vanilla extract
1tbsp salted caramel sauce
3tbsp agave nectar (can also use honey)
1/8tsp salt
¼ cup (35g) all purpose flour
for the topping –
12tsp salted caramel sauce, for the top
Salt flakes, optional
DIRECTIONS:
Preheat the oven to 350F/180C and line a 12 hole cupcake tray with liners.
Place the graham cracker crumbs into a medium sized bowl and then pour the melted butter into the bowl. Mix until all the crumbs are coated in butter.
Place 1tbsp of the graham cracker mixture into the bottom of each liner and press into an even layer. I used the end of a small rolling pin.
Place in the oven for 5 minutes.
Meanwhile, make the cheesecake mixture by placing the cream cheese, Greek yoghurt, egg, vanilla extract, caramel sauce and agave nectar/honey into a large bowl and whisk until smooth and well combined.
Add in the salt and flour and whisk until well combined and there are no lumps of flour.
Once you've removed the bases from the oven, place 2tbsp of cheesecake mixture into each liner and smooth over with a teaspoon to make a level layer.
Place in the oven for 15-20 minutes, until an inserted skewer into the centre comes out clean. Cheesecakes will be a pale caramel colour, so don't worry and think they are overdone if they are light brown!
Leave to cool in the pans for 15 minutes before transferring to a wire rack to cool completely.
Once cool, spoon 1 teaspoon of salted caramel sauce into the centre of each cheesecake. You can either fill the top completely, or leave a little border around the outside like I did.
Sprinkle with salt flakes, if desired. I used Maldon Salt Flakes.
Serve immediately, or keep in an airtight container, in the fridge, for 3 days.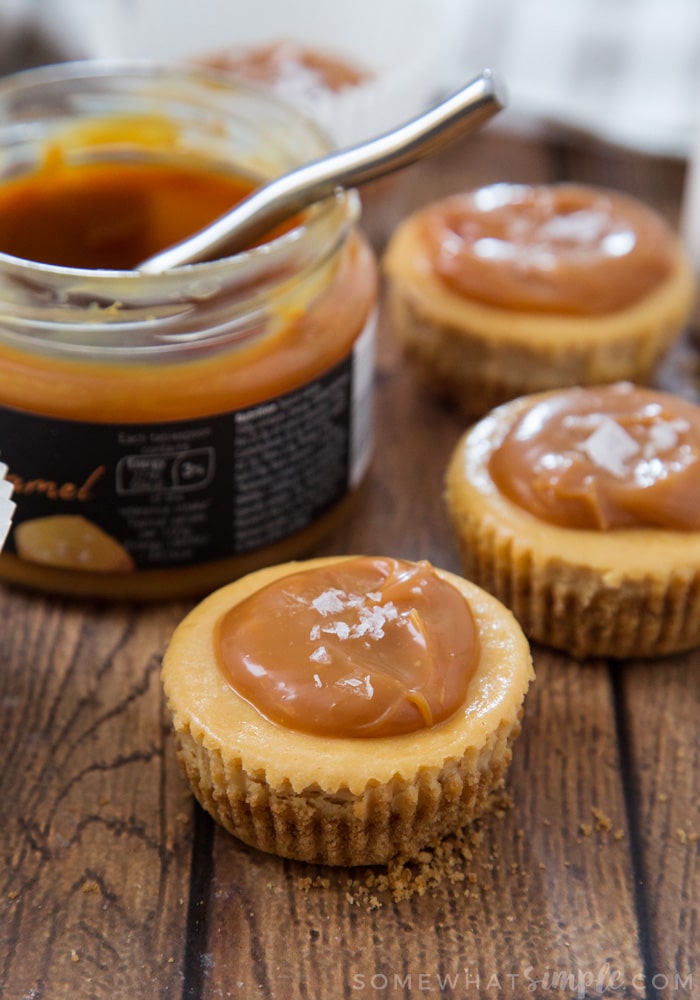 Here are a few more caramel recipes you might enjoy:
Caramel Cheesecake Cookie Bars || Caramel Apple Cheesecake Bars || Caramel Apple Bread Pudding