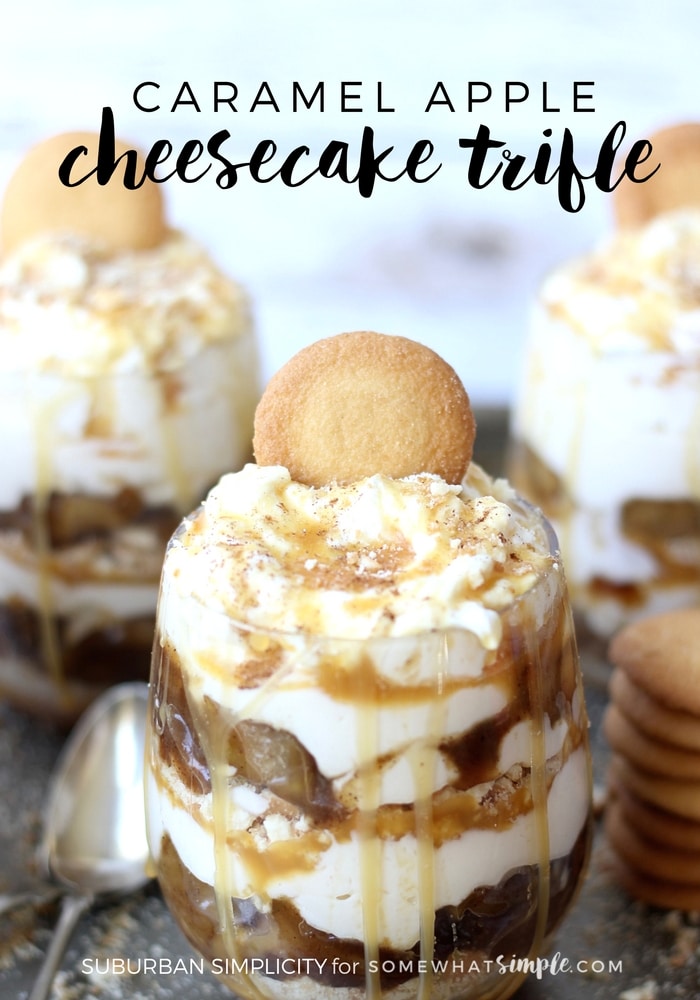 This No-Bake Caramel Apple Cheesecake Trifle has rich and delicious layers and is the perfect decadent dessert!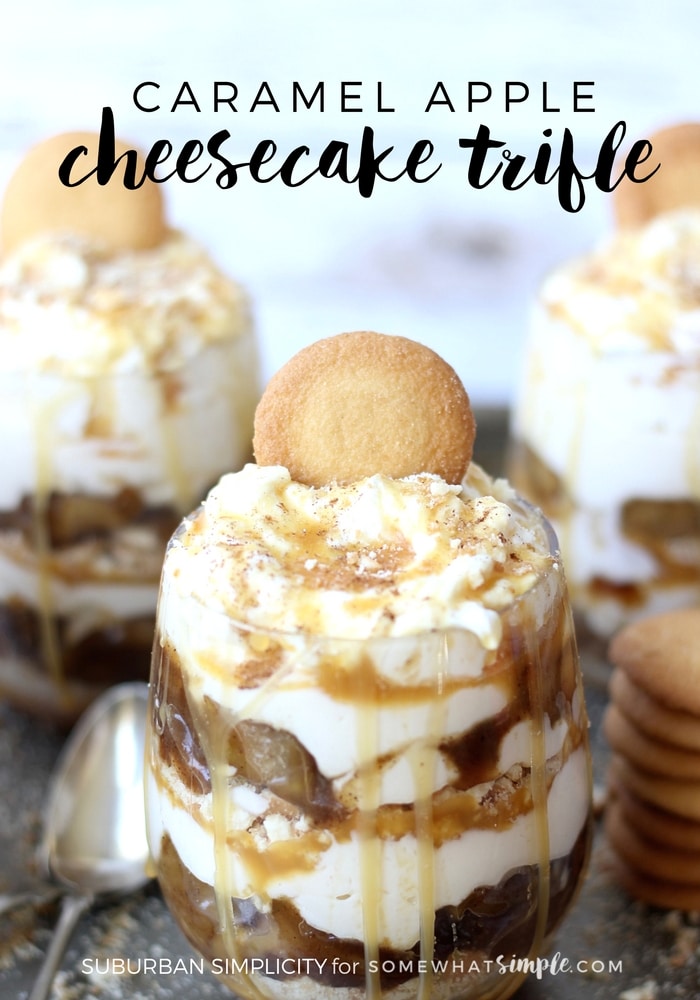 This time of year is one of my favorites, not just for its beautiful Fall colors and cozy sweaters, it also has some of the best desserts! This Caramel Apple Cheesecake Trifle is one of them!
With the layers of salted caramel, cookie crumbles, sweet cinnamon apples and creamy cheesecake, it pleases everyone! Trifles are one of those desserts that are not only delicious, they're also pretty and make a great addition to Harvest or Halloween parties…or just a cozy night in.
Whenever my kids see a trifle, they know there's something good in store. They went crazy for this Chocolate Brownie Trifle the first time they saw it and this Caramel Apple Cheesecake Trifle is no different.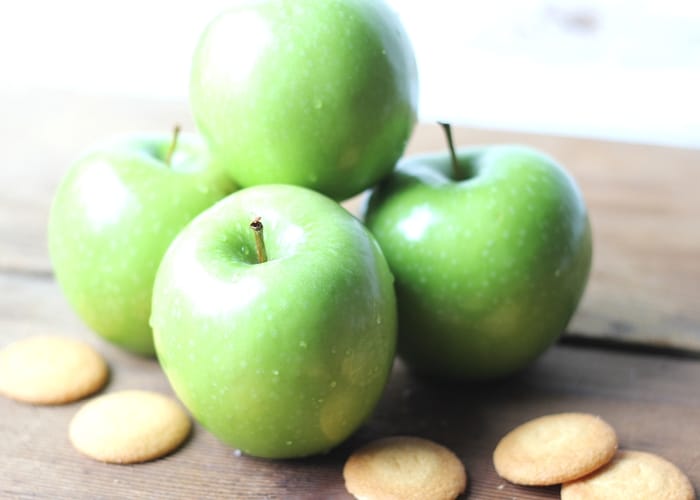 If you're planning for a party or get together, the ingredients can be prepared ahead and then assembled right before, so it's a great make-ahead option.
Once you peel and chop your apples, the rest of the recipe comes together pretty quickly….believe me, that chopping is totally worth it!
Sautéing the apples with the brown sugar makes them tender and melt in your mouth good.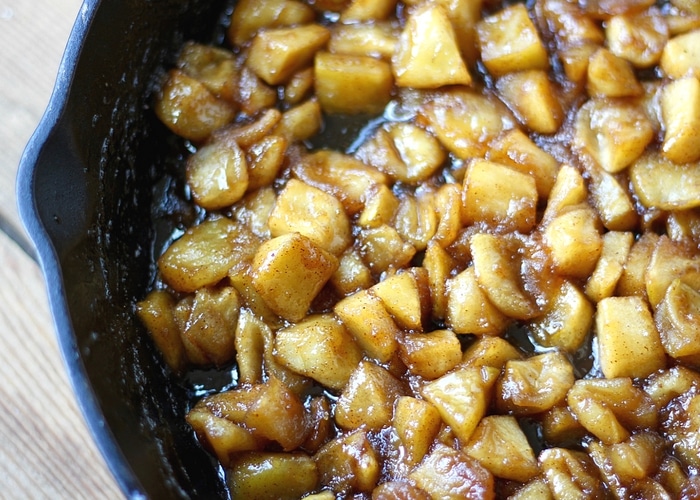 The layers wouldn't be the same without the creamy cheesecake!
Caramel Apple Cheesecake Trifle Recipe
INGREDIENTS:
6 tbsp. butter
6 peeled, cored, and chopped apples (I prefer granny smith)
3/4 cup brown sugar
1 tsp. pumpkin pie spice
1 1/2 cups caramel sauce (homemade or store bought)
8 oz. cream cheese, room temperature
3/4 cup sugar
1/2 tsp. kosher salt
2 tsp. vanilla extract
lemon zest (optional)
2 cups heavy cream
45 – 50 Nilla Wafer cookies
DIRECTIONS:
In large skillet over medium heat, melt butter. In large bowl, toss apples with brown sugar, apple pie spice, and 1/2 tsp. salt. Cook over medium heat until tender and the brown sugar creates a glaze, about 15 -20 minutes. Let cool.
In a medium bowl, beat the heavy cream, 1/4 cup sugar, and 1 tsp. vanilla on medium/medium-high speed until stiff peaks form. Do not over beat.
In another medium bowl, beat cream cheese, remaining sugar and vanilla, salt and lemon zest with a mixer until just combined. Add 1/2 of the whip cream mixture and beat on medium speed until combined. Refrigerate until ready to assemble.
Crush cookies into small pieces. Reserve some for garnish.
To assemble trifle, place a couple teaspoons of caramel sauce into bottom of trifle cups. Chill slightly. Sprinkle handful of cookie crumbs over caramel layer. Cover cookie bits with apple mixture. Spread cheesecake mixture over apples with back of spoon or spatula until completely covered. Pour additional caramel sauce over cheesecake mixture. Repeat layers of cookie crumbs, apples, and cheesecake mixture. Top each cup with remaining whipped cream.
Garnish with reserved cookie crumbs and caramel and indulge immediately!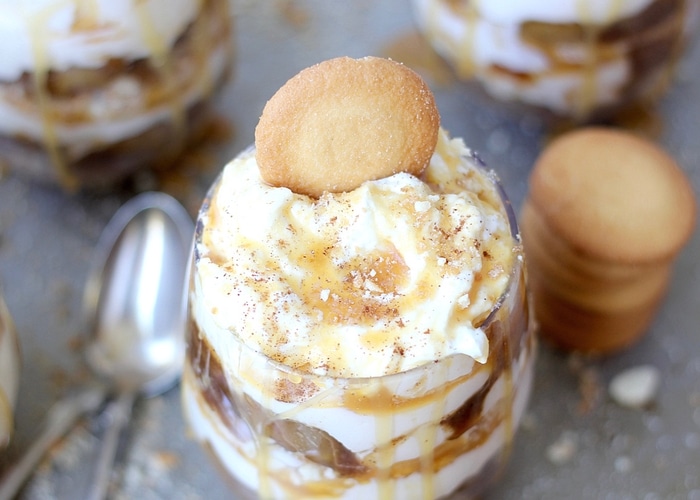 This layered dessert is the perfect combination of taste and texture and couldn't be better when you use fresh apples! I dare you…dig in!