I absolutely LOVE these refreshing, no-bake Lemon and Blueberry Tartlets! They are packed with citrus goodness and topped with juicy blueberries, creating one amazing Summer dessert!
I'm all about no-bake desserts like these Lemon and Blueberry Tartlets right now, because let's face it, it's too hot to turn the oven on, but I just know Autumn is going to creep up on us and I'll wake up one day and be like "Where's the pumpkin?!?!?!?!"
Something I adore about Summer though is all the berries. They are so pretty to photograph and they are at their sweetest, so they make desserts even more delicious! I have used the combination of lemon and blueberry quite a few times as I just love the burst of citrus along with the sweet blueberries.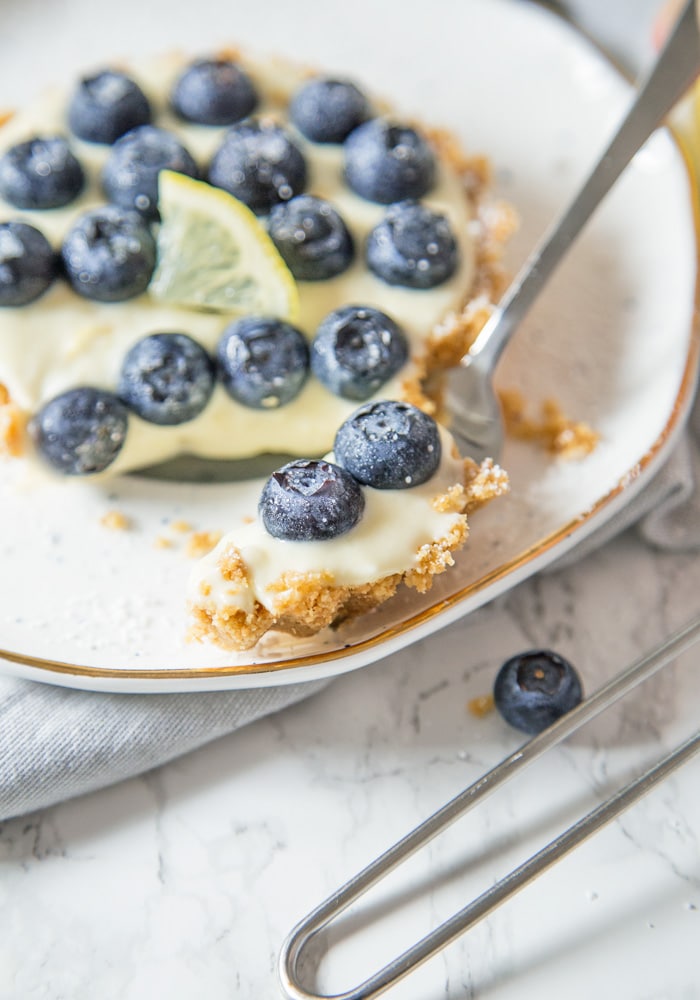 The base is super simple; I used crushed graham crackers (we call them digestives here in the UK) and melted butter and then pressed the mixture into 6 greased tartlet pans. I popped them in the fridge to firm up before making the most delightful filling ever! The filling is a mixture of cream, condensed milk and lemons. It's sweet, tart AND creamy; just out of this world amazing!
To finish these pretty little tartlets off, I placed fresh blueberries all over the top and then dusted them with icing sugar.
So delicious and so pretty!
LEMON AND BLUEBERRY TARTLETS
Serves: 6
INGREDIENTS: 
2 cups (240g) graham crackers/digestive biscuits, crushed
1 stick (113g) unsalted butter, melted and slightly cooled
1 cup (240ml) heavy cream
Zest of 1 large or 2 small lemons
7oz/198g condensed milk (half of a can)
2tbsp lemon juice
2tbsp powdered sugar, sifted
1 and 1/2 cups (225g) fresh blueberries
DIRECTIONS: 
Place graham cracker crumbs into a medium sized bowl and pour the melted butter into the bowl. Mix this until crumbs are coated.
Spray 6 individual sized tart pans with cooking spray.
Place 2 heaping tablespoons of the crumb mixture into each tart pan and press firmly, bringing the base up the sides to be level with the top of the pan.
Place in the fridge for 30 minutes.
Once chilled, make the filling: place the heavy cream into a large bowl and whisk until soft peak stage. You want it to hold its shape when you remove the whisk, but the tip of the peak should bend over on itself.
Add the lemon zest, condensed milk, lemon juice and powdered sugar and whisk until smooth.
Spoon around 2tbsp into each chilled tartlet and use the back of the spoon to smooth the filling. Fill each tartlet level with the top of the base.
Place them back in the fridge for 1-2 hours until set. They won't completely set, if you dig a finger in you will make a dent, but they should be firm if you touch them lightly!
Once chilled, place fresh blueberries all over the top of the tartlets.
To serve, dust them with icing sugar and place a small wedge of lemon on top.
You can keep these covered in the fridge for up to 2 days. Serve chilled.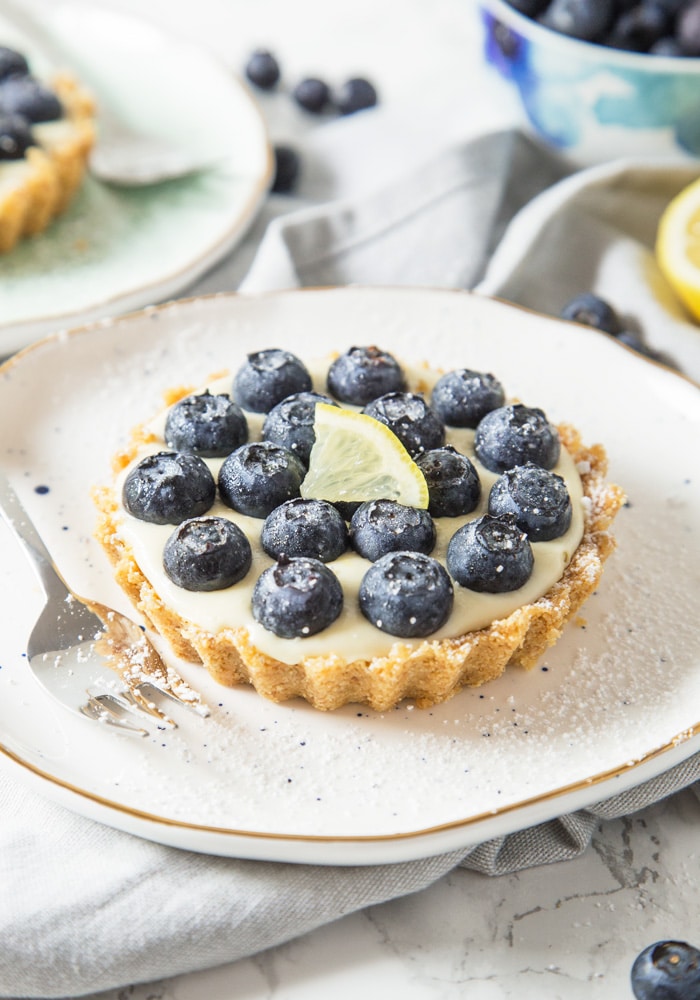 Believe me when I say these tartlets are heavenly and I can't even begin to tell you how amazing they taste. You get crunch, creaminess, sweetness, juiciness and tartness in every single bite. My taste buds could hardly handle it and I really hope you enjoy them as much as we did!