This Caramel Apple Bread Pudding is filled with chunks of apples and sweet caramel sauce. It's the perfect dessert to make this Fall!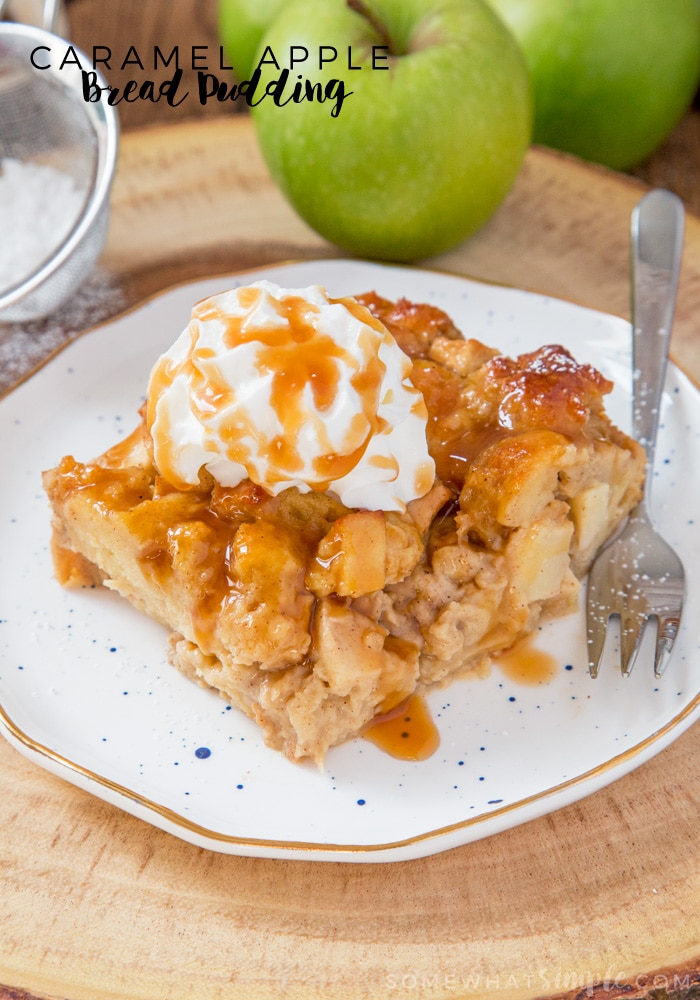 I am SO happy it's finally Fall! It's by far my favorite season and I always get so excited at the thought of all the pumpkin and apple recipes I can make!
There's just something so comforting about bread pudding. Apart from it being a great way to use bread that's a little past its best AND super easy to make, you can go wild with flavor combinations and it just fills you with warmth as soon as you bite into a bit.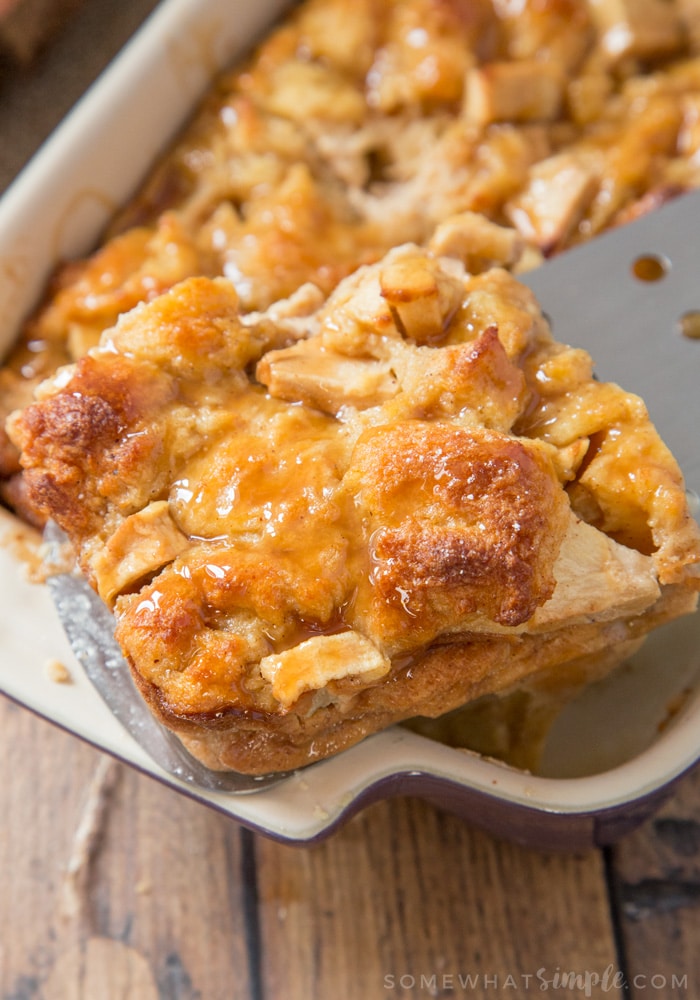 This Caramel Apple Bread Pudding starts with cubes of thick sliced bread soaked in a caramel and creamy egg mixture. You add some apple chunks tossed in sugar and spice before being baking to a golden perfection. Why didn't I think of this before now?!?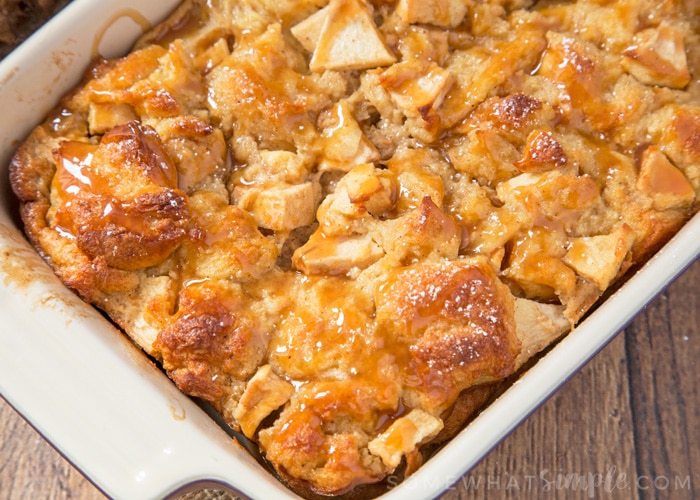 Caramel Apple Bread Pudding
Serves: 6-8
INGREDIENTS:
6 heaping cups (around 260g) of cubed of thickly sliced white bread. (Slightly stale is great, if not leave your bread cubes out on a tray for a couple of hours to dry out!)
¾ cup (180ml) milk
¾ cup (180ml) heavy cream
3 large eggs
¼ cup (80g) caramel sauce (try and get a pretty thick sauce)
3 medium/2 large tart apples, I used Granny Smith, peeled, cored and sliced into small chunks
1/3 cup (66g) light brown sugar
1/2tsp ground cinnamon
1/2tsp ground ginger
1/4tsp ground nutmeg
1/2tsp vanilla extract
DIRECTIONS:
Place cubes of bread into a large bowl.
Place milk, cream, eggs and caramel sauce into a bowl and beat together until you can't see any bits of egg yolk.
Pour over the bread cubes and, using two spoons, gently toss until all the bread is covered in the milk mixture.
Leave for at least 30 minutes (overnight if you want!) so the bread can absorb some of the liquid.
While the bread is sitting in the liquid, preheat the oven to 350F/180C and spray an 13×9 inch pan with cooking spray.
Place chunks of apple, sugar, spices and vanilla extract into a medium sized bowl and stir until the apples are entirely coated in the sugar/spice mixture.
Tip the apple mixture into your bread and milk mixture and stir gently to evenly distribute the apples.
Tip the entire mixture into your prepared pan and coax with a spoon into any gaps, just to make sure you have an even layer which will bake properly.
Place in the oven for 30-35 minutes until puffy and golden on top. When you shake the pan, the whole pudding should wobble "as one". If there are bits that are still liquid or look to be separate from the pudding, it's not done yet!
Leave to cool in the pan completely, before drizzling more caramel sauce on top.
Slice and serve with whipped cream and a dusting of icing sugar, if desired.
Caramel Apple Bread Pudding will keep covered in the fridge for 2 days.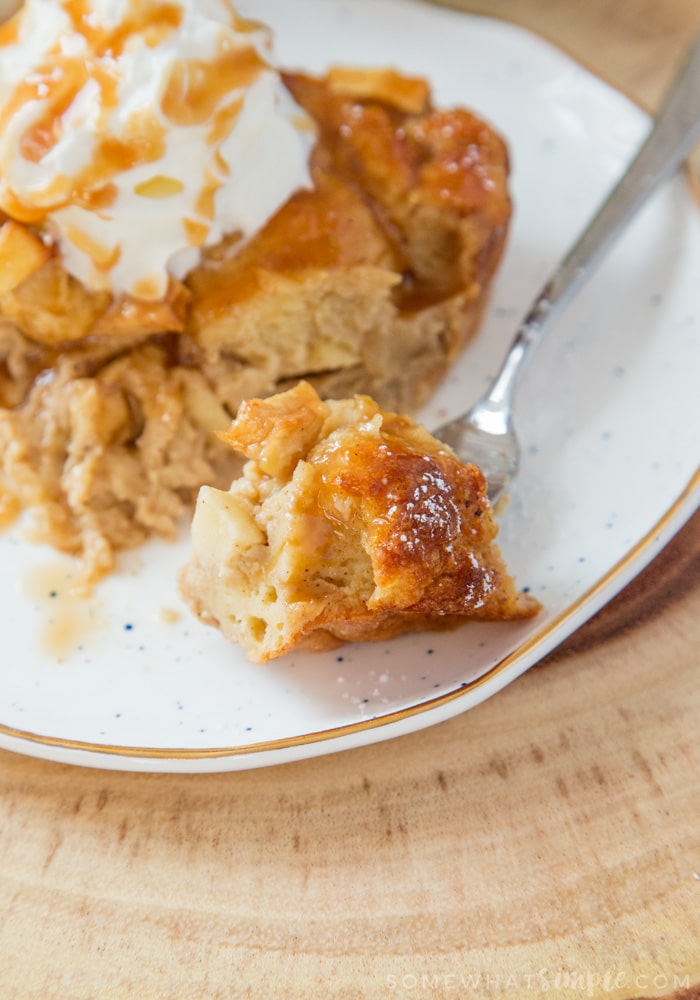 I really hope you enjoy this recipe as much as we did!