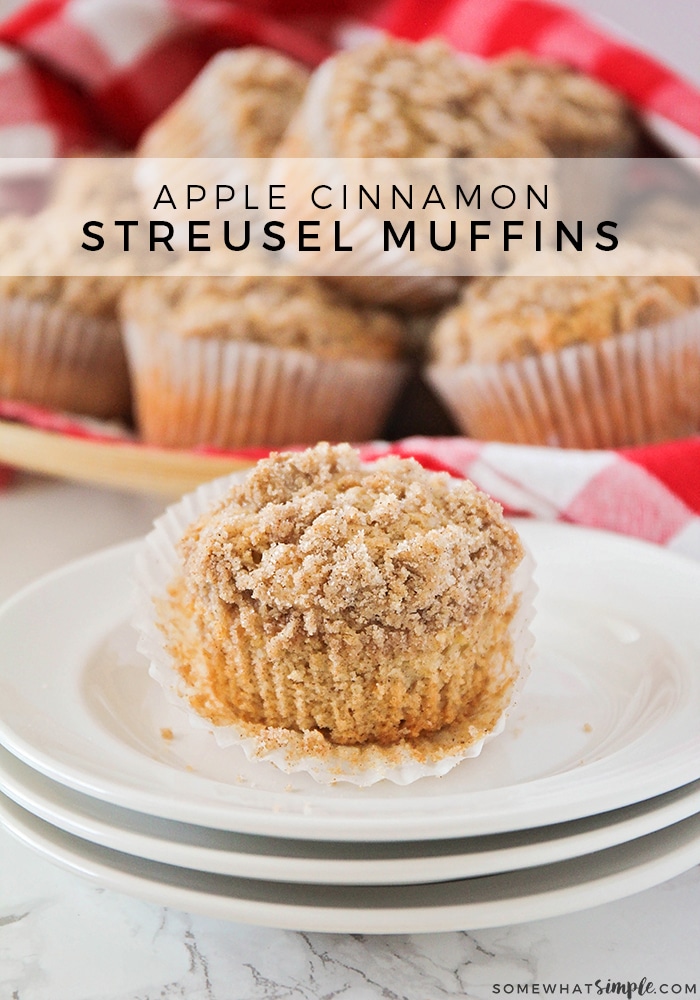 These sweet and gently spiced cinnamon Streusel apple muffins are made with fresh apples, and loaded with delicious fall flavors!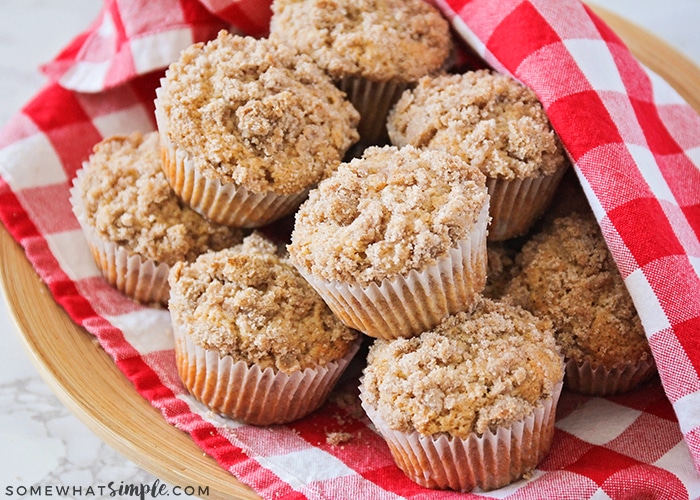 Apple Muffins
Who else is a muffin lover at heart? They are definitely the cupcakes of breakfast! 🙂 I love that they're small, they're portable, they come in a huge variety of delicious flavors, and (the best ones, at least) are tender and moist. They're one of my top choices for breakfast, and I love making a big batch for my family on weekend mornings. I've experimented with a bunch of different muffin recipes, and I always come back to the recipe I'm sharing below. It's reliably delicious, and the muffins come out great every single time.
I've tweaked it several times, and made it with a variety of different fruits, from blueberries to peaches, but these apple streusel muffins are one of my favorite variations. The muffins are tender and moist and they don't crumble or fall apart. The fresh apples and cinnamon give them an incredibly delicious flavor, and the buttery streusel topping is (literally) the icing on the cake. These muffins are so good!

One of my favorite things about these muffins is that you don't need a mixer at all. You can easily mix up the batter by hand, and it takes only a few minutes. Pop them into the oven, and they'll come out 15-20 minutes later, golden brown and fragrant.
If you would prefer bigger chunks of apple in your muffins, you can definitely chop them instead of grate them, but I like that the apple pieces are more evenly distributed when I grate them in. I would suggest using a more flavorful apple, like a granny smith or a jazz apple, to add extra flavor. These muffins are so, so good when they're warm from the oven! The leftovers will keep several days if stored in an airtight container, but we usually gobble them up immediately. 🙂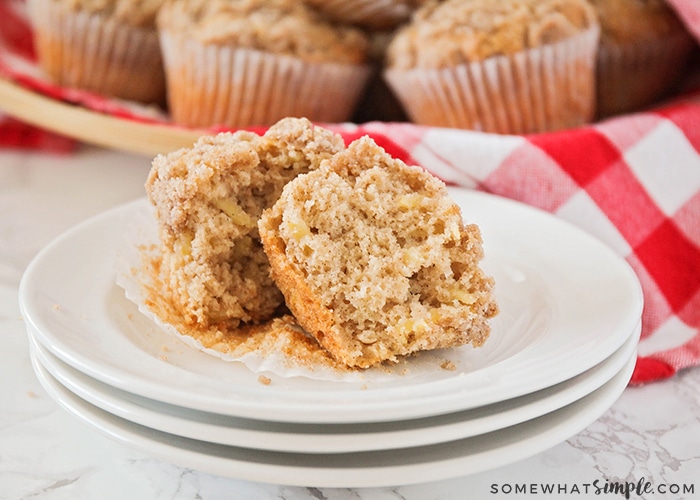 Apple Muffin Recipe
Apple Streusel Muffins
These Sweet And Gently Spiced Cinnamon Streusel Apple Muffins Are Made With Fresh Apples, And Loaded With Delicious Fall Flavors!
Ingredients
for the muffins:
Instructions
Preheat the oven to 400. Line a 12 cup muffin tin with paper liners or spray with cooking spray.

In a large bowl, whisk together the sugar, flour, baking powder, salt, and cinnamon. In a small bowl or measuring cup, whisk together the oil, egg, milk, and vanilla. Pour the wet ingredients into the dry ingredients and mix until just combined.

Gently fold in the grated apple. Scoop into the prepared muffin tin, filling 3/4 full.

To make the topping, whisk together the sugar, flour, and cinnamon with a fork. Grate in the cold butter, then break it up using a fork or your fingers to form a crumbly mixture.

Sprinkle the streusel liberally over the top of the muffins. Bake 15-20 minutes, or until lightly browned on top.
Nutrition
Other Notes