These apple cinnamon muffins are so sweet and tender, with the perfect apple flavor and a delicious cinnamon sugar topping!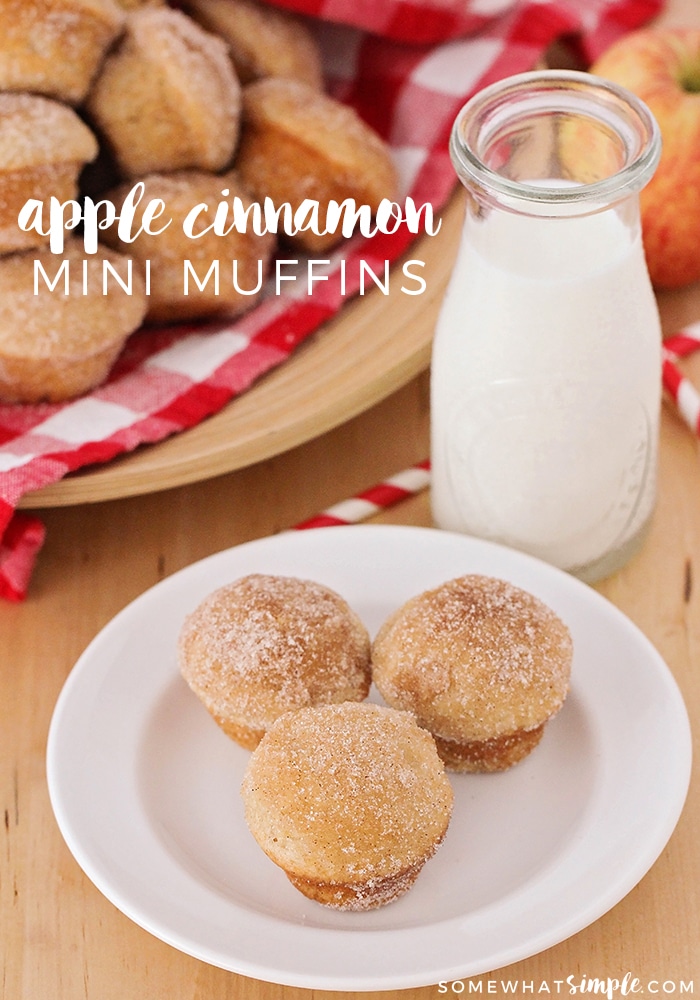 Muffins are definitely one of my favorite foods! They're small, they're adorable, and they're perfect for breakfast, brunch, or dessert. They're also great for an easy breakfast on the go, or an after-school snack. They are total comfort food to me, too! These apple cinnamon muffins are some of my very favorite muffins to make. My whole family loves them, and they disappear almost instantly at my house!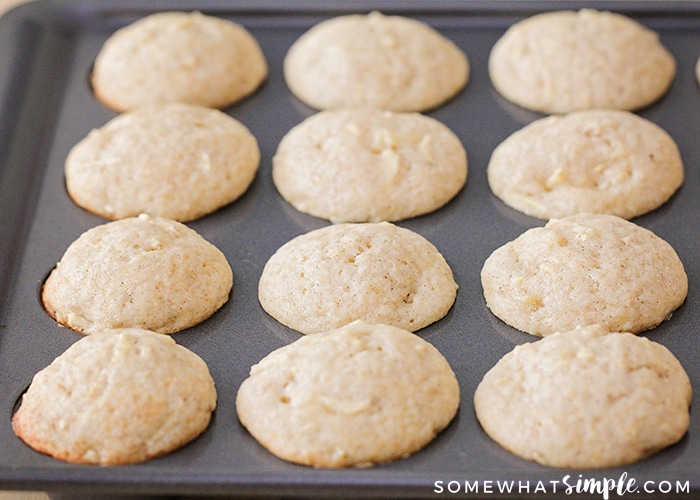 The muffins are so light and tender, and stay extra moist because of the grated apple in the batter. My favorite part is dipping the tops into the butter and cinnamon sugar! It gives them a nice little boost of sweetness, and makes them incredibly delicious. They're reasonably healthy, too, and have some whole wheat flour in there to add a little nutrition boost. My kids didn't even notice, though, and said they were the best muffins ever!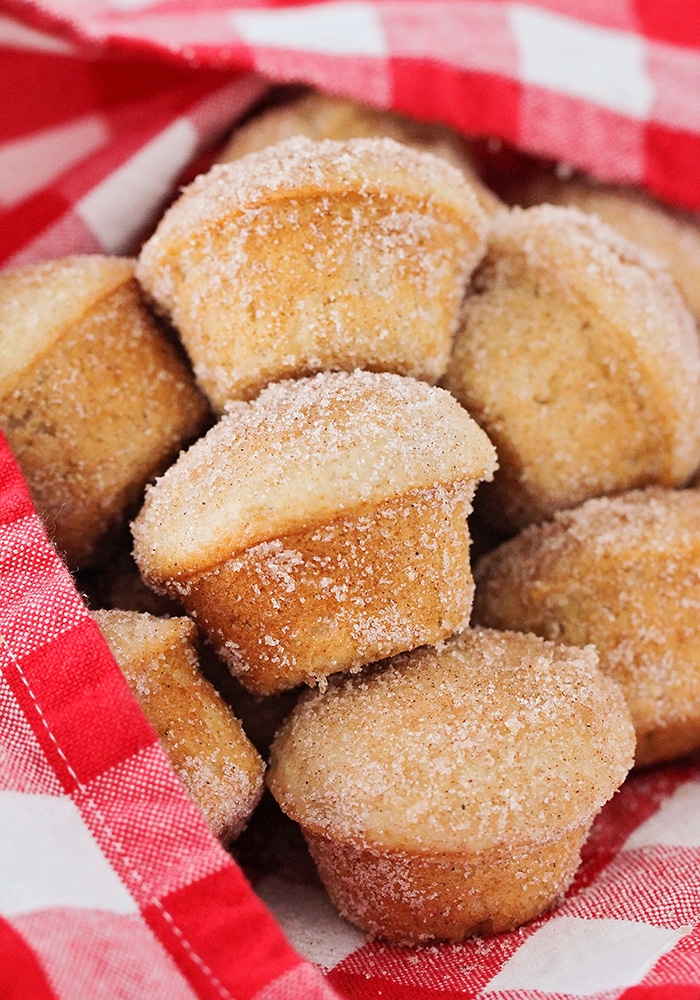 I always bake these muffins in a mini muffin tin, and they are perfect little bite-sized treasures. If you want to bake them in a regular muffin tin, then you may need to increase the baking time for a few minutes. They are done when the tops spring back when touched lightly, and a toothpick inserted into the center comes out clean. Whether mini size or regular size, they're totally delicious!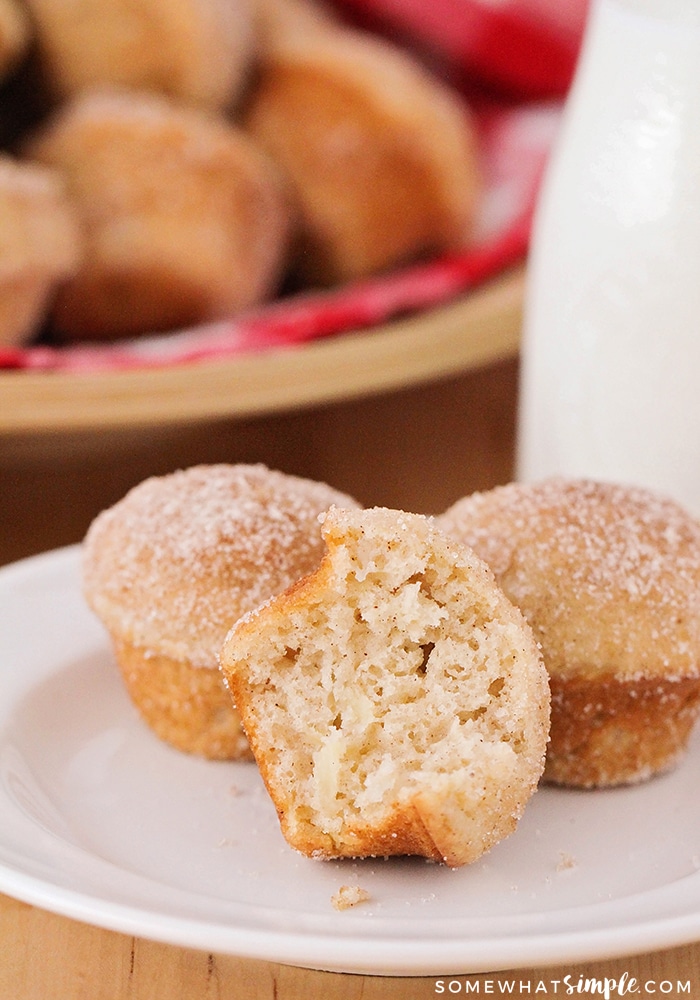 Apple Cinnamon Muffins
Ingredients for the Apple Muffins –
for the muffins:
1 cup flour
1/2 cup whole wheat flour
3/4 cup sugar
2 teaspoons baking powder
1/4 teaspoon salt
1 teaspoon cinnamon
1 egg
3/4 cup milk
1/4 cup oil
1 teaspoon vanilla
1 medium apple, peeled and grated
for the topping:
4 tablespoons butter, melted
1/2 cup sugar
2 teaspoons cinnamon
Directions to make the Cinnamon Muffins –
Preheat the oven to 350. Spray a mini muffin tin with cooking spray, then set aside.
In a large bowl, whisk together the flour, sugar, baking powder, salt, and cinnamon. In a small bowl or measuring cup, whisk together the egg, milk, oil, and vanilla. Pour the wet ingredients into the dry ingredients, then mix until just combined. Gently fold in the apple.
Scoop the batter into the prepared muffin tin, filling nearly to the top. Bake 14-16 minutes, or until golden brown on the edges. Remove from the oven, then let cool slightly.
Whisk together the sugar and cinnamon. Dip the top of each muffin in the melted butter, then in the cinnamon sugar. Allow to cool, and then enjoy!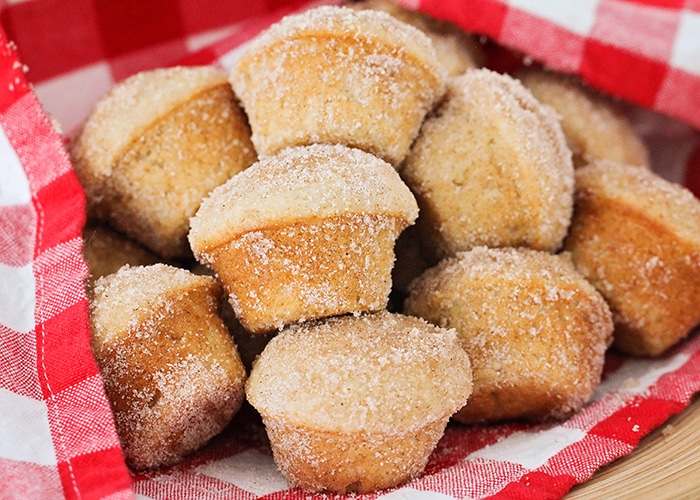 For more tasty muffin recipes, check out some of our favorites below: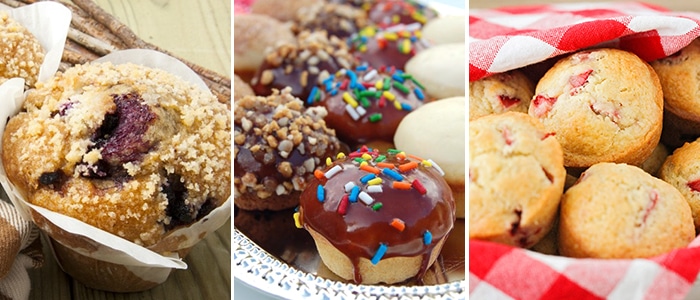 Best Blueberry Muffins | Donut Muffins | Strawberry Lemonade Muffins