These tender and sweet nutella banana muffins are the perfect combination of two delicious flavors! They're so easy to make and so delicious too!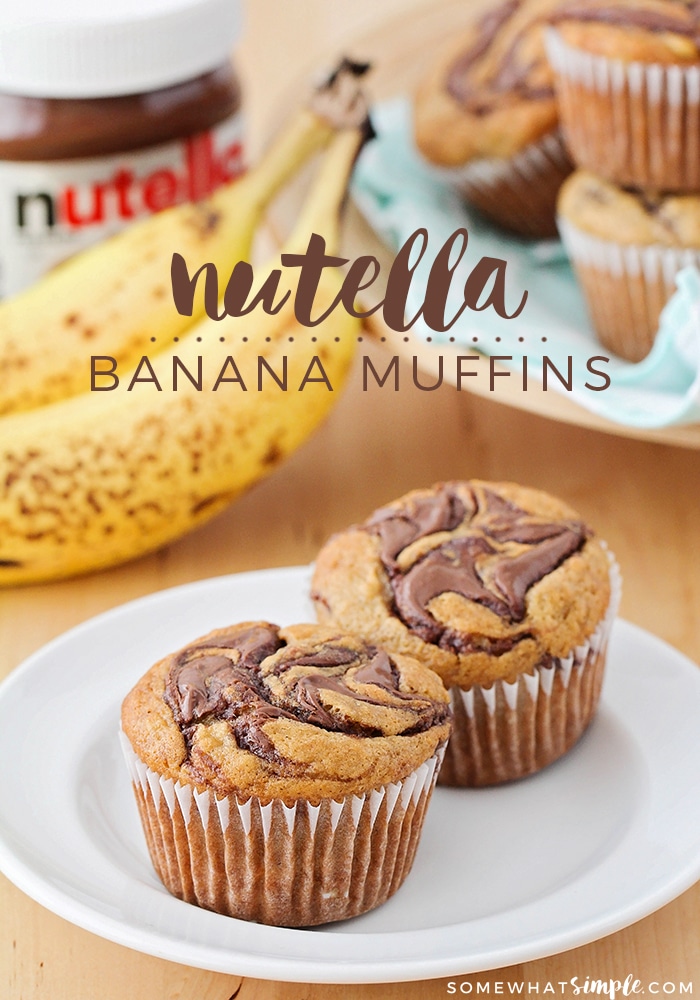 Now that the school year is back in full-swing, I'm on the lookout for delicious breakfast and lunch recipes that are easy to make ahead. It seems like there is never enough time in the mornings, so anything I can make in advance that will make things easier later on is alright by me!
These nutella banana muffins are perfect for a quick breakfast, a delicious after-school snack, or even an easy school lunch with a side of fruit and yogurt. They have a delicious and sweet banana bread base, topped with an amazingly delicious nutella swirl. They're a favorite with both kids and adults, and they are easy to make, too. (My kids pretty much just inhaled them!)
Nutella Banana Muffins
Ingredients for Nutella Banana Muffins –
1 cup sugar
1/2 cup butter, softened
2 eggs
1 teaspoon vanilla
3 tablespoons milk
3 overripe bananas, mashed
2 cups flour
1/2 teaspoon salt
1/2 teaspoon baking soda
1 teaspoon baking powder
1/2 cup nutella spread
Directions for Nutella Banana Muffins –
Preheat the oven to 350. Line a muffin tin with paper liners and set aside.

In a large bowl or the bowl of a stand mixer, cream together the sugar and butter until light and fluffy.

Add the eggs, vanilla, milk, and mashed bananas, and mix until smooth. 

Add the flour, salt, baking soda, and baking powder, and mix until just combined.

Scoop the batter into the prepared muffin tin, filling 3/4 full. Scoop a teaspoon of nutella onto the top of each muffin cup, then use a toothpick to swirl the nutella into the batter.
Bake 15-17 minutes, or until the muffins are golden brown on top, and a toothpick inserted into the center comes out clean.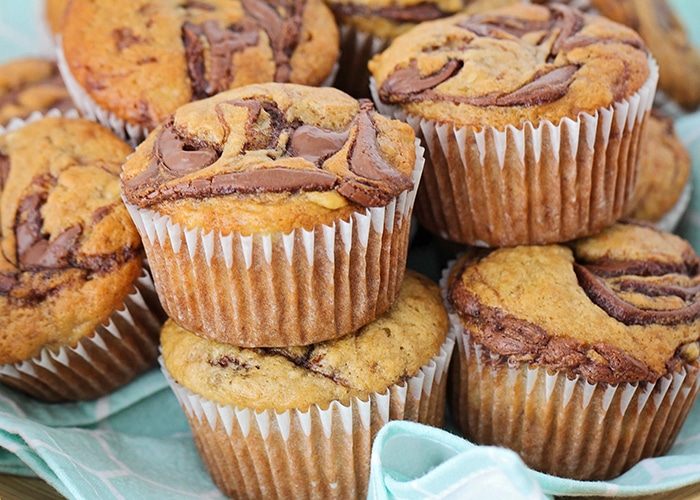 I absolutely love the combination of nutella and banana in these muffins. Those two flavors were just made to go together! If for some reason you are not a fan of nutella, then you could substitute peanut butter in its place and I'm sure they would still be delicious.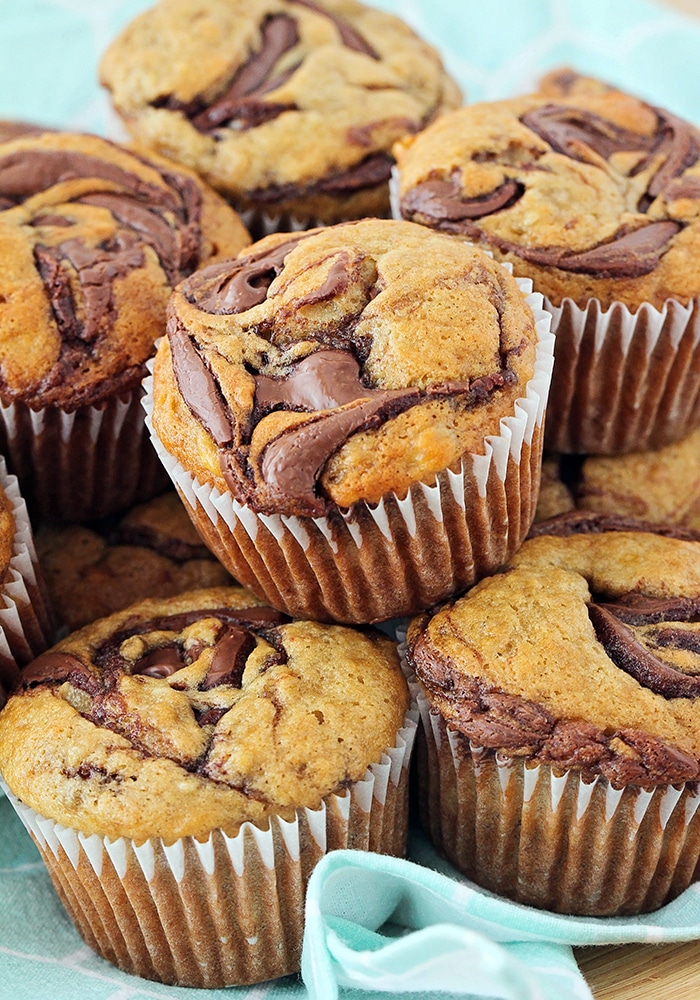 These muffins have the perfect light and soft texture, and are so tender and irresistible. You should definitely plan on eating more than one!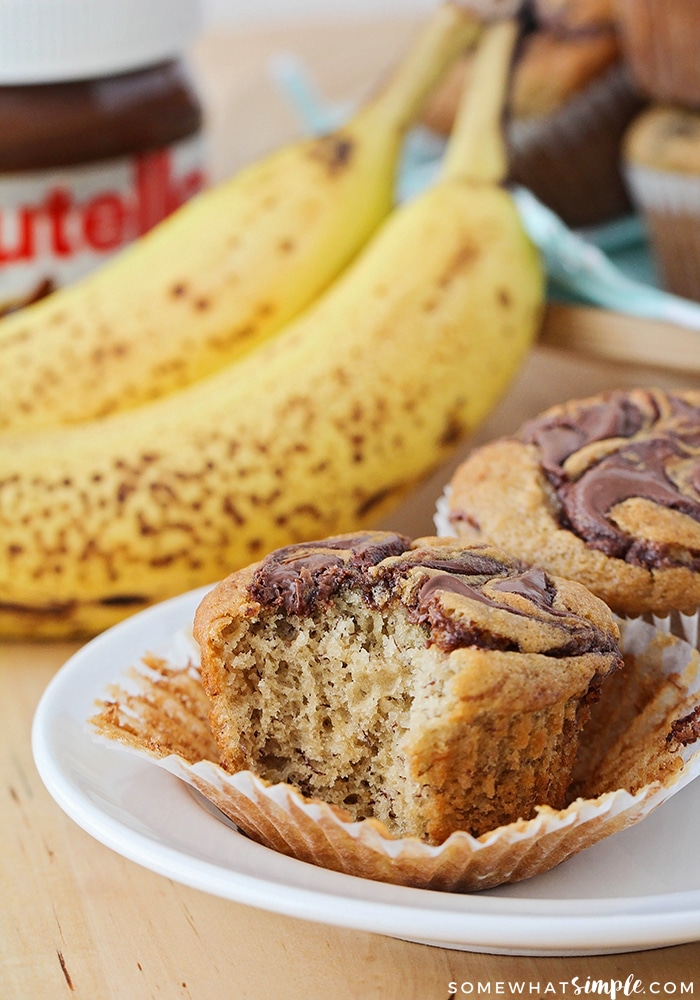 For more great muffin recipes, be sure to check out some of our favorites below: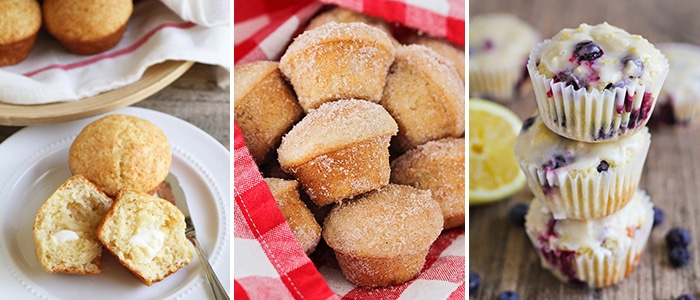 Breakfast Honey Muffins | Apple Cinnamon Muffins | Glazed Lemon Blueberry Muffins