This Pear Apple Crumble is the perfect dessert for those cooler Fall nights!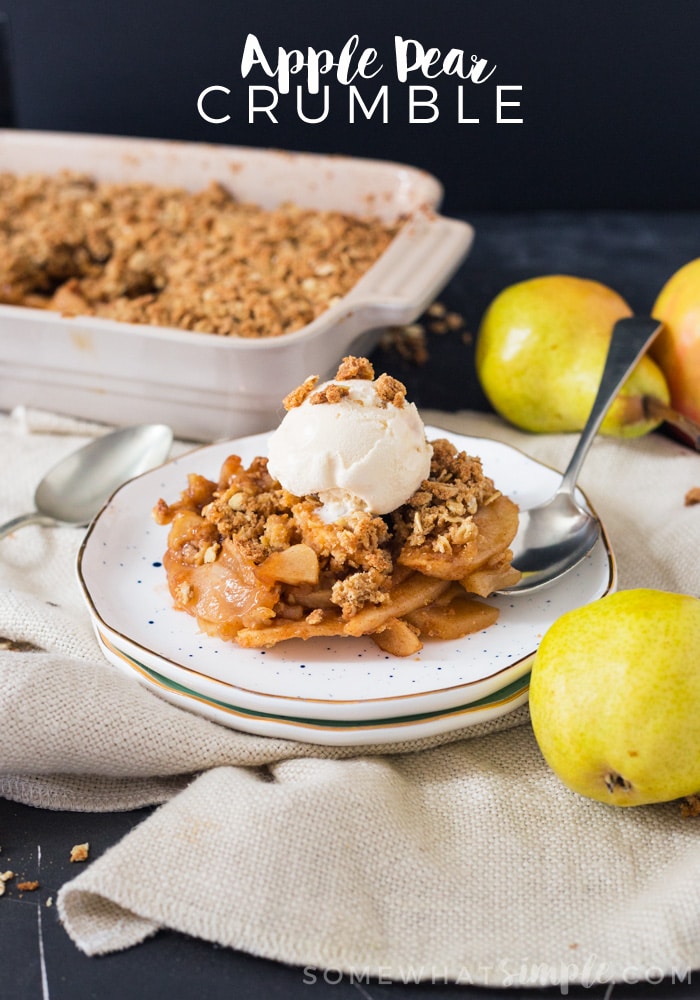 As the evenings draw in and the weather gets cooler, I crave nothing more than a warm, comforting dessert. Soft fruit and cinnamon with a delicious crunchy top… there's just nothing better! That is, until you add the sweet contrast of the cold ice cream – I simply can't get enough!
I mean, I adore apple crumble, but one night I started brain storming how I could make it even better.
"Why not add pears?" I asked myself.
And so I did.
And I am SO glad I did.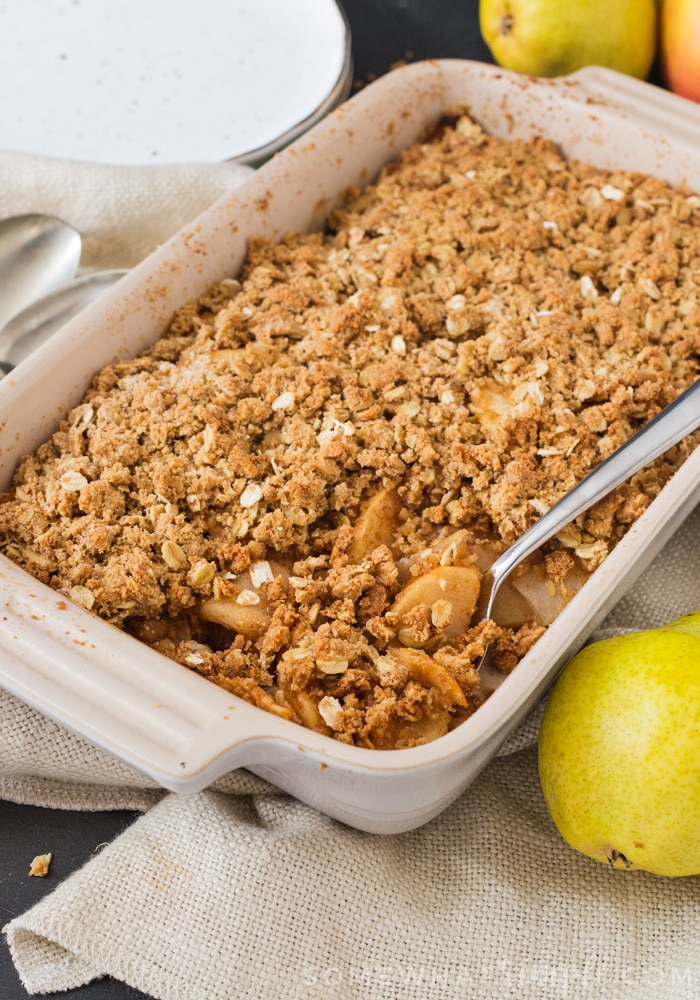 This Pear Apple Crumble is AMAZING!
I used different types of apples and pears; soft, sweet pears and crunchy, juicy apples. This way you could really taste the two fruits individually.
With brown sugar and cinnamon in the mix, the result is sweet, juicy and a little spicy. I really think the cinnamon is the cherry on the top of this whole dessert; it just adds a beautiful warmth to the crumble.
The topping is a buttery oat and flour crumble that literally makes this dessert pure heaven on a plate!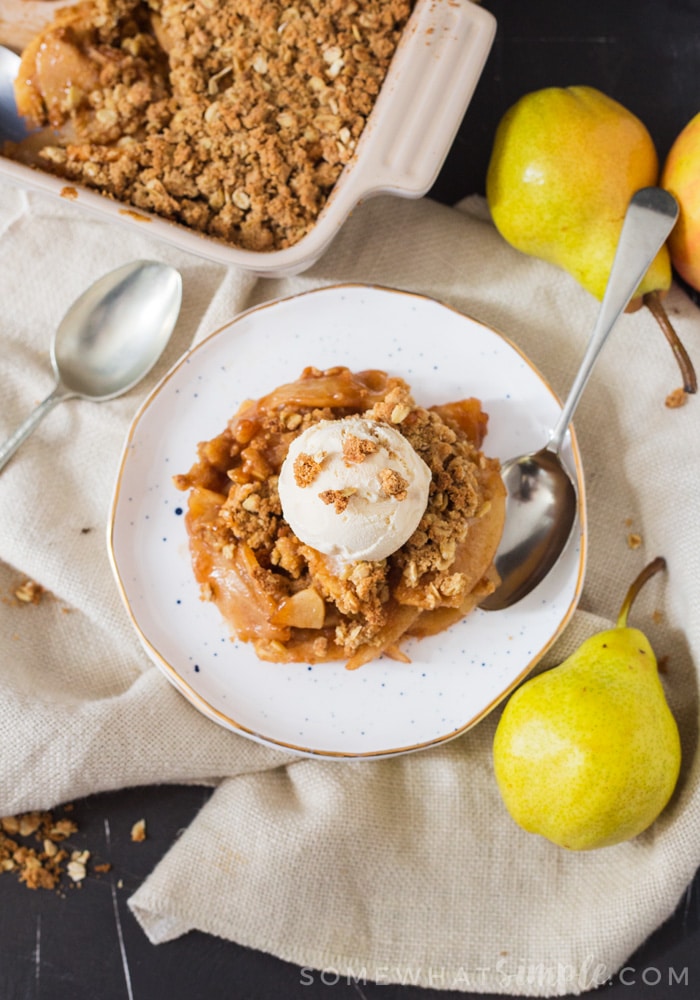 And if a delicious dessert isn't enough to strike your curiosity, let me just tell you that it is also SUPER simple to make@ Mix the fruit filling and leave it to one side while you make the topping.  Put it all in a greased pan and bake it.
Which brings me to the hardest part of this whole process – waiting until its done to eat it! The amazing smell it gives off while baking made my mouth water and I could not wait for it to be ready!
PEAR APPLE CRUMBLE
Serves: 6-8 // Total Time: 1 hour
INGREDIENTS FOR APPLE PEAR CRUMBLE:
3 large/4 small apples, peeled, cored and sliced thinly
2 large pears, peeled, cored and sliced thinly
2 tbsp cornstarch
1 tbsp lemon juice
1/3 cup light brown sugar
3/4-1 tsp ground cinnamon
1 cup rolled oats, not quick cook
1/2 cup light brown sugar
1 and 1/2 cups all purpose flour
Pinch of salt
1 stick unsalted butter, cold and cubed
1/4 tsp vanilla extract
Ice cream to serve, optional
DIRECTIONS FOR APPLE PEAR CRUMBLE:
Preheat the oven to 350F/180C and spray an 13 x 9 inch pan with cooking spray.
Place apples, pears, cornstarch, lemon juice, brown sugar and cinnamon into a medium sized bowl and toss until all the fruit is coated in the cornstarch/sugar mixture. Leave to one side.
Place the oats, sugar, flour and salt into a medium sized bowl and stir briefly to combine.
Add in the cubes of butter and vanilla, then rub between your fingers until you have a coarse breadcrumb texture. Some larger lumps the size of peas is great; adds texture to the crumble!
Tip the fruit mixture into your prepared pan and smooth into a level layer with a spatula/wooden spoon.
Sprinkle the crumble topping all over the fruit into as even a layer as you can get it.
Place in the oven for 35-45 minutes, until the fruit filling is bubbling and the top is golden brown and firm to the touch.
Leave to cool for 20 minutes before serving.
Serve with ice cream and enjoy!
Apple Pear Crumble will keep covered, in the fridge, for 3 days. To serve, warm in the microwave for a minute.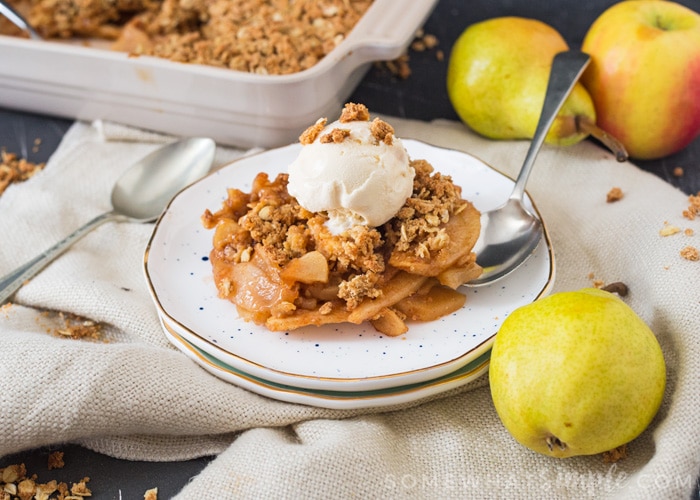 If you liked this recipe, then maybe you'll like these…

Apple Cinnamon Fruit Leather / Caramel Apple Cheesecake Trifles / Apple Cinnamon Muffins