Chocolate and vanilla ice cream + malted milk candies equals one absolutely delicious pie! Frozen Malt Shop Ice Cream Pie, coming right up!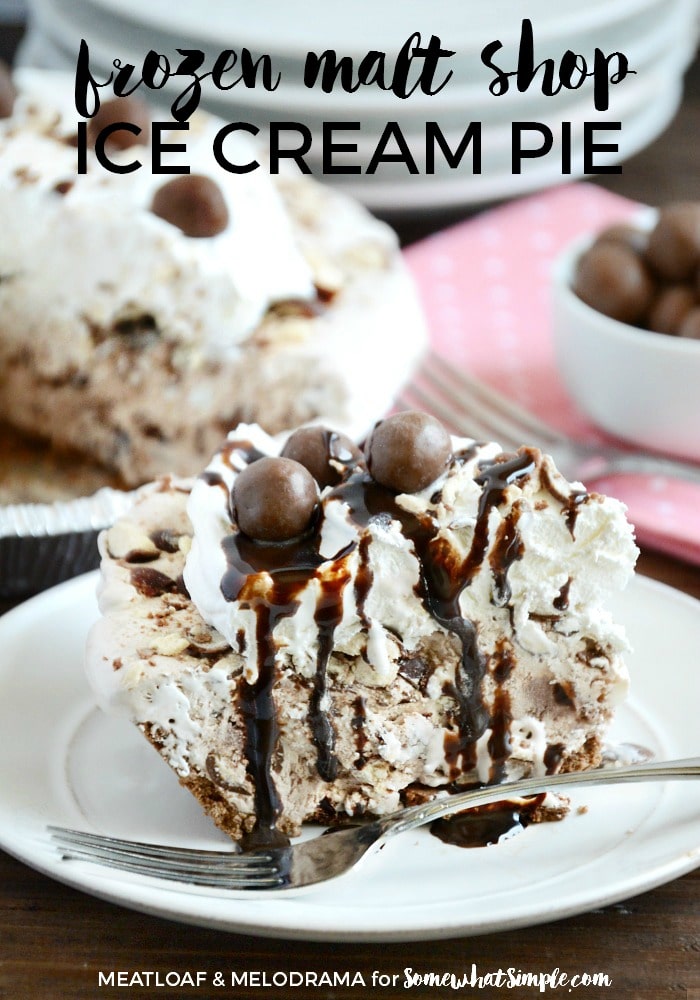 I actually found the inspiration for this Frozen Malt Shop Ice Cream Pie on the back of a carton of Whoppers candy, but I tweaked the recipe just a bit. It's still super simple to make, and the kids can help a lot. You do have to allow for plenty of freezer time, so it's best to make this pie early in the day or even the night before you plan to serve it.
Frozen Malt Shop Ice Cream Pie
INGREDIENTS:
1 9-inch chocolate graham cracker pie crust
2 1/2 cups Whoppers malted milk candy, crushed plus extra for garnish
1 cup softened vanilla ice cream
1 cup softened chocolate ice cream
1 1/2 8-0z tubs whipped topping (Cool Whip) thawed
Chocolate syrup for garnish (optional)
DIRECTIONS: 
Place the whoppers in a large zip-top bag and crush into small pieces with a rolling pin (you can also use a food processor or blender).
In a large bowl, mix the ice cream and 1 tub of the whipped topping together.
Stir in 1 cup of the crushed candy.
 Pour the mixture into the pie shell.
Top with another cup of crushed candy.
Place into freezer for at least 5 hours or until very firm.
Spread additional whipped topping over the pie and top with remaining crushed candy and additional candy if desired.
Serve immediately, or freeze until ready to serve.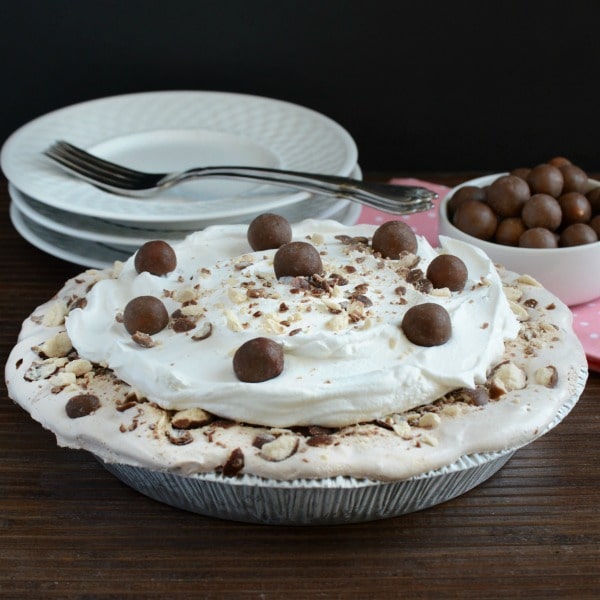 I found it was easier to place the pie back into the freezer after I added the additional topping. That way, it was nice and firm when it came time to serve.
My family absolutely loved this frozen malt shop ice cream pie. It's cool, creamy, fluffy and perfect for summer!
 . . . . .
Do you have a favorite summer treat? Leave me a comment, I'd love to try something new!