This German Chocolate Brownie Pie is decadent— not for the faint of heart, my friends! Don't even touch it if you don't have a glass of milk near by.
What kind of German Chocolate eater are you? Do you scrape the coconut topping off first? Or do you like to get the coconut and the chocolate together all in one big bite? I'm a scraper – hands down! This German Chocolate Brownie Pie only will only bring two thoughts to mind:
1. I need some milk. Now.
2. I. want. more.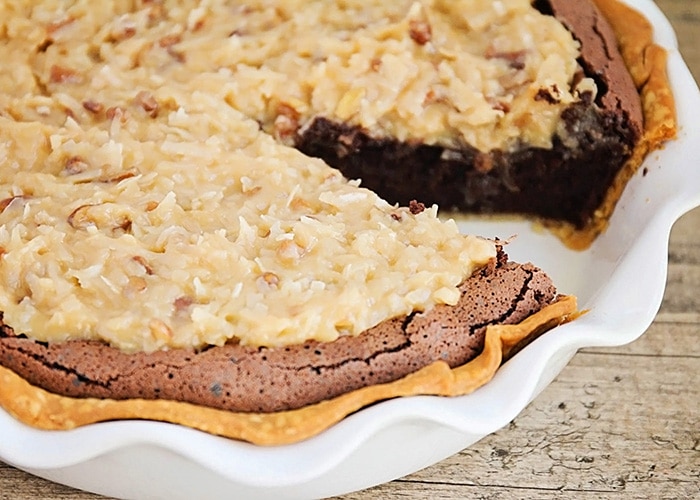 Did you pour a glass of milk?
Perfect. Now grab a fork (don't bother with a plate, you won't need it), and dig right in.
German Chocolate Brownie Pie
Recipe adapted from: The Family Kitchen
INGREDIENTS: 
for the Brownie Pie – 
1 deep dish pie crust
7 eggs
1 cup high-quality cocoa powder
1 1/2 cups sugar
1 teaspoon of vanilla
for the Coconut Topping –
1 (5 oz.) can evaporated milk
3/4 c. brown sugar
1/3 c. butter
2 egg yolks
1 1/2 c. sweetened flaked coconut (you can add more if you'd like)
3/4 c. chopped pecans
DIRECTIONS: 
for the Brownie Pie – 
Crack the eggs into a large bowl.
With an electric mixer, beat in the cocoa powder, sugar, and vanilla until well mixed.
Pour into pie crust.
Bake in an oven preheated to 400 degrees for 40-45 minutes, or just until the center of the pie is set.
for the Coconut Topping – 
Over medium heat, whisk together the milk, sugar, butter, and egg yolks in a medium saucepan. Whisk constantly until smooth, thick, and golden brown.
Remove from heat and add the coconut and pecans. Mix in with a rubber spatula.
ASSEMBLY: 
Simply spread the coconut topping over the brownie pie.
Cut into 16 slices to serve.
ENJOY!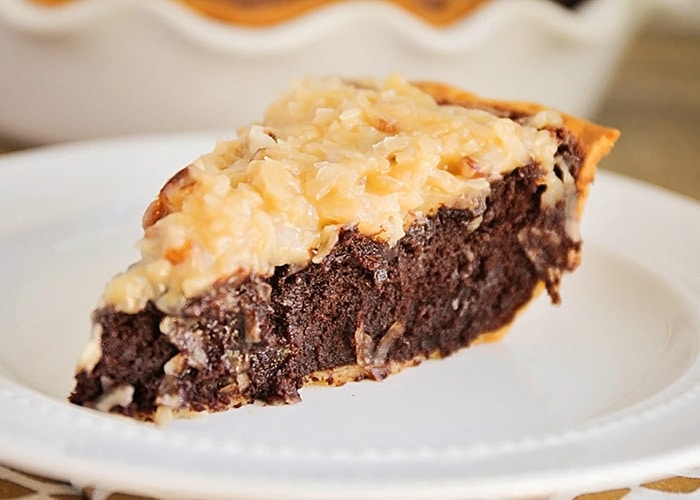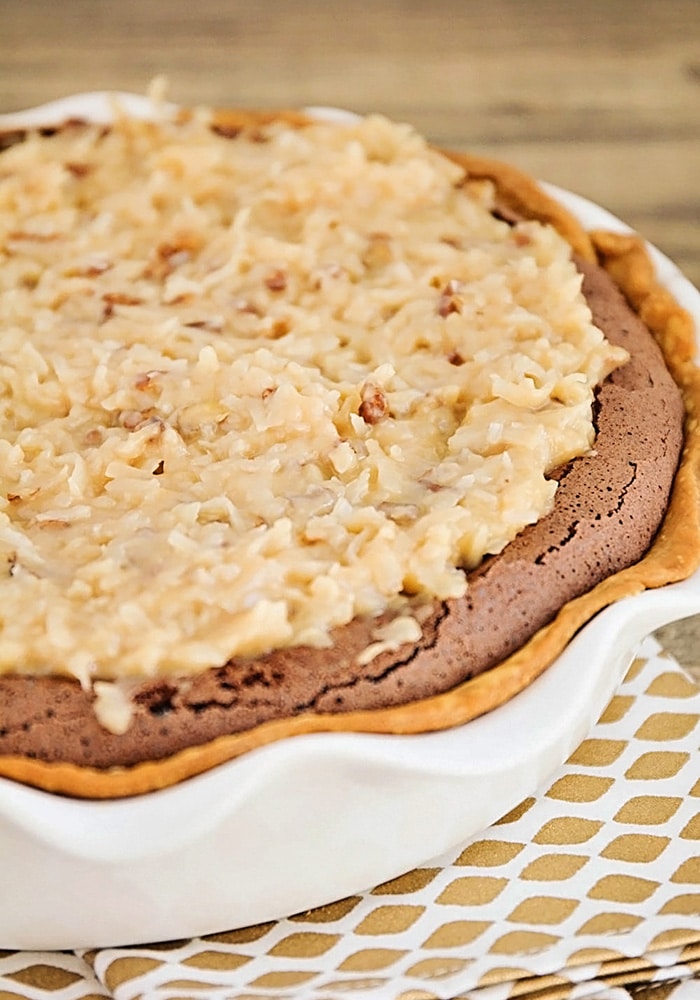 This post originally published on Somewhat Simple in September 2012. It was updated in June 2016.