These easy raspberry pastries have only six ingredients and take just a few minutes to make!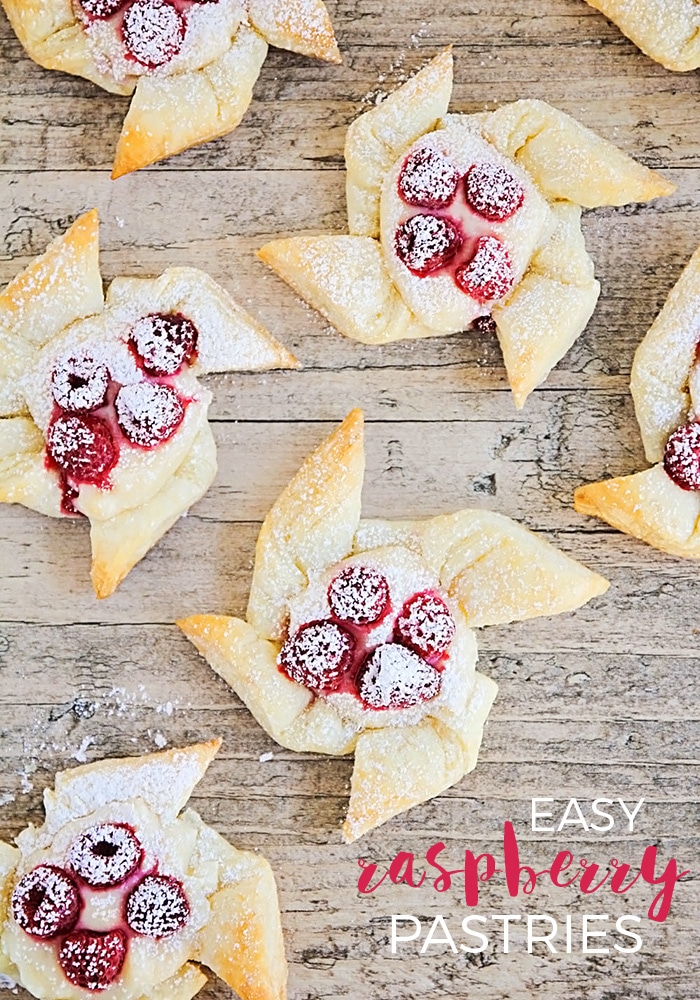 I love baking, but I've always been a little intimidated by puff pastry. It seems so fussy to me, and I'm never sure quite what to make with it. I've had a box of puff pastry sitting in the freezer for months now, and I decided it was high time that I actually make something with it. These easy raspberry pastries are fantastic! I was kind of shocked at how easy the puff pastry was to work with, and the pastries turned out delicious and beautiful too. If you, like me, have been intimidated by puff pastry, this recipe is perfect for beginners!
Start by cutting the puff pastry into squares, and then cutting diagonally from each corner toward the center.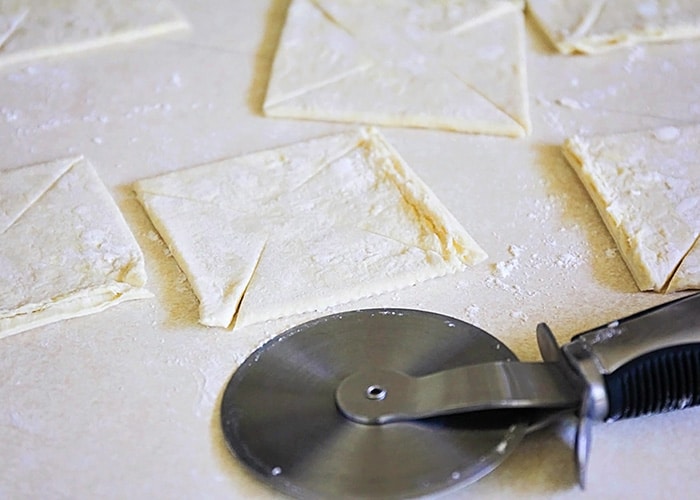 Next, fold up every other corner, to make a cute pinwheel shape.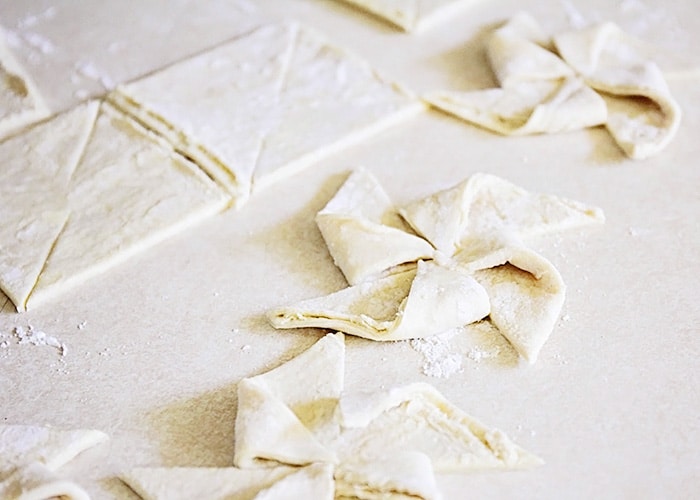 Finally, add a simple cream cheese filling, top with some frozen raspberries, and bake. Simple and easy!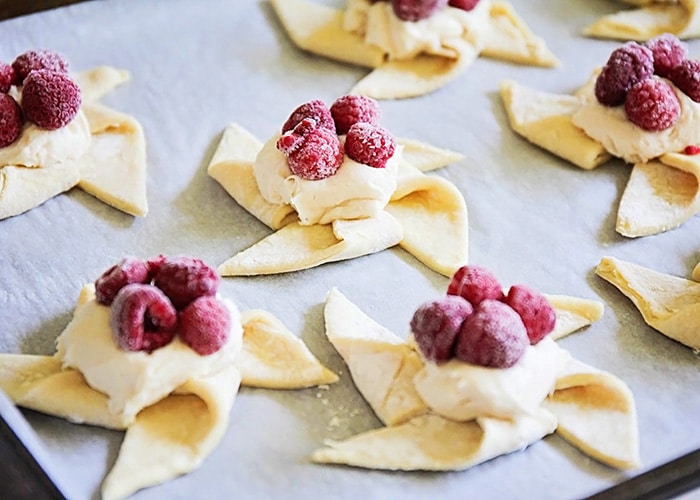 The puff pastry puffs up and browns beautifully in the oven, and the raspberries soften and release their juices into the cream cheese filling.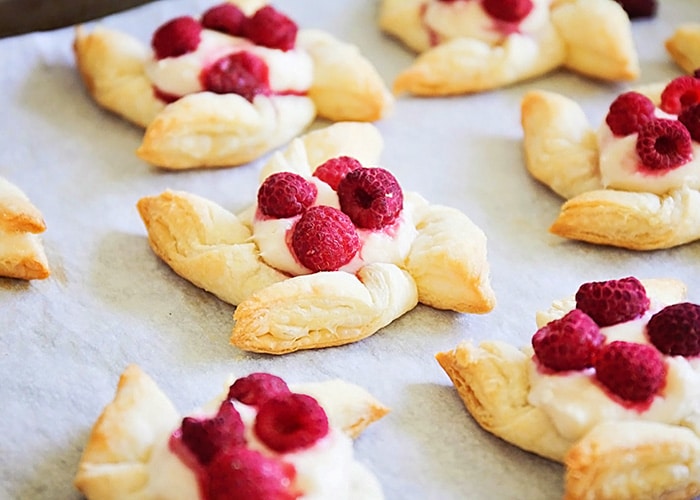 The last step is to sprinkle the pastries with powdered sugar, which makes them extra pretty!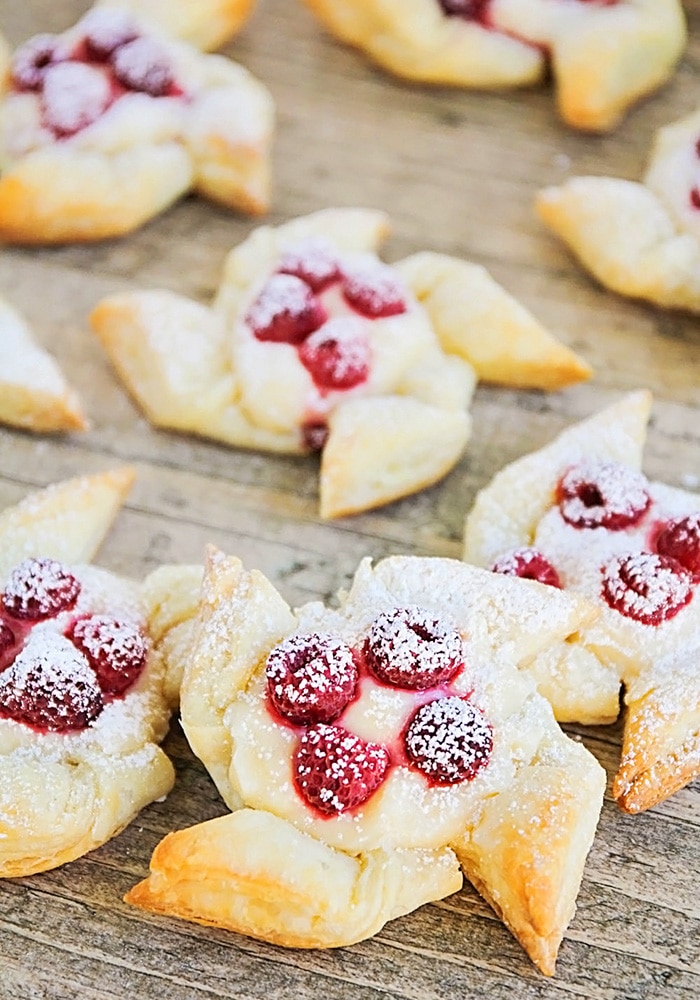 These easy raspberry pastries are so delicious, not to mention addicting. I made them for a family party, and they were gone within a few minutes! I think they would be especially tasty with some vanilla ice cream on the side. They would be delicious with other fruits too, such as blueberries or peaches. This recipe is so easy and incredibly adaptable, too!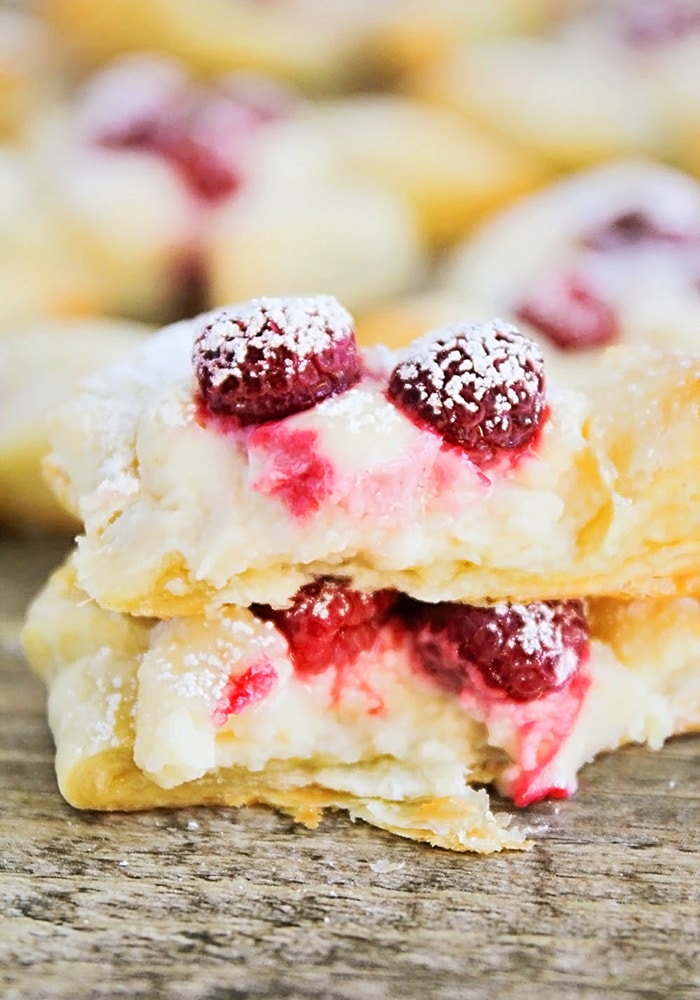 Easy Raspberry Pastries
INGREDIENTS:
1 package (2 sheets) puff pastry, thawed
8 ounces cream cheese, softened
1/4 cup sugar
1 teaspoon vanilla
2 cups frozen raspberries
powdered sugar
DIRECTIONS:
Preheat the oven to 400. Line two baking sheets with parchment, or spray with cooking spray.
Open the puff pastry sheets so they are flat. Cut each piece into nine equal squares. Cut diagonally from the corner of each square towards the center, about 1 inch. Be careful not to cut through the center. Gently fold every other flap toward the center, to make a pinwheel shape.
In a small bowl, mix together the cream cheese, sugar, and vanilla. Scoop one tablespoon of filling onto the center of each pinwheel. Top each pastry with four frozen raspberries.
Bake 10-12 minutes, or until the pastries are puffy and golden brown. Let the pastries cool, then sprinkle with powdered sugar.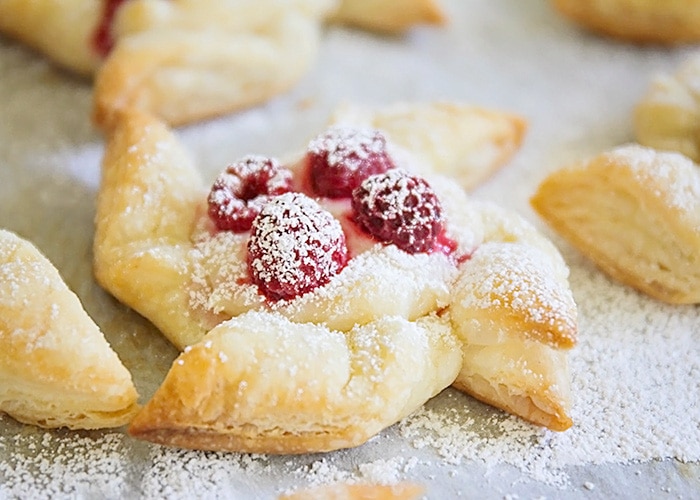 For more delicious raspberry recipes, check out my raspberry coffee cake, raspberry crumb bars, and raspberry shortbread tarts.
Happy baking!