These mini apple pies are the perfect ratio of buttery crust and caramel apple filling! The perfect addition to your next holiday party!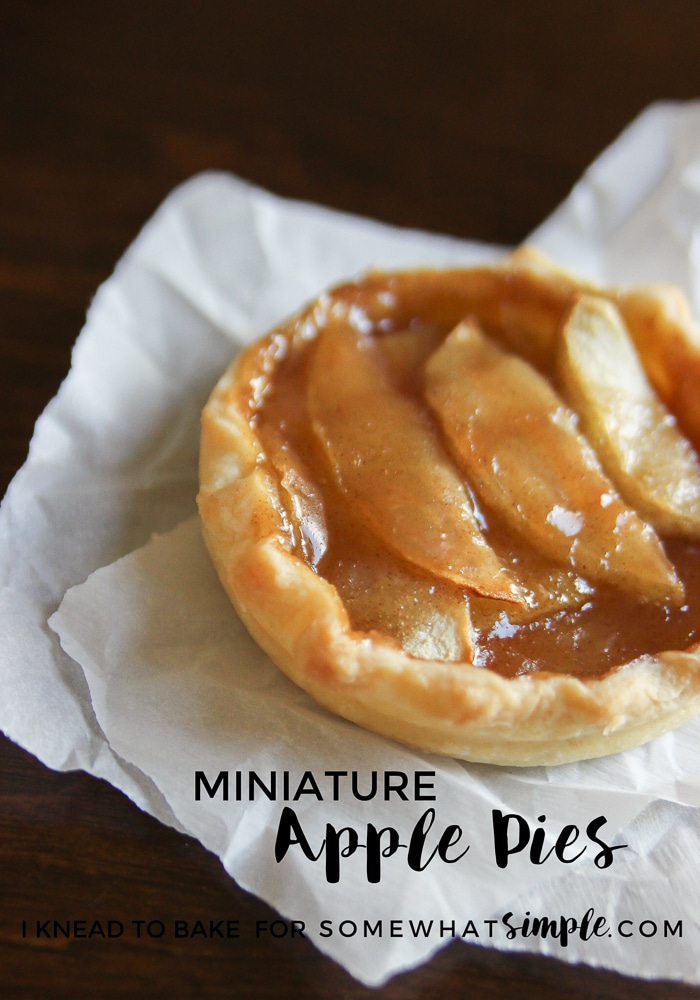 Confession: I have a love affair with pie crust. Who's with me? If you just raised your hand then allow me to introduce your new favorite way to eat pie. Miniature. The thing I love about these mini apple pies are their filling to crust ratio. It all starts with crisp granny smith apples…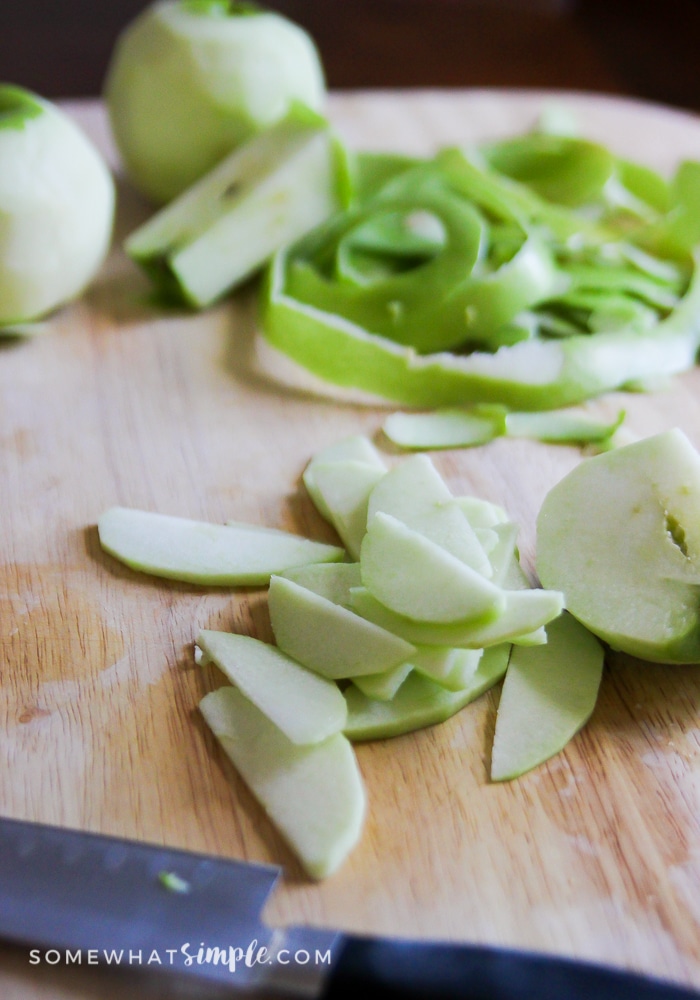 …and a delicious buttery pie dough. To achieve their mini apple pie size use wide mouth mason jar lids in place of a pie pan.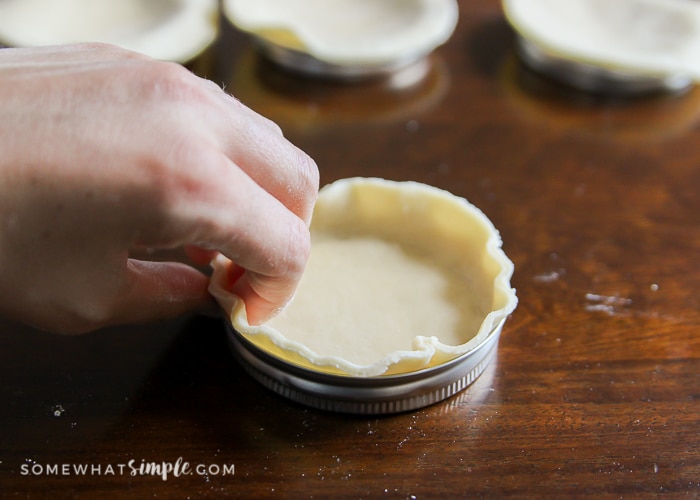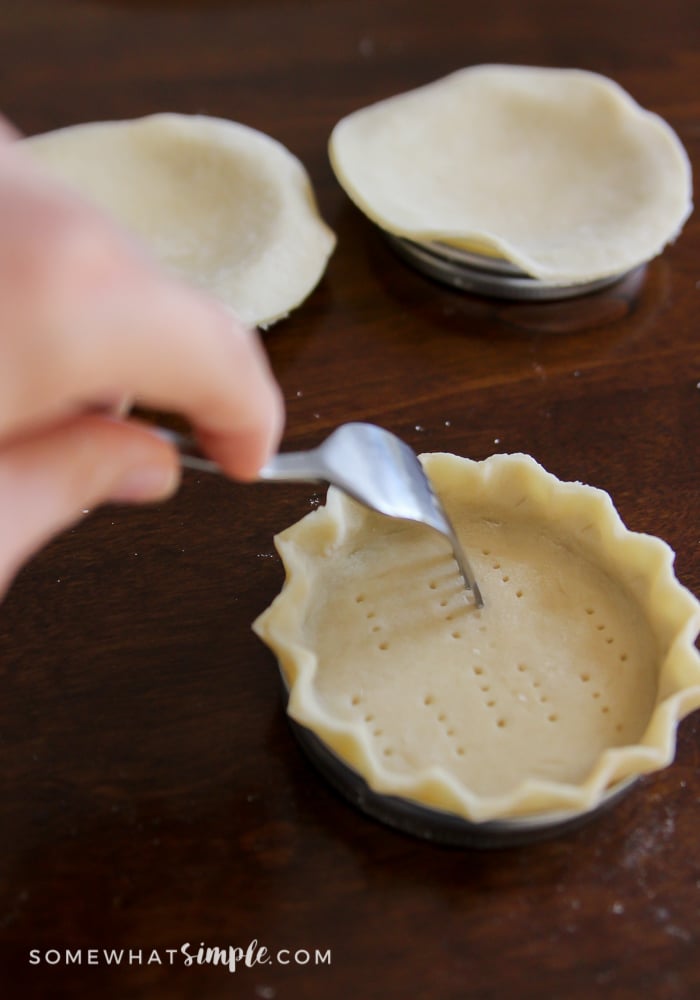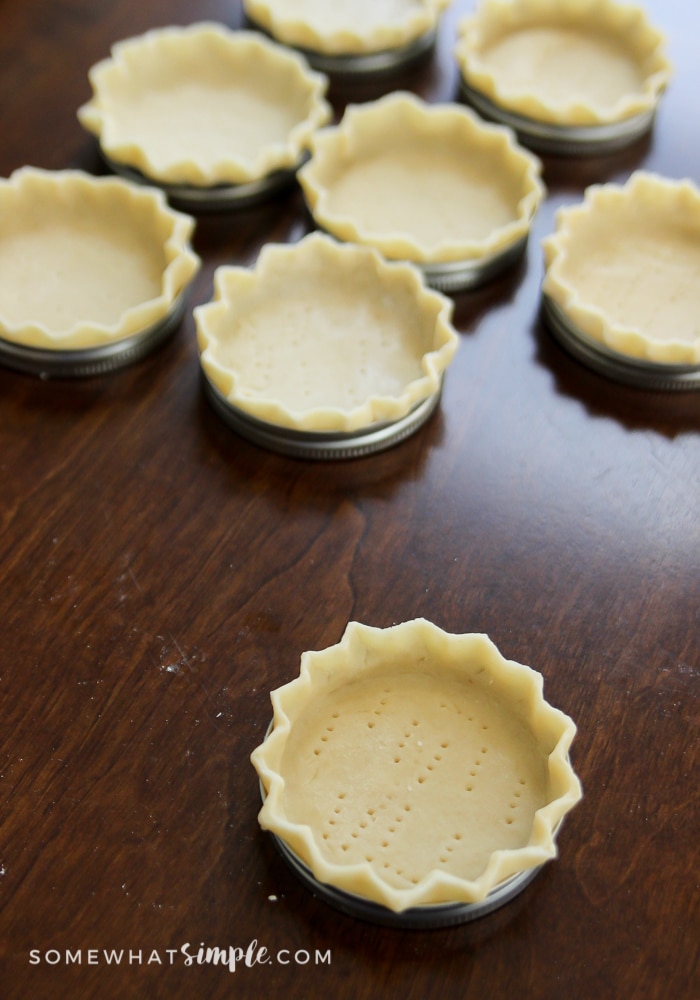 Next arrange two layers of tart apples inside your crust.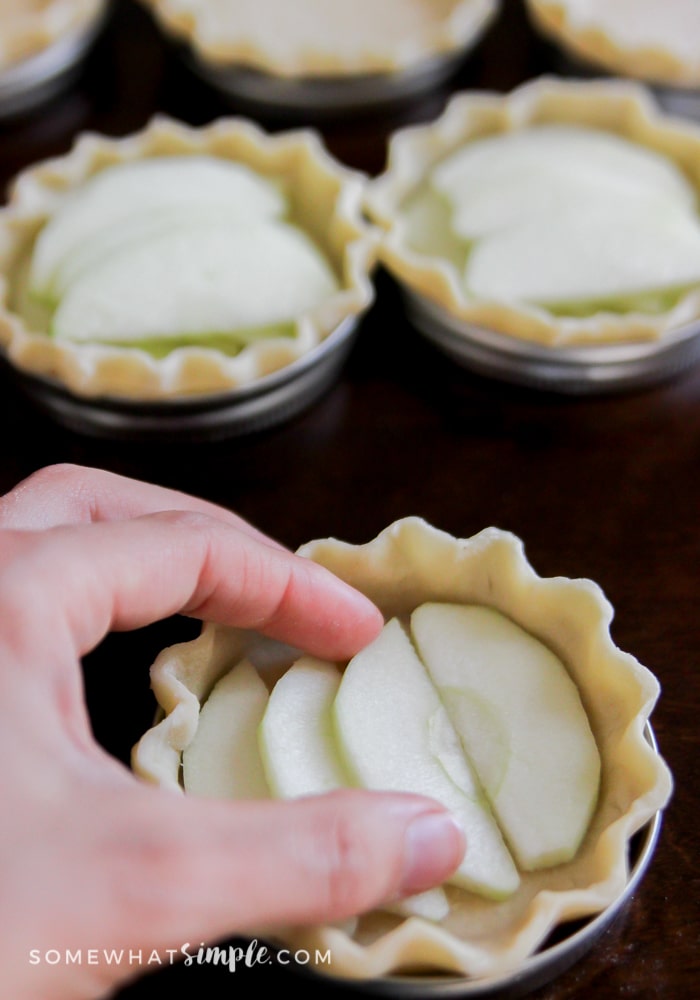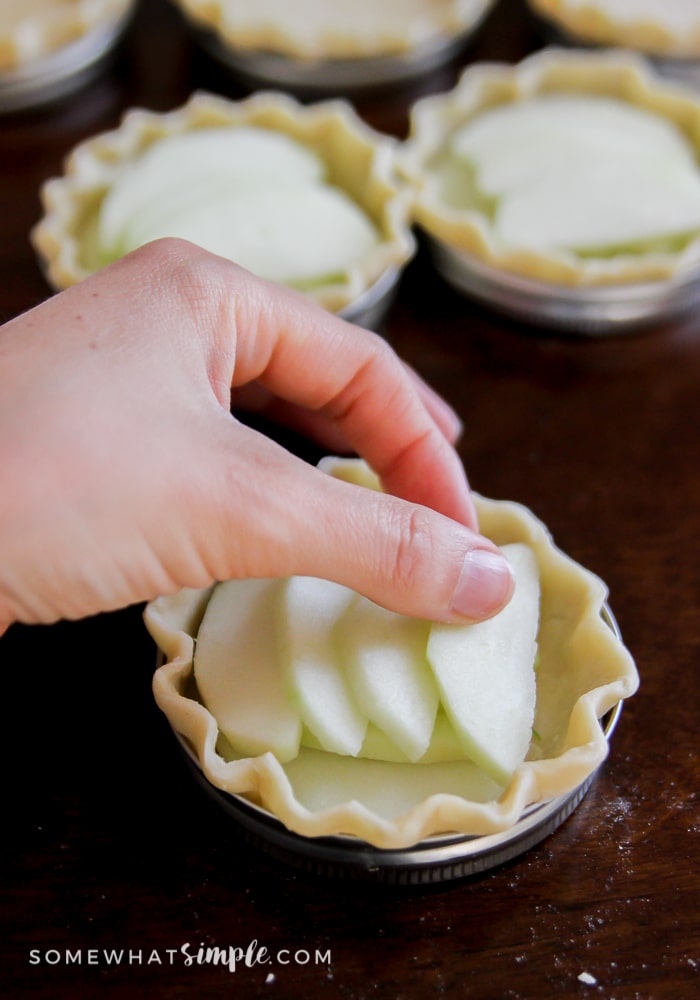 And then finish off your filling with a quick homemade cinnamon caramel sauce.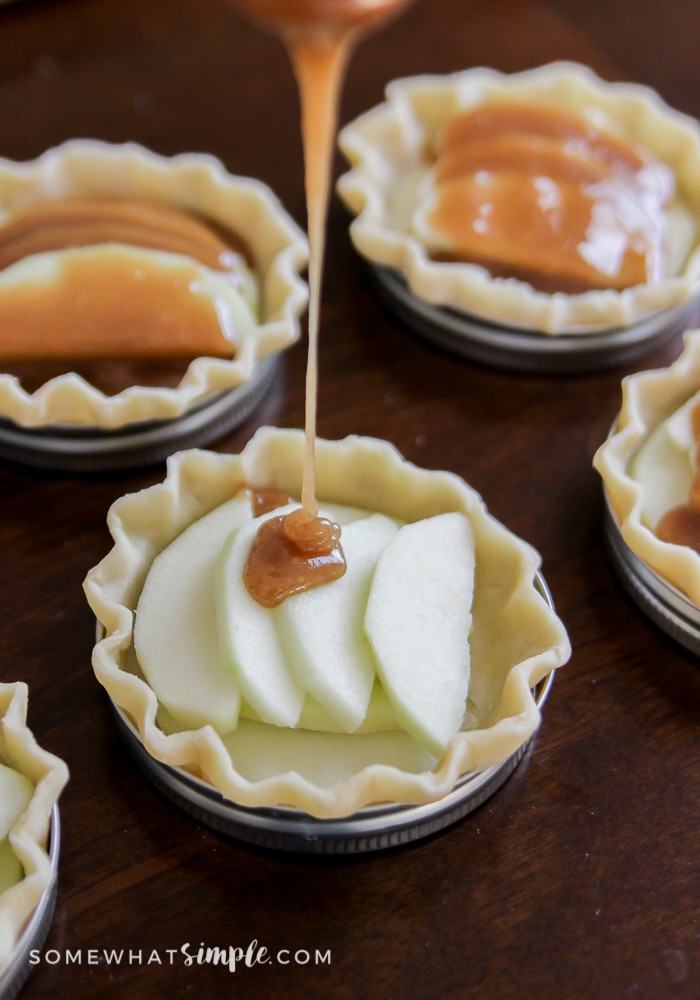 Bake those little beauties until golden brown and voilà ! The outcome is a flaky pie crust with just enough caramel apple filling.
Mini Apple Pies
Makes: 8 Miniature Apple Pies
INGREDIENTS: 
1 recipe for a 9 inch single pie crust*
2-3 Granny Smith apples, peeled and sliced
4 Tablespoons butter
4 teaspoons all-purpose flour
2 Tablespoons water
1/4 cup white sugar
1/4 cup brown sugar, packed
1/2 teaspoon cinnamon
*My favorite homemade pie crust recipe is the Basic Pie Dough from William Sonoma. You may also use store-bought pie crust.
YOU WILL ALSO NEED: 
8 wide mouth mason jar lids and rings
DIRECTIONS: 
Preheat the oven to 350 degrees F.
Roll the pie crust out and cut out into 4 1/2 inch rounds. You will need 8.
Lightly press each round of dough into the inside of a wide mouth mason jar lid.
Poke the bottom of each pie with the prongs of a fork a few times.
Fill each pie crust with 8-10 apple slices.
To make the caramel filling, begin by melting the butter in a small saucepan.
Once the butter has melted add the flour and mix to create a paste.
Add the water, white sugar, brown sugar and cinnamon to the pan.
Slowly whisk to combine.
While stirring, allow the mixture to come to a boil and then reduce to the heat to low and cook, stirring, for another 1-2 minutes.
Add 1 tablespoon of cinnamon caramel filling to each mini pie.
Place each pie into the oven directly on the rack. Place a cookie sheet underneath to catch any caramel that may bubble over.
Bake for 30 minutes.
Carefully take the pies out of the oven and pushing on the bottom, remove each pie from the mason jar lids.
Place the pie directly on a baking sheet and return them to the oven for another 15-20 minutes or until the bottom of the crust is lightly browned.
Cool and enjoy!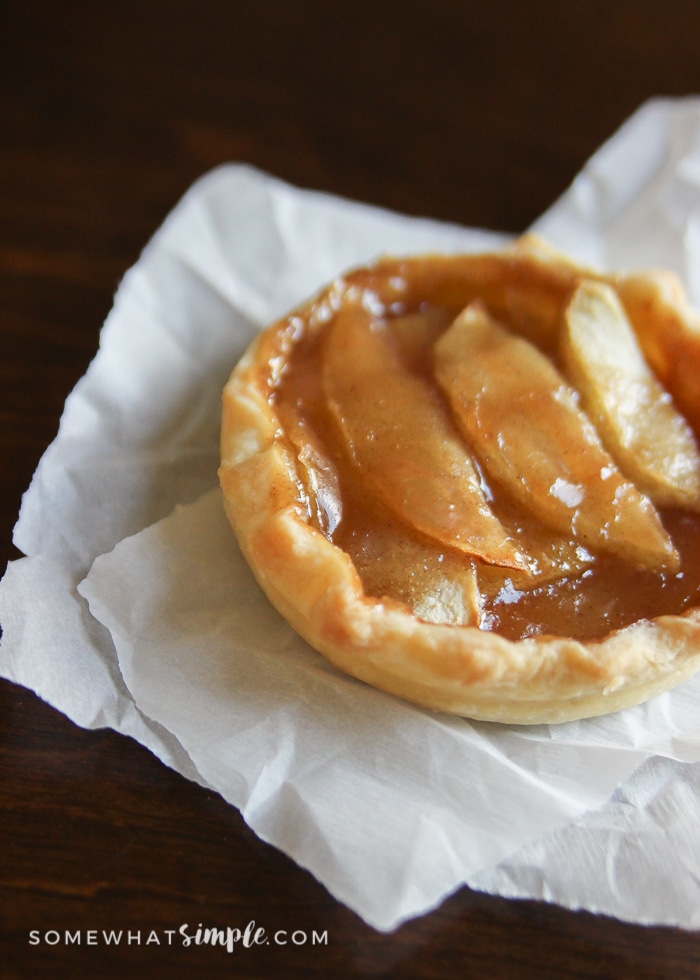 Recipe adapted from: Grandma Ople's Apple Pie