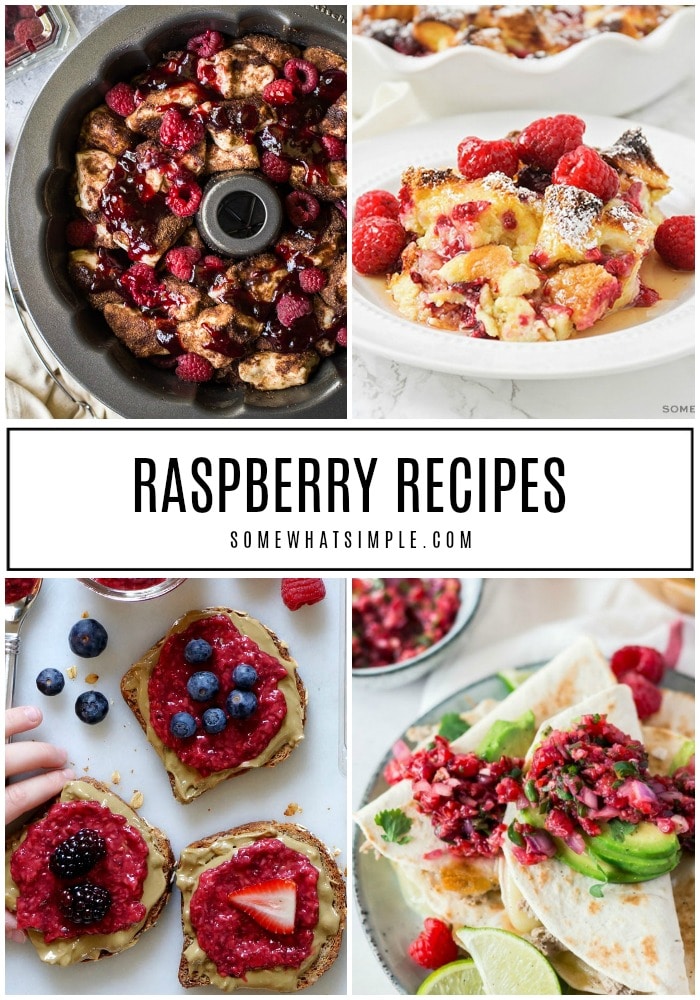 Enjoy the sweet/tart flavor in every bite of our very favorite raspberry recipes. (Your taste buds are going to fall in love!)
If you love fresh berry recipes like we do, be sure to check out a few of our favorites – Blueberry Muffins, Easy Strawberry Shortcake, and Cranberry Orange Sweet Bread.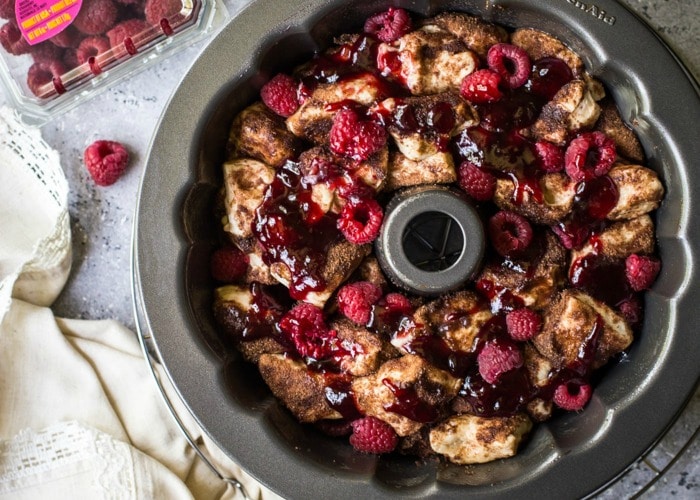 Raspberries are a mid-summer treat that everyone in my family LOVES! We usually eat them straight out of their carton because we can't wait to dive in to the tart goodness, but these raspberry recipes might be worth practicing a bit of self-control for. Take a look at these delicious recipes –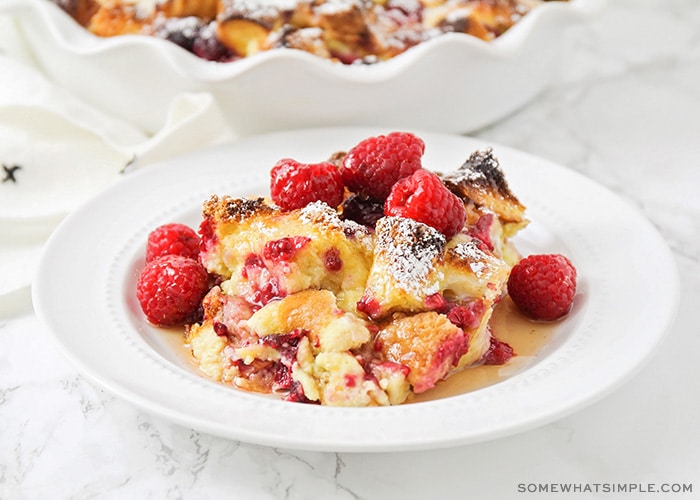 Raspberry Breakfast Recipes
1. Baked Raspberry French Toast || Somewhat Simple
2. Homemade Raspberry Breakfast Bars || Jessica Gavin
3. Raspberry Popovers || Driscolls
4. Raspberry Parfaits || Somewhat Simple
5. Raspberry White Chocolate Scones || Driscolls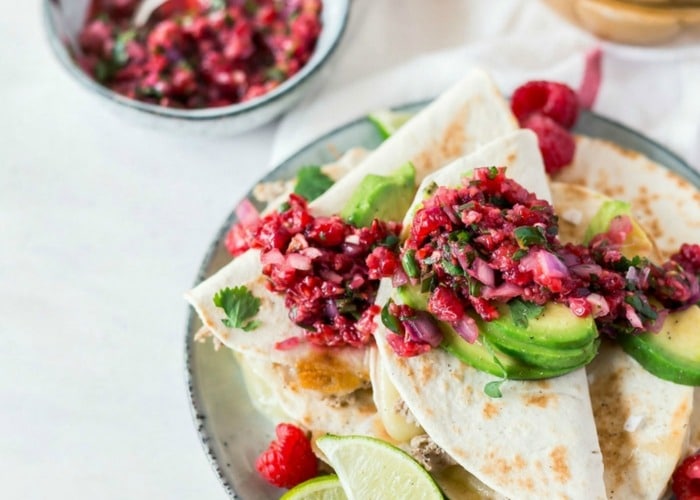 Raspberry Dinner Dishes
6. Pulled Pork Quesadillas with Spicy Raspberry Salsa || Driscolls
7. Raspberry Shrimp Salad || Upstate Ramblings
8. Sweet and Spicy Raspberry Chicken Wings || Driscolls
9. Raspberry Balsamic Glazed Salmon || Driscolls
10. Sirloin Burgers with Spicy Raspberry Ketchup || Driscolls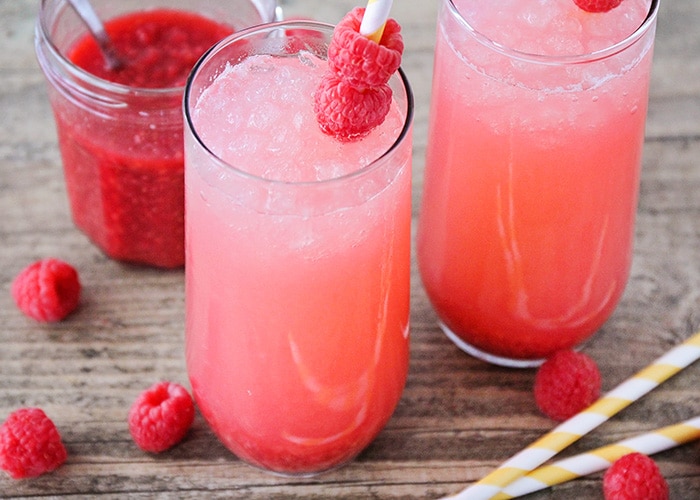 Raspberry Drink Recipes
11. Raspberry Lemonade || Somewhat Simple
12. Raspberry Chocolate Protein Shake || Somewhat Simple
13. Raspberry Ombre Smoothie || Driscolls
14. Raspberry Lemonade Fizz || Culinary Hill
15. Raspberry Flax Seed Yogurt Smoothie || Driscolls

Raspberry Cakes & Cheesecakes
16. White Chocolate Raspberry Cheesecake Bites || Chew Out Loud
17. Raspberry Cheesecake Ice Cream Cupcakes || Life Love and Sugar
18. Raspberry Streusel Bars || Sally's Baking Addiction
19. Almond Raspberry Coffee Cake || Valentina's Corner
20. Raspberry Cheesecake Bars || Driscolls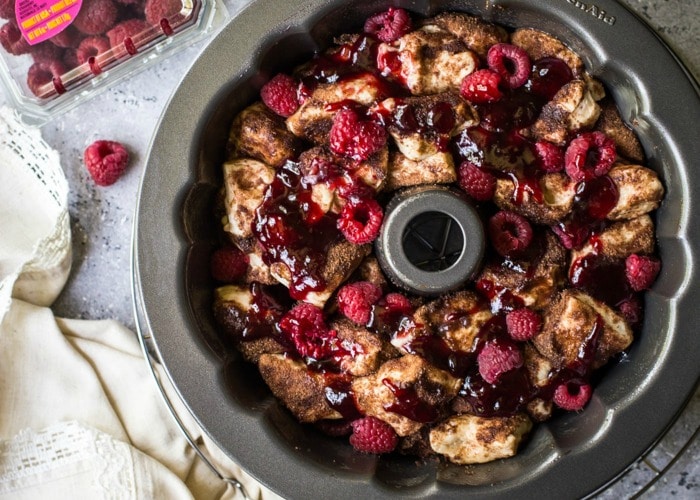 Raspberry Desserts
21. Chocolate Raspberry Monkey Bread || Driscolls
22. Brownies with Raspberry Swirl || Somewhat Simple
23. Raspberry Sorbet || Le Creme de la Crumb
24. Easy Raspberry Pastries || Somewhat Simple
25. Raspberry Lemon Butter Cookies || Somewhat Simple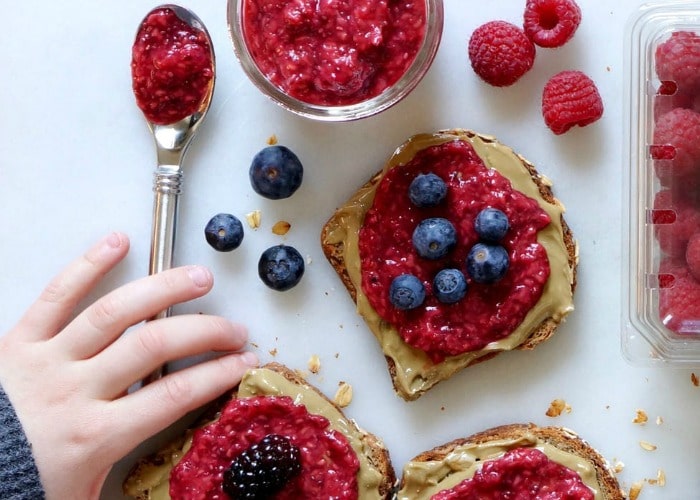 Raspberry Creams + Sauces
26. Raspberry Ginger Chia Sauce || Driscolls
27. Raspberry Buttercream Frosting || Somewhat Simple
28. Raspberry Habanero Relish || Driscolls
29. Homemade Raspberry Jam (little sugar, no pectin!) || Joyful Healthy Eats
30. Raspberry Vinaigrette Salad Dressing || Sunkissed Kitchen
ENJOY!