Simple strawberry shortcake – sweet, tender biscuits topped with strawberry sauce, fresh strawberries, and whipped cream. The perfect spring dessert!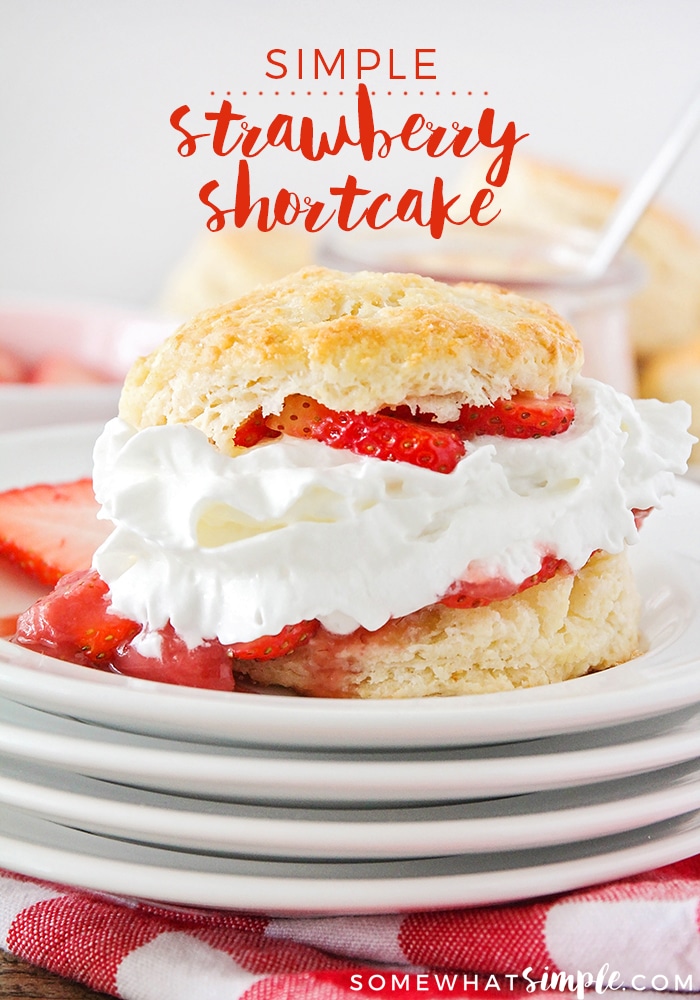 When it comes to spring desserts, the more fresh fruit, the better! After a winter full of heavier comfort foods, it's such a delightful change to eat something light and fresh. This simple strawberry shortcake is simple and easy to make, loaded with strawberries, and incredibly delicious! It's perfect for any occasion, from a simple weeknight dessert to a delicious Mother's Day brunch.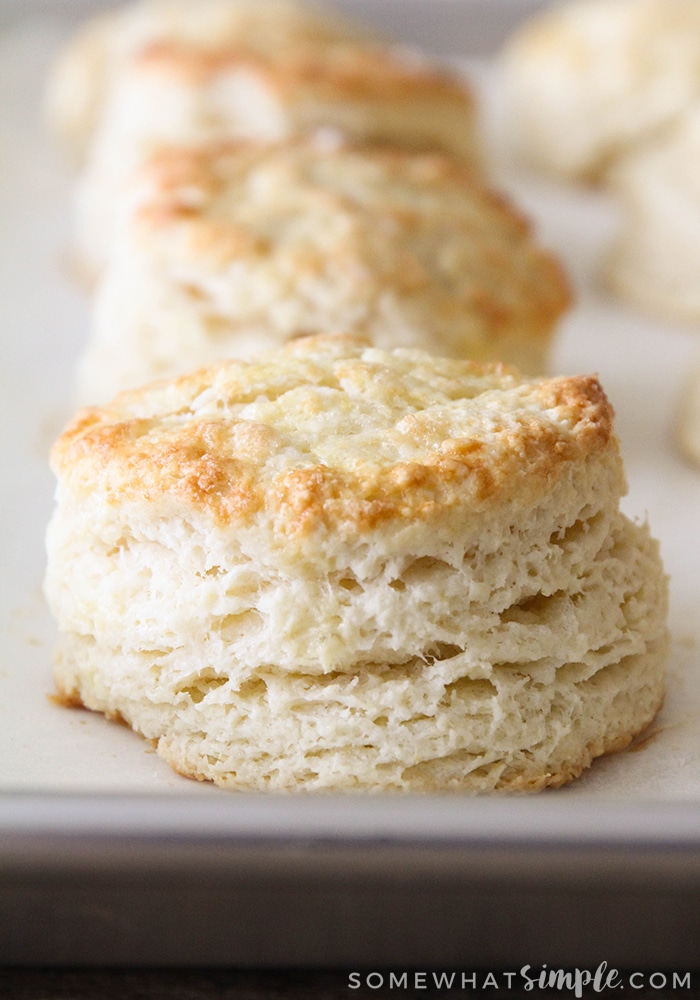 I tweaked my favorite biscuit recipe to make the biscuits a little sweeter and richer, then served them with a delicious homemade strawberry sauce, fresh strawberries, and whipped cream. The result was an incredibly flavorful, sweet, and light dessert that my whole family loved!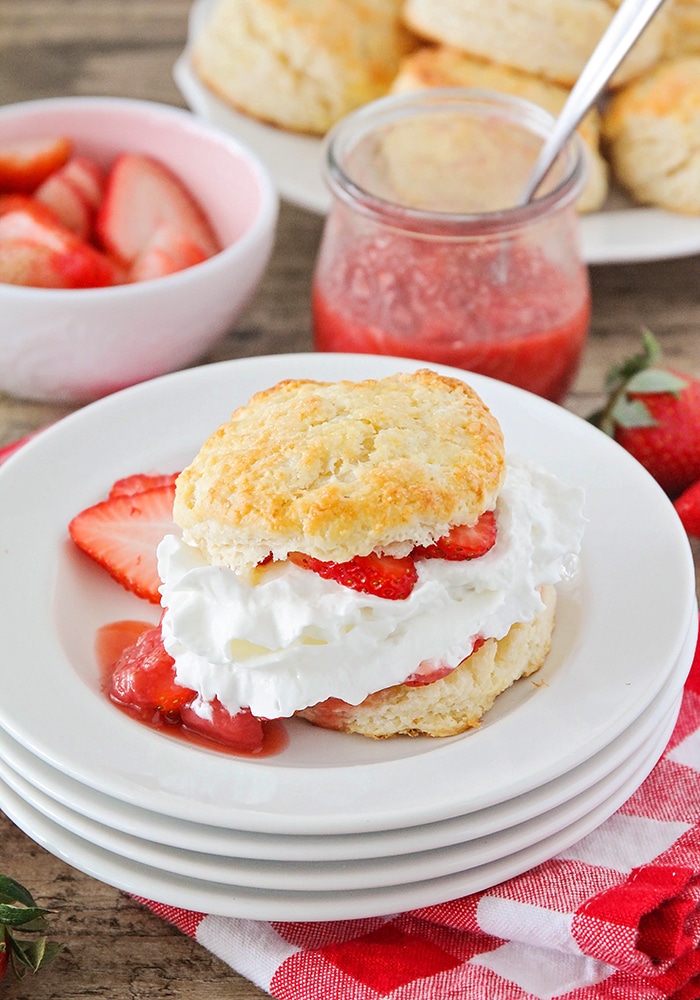 What's awesome about this recipe is that you can prepare all of the ingredients ahead of time, and just assemble the shortcakes when you're ready to serve. The strawberry sauce will keep in the fridge for up to a week, and you could definitely make the biscuits the night before. The recipe makes eight large biscuits or twelve smaller biscuits, so you may need to double or triple the recipe if you're making them for a bigger crowd… or if you're just particularly hungry! 🙂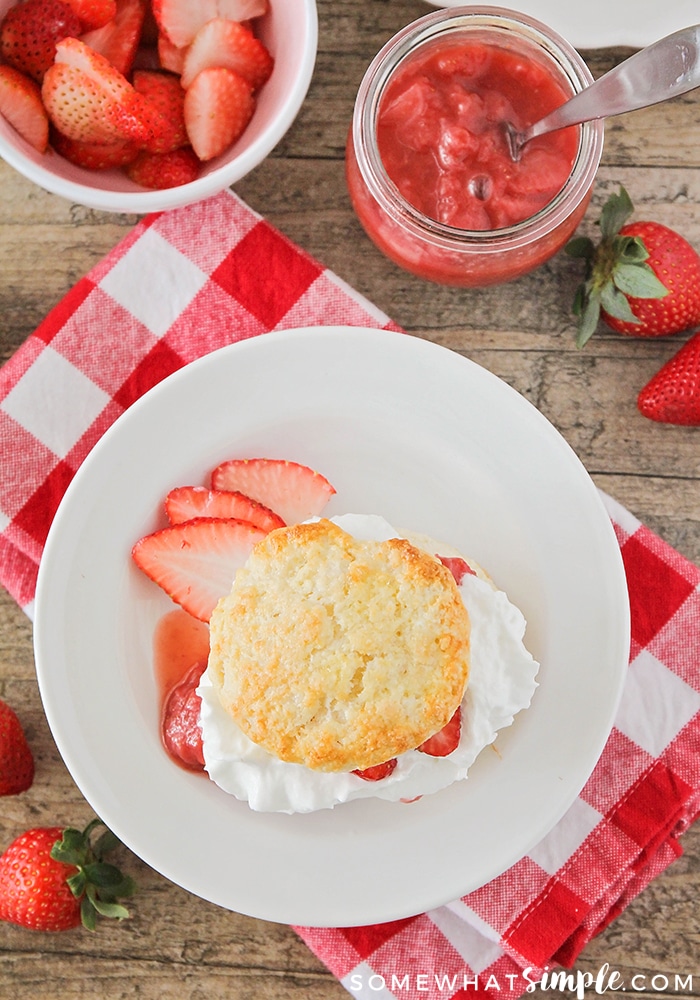 Simple Strawberry Shortcake
INGREDIENTS –
for the biscuits:
2 cups flour
1/4 cup + 2 teaspoons sugar, divided
3 teaspoons baking powder
1 teaspoon salt
1/2 cup cold butter
3/4 cup half and half
1 teaspoon white vinegar
1 egg
for topping:
1 1/2 pounds fresh strawberries, hulled and sliced, divided
1/4 cup sugar
1 teaspoon fresh lemon juice
1/2 teaspoon vanilla
whipped cream
DIRECTIONS –
Preheat the oven to 450. In a medium bowl, whisk together the flour, 1/4 cup sugar, baking powder, and salt. Grate the butter into the flour and toss to combine.
Stir together the half and half and vinegar, and let sit five minutes. Pour the half and half into the dry ingredients and mix just until the dough comes together.
Pat the dough out to an even layer, about one inch thick, on a lightly floured surface. Fold the dough into thirds, as though you are folding a letter. Pat the dough out again until it is about one inch thick. Cut into circles using a biscuit cutter or small cup. Bake 10-12 minutes, or until golden brown on top.
To make the strawberry sauce, combine 1 pound of strawberries with the sugar and lemon juice in a medium saucepan. Bring to a simmer and cook 5-7 minutes, stirring occasionally, until slightly thickened. Let cool ten minutes.
To serve the shortcakes, cut the biscuits in half horizontally. Top with remaining strawberry slices, warm strawberry sauce, and whipped cream.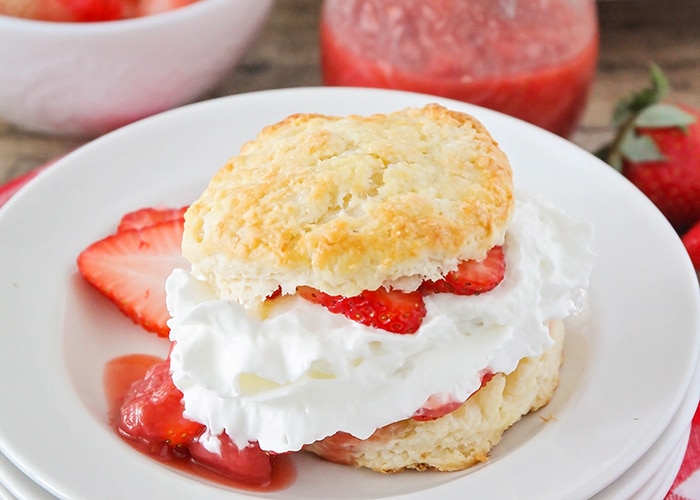 If you liked this simple strawberry shortcake recipe, check out some of my favorite treats using fresh strawberries below: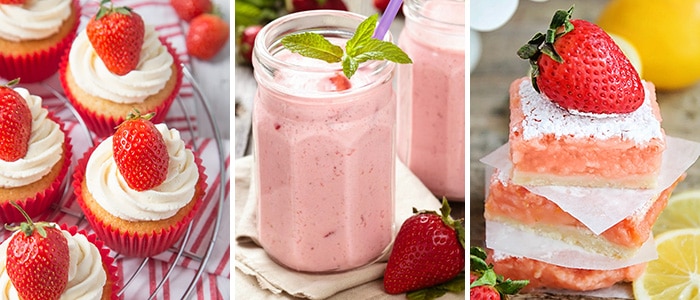 Strawberry White Chocolate Cupcakes | Strawberry Julius | Strawberry Lemonade Bars
Hack Your Routine!
FREE E-COURSE
5 Time-Saving Tips for Crazy Busy Moms