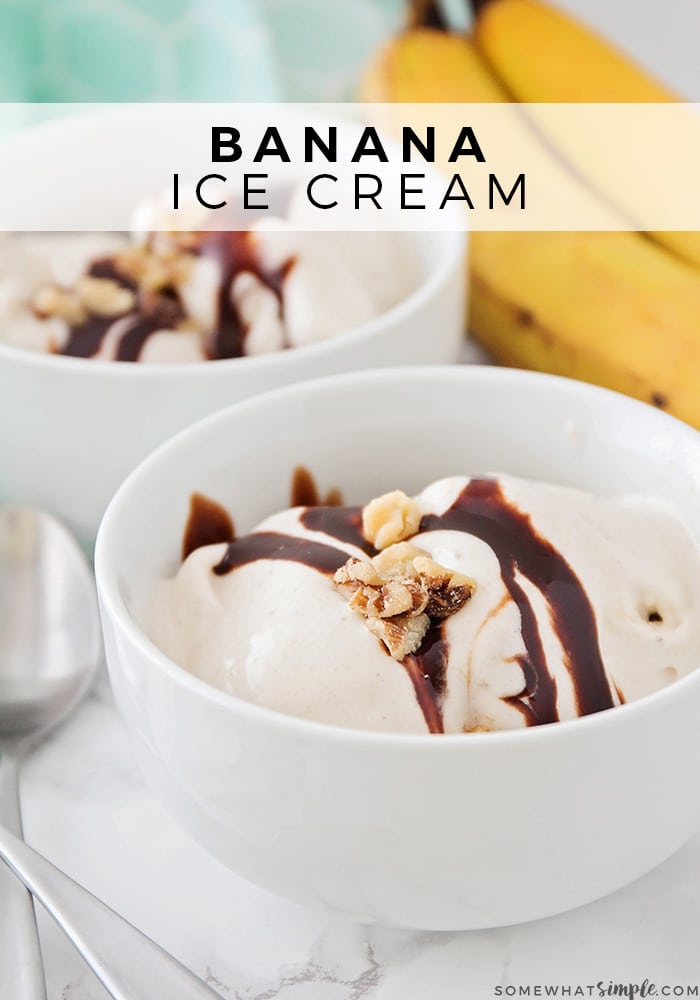 With only two ingredients and in just a few minutes you can turn your ripe bananas into an EASY Frozen Banana Ice Cream that's healthy, delicious, and perfect for a hot day!
Here are a few more frozen summer treats we think you'll love – Oreo Ice Cream Cookie Sandwiches, Frosted Lemonade, and Cherry Lemonade Slush.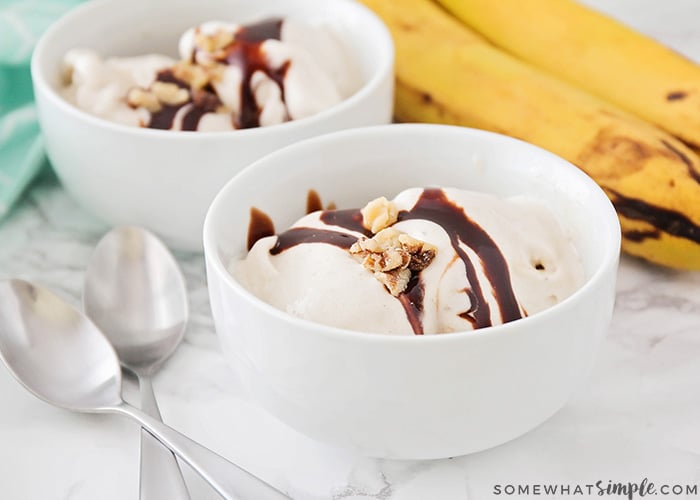 Homemade Banana Ice Cream
Banana ice cream isn't anything new, but if you haven't yet dared to join the frozen bananas club, let me be the first to invite you with this simple, fun, delicious version that doesn't even require an ice cream maker to make it!
I am a huge fan of ice cream and could eat it every day if my jeans would let me. And when Arizona summers are consistently in the triple digits, it's hard for me to resist.
This homemade ice cream is a guilt-free version that's easy to make, and tastes amazing! It's made with just two simple ingredients, so there isn't any sugar or preservatives, and it has the creamiest and most decadent texture. It really is a healthy dessert option that's great to enjoy on a hot summer day!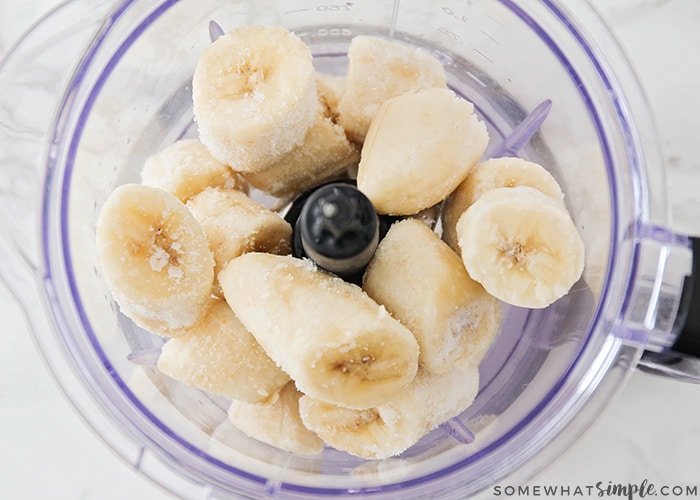 How To Make Banana Ice Cream
Making this frozen banana ice cream could not be easier! Once your bananas are frozen, it only takes a few minutes to prepare.
Prepare The Bananas – Cut a few ripe bananas into small bite-sized chunks and then freeze them overnight.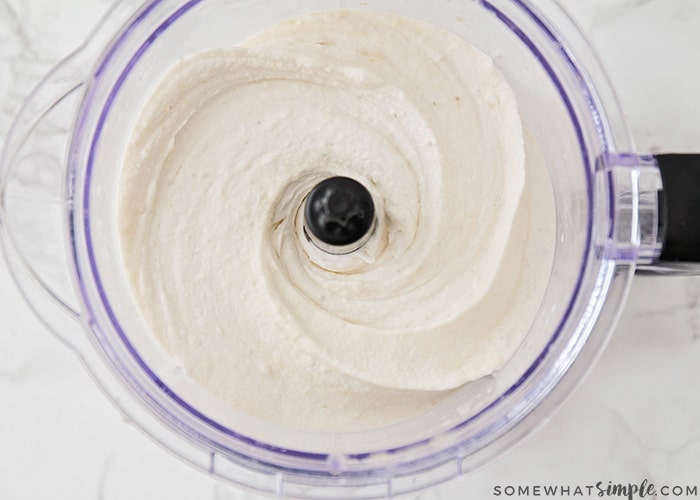 Blend The Ingredients – After they are frozen, add the chunks to a blender or food processor with a little milk and then blend until smooth. Depending on the type of blender you have, you may need to add more or less liquid to get a smooth consistency. I usually start with 1/4 cup and add more if needed.
Reach Desired Consistency – When it's ready, it's a nice smooth consistency like soft-serve ice cream. It looks so yummy already!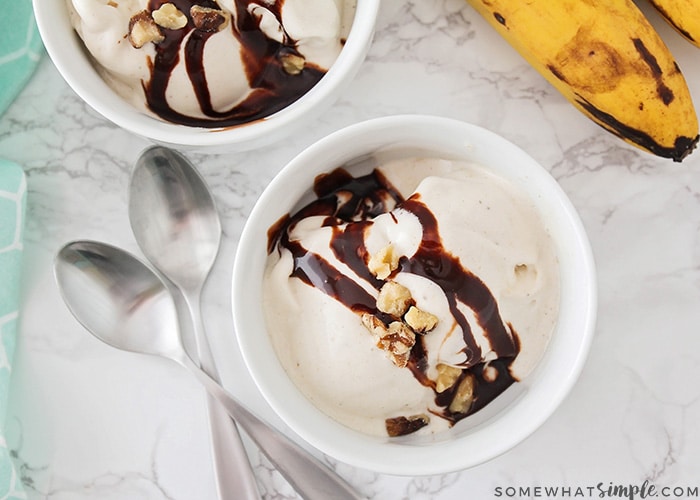 Toppings + Flavor Options – You can top your ice cream with any of your favorite ice cream toppings, and enjoy a bowl of sweet frozen deliciousness without the guilt!
This frozen banana ice cream has an amazingly rich, smooth, texture, and a mild banana flavor. If you want to change up the flavor a little bit, add any of the following –
chocolate syrup
crushed nuts
granola
cocoa powder
vanilla extract
cinnamon extract
chocolate chips
fresh fruit – strawberry and pineapple is delicious!
sprinkles
peanut butter or nut butter
honey
Dairy-Free Variations –
If you're vegan or lactose intolerant, swap the milk for coconut milk. (This also tastes amazing!)
Recipe Tips
This banana ice cream recipe is sure to be a new favorite! Here are a few tips to ensure you get perfect banana ice cream every time:
Peel Before Freezing – Peel and cut the bananas before you freeze them! I made this mistake in college and ruined my fingernails trying to peel frozen banana slices. Don't be me.
Freezing Prep – Seal your bananas well to avoid freezer burn. I go through mine pretty quickly so I use a flat Tupperware, but if you want them to last more than a week or two and still be just as fresh, use a thick freezer bag and deflate as much air out of it as you can.
Amount Of Milk – Use the bare minimum amount of liquid your blender needs. You want to add the minimum amount of milk needed to get the bananas to blend, or else the ice cream will be too soft and melty. I've actually seen frozen bananas put through a juicer to make the richest, creamiest soft serve banana ice cream ever but I'm not willing to risk my blender blades (or motor).
More Delicious Recipes That Use Bananas
Frozen Banana Ice Cream Recipe
Making this frozen banana ice cream really is pretty simple and the flavor possibilities are endless! Leave us a comment below and let us know how you liked it or tag us on social media so we can see all of the delicious toppings you put on your ice cream!
Banana Ice Cream
This homemade soft-serve banana ice cream has just two ingredients, and takes only a few minutes to make. It's the perfect healthy treat for a hot day!
Ingredients
1/4 – 1/2

cup

milk

favorite ice cream toppings of your choice
Instructions
Cut the bananas into chunks and freeze them several hours or overnight. After the bananas are frozen, add them to a blender or food processor with a splash of milk.

Blend the bananas until smooth, adding more milk as needed to blend smoothly. Top with ice cream toppings of your choice.
Nutrition
Other Notes