This homemade banana peanut butter granola is so delicious, and healthy too! It's perfect for a quick snack or a tasty breakfast!
Here are a few more granola recipes we think you'll love – Quick and Easy Granola Bars, Frozen Yogurt Granola Cups, and Blueberry Granola Bars.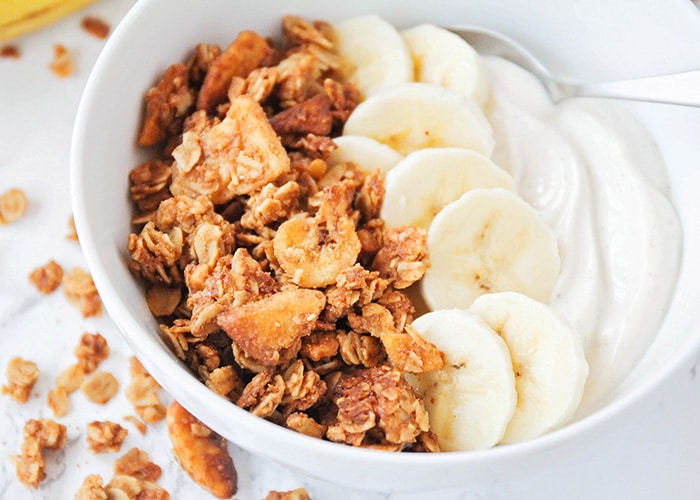 Who else is excited to start eating healthy again, now that the new year has started? During the holidays, there were just too many fantastic treats around to tempt me, and my eating totally fell off track. I'm excited to have a fresh start and a recommitment to healthy food!
When it comes to healthy eating, one of the things I struggle with the most is healthy snacking. When that mid-afternoon slump hits, it's all too easy to grab a handful of chocolate chips or eat my kids' leftover snack crackers, instead of putting in the effort towards preparing a healthier snack.
This peanut butter banana granola is the perfect solution! It's easy to make, full of healthy ingredients, and you can make a big batch to have on hand whenever the snack cravings strike!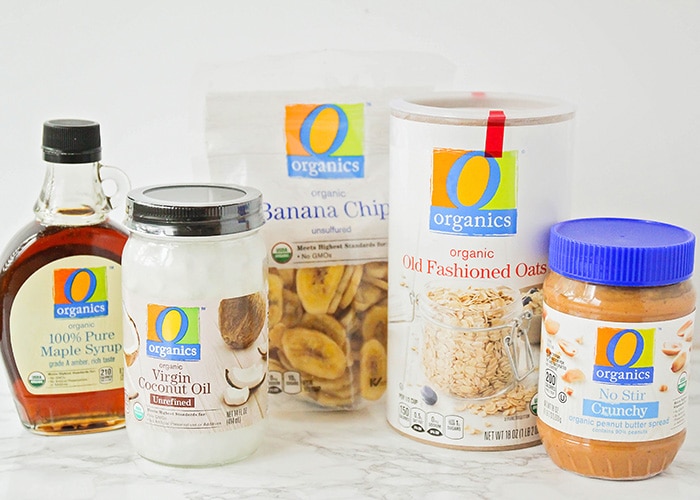 How to Make Peanut Butter Granola
This granola is simple and quick to make, with just a few pantry staples.
INGREDIENTS –
old fashioned oats
banana chips- I chop them into slightly smaller pieces so the granola is easier to eat.
salt
crunchy peanut butter
maple syrup
coconut oil
vanilla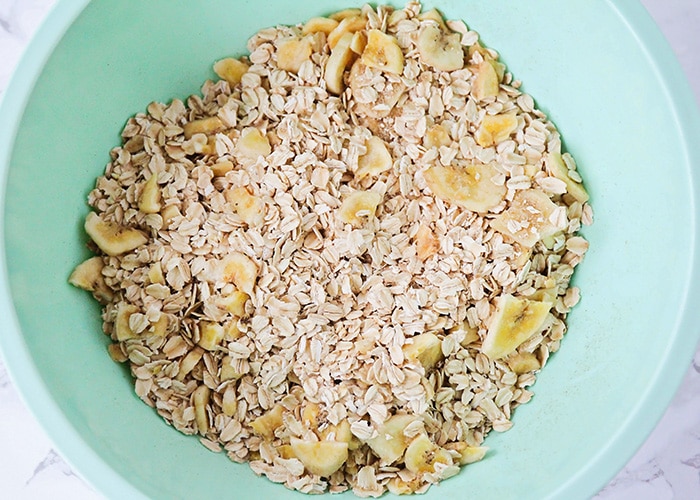 DIRECTIONS –
To make the granola, you'll start by mixing together your oatmeal, salt, and some banana chips.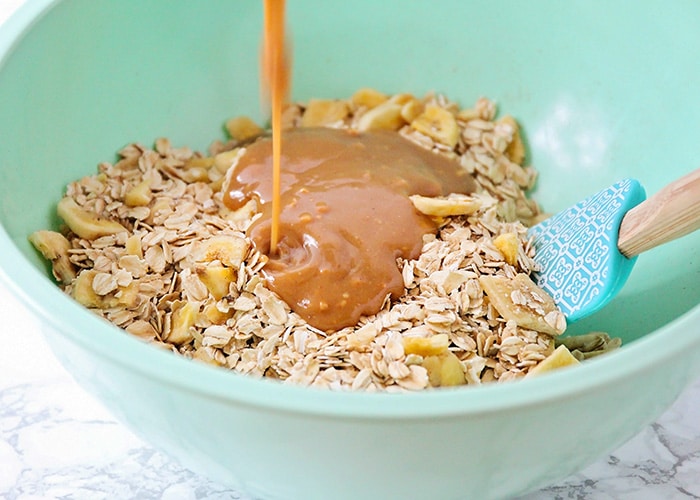 Next, you'll melt together the peanut butter, coconut oil, maple syrup, and vanilla. You'll just want to heat the mixture until it's warm and well blended, but don't let it simmer or boil.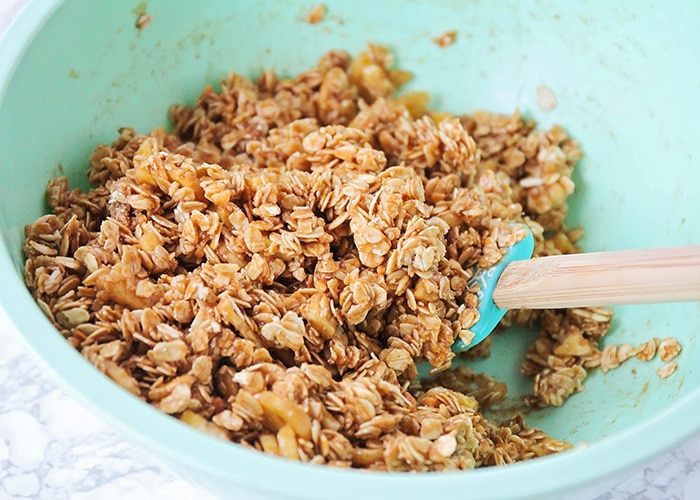 When you mix the two together, it starts to look like granola!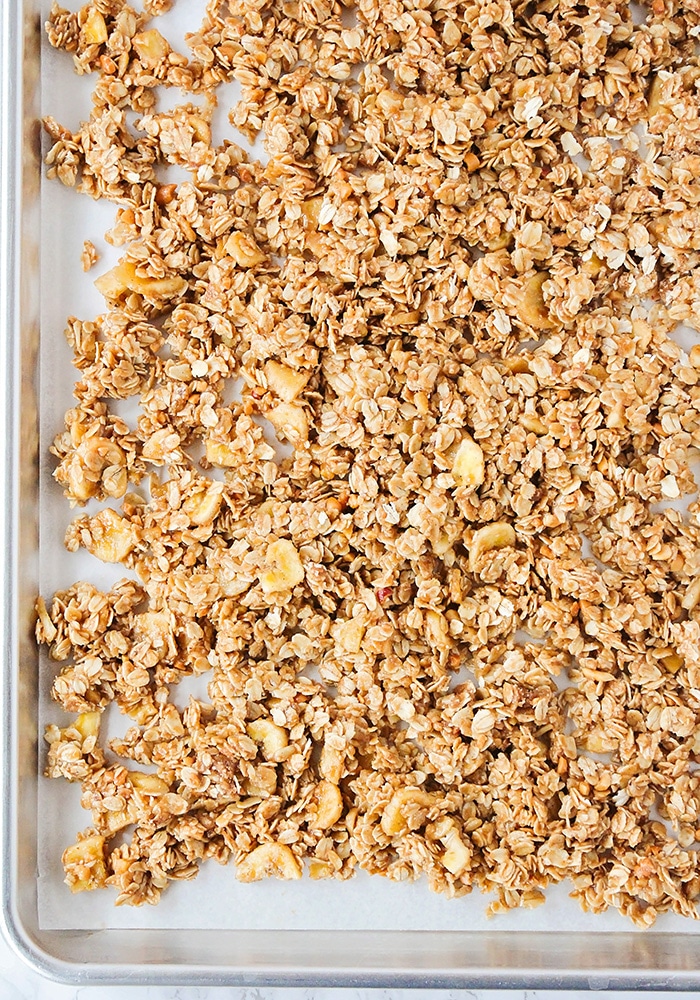 Spread your granola mixture out on a baking sheet in an even layer, then bake it in the oven until crisp and golden brown.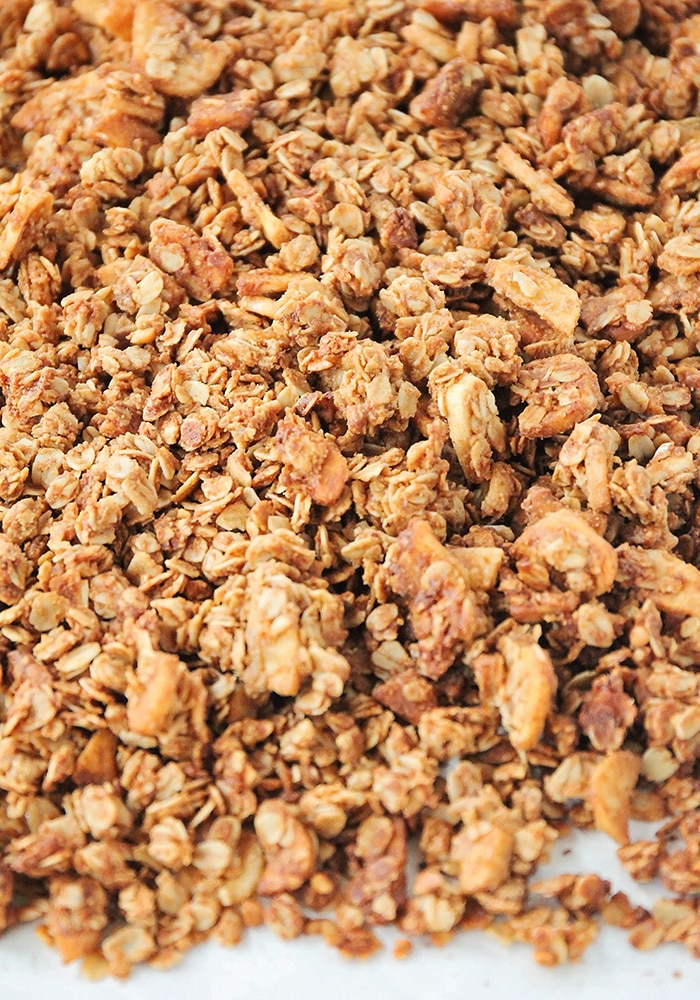 The granola smells totally amazing while it's baking! I think every single member of my family came into the kitchen while it was baking to ask me what smelled so good. Peanut butter and banana are always a great combination!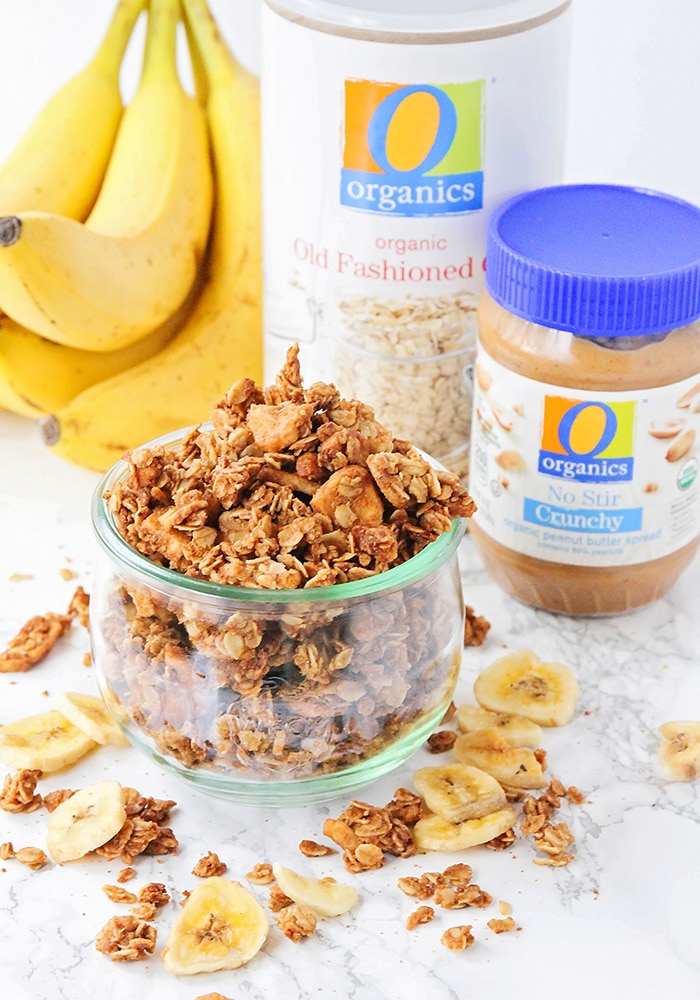 This peanut butter banana granola is perfect as a quick breakfast with milk, or a delicious snack. My kids like to put it in little baggies and carry it around with them, so they can snack as they go.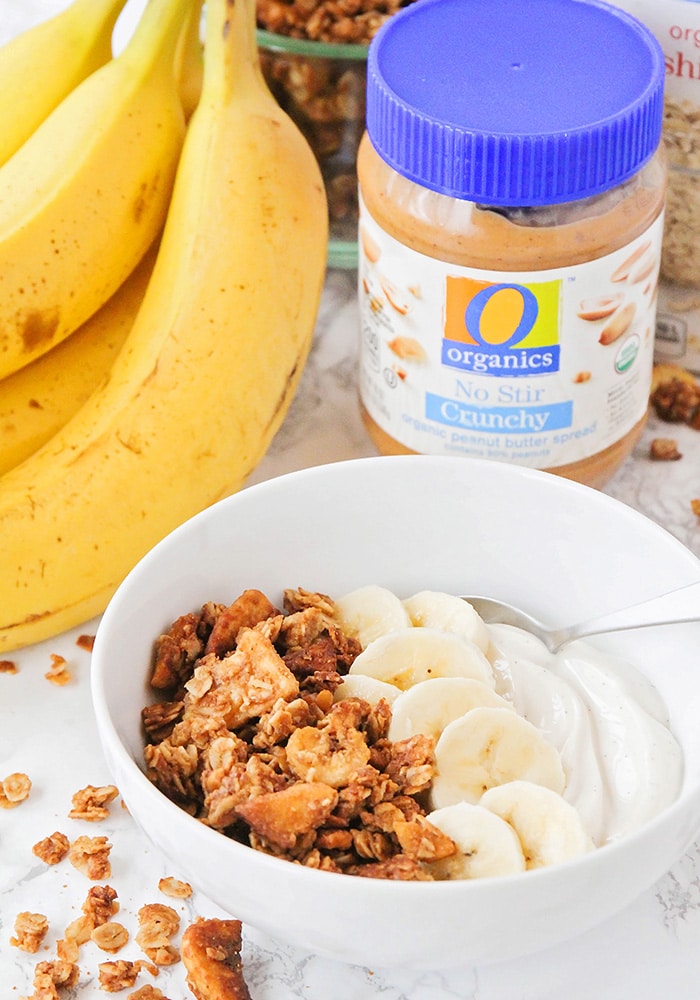 My favorite way to eat the granola is to make a little bowl with vanilla yogurt, sliced bananas, and granola. It totally fills me up and satisfies my sweet tooth, while still helping me stay on track with healthy eating!
GRANOLA VARIATIONS –
This recipe is so versatile, you can really add whatever you'd like!
peanuts
cashews
almonds
pecans
walnuts
dried cranberries
raisins
chia seeds
cinnamon
dark chocolate chips (add this after you bake it!)
Here are a few more healthy breakfast ideas-
HERE'S THE PRINTABLE RECIPE CARD FOR THIS HOMEMADE GRANOLA –
Banana Peanut Butter Granola Recipe
This homemade banana peanut butter granola is so delicious, and healthy too! It's perfect for a quick snack or a tasty breakfast!
Instructions
Preheat the oven to 325. Line a baking sheet with parchment or foil, and set aside. In a large bowl, mix together the oats, banana chips, and salt.

In a medium sauce pan, stir together the peanut butter, maple syrup, coconut oil, and vanilla. Heat over medium heat, stirring frequently, until the mixture is smooth.

Pour the peanut butter mixture over the oat mixture and toss to combine. Spread in an even layer on the prepared baking sheet.

Bake 20-25 minutes, stirring halfway through, until golden brown. Allow to cool completely, then store in an airtight container.
Nutrition
Serving:
1
cup
·
Calories:
834
kcal
·
Carbohydrates:
88
g
·
Protein:
20
g
·
Fat:
49
g
·
Saturated Fat:
23
g
·
Polyunsaturated Fat:
8
g
·
Monounsaturated Fat:
13
g
·
Sodium:
411
mg
·
Potassium:
723
mg
·
Fiber:
11
g
·
Sugar:
31
g
·
Vitamin A:
12
IU
·
Vitamin C:
1
mg
·
Calcium:
96
mg
·
Iron:
4
mg
Other Notes