These gorgeous pink homemade strawberry marshmallows are surprisingly easy to make, and perfect for s'mores, hot chocolate, and Valentine treats!
Valentine Treats are some of my favorite baked goods! Sweetheart Cupcakes, Pink Velvet Waffles, and Chocolate Lava Cake are some of my very favorites – and these homemade marshmallows rank right up there too! (Aren't they so festive and pretty?!)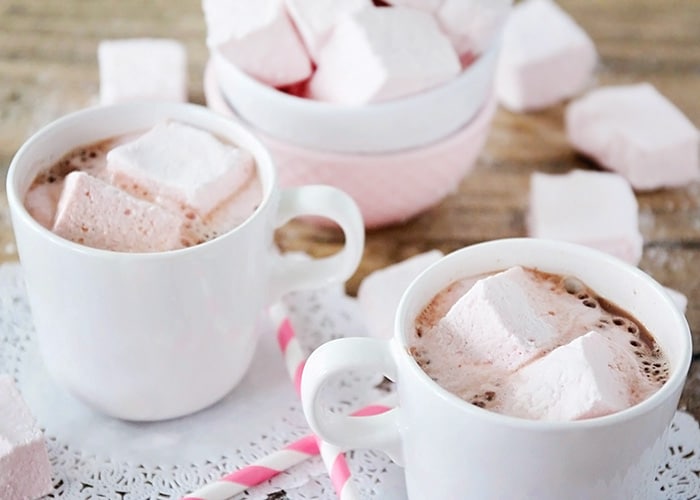 Homemade Marshmallow Recipe
Have you ever tried a homemade marshmallow? As much as I love store-bought marshmallows (and I really do), there's really no comparison with homemade. The best homemade marshmallows are light as air, fluffy, and perfectly sweetened. I remember my mom making homemade marshmallows once for Easter when I was 9 or 10, and it seemed like such a long and difficult process. The marshmallows were delicious, but what I remember most was how hard they were too make and how frustrated my mom got.
Based on that experience, I never even attempted marshmallows on my own, until a few years ago when a friend showed me how to make homemade marshmallows with a stand mixer. Surprisingly, they were super easy and they came out perfect!
Since then, I've been experimenting with different flavors of marshmallows, and these homemade strawberry marshmallows are some of my favorites. They're light and fluffy, perfectly sweetened, and have a great strawberry flavor that's noticeable without being overwhelming.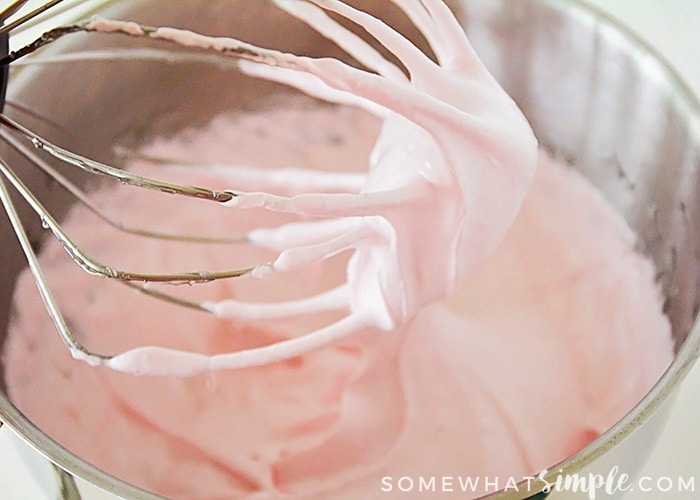 How To Make Homemade Marshmallows
This is another of those recipes in which the ingredients change like magic into something totally new.
You'll start by dissolving your gelatin in strawberry puree, and heating a sugar and corn syrup mixture to 240 degrees on the stove. When you combine the two, the magic happens! As you beat the mixture, it will lighten up and turn into marshmallow fluff, right before your eyes. I've made dozens of batches of marshmallows, and I still love watching the mixture change every time. It's even more fun when they're a lovely pink color, like these marshmallows!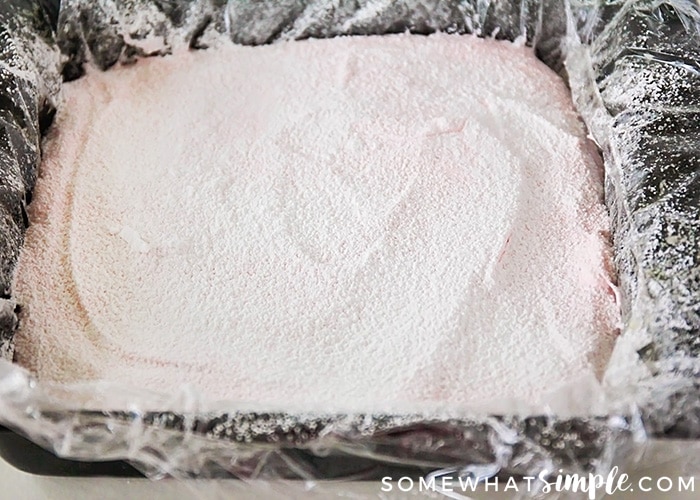 These marshmallows are (obviously) very sticky, so my best tip for you is to use lots of powdered sugar and cooking spray. Spray all of your tools with cooking spray, and coat your baking dish liberally with powdered sugar. To coat the marshmallows after they've been cut, I usually just add the powdered sugar to a ziplock bag, add the marshmallows, and shake to coat. Simple and easy!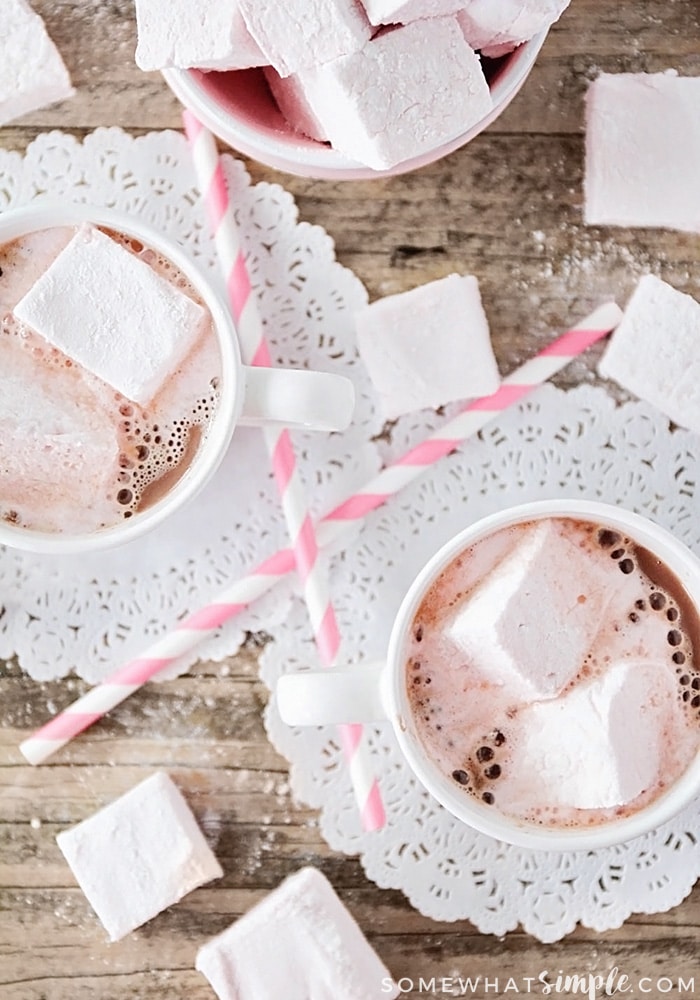 As great as these marshmallows are on their own, they're even more fantastic in a cup of hot chocolate! The strawberry flavor blends beautifully with the hot chocolate, to make an over the top delicious treat. Perfect for sharing with someone you love!
More Recipes Using Marshmallows –
Homemade Strawberry Marshmallows Recipe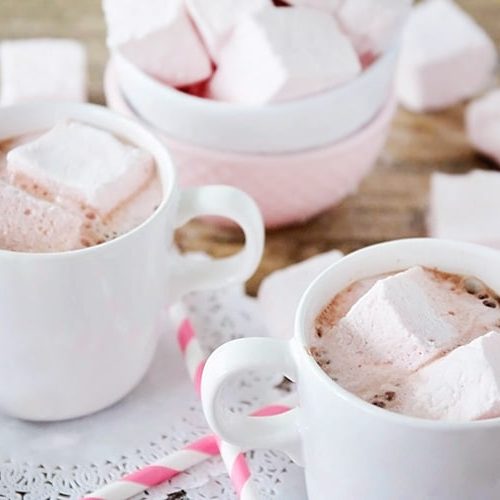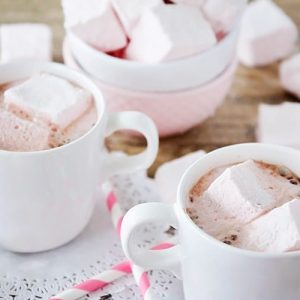 Homemade Strawberry Marshmallows
These gorgeous pink homemade strawberry marshmallows are surprisingly easy to make, and perfect for s'mores, hot chocolate, and Valentine treats!
Prep Time
4
hours
20
minutes
Total Time
4
hours
20
minutes
Ingredients
1

cup

fresh strawberries

rinsed and hulled

2

packets unflavored gelatin

1/2

cup

corn syrup

3/4

cup

sugar

1/2

teaspoon

salt

1/4

cup

water

1/2

teaspoon

vanilla

1/2

cup

powdered sugar
Instructions
Prepare a 9 x 9 baking dish by lining with plastic wrap and dusting thoroughly with powdered sugar.

Blend the strawberries in a food processor or blender until smooth. Pour the strawberry mixture into the bowl of a stand mixer, and sprinkle with the gelatin. Mix with a fork until blended.

In a medium saucepan, whisk together the corn syrup, sugar, salt, and water. Heat, stirring frequently, until the mixture reads 240 degrees on a candy thermometer, then remove from heat.

Turn the mixer on low speed, with the whisk attachment. Carefully and slowly pour the hot sugar mixture down the side of the bowl into the strawberry and gelatin mixture. When all of the sugar mixture has been added, increase the speed to high and beat 10-12 minutes, or until the mixture is a light shiny pink color and just slightly warm to the touch. Add the vanilla during the last few minutes of beating time.

Scoop the marshmallow mixture into the prepared pan and spread evenly using a spatula sprayed with cooking spray. Sprinkle with powdered sugar and let stand for at least 4 hours. Cut into cubes and toss in powdered sugar to coat all the sticky parts. Store in an airtight container.