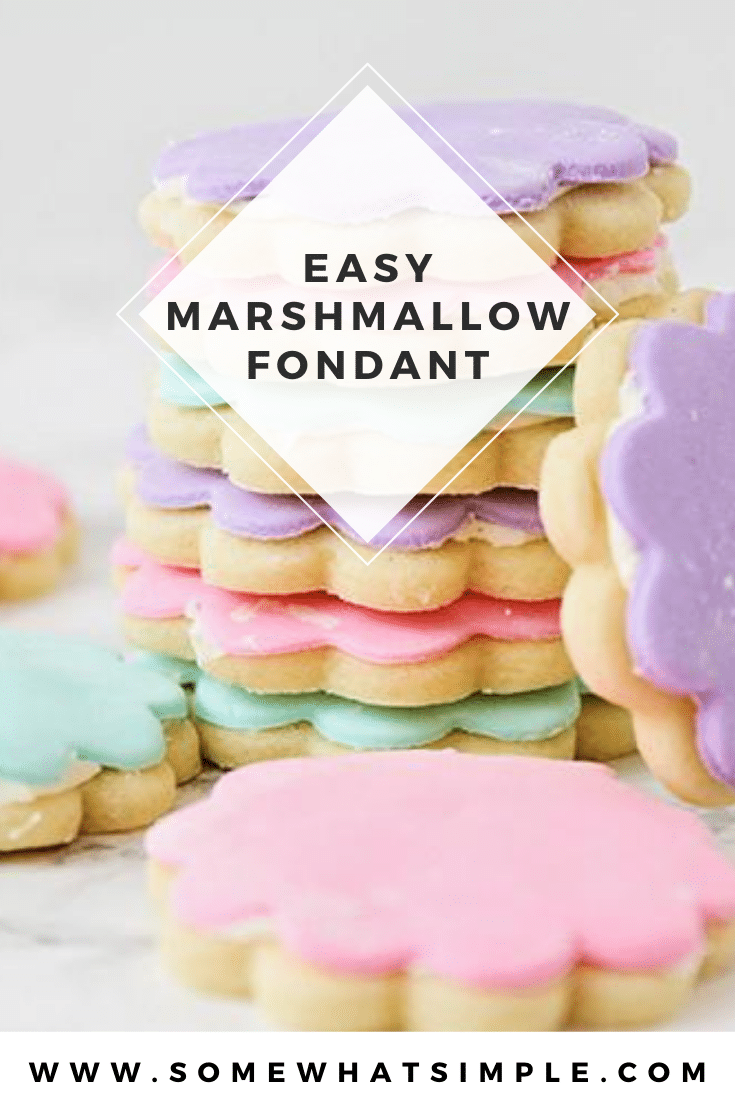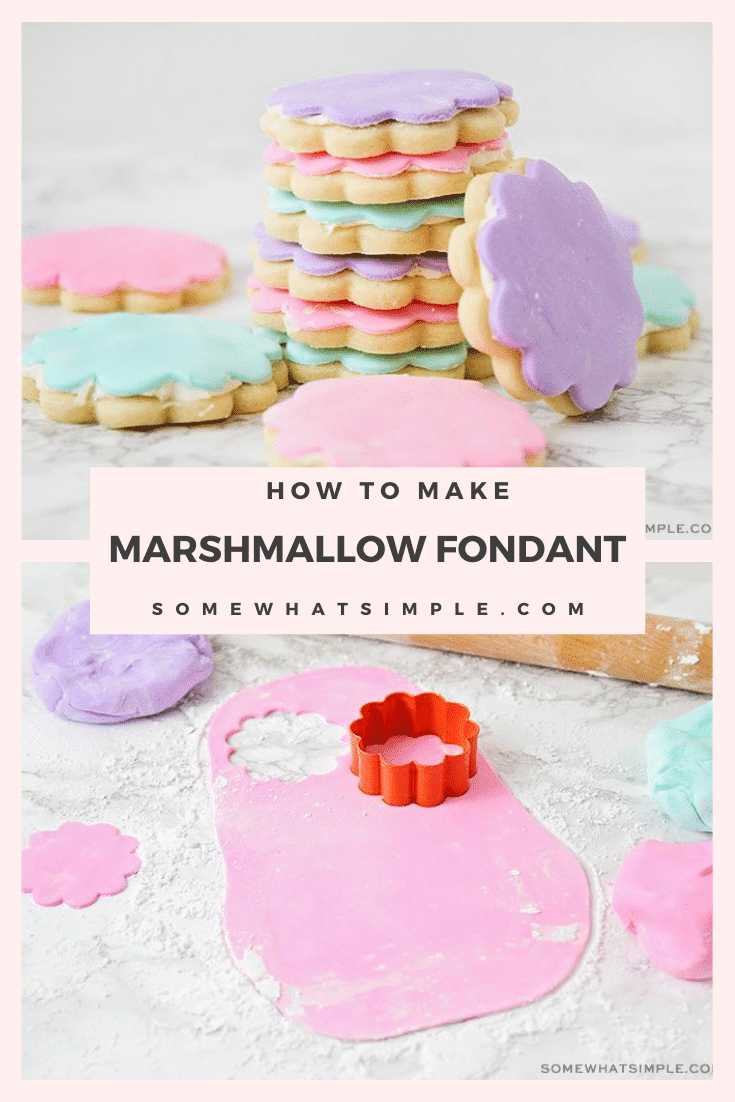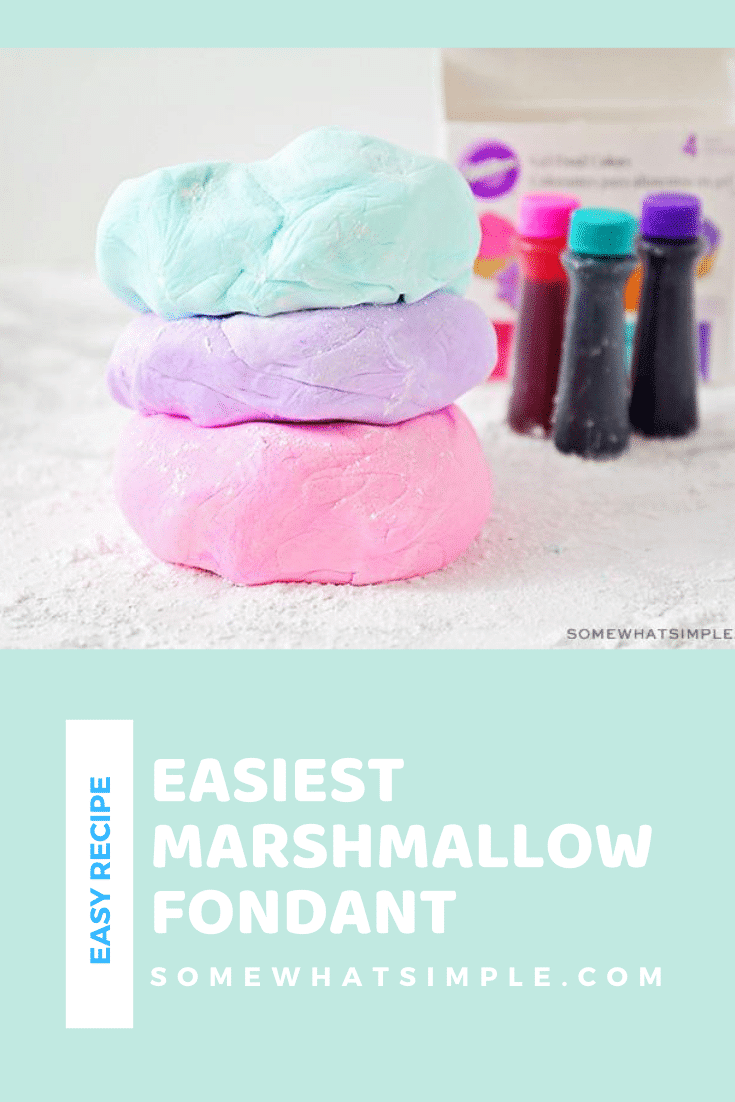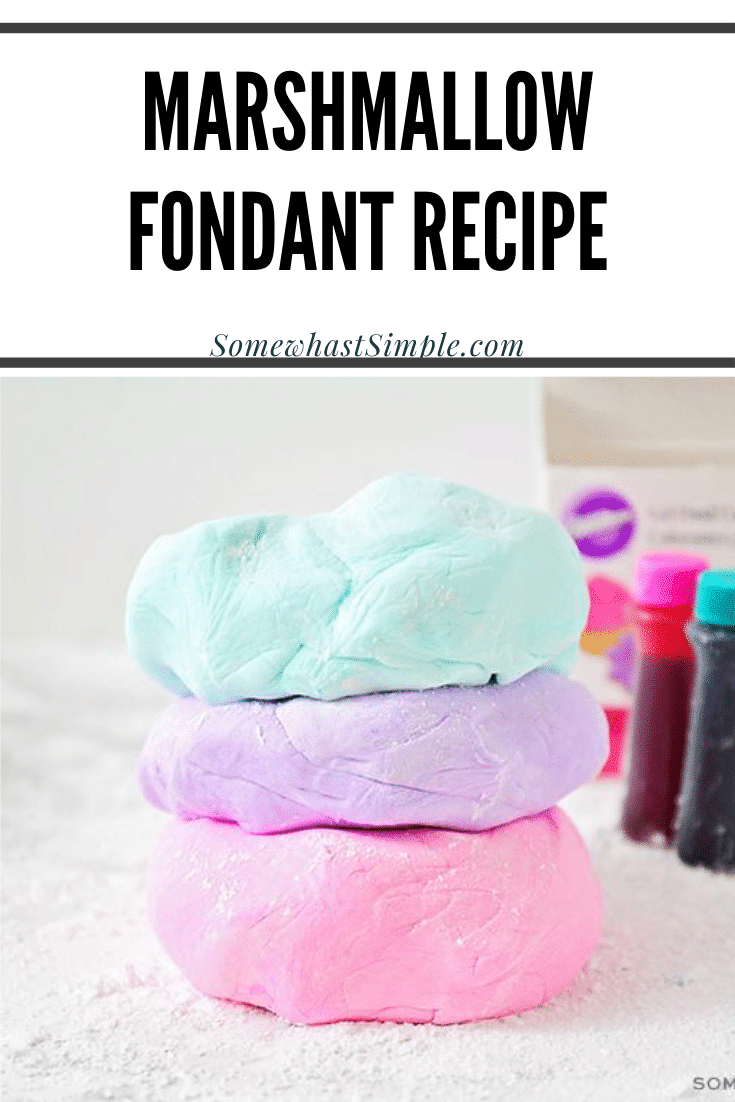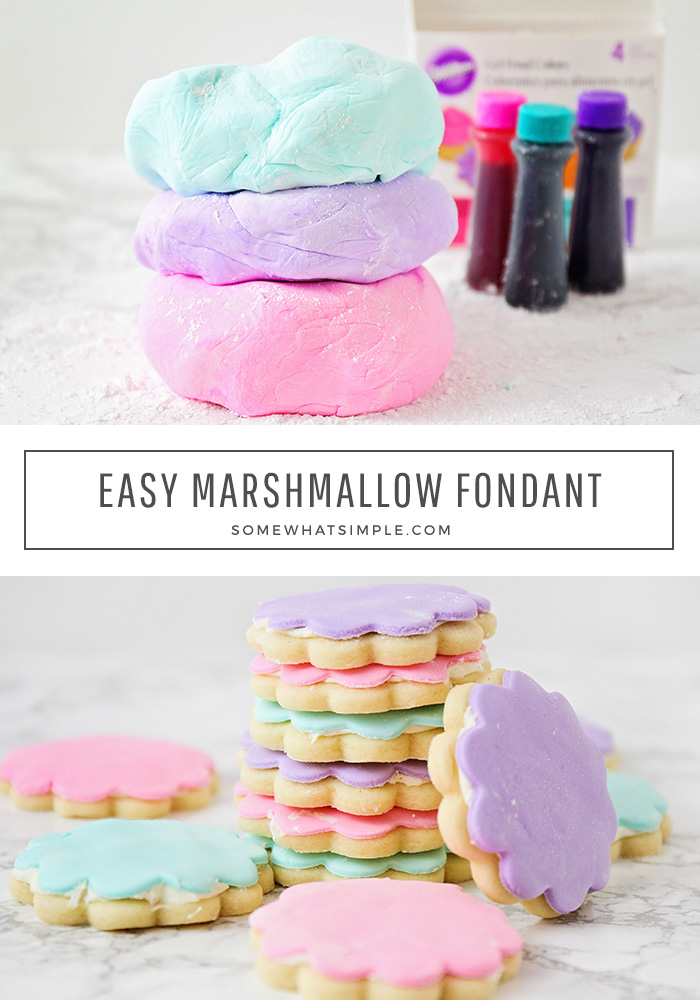 Marshmallow Fondant is delicious and easy to make. It is the perfect way to decorate cupcakes, cakes, and cookies like a professional!
Last month we shared with you some easy fondant decorating ideas using fondant you can buy at the store. Today we're going to show you how to make your own marshmallow fondant that is not only easy, it tastes amazing too! Your cupcakes and sugar cookies are going to look amazing!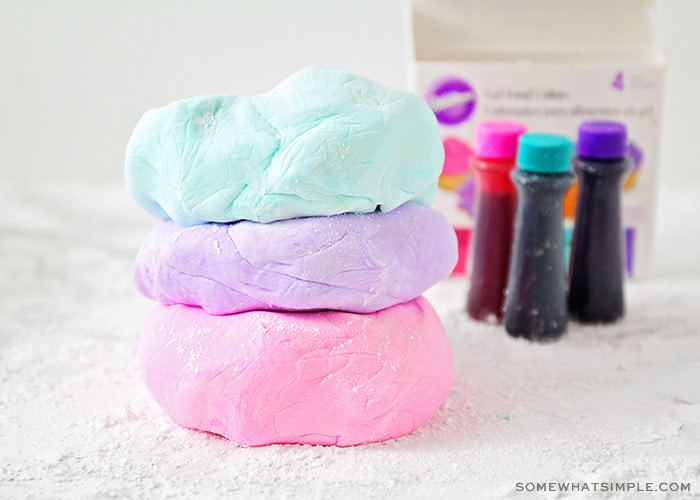 Easy Marshmallow Fondant
Have you ever seen those beautiful cakes, cupcakes, and cookies at a fancy bakery, and wondered how they made them look so perfect? The answer is fondant!
Fondant is a thick sugar paste that's used in pastry decorating and is easier and more stable to use for decorations than buttercream or other icings. It creates a very smooth surface on your favorite baked goods that you're trying to decorate.
Unlike other fondant recipes that use gelatin, glycerin, and other flavorings, this marshmallow fondant uses simple ingredients you probably have in your kitchen. It not only tastes great, but it's easy to make at home too. It's the perfect way to take your decorating up a notch!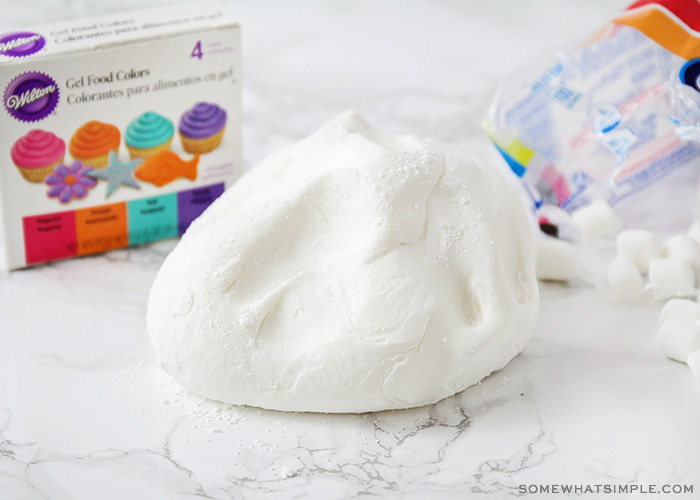 How to Make Marshmallow Fondant
INGREDIENTS –
mini marshmallows
water
powdered sugar
vanilla extract
gel food colors (I like the Wilton brand)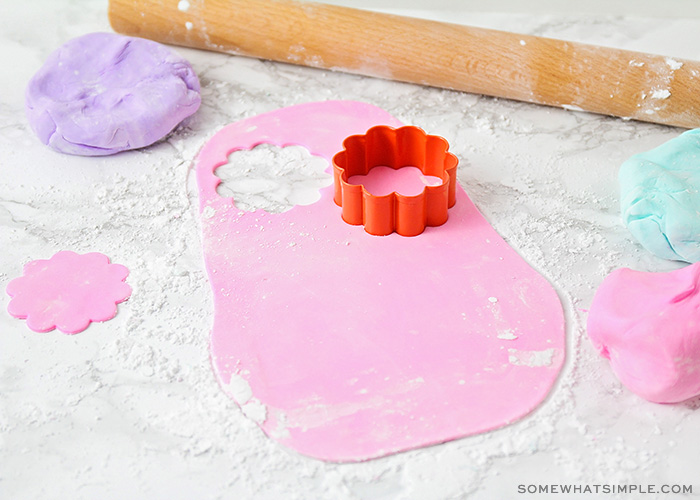 INSTRUCTIONS –
Marshmallow Prep – Start by adding the marshmallows to a large microwave-safe bowl and then sprinkle the water over the top of the marshmallows.
Melt – Heat the marshmallows in the microwave on high for 30 seconds and then give them a good stir. Continue to heat them in 30-second increments until the marshmallows have completely melted.
Vanilla & Sugar – Stir the vanilla in with the melted marshmallow and then add half of the powdered sugar. Mix that in until everything has combined. Note the marshmallow mixture will be very sticky and hard to stir.
Remaining Sugar – Continue to add in the remaining powdered sugar until the mixture has the consistency and texture of playdough.
Color Fondant – If you want to add color to the fondant, separate the amount you want to color and add a few drops of the gel food color. Then knead the fondant until the color of the dough is even.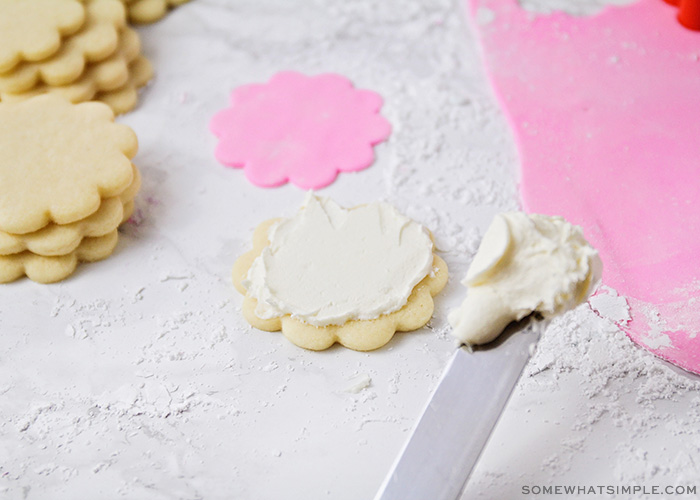 Tips For Making Marshmallow Fondant
Best Color – It's very important to use gel food coloring (as opposed to water-based food coloring) for the best results. You can buy it at most grocery stores, and I've found a wide selection of gel food coloring at Walmart in the cake decorating section.
Wear Gloves – I found it easiest to knead the food coloring while wearing gloves that I dusted in powdered sugar. It will take a little work kneading to get it evenly distributed, but keep working and it will come together.
Too Sticky – If the fondant is too sticky, you can add a little more confectioners' sugar to the mix. Continue adding more until you reach the desired consistency.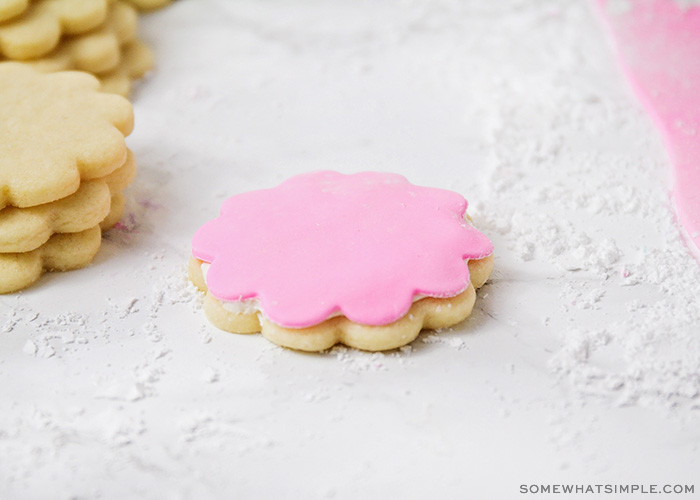 How To Use Marshmallow Fondant
So now that you have your colorful marshmallow fondant, what can you make with it? The sky is the limit! Just like playdough, it's easy to roll out with your rolling pin and shape in any number of ways, which makes it perfect for decorating cakes, cupcakes, and cookies.
Cookies – One of my favorite and easy ways to use marshmallow fondant is as a topper for sugar cookies. Just roll out the fondant, cut it with the same cookie cutters as you used for the cookies, and attach it to the top of the cookie with a small amount of buttercream frosting.
And voila! A perfectly frosted cookie that tastes delicious and looks like it came from a bakery. It doesn't get easier than that! You can make the cookies as simple or elaborate as you like. If you're looking for a great recipe to use, this Sugar Cookie Recipe is one of our favorites!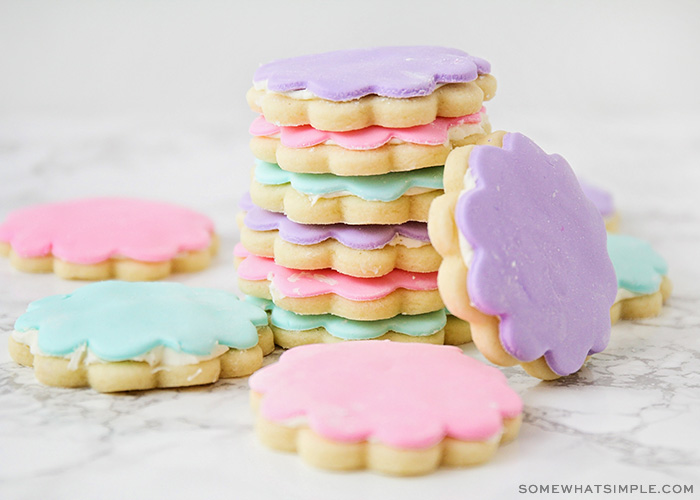 How To Store Marshmallow Fondant
Make Ahead – If you're making the cookies ahead of time, be sure to store them at room temperature, in an airtight container, to prevent the fondant from drying out. If stored this way, the cookies should stay fresh for about 3 to 5 days. Enjoy using fondant to make all of your baked goods more beautiful!
Storage – If after decorating your cookies or cupcakes you have leftover marshmallow fondant you can store it and save it to use for another time. Marshmallow fondant can dry out quickly, so I like to first wrap it in plastic wrap and then place it into an airtight container for storage. Stored at room temperature (Do not refrigerate or freeze it) the fondant should stay fresh for about 2 months.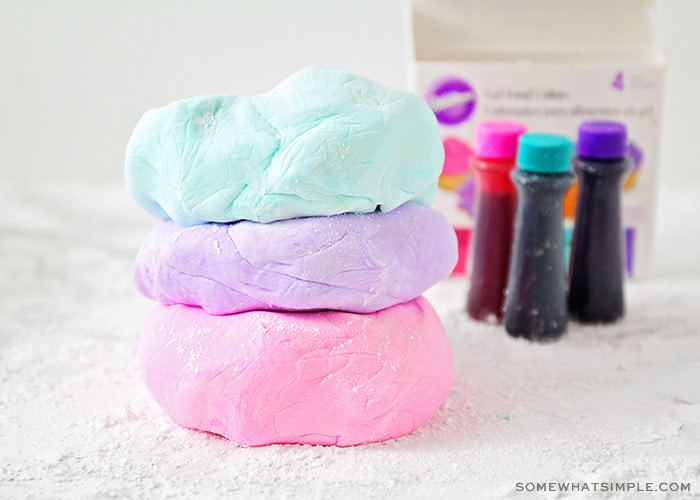 More Recipes Using Marshmallows
Other Easy Desserts
I love this recipe because you can make so many fun and adorable-looking treats with it. Be sure to tag us on social media and show us all of the fun desserts you made with this recipe or leave us a comment below if you try it! We always love to see what you're up to in the kitchen!
HERE'S A PRINTABLE RECIPE CARD FOR YOUR CONVENIENCE –
Marshmallow Fondant Recipe
This delicious and easy to make marshmallow fondant is the perfect way to decorate cupcakes, cakes, and cookies like a professional!
Ingredients
8

ounces

mini marshmallows

1

tablespoon

water

1/2

teaspoon

vanilla extract

1

pound

powdered sugar

gel food coloring
Instructions
Add the marshmallows to a microwave safe bowl. Sprinkle the water over the top. Microwave for 30 seconds on high, stir, then microwave for 30 more seconds, or until the marshmallows are completely melted. Stir in the vanilla extract.

Add half of the powdered sugar, and stir to combine using a sturdy spoon. It will be very sticky and may be difficult to stir, but keep at it! Add additional powdered sugar to make a dough that has the consistency of play dough. You may need to knead it with your hands to make it smooth.

To color the fondant, add a few drops of gel food coloring into a ball of fondant, and knead the food coloring into the fondant until evenly distributed. Wear gloves to prevent transferring the food color to your skin, and add additional powdered sugar if the fondant gets sticky.

Roll out and use to top cookies or cupcakes. Store in an airtight container.
Nutrition
Serving:
1
serving
·
Calories:
104
kcal
·
Carbohydrates:
27
g
·
Protein:
1
g
·
Fat:
1
g
·
Saturated Fat:
1
g
·
Sodium:
8
mg
·
Sugar:
24
g
·
Iron:
1
mg
Other Notes