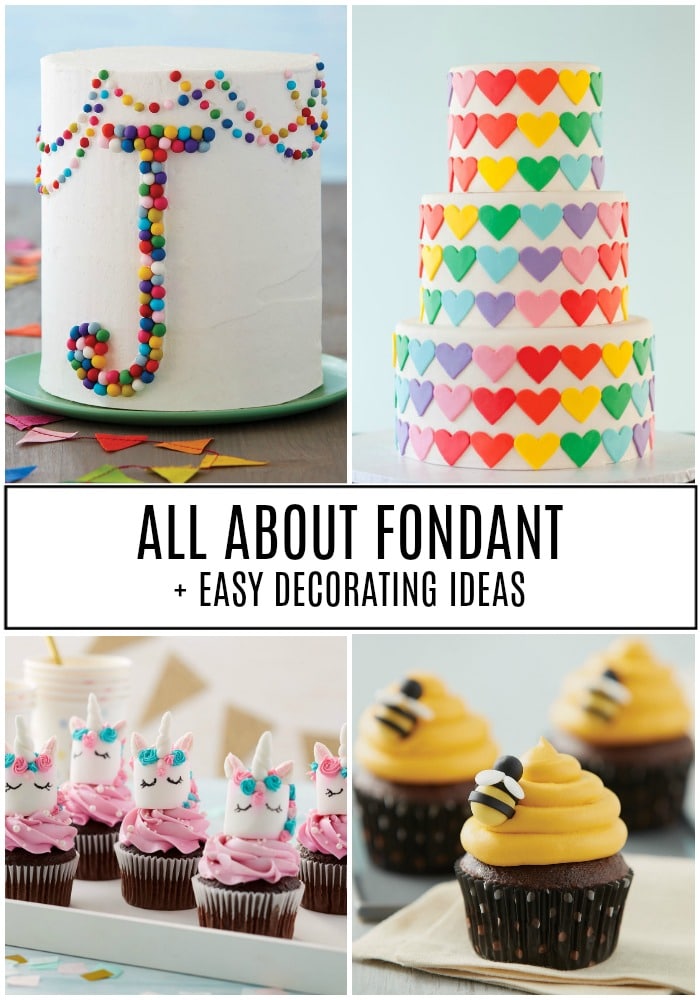 Cakes and cupcakes are supposed to be pretty, but they don't have to be hard to create! Here are some easy fondant tips and decorating ideas.
What is Fondant?
Fondant is a thick paste that is used as icing to decorate cakes and cupcakes. It is made of sugar, corn syrup and water and can be colored and flavored to your liking. Unlike regular icing or frosting, it creates a very smooth surface or canvas on your baked goods, and is the perfect medium for beautiful, fun and edible decorations.
How to Make Fondant
Not only is making your own fondant at home fast and simple, but homemade versions taste even better than most store-bought varieties! Depending on which recipe you choose to try, the steps can vary, but rest assured all the ones I've personally tried were straight forward and simple to create!
Easy Fondant Recipe
Making your own is easier than you might think and it is also way less expensive, especially when you need to cover a huge cake! HERE is our favorite recipe with a video of the entire process.
Marshmallow Fondant
Most people would probably agree that homemade marshmallow fondant tastes better than other recipes. Why? Because the mini marshmallows you use are already flavored with a sweet vanilla flavor that is hard to replicate with other standard recipe ingredients.
I've use THIS Marshmallow Fondant Recipe a dozen times and it always turns out great!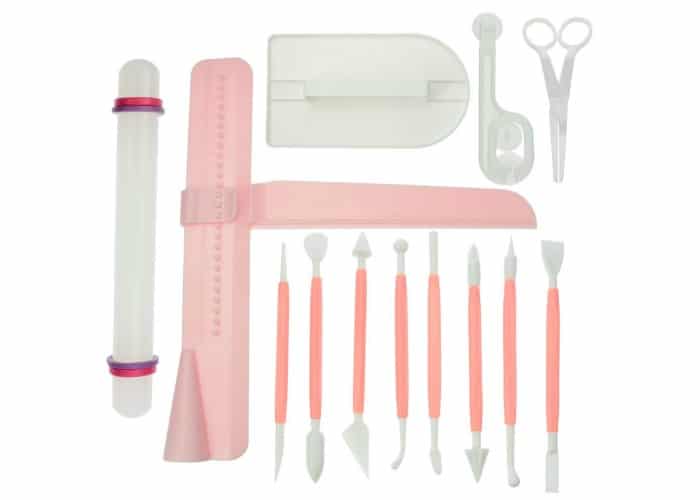 Where to Buy Fondant + Helpful Tools
I've purchased all of these items from my local craft stores, but I've listed some links below to Amazon for your convenience so you know exactly which items I am talking about.
Rolled Fondant, any color. I like the Satin Ice Brand.
Rolling Pin
Small Round Cutters

and other cutter shapes of your choice

Shaping Foam
Disco Dust

Sugar Syrup (Boil 2 cups of sugar and one cup of water over the stove, stirring constantly until it boils and the sugar has dissolved. Remove from heat. You can use this to stick pieces of fondant to one another, and you can use this to paint your it so the disco dust and sprinkles adhere to it.)
Coloring Fondant
While store-bought versions come in many pre-tinted colors, coloring your own is easy to do! Here are a few tips –
It is important to tint enough in the same batch for your entire project as it can be quite tough to get an exact shade match if you need to go back and tint more.
Unless you like stained hands, you should definitely use food-safe gloves.
When making dark colors, such as black, brown, or red, use food coloring paste… and use a lot of it!!
Keep your decorated cake out of direct sunlight as it may cause your colors to fade.
How to Color Fondant
Roll fondant into a ball and knead it until it is soft.
Dip a toothpick into your coloring, then poke the toothpick into the ball in several spots. Continue kneading to evenly spread the color.
Add a little more color, if needed, until you have your desired shade.
How to Flavor Fondant
You can use the same method to flavoring your fondant as you do to color it, simply by using food flavors and extracts – vanilla, almond, butter etc, as well as candy flavorings. Just be careful not to use too much flavoring as it might distract from the flavor of the cake.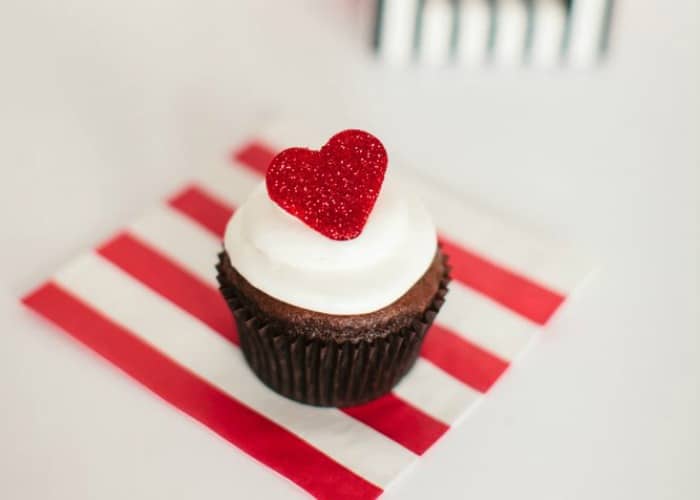 Simple Fondant Shapes
To make simple shape cutouts –
Take a small amount of fondant and roll it out to approximately 1/8″.
Cut out shapes with your cutters, then lay on a sheet of wax paper and allow to dry over night.
Add some sparkle to your shapes by applying a small amount of sugar syrup with a paint brush and sprinkle with a little rainbow disco dust.
Fondant Cake Decorating Ideas –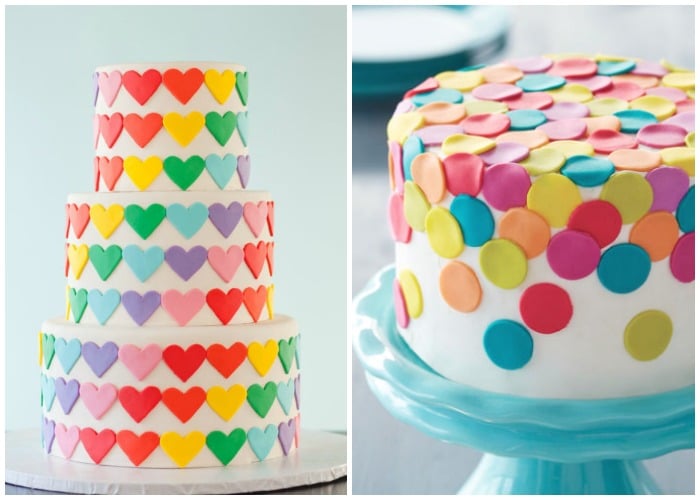 Rainbow Heart Cake, from The Tom Kat Studio || Color Me Happy Cake, from Wilton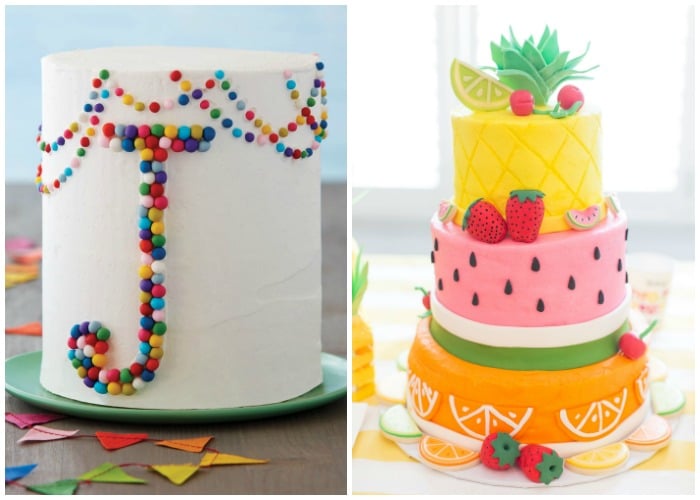 Monogram Cake, from Wilton || Tutti Fruity Cake, from Pizzazarie
Fondant Cupcake Decorating Ideas –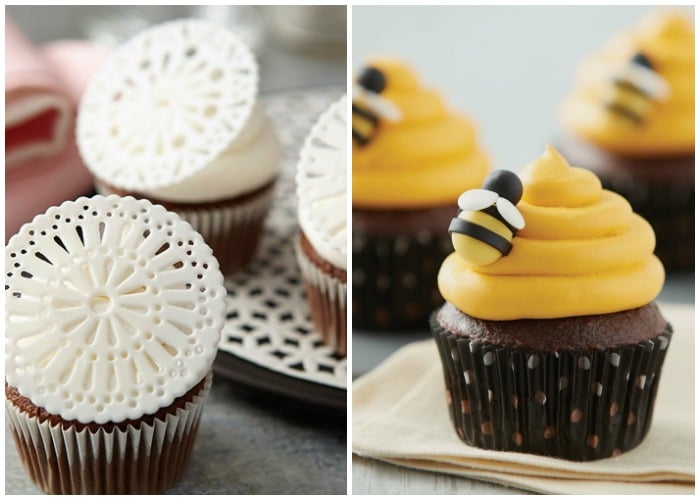 Doily Cupcake Toppers || Sweet as a Bee Cupcakes, from Wilton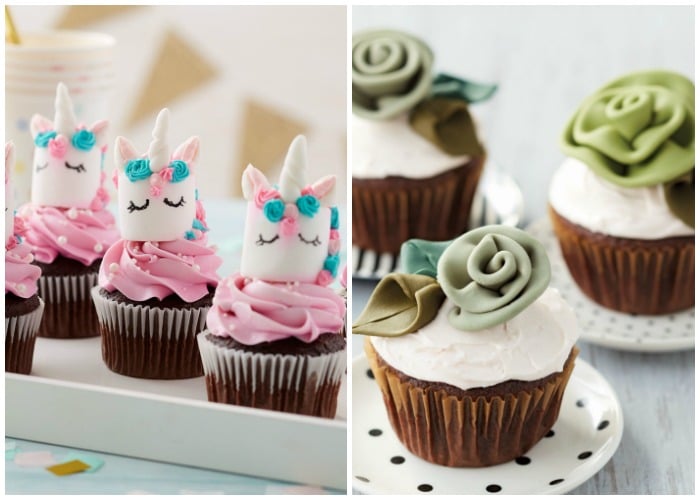 Marshmallow Unicorn Cupcakes || Rose Cupcakes, from Wilton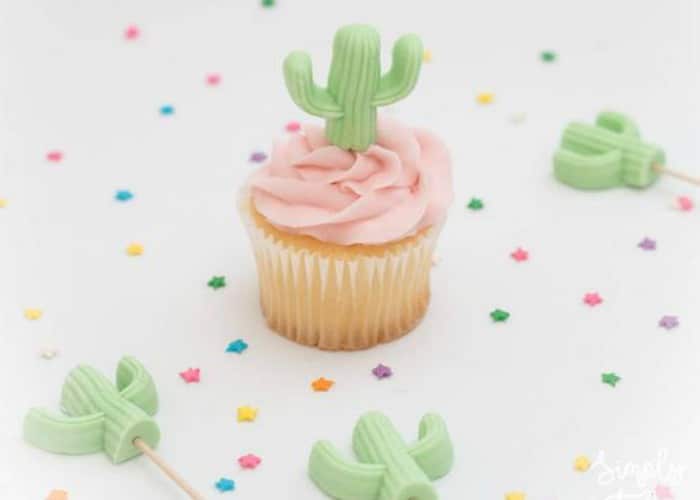 Cactus Cupcake Toppers, from Simply Tale on Etsy

There ya go! Easy Decorating Tips and Tricks!
Your cakes and cupcakes are going to be amazing in no time (or stress!) at all!