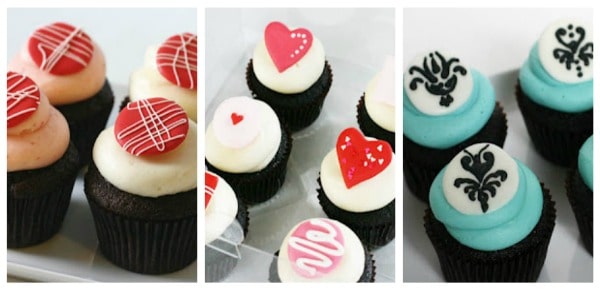 In my last guest post we talked about baking and frosting cupcakes! Today, we're going to combine all of your royal icing (recipe) experience with those simple cupcake techniques to make some royal icing cupcake garnishes.
People might think you got these from the nearest fancy bakery. But nope, you made them yourself! (Well, you're about to…)
You can make your own templates on the computer or just by tracing some basic shapes.
Then you place a piece of parchment over the template and frost in the lines just as you would frost a little round cookie. You can avoid the outline and flooding by using about a 10-15 second icing. Just outline and fill with that same consistency. You can find more details on consistencies in this post.
Let these dry for at least 24 hours and they will peel right off to make a little sugar disk.
For these particular garnishes, I was going for an "abstract art" kind of look. So I just drizzled some white royal icing in a messy, crazy way.
The trick is to pick up the disk right away so the lines fall off the edges.
These little garnishes are edible and adorable.
And the possibilities are endless. Just like cookies, you can make them in any theme and color.
These Valentine ones were inspired from Marion @ Sweetopia. Squares and hearts made them fun!
And you can write a word, a birthday number, or if you have a kopycake projector, you can make a logo. These simple "thanks" one's did the trick too.
So now you're ready to take your cupcakes to the next level! I bet you already have some event in mind that you'd love to bring custom cupcakes to! Do it!!! Birthdays, showers, and teacher gifts are waiting for their custom royal icing garnishes!
Thanks for having me Steph! And I hope all of your readers keep in touch during the month over on bee in our bonnet!