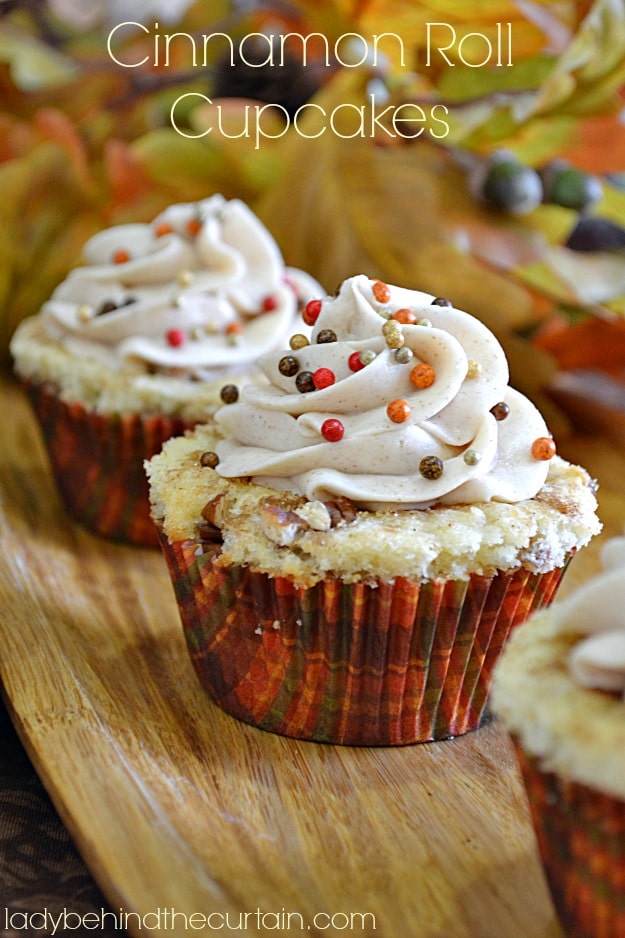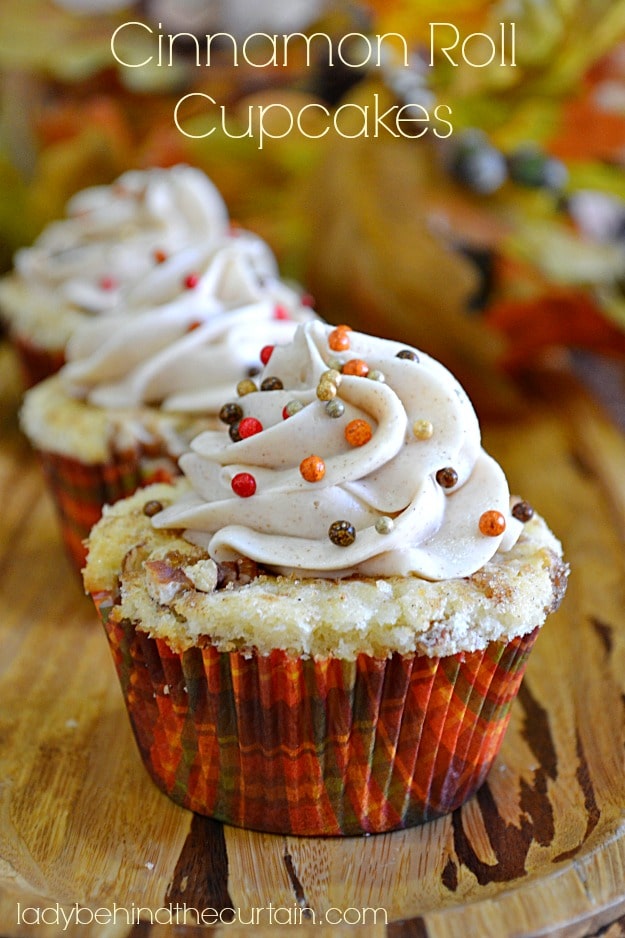 Does your family love cinnamon rolls? Some cinnamon roll recipes can be labor intensive. Our busy lifestyles makes it hard to find the time to make cinnamon rolls. Now, you can have a cinnamon roll without rolling out the dough and waiting for the dough to rise TWICE! These Cinnamon Roll Cupcakes have all the ingredients that a traditional cinnamon roll would have. Brown sugar, pecans and cinnamon. Topped with a delicious creamy cinnamon cream cheese frosting.
So, next time your family asks for cinnamon rolls don't hyperventilate! Make Cinnamon Roll Cupcakes!
Prep Time: 30 minutes
Cook Time: 20 minutes
Total Time: 50 minutes
Yield: 24 Cupcakes
Serving Size: 1 Cupcake
CINNAMON ROLL CUPCAKES
Ingredients
For the Cupcakes:
2/3 cup butter, room temperature
2 eggs
2-1/2 cups all-purpose flour
2-1/2 teaspoons baking powder
1/2 teaspoon salt
3/4 cup packed brown sugar
1/2 cup chopped pecans
2 teaspoons ground cinnamon
1-3/4 cups granulated sugar
1-1/2 teaspoons vanilla
1-1/4 cups milk
For the Cinnamon Cream Cheese Frosting:
1 – 8 ounce cream cheese, room temperature
1/2 cup butter, room temperature
2 teaspoons vanilla
1 teaspoon ground cinnamon
5 cups confectioners' sugar
1 tablespoon milk
Optional-sprinkles
Instructions
For the Cupcakes:
Stir together flour, baking powder, and salt. In a small bowl stir together brown sugar, pecans, and cinnamon. Set aside.
Preheat oven to 350 degrees.
Beat butter for 30 seconds.
Add sugar, beat until light and fluffy. Add eggs, one at a time, beating well after each addition. Beat in vanilla.
Alternately add flour mixture and milk to butter mixture, beating on low speed after each addition just until combined.
Spoon about 1 tablespoon of batter into each prepared muffin cup.
Sprinkle about 1 teaspoon brown sugar mixture over batter in cups.
Spoon the remaining batter evenly over brown sugar mixture in cups.
Sprinkle the remaining brown sugar mixture over batter in cups.
Bake for 18 to 20 minutes or until a toothpick inserted in centers comes out clean.
Cool completely in muffin tin then remove to be frosted.
For The Cinnamon Cream Cheese Frosting:
Mix together butter, cream cheese, cinnamon, and vanilla until light and fluffy.
Gradually beat in confectioners' sugar.
If the frosting is too thick add milk 1 tablespoon at a time to reach spreading consistency.
Makes about 3-12 cups.