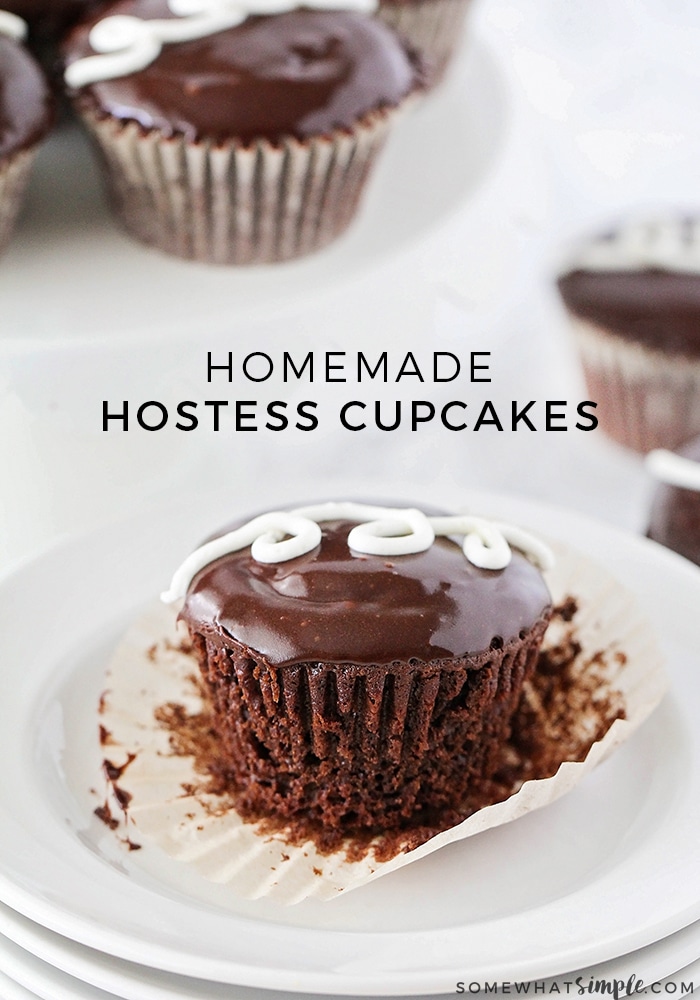 Delicious chocolate cupcakes dipped into a warm, creamy frosting – this homemade Hostess cupcakes recipe needs to make an appearance in your home, STAT!
Life is always so much better when there's chocolate in the house. Some of my other favorite recipes loaded with chocolate are this Chocolate Lava Cake, Homemade Fudge and my famous Homemade Brownies From Scratch recipes.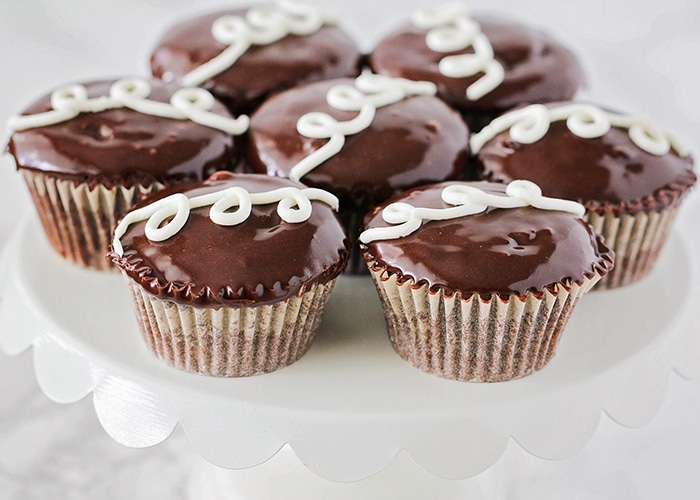 My sister shared this homemade Hostess cupcakes recipe almost 8 years ago and they are still a family-favorite! I made these for the first time when we had friends over, and even though there were only 6 of us, we somehow managed to put away all 24 cupcakes! In fact, my husband, who isn't very big on desserts, asks me to make them quite often. (And I can't say no, right?)
How To Make Homemade Hostess Cupcakes
Make The Cupcakes – Grab your favorite box of chocolate cake mix and bake them according to the directions on the box. I like to use fun cupcake liners when making these copycat Hostess cupcakes because the presentation is half the fun.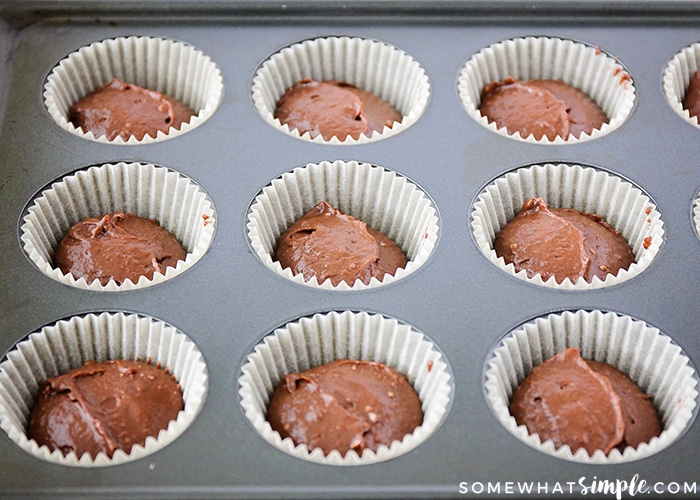 Cool Completely – Let your cupcakes cool in the pan for 10 minutes, and then cool the rest of the way on a cooling rack (another 30 minutes or so.)
Cream Filing – Using a small bowl, mix together a cup of vanilla frosting with a half a cup of the marshmallow creme. Place the mixture into a plastic bag. Cut the corner off the bag so you can squeeze the filling into the cupcakes.
How To Fill The Cupcakes – To fill these cupcakes, use the end of a wooden spoon or a small knife to make an indentation in center of each cupcake – not all the way to the bottom.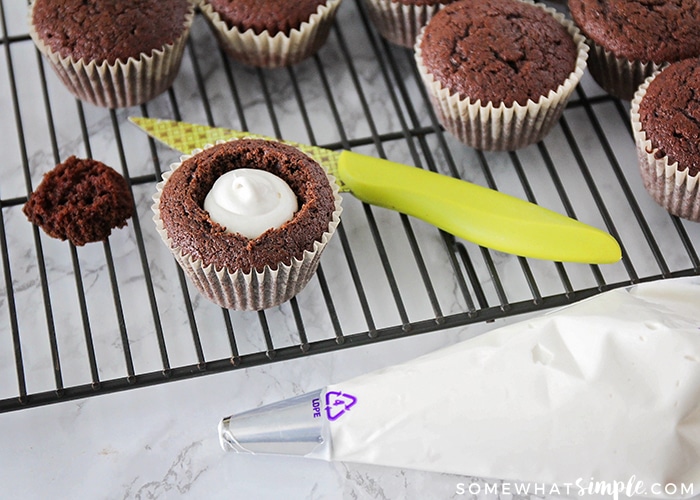 Make The Frosting – To make the frosting place the chocolate frosting, chocolate chips and corn syrup into a microwave-safe bowl. Microwave everything uncovered for 30 seconds. Give everything a good stir and then microwave again for another 15-30 seconds or until the mixture is smooth.
Dip & Top – Dip each of the cupcakes into the frosting. To add the traditional Hostess loops to the cupcakes, place 3 tablespoons of vanilla frosting into a plastic bag. Cut the edge off and then pipe the frosting onto the cupcakes.

More Delicious Cupcake Recipes
How good do these look??? Don't forget to sign up for our newsletter and follow us on social media, so you can be the first to see all of our delicious new recipes. If you make these Hostess cupcakes, leave us a comment below and let us know how you liked them.
Homemade Hostess Cupcakes Recipe
Delicious Chocolate Cupcakes Dipped Into A Warm, Creamy Frosting.
Ingredients
Ingredients for the Cupcakes -
1

box cake chocolate cake mix + ingredients listed on the cake mix box
Ingredients for the Creamy Filling -
1

cup

whipped vanilla frosting

1/2

cup

marshmallow creme
Ingredients for the Chocolate Frosting -
1

cup

whipped chocolate frosting

1/2

cup

semi-sweet chocolate chips

2

tsp.

corn syrup

3

Tblsp. whipped vanilla frosting

,

for the white loops
Instructions
Bake cupcakes according to directions on package and let them cool completely.

With end of round handle of wooden spoon or small knife, make an indentation in the center of each cupcake, not quite to the bottom (wiggle end of spoon in cupcake to make opening large enough).

In a small bowl, mix 1 cup of vanilla frosting and the 1/2 cup marshmallow creme. Spoon into small plastic bag. Cut the tip off 1 bottom corner of bag. Insert tip of bag into each cupcake and squeeze bag to fill.

In small microwavable bowl, microwave chocolate frosting, chocolate chips and corn syrup uncovered on High 30 seconds; stir. Microwave 15 to 30 seconds longer; stir until smooth. Dip top of each cupcake in frosting. Let stand until frosting is set.

Spoon 3 tablespoons vanilla frosting into small plastic bag. Cut tiny tip off the bottom corner and pipe loops on each cupcake.
Nutrition
Other Notes