Celebrate the new school year with these easy apple cupcakes!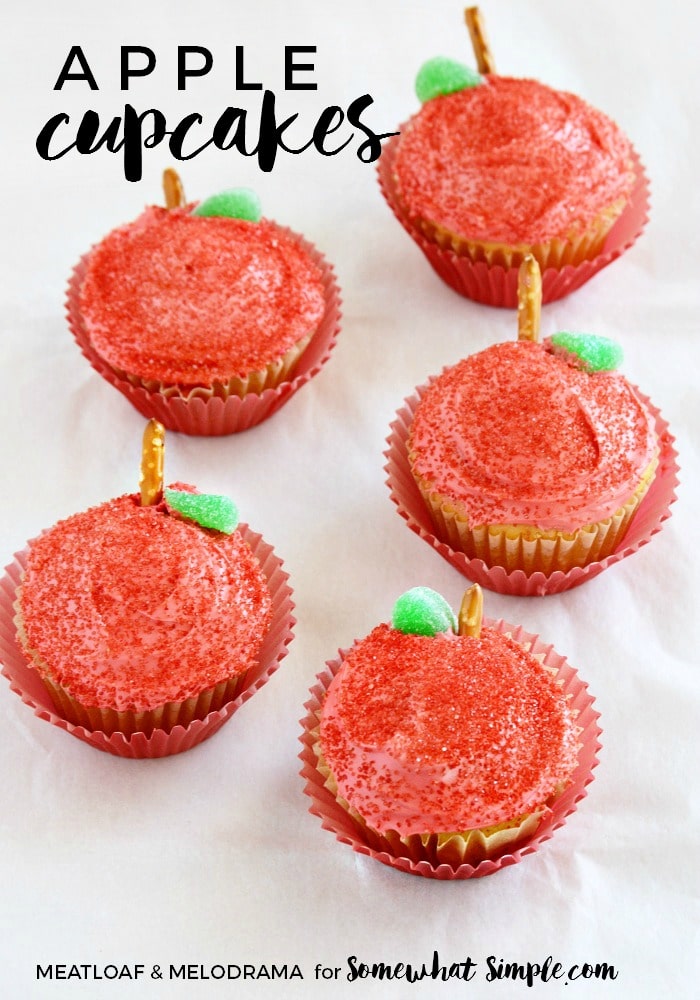 Every year, we have a little family celebration before the kids go back to school. It's nothing big or fancy, but it's a fun tradition, and I think it gets the kids in the right frame of mind. We like to end the celebration with a fun school-themed dessert. One year, we made a flat school bus cake, and another year, we got brave and made a 3-D version. That was super fun to decorate, but it was a lot of work! So this year, we decided to keep it simple, and we made these easy apple cupcakes. (Aren't they cute?)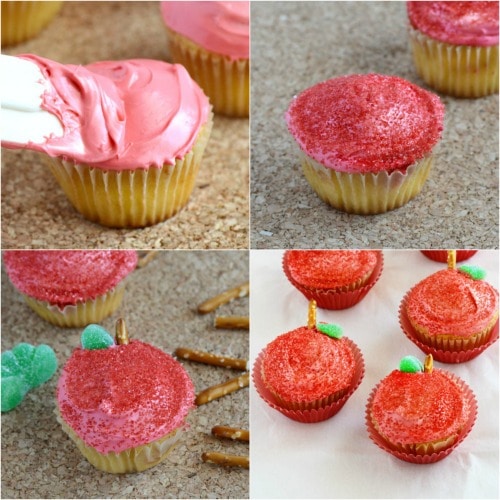 We started out by making a batch of yellow cupcakes from a cake mix. When the cupcakes were cool, we added some red food coloring to vanilla frosting. You would have to use a ton of red to get the right shade, so we sprinkled some red sugar crystals over the frosting. Then, I cut up some candy fruit into smaller pieces, and we made the stems from pretzel sticks. Easy peasy!
How to Make Easy Apple Cupcakes
This recipe makes about 24 cupcakes, depending upon how high you fill the liners.
INGREDIENTS: 
* I like to use parchment cups for baking, but we put the cupcakes into red cupcake liners before serving them.
DIRECTIONS: 
Follow instructions on box to make cupcakes, and allow cupcakes to cool completely.
Add a few drops of red food coloring to the frosting, and mix well.
Spread a thin amount of frosting on each cupcake.
Sprinkle some red sugar crystals on each cupcake.
Cut pretzel sticks in half, and add to top of cupcakes.
Garnish with sliced candy leaves.
These cupcakes would be perfect for a party or a class treat!
ENJOY!