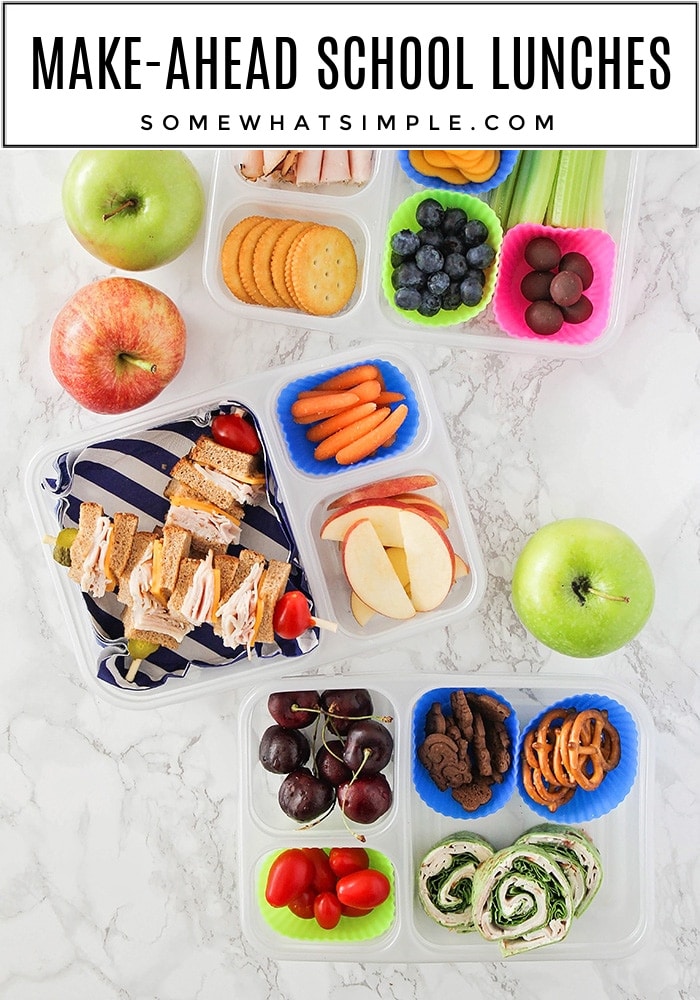 These easy make-ahead school lunches are sure to please even the pickiest of eaters, and they make packing school lunches a breeze!
To make those school lunches even more fun, be sure to check out some of our favorite lunchbox printables: Back to School Lunchbox Notes, Star Wars Lunchbox Jokes, and Uplifting Printable Lunch Notes.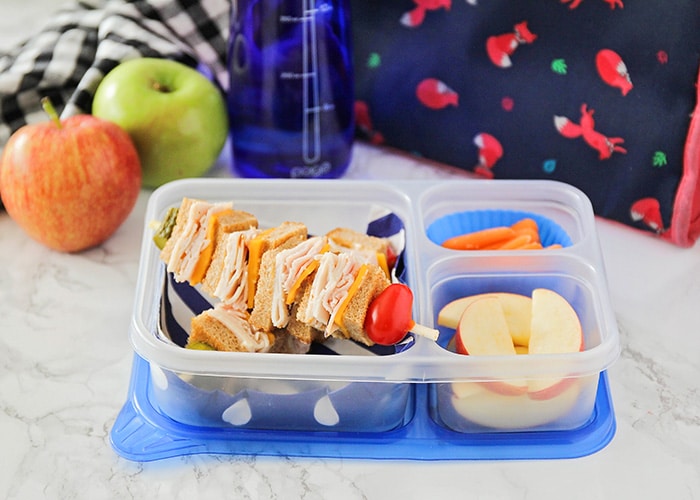 Easy School Lunches
For the past two years, I've made my kid's school lunches either the night before or the morning of school. It's not something I enjoy doing at night when I'm tired, and it's even worse during the morning rush. This year I've decided I need to get my act together when it comes to school lunch prep.
I came up with some favorite make-ahead school lunches that you can make once a week or once a month that you can refrigerate or freeze as individual servings for some super quick lunch packing. These ideas are all homemade, so they're going to be somewhat healthier than similar store-bought food, and probably cheaper too!
How to keep sandwich bread from getting soggy
Put a layer between the bread and condiments. If you're making peanut butter and jelly sandwiches or peanut butter and honey sandwiches, spread the peanut butter on both slices of bread with the jelly/ honey in the middle to create a barrier. This way the jelly or honey won't get past the peanut butter and seep through the bread. If you're making a turkey sandwich with mustard or mayo, put a slice of cheese or lettuce against the bread and put the condiments in the middle.
Quick School Lunch Ideas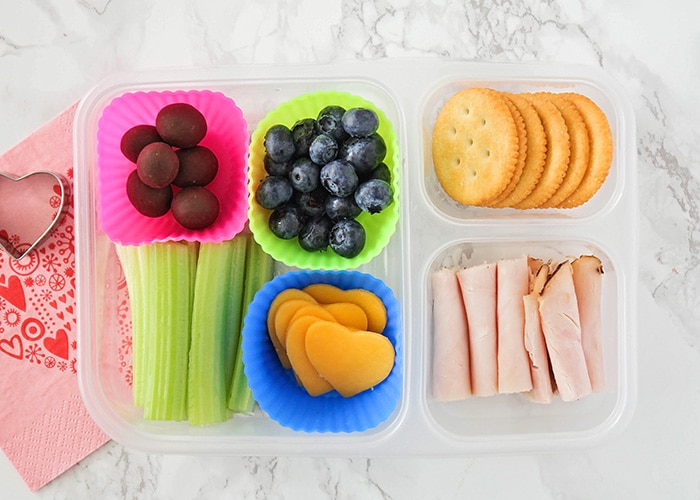 1. Cracker Stacks
My kids always beg me for Lunchables, but they've got nothing on this fun and delicious homemade version! I love being able to make my own version, which is way healthier and tastes better too. I used sliced turkey breast, and I cut some cheddar cheese into hearts using a mini cookie cutter. I added crackers, fresh berries, celery, and a few chocolate almonds to round everything out. So easy, and so fun!
2. Pizza Cupcakes
We make Pizza Cupcakes for dinner all the time! You can customize your kid's favorite pizza toppings, and then easily refrigerate the leftovers so the kids can take them to school! Just place the pizza cupcakes in a ziplock bag and refrigerate until ready to eat!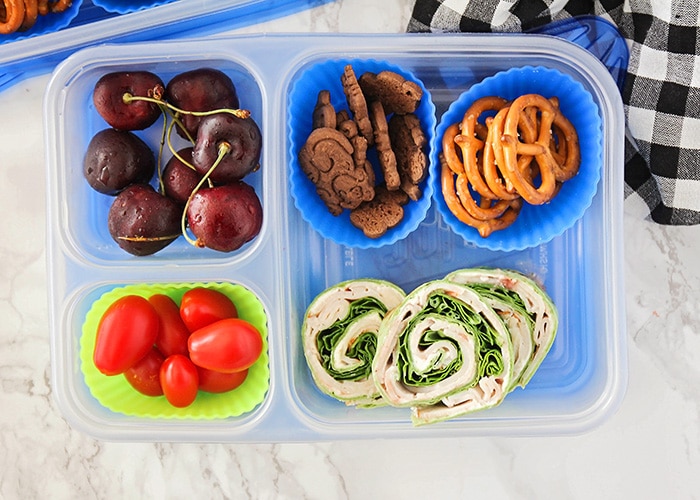 3. Turkey Cranberry Pinwheels
My kids love these turkey cranberry pinwheels, and I love that they're a fun way to get my kids to eat spinach, which they normally refuse to eat. They're simple to make, too! Just spread a wrap with cream cheese and cranberry sauce, then layer on roasted turkey breast and baby spinach. Roll it up tightly, then slice it into 3/4 inch slices. Add some fresh cherries, grape tomatoes, and a few of their favorite snacks, and you are all set!
4. Homemade Mac and Cheese
A big pot of 20 Minute Macaroni and Cheese for dinner goes a long way! Take your leftovers out of the fridge in the morning and heat up in the microwave before school. If you store your mac and cheese in a thermos, it'll stay warm 'til lunchtime!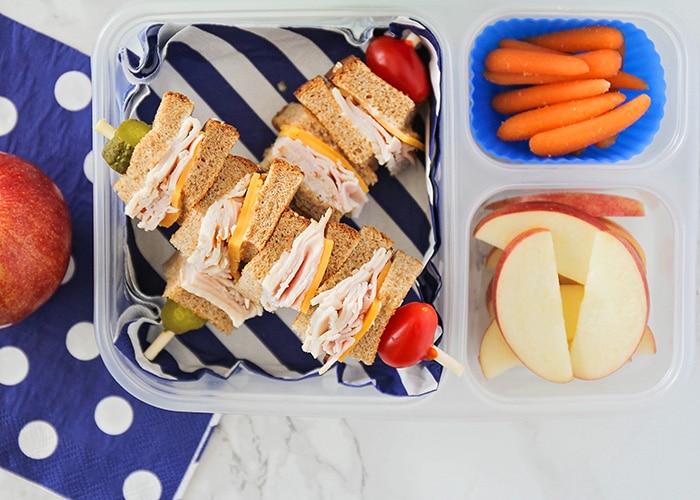 5. Turkey Club Sandwich Skewers
These sandwich skewers aren't any more difficult than making a sandwich, but they are infinitely more fun! I made a simple sandwich on whole wheat bread using turkey breast and cheddar cheese. I then cut the sandwich into eight pieces and threaded them onto lollipop sticks to make skewers. Just for fun, I added a tomato at one end, and a pickle at the other end to make it more like a club sandwich. With some apple slices and baby carrots on the side, it's a delicious and balanced school lunch.
6. Chicken Noodle Soup
Creamy Chicken Noodle Soup can be refrigerated or frozen in jelly jars, then heated up in the morning and served/stored in a thermos. The perfect school lunch for cold and flu season!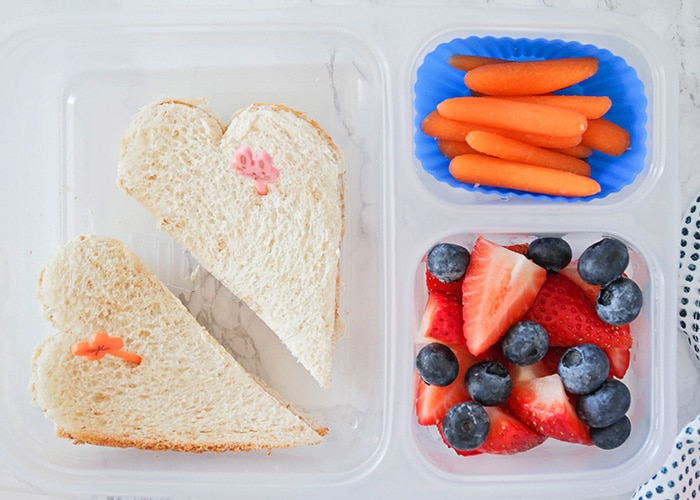 7. Peanut Butter and Honey Sandwich
Swapping in honey in this classic sandwich is a no-brainer and a favorite with kids everywhere. To make things extra fun, cut your sandwich with a cute sandwich cutter or cookie cutter. Add some berries and baby carrots on the side, and you've got a tasty (and easy) lunch!
8. Breakfast Cupcakes
Breakfast Cupcakes are a fun twist to a traditional omelet that can be customized so everyone is happy! They refrigerate and reheat well in the microwave. After reheated, simply wrap them in foil and put them in an insulated sandwich sack to keep them warm for lunch!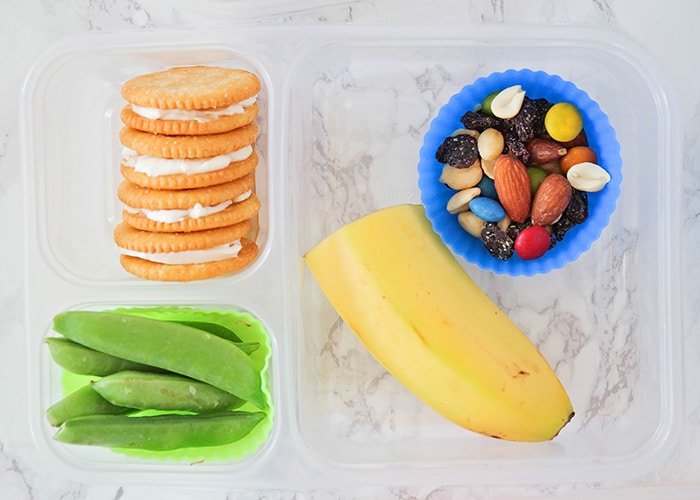 9. Cream cheese and honey cracker sandwiches
My kids love these tiny sandwiches, especially because I let them assemble them on their own. Just take two crackers of your choice, then spread one side with cream cheese and drizzle with honey. Add the second cracker on top, and you're all set! I like to serve these with snap peas or baby carrots, fruit, and a little cup of trail mix.
10. PB + J Pinwheels
Easy to make and fun to devour, peanut butter and jelly pinwheel sandwiches make the perfect lunch or snack!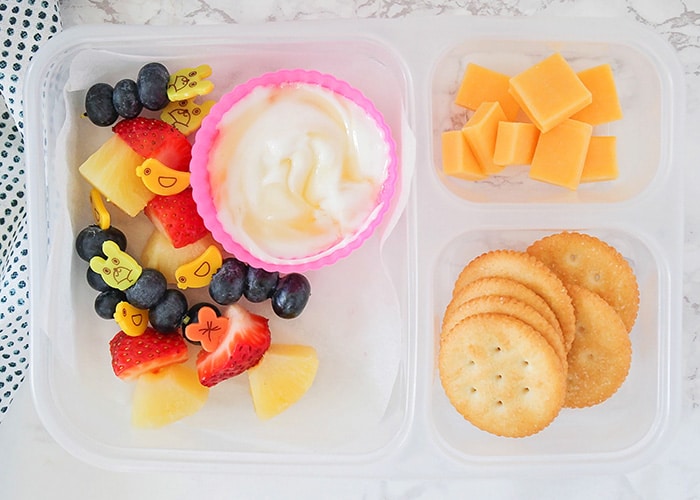 11. Fruit skewers with honey yogurt
For whatever reason, my kids will eat pretty much anything if I serve it to them on a stick. They love any kind of kebab or skewer! These fruit skewers are so fun, and a great way to get kids to eat fruit. I love to serve them with a simple dipping sauce of plain yogurt drizzled with honey. I add crackers or pretzels on the side, along with a few chunks of cheese. My kids love these!
12. Sandwich Sushi
Sandwich Sushi Rolls are a fun twist on a classic lunch. Made with lunch meat and fresh vegetables, then rolled up to look like sushi. These faux sushi rolls are a simple and healthy lunch your kids will love!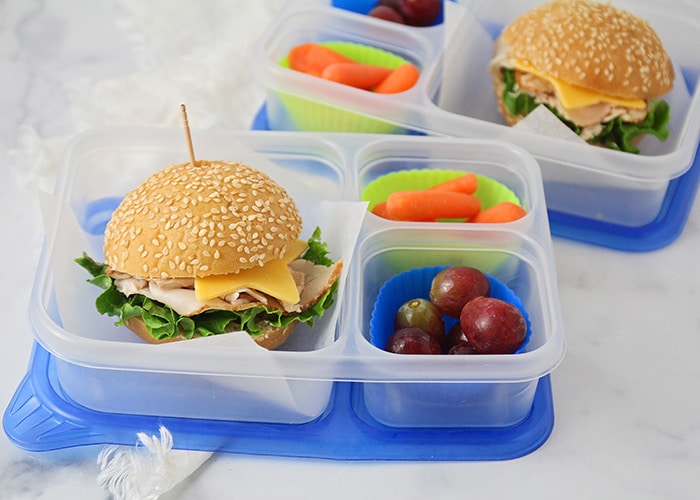 13. Kid-Sized Sliders
My kids tend to get overwhelmed if I serve them too much food, but they love it when I create kid-sized versions of their favorites. Slider-size buns are perfect for sandwiches and easy to fit in lunch boxes. They absolutely love turkey and cheese sandwiches, and I love that they're easy to make ahead and store in the fridge for a whole week's worth of lunches.
14. Pigs In A Blanket
Crispy on the outside, soft and delicious on the inside, pigs in blankets are easy to make and they make great leftovers, too!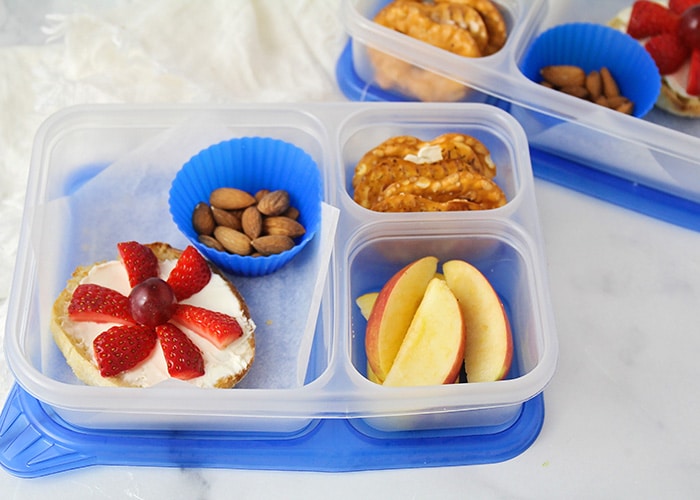 15. Fruit + Bagel
A bagel and cream cheese with some fresh fruit on top is a fun idea that is healthy, too! If you have a reluctant eater, they may be more likely to actually eat their lunch if you present it in a fun way. Try cutting food into different shapes with cookie cutters, or arranging it in a fun design.
16. Pizza Cupcakes
Pizza Cupcakes are simple to make, super delicious, and they're portable!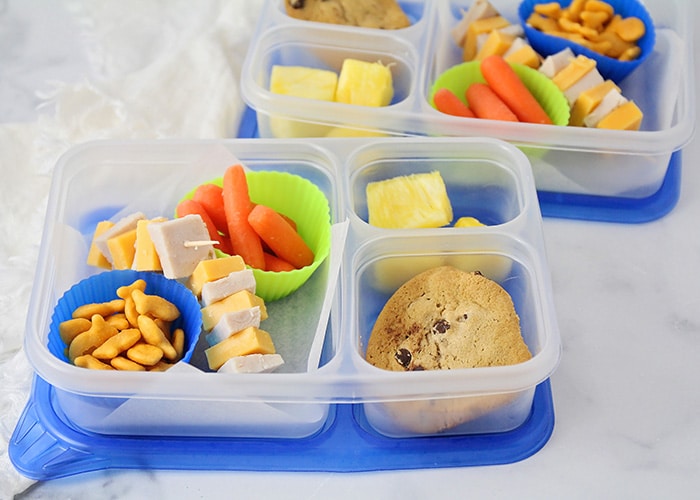 17. Meat + Cheese Skewers
My kids always love it when I make little skewers for them with turkey and cheese, or fresh fruit. Everything is more fun when it's on a stick!
18. Breakfast Sandwiches
Make-ahead breakfast sandwiches are the perfect way to save time on a busy morning! Made with an English muffin, eggs, meat, and cheese, these sandwiches can be cooked once, and then you can enjoy them all week!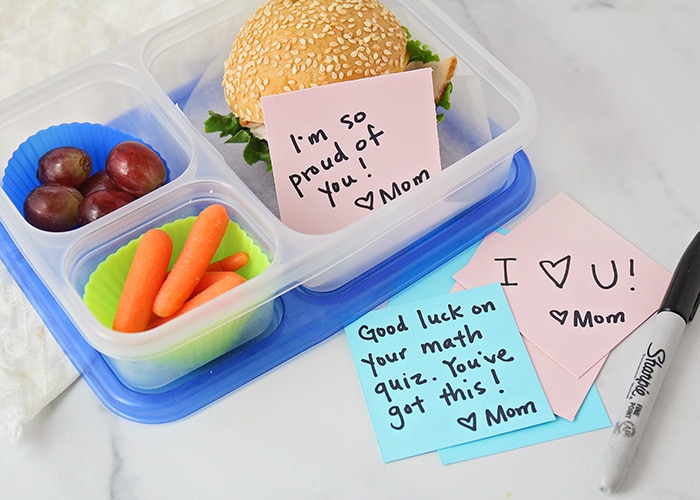 Don't forget the lunch note!
A sweet little note from Mom or Dad is the perfect way to brighten your child's day. It doesn't have to be elaborate or fancy! Just a little something to show that you care can make a huge difference. (We have a BUNCH of free lunch box notes you can print if you'd like!)
Healthy School Lunch Ideas – Side Dishes
Here are a few ideas on what to pack in your kid-friendly school lunches:
applesauce
fresh fruits + fruit dip- strawberries, raspberries, watermelon cubes,
veggies + ranch, or nut butter – bell peppers, cucumbers,
string cheese
Greek yogurt
pita slices + hummus
pasta salad
granola bar
More Back To School Ideas
These make-ahead school lunches are a fun way for your kids to start the school year off right, and make them look forward to lunchtime! Each bento recipe will have different nutritional values but below are an estimate for the cracker stacks.
What's your kids' favorite idea? Leave us a comment below and let us know.
Bento Box Lunch Recipe
These ideas are both easy and delicious!
Ingredients
3

slices

Turkey

6

Ritz crackers

2

oz

Celery

2

slices

Cheddar cheese

2

oz

Blueberries

2

oz

Grapes
Instructions
Slice the turkey and cheese.

Compile everything into the bento box.
Nutrition
Serving:
1
serving
·
Calories:
371
kcal
·
Carbohydrates:
32
g
·
Protein:
21
g
·
Fat:
18
g
·
Saturated Fat:
9
g
·
Cholesterol:
69
mg
·
Sodium:
468
mg
·
Potassium:
402
mg
·
Fiber:
3
g
·
Sugar:
17
g
·
Vitamin A:
595
IU
·
Vitamin C:
9
mg
·
Calcium:
296
mg
·
Iron:
2
mg
Other Notes