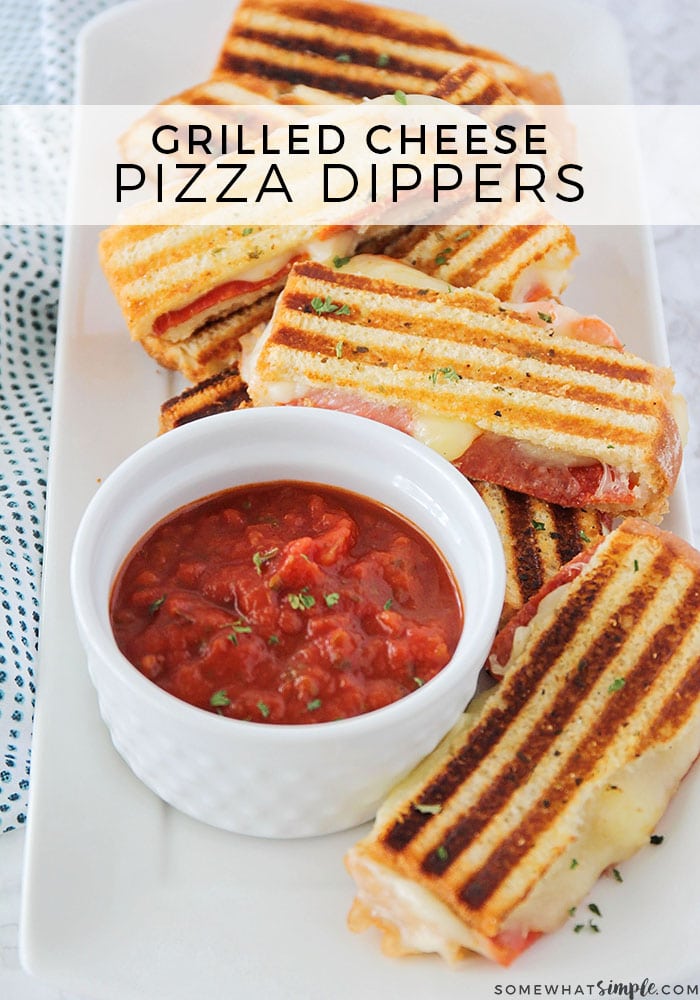 Pizza dippers will kick your grilled cheese sandwich game up a notch! Filled with mozzarella cheese, pepperoni or any of your other favorite pizza toppings, these dippers are easy to assemble. When you take these pizza grilled cheese sandwiches and dip them into warm marinara sauce, they are bound to become a family-favorite!
These grilled dippers are one of my children's favorite sandwiches to eat for lunch. Some of their other favorite sandwiches to eat are these fun Sandwich Sushi, Baked Pastrami Sandwiches and Open Faced Baked Sandwich recipes.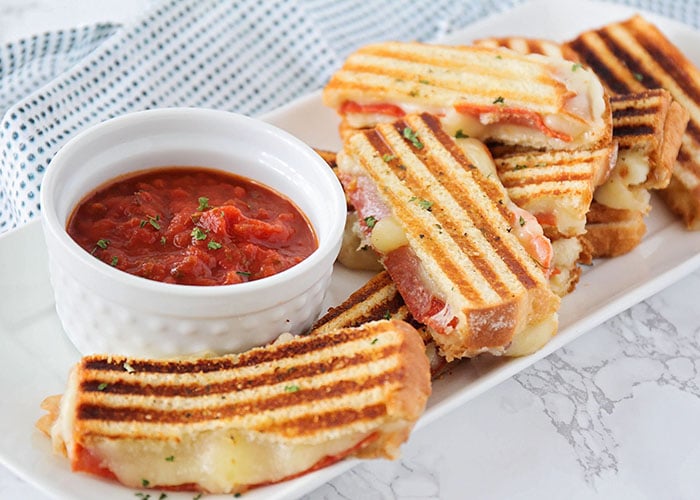 Grilled Cheese Pizza Dippers
These grilled cheese pizza dippers were a serendipitous discovery! Years ago while parenting an extremely picky 3 year old, I realized I was out of cheddar cheese and my plans to make grilled cheese for dinner were foiled! So I did what any desperate mom would do at dinner time…I started looking for something to sub in! I found some mozzarella and pepperoni, and the idea of a pizza grilled cheese sandwich was born!
Grilled cheese pizza dippers (as we have come to call them) are an easy, quick and kid-pleasing meal. They come together in a snap, and it's a nice variation to mix things up a bit if your kids happen to ask for grilled cheese sandwiches as much as mine do!
How to Make Pizza Dippers
To make these pizza dippers, you'll need bread, butter, mozzarella cheese and pepperoni. You can add other cheeses or some garlic or pizza seasoning if you'd like, but this in not necessary! Using some of your other favorite pizza toppings is another way to add a little variety to this recipe. We used pepperoni because that's my kids' favorite topping.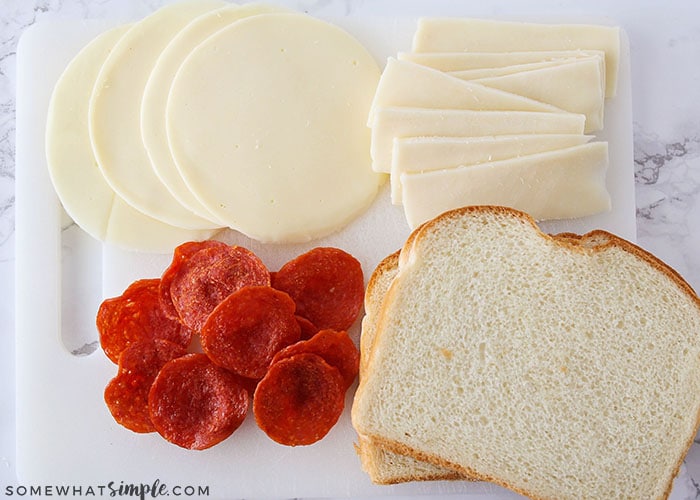 In a small bowl you'll want to combine the softened butter with the garlic seasoning
Next, butter one side of each slice of your bread
Layer the ingredients on the side of the bread that doesn't have butter on it
Place another slice of bread on top of the cheese and toppings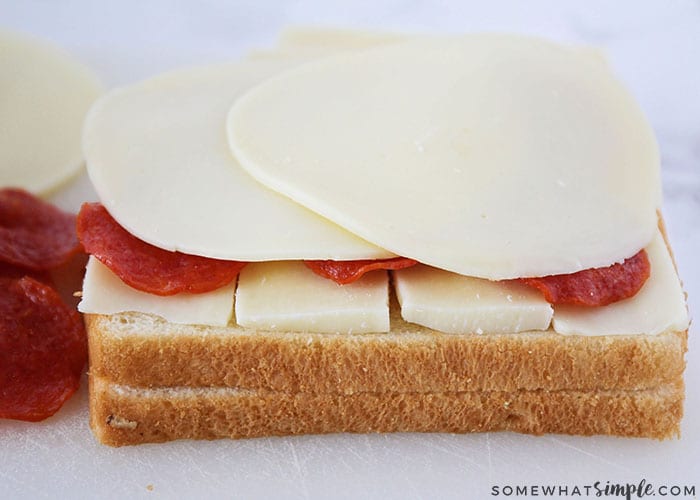 Place your sandwiches on your griddle or panini grill and cook until them until they are golden brown and the cheese has melted.
Tip For Making Pizza Dippers
You want to make sure these dippers don't cook too fast, otherwise you'll be left with toasted bread on the outside and lukewarm cheese and pizza toppings on the inside. You'll want to set your griddle to 350 degrees F to make sure they cook evenly throughout.
What kid (or adult?) wouldn't LOVE these?!
Can You Freeze Pizza Dippers
Yes, you can easily store these in the freezer to be eaten later. They can keep fresh in the refrigerator for about 4 or 5 days. If you don't think you'll eat them before then, once they have completely cooled, place them in a freezer bag and stick them in the freezer. They can be stored in the freezer for about 2 months. Let them thaw in the freezer overnight before using them. I like to warm mine up in the toaster oven so the bread is nice and crunchy.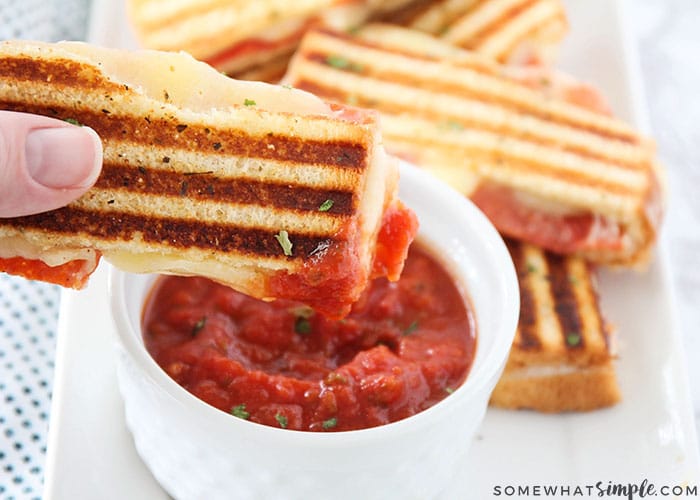 More Easy Pizza Recipes
Pizza Dippers Recipe
This easy recipe is a fun lunch idea that can double as an appetizer idea at your next party. Leave us a comment below and let us know what you put inside your pizza dippers or tag us on social media because we love to see what you've been up to in the kitchen!
Pizza Grilled Cheese
Kick your grilled cheese sandwich game up a notch! These Pizza Grilled Cheese Dippers are bound to become a kid-favorite!
Ingredients
8

slices

of bread

16

slices

of mozzarella cheese

16

slices

of pepperoni

,

fully cooked

4

tablespoons

butter

,

softened

1-2

teaspoons

garlic/pizza seasoning

4

oz

pizza sauce
Instructions
Preheat a griddle or panini press to medium heat (about 350 degrees).

In a small bowl, combine the garlic seasoning and softened butter.

Butter one side of each slice of bread.

Add the cheese and pepperoni to an un-buttered side of bread, then top it with another slice of bread - butter facing up.

Place the sandwich on the griddle. Repeat for all other sandwiches.

Cook until the bottom is browned, 2-3 minutes, then flip and cook the other side until browned. (If using an electric panini press, both sides will cook at the same time, so no flipping necessary.)

Cut into thirds and serve immediately with your favorite pizza dipping sauce!
Nutrition
Other Notes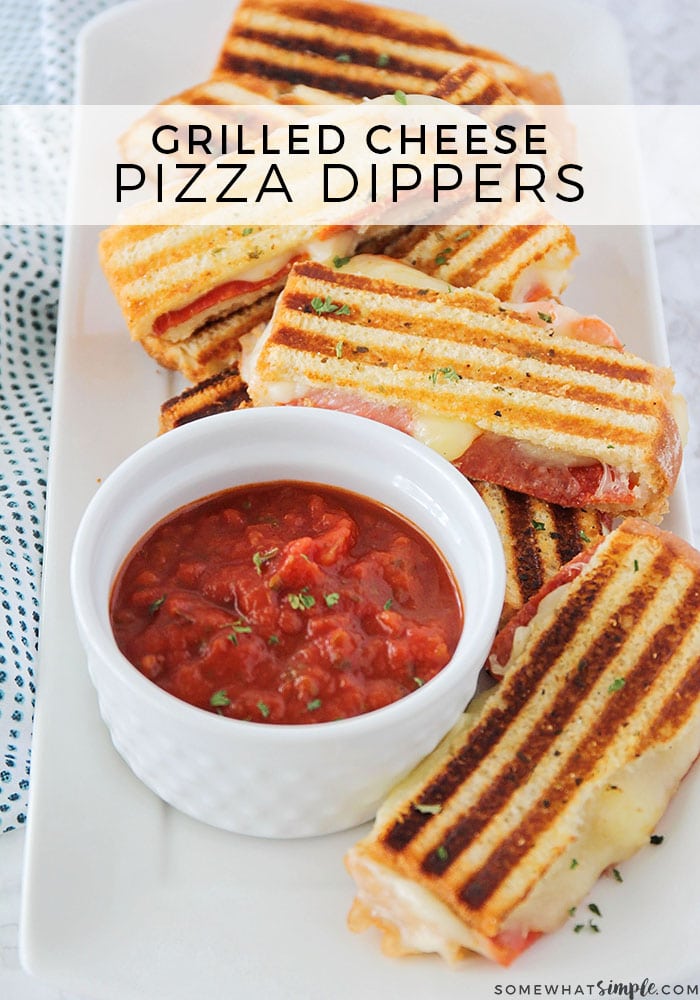 SaveSave