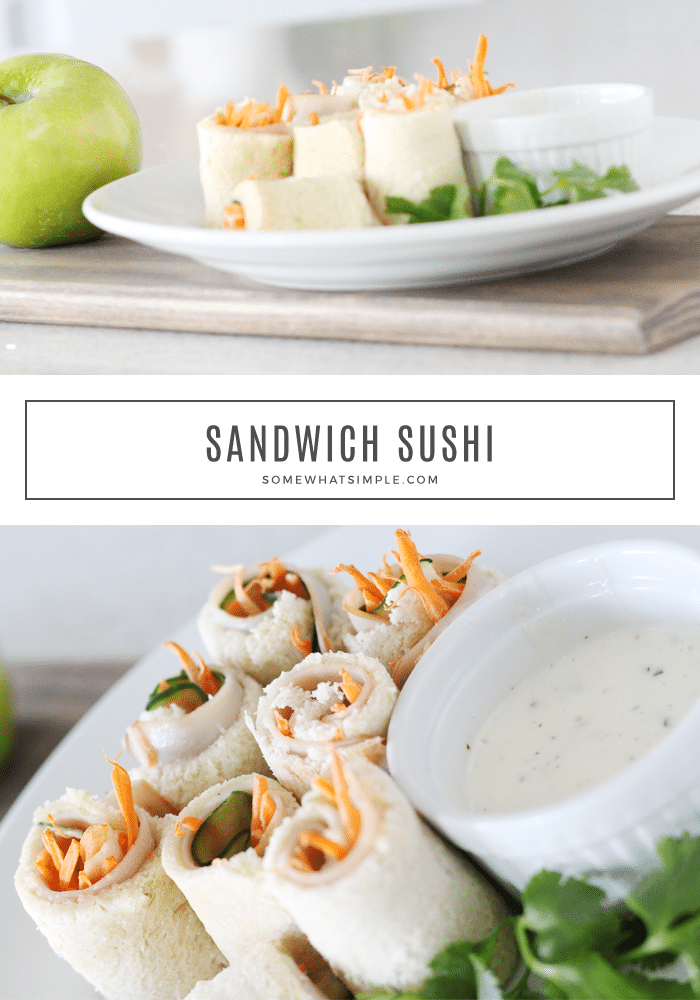 Sandwich sushi rolls are a fun twist on a classic lunch. Made with lunch meat and fresh vegetables, then rolled up to look like sushi. These faux sushi rolls are a simple and healthy lunch your kids will love!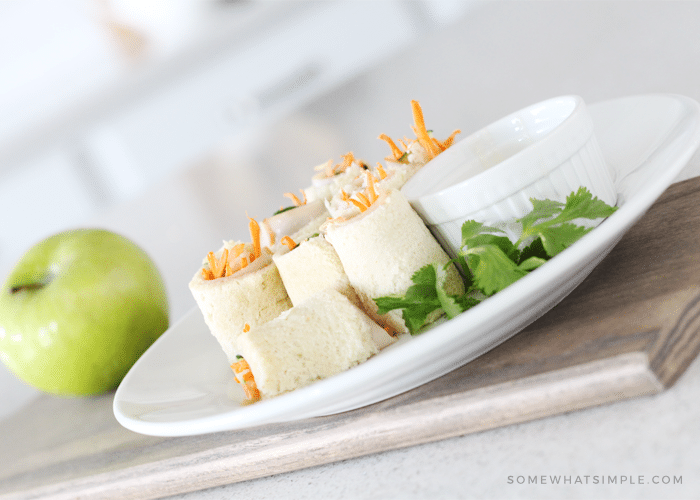 Easy Sushi Sandwich Roll
If you've never made a sushi sandwich before, you are in for a fun treat! Not only do these sushi sandwiches encourage my kids to eat healthy veggies, cheeses and meats, it also makes lunchtime fun by serving something other than a boring sandwich! My kids seem to feel sophisticated eating the kid version of one of their favorite foods!
And really, the options are endless with the way you can mix up the flavors. You can use cream cheese or mayo, various veggies, cheeses and meats. My kids prefer when I use turkey or ham but if you want to make these even more like sushi, use a can of tuna inside each roll.
How to Make Sushi Sandwich Rolls
These sandwich rolls are actually really simple to make. If you're more of a visual learner, like I am, there is a short video down at the very bottom that walks you through each step. It really is so easy!
Cut off the crust of each slice of bread
Flatten each slice with a rolling pin
Cut your vegetables using a vegetable peeler and a knife to slice your cheese
Spread Ranch dressing over the entire piece of bread
Lay your topping (turkey, tuna, etc.) over the top and make sure to cover the entire slice. If any of meat slices hang over edge, fold it back over
Place the vegetables and cheese on top of the meat
Roll the bread
Cut the ends off so they're straight and then cut in half to make two rolls
Serve with Ranch dressing to dip
Sandwich Sushi Ingredients
Bread
Lunch meat or tuna
Carrots
Cucumbers
Ranch Dressing or mayonnaise
String cheese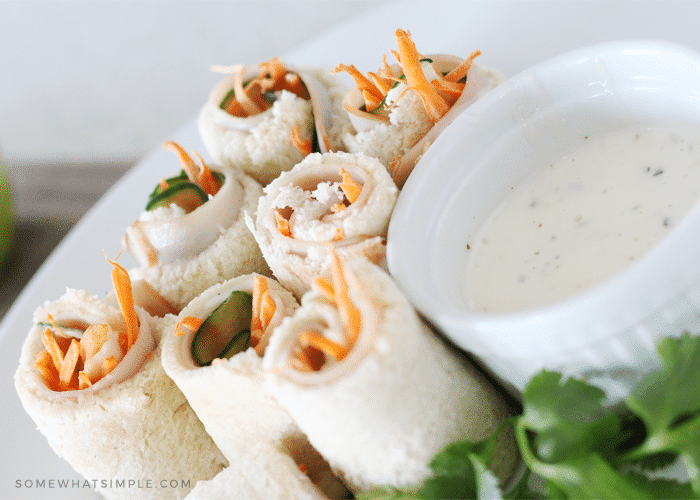 Items Used To Make Sushi Sandwiches For Kids
More Easy Sandwich Recipes
Sushi Sandwich Recipe
This easy recipe is fun lunch idea that can double as a fun appetizer idea at your next party. Leave us a comment below and let us know what you put inside your rolls or tag us on social media because we love to see what you've been up to in the kitchen!
Sandwich Sushi
A Sandwich Sushi Roll is fresh, healthy and delicious! A simple snack or lunch that the kids will love!
Ingredients
Sliced sandwich bread

Ranch Dressing

Sliced Turkey Lunch Meat

Cucumber

Carrot

String Cheese
Instructions
Prepare your ingredients by cutting off the crust of each bread, then flattening it with a rolling pin. Use a vegetable peeler to make thin slices of your carrot and cucumber, and use a knife to cut your string cheese into strips.

Spread ranch dressing over the entire slice of bread.

Lay a piece of turkey on top. Make sure you cover the whole piece of bread then fold over the extra.

Layer your cheese and veggies on top of the turkey in a pattern- carrot, cucumber, cheese. Then repeat once more.

Roll Up the bread, cut off both ends so they are straight, then cut the bread in half, making 2 rolls from each piece of bread.

Serve it with ranch or your favorite dipping sauce... and that's it!
Nutrition
Other Notes
The kids had so much fun making their own!
So what do you think? Sushi anyone???