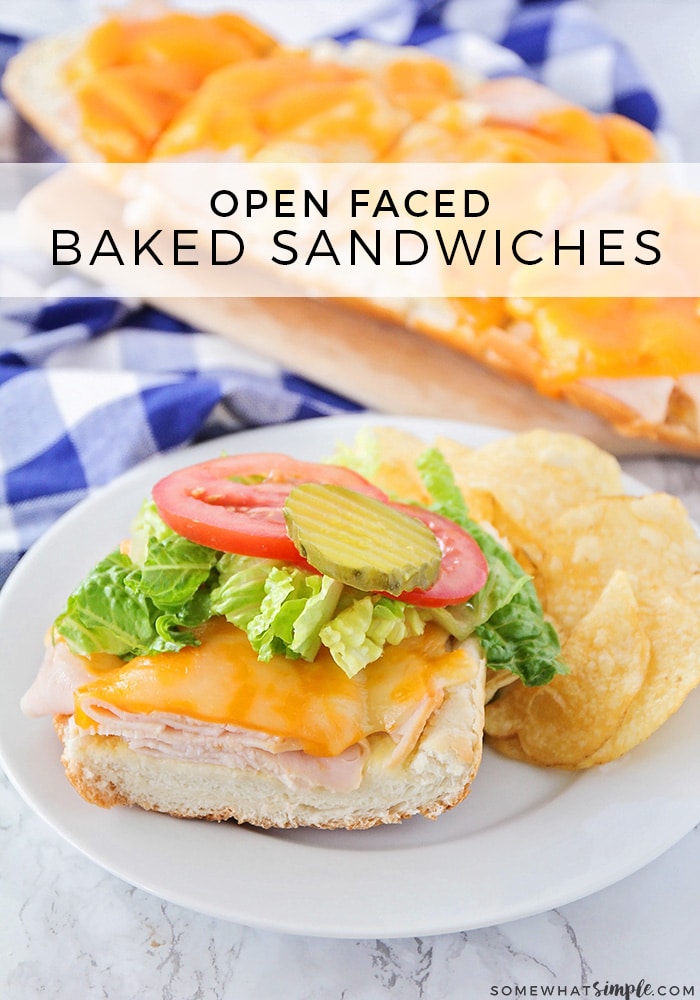 These delicious baked sandwiches are one of the easiest ways to get dinner prepped and on the table in no time at all!
Here are a few more hot sandwiches we think you'll love – Grilled Ham and Jam Sandwiches, Pizza Burgers, and Crock-Pot BBQ Beef Sandwiches.
Baked Sandwiches
Oven-Baked Sandwiches are another simple meal that doesn't involve more than a few ingredients and they won't take all evening to prepare! This is a dinner you can put on your menu every week and just switch it up a bit with different ingredients- the options are endless!
I love these baked sandwiches not only because my family can customize their portions with the toppings of their choice, but this is also an easy way to feed a crowd! They taste delicious and are so simple to make!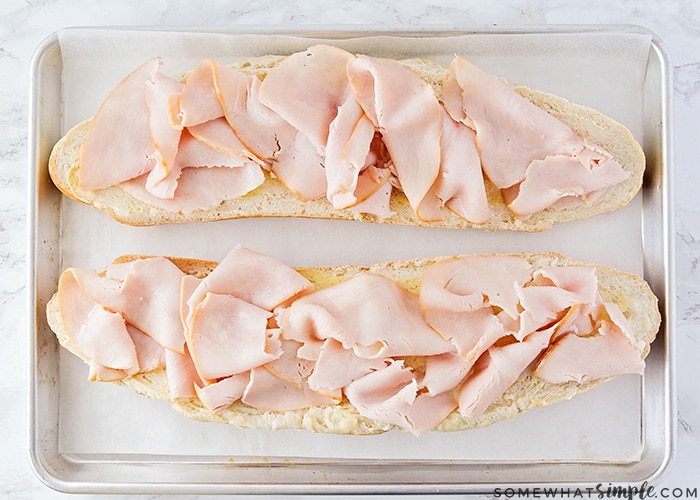 How to Make a Baked Sandwich
INGREDIENTS –
To make a baked sandwich, you'll need some bread and your favorite sandwich ingredients –
bread – a loaf of French bread, hamburger buns, slices of bread, King's Hawaiian rolls, etc.
deli meat – deli turkey, deli ham, salami, pepperoni,
cheese – cheddar cheese, swiss cheese, provolone cheese, parmesan, mozzarella cheese
condiments – mayo, mustard, dijon mustard, garlic powder + melted butter mixture, worcestershire sauce,
You'll also need some toppings that you'll add on at the very end –
tomato
lettuce
pickles
onions
peppers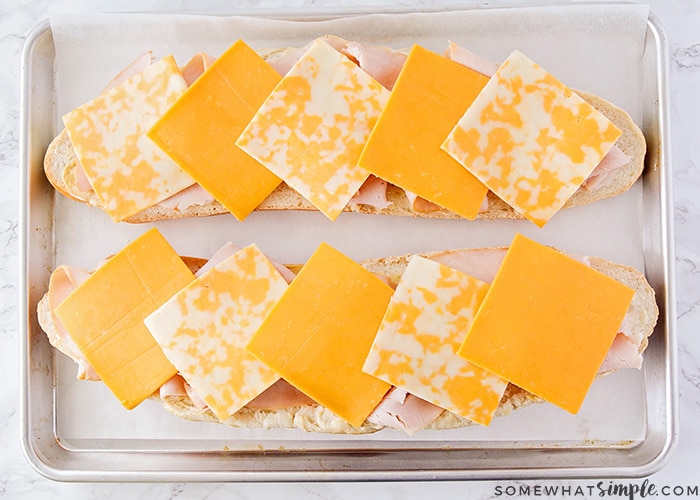 DIRECTIONS –
First, cut your French bread in half, lengthwise, and place it on a baking pan, open sides up. (If you're using rolls, cut them in half and place the bottom halves on a baking dish. (The tops of the sandwiches can be added on just before you bake them.)
Spoon and spread a layer of your desired amount of condiments, then top with slices of meat and cheese.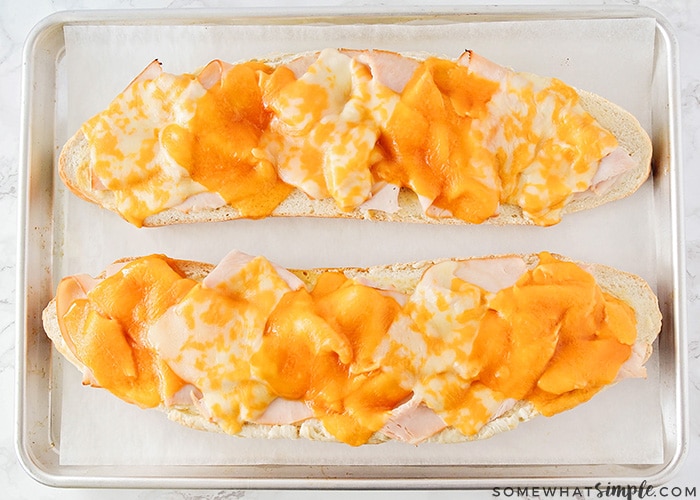 Bake this in the oven until the meat is warm, the cheese is melted, and your French bread is soft but crispy on the edges.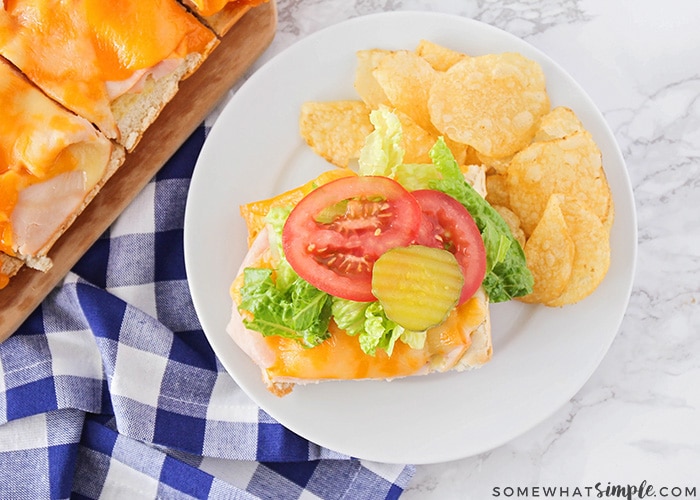 Slice your French bread into individual servings, and top with desired toppings. Serve with a salad or some potato chips and you're good to go!
Is it dinnertime yet?
Here are a few more Easy Dinner Ideas you'll LOVE –
…and if you're looking for EVEN MORE baked sandwiches, check out our list of 20 Favorite Sandwich Recipes.
HERE'S A PRINTABLE RECIPE CARD FOR OPEN-FACED BAKED SANDWICHES:
Open-Faced Baked Sandwiches Recipe
These delicious baked sandwiches are one of the easiest ways to get dinner prepped and on the table in no time at all!
Ingredients
1

Loaf of French Bread

Sliced meats & cheeses

Mayo

Mustard

Avocado
Instructions
Preheat your oven to 350 degrees.

Line a baking sheet with foil.

Cut your french bread down the center and lay each piece on the baking sheet, crust side down.

Spread your mayo, mustard and avocado on to the bread, and any other condiment you have decided to use.

Top with meat and then the cheese.

Place in the oven for 15 minutes or until cheese is melted and meat is heated through.

Top with lettuce, tomato, pickles etc., if desired.

Slice and serve with chips and/or a salad.
Nutrition
Other Notes