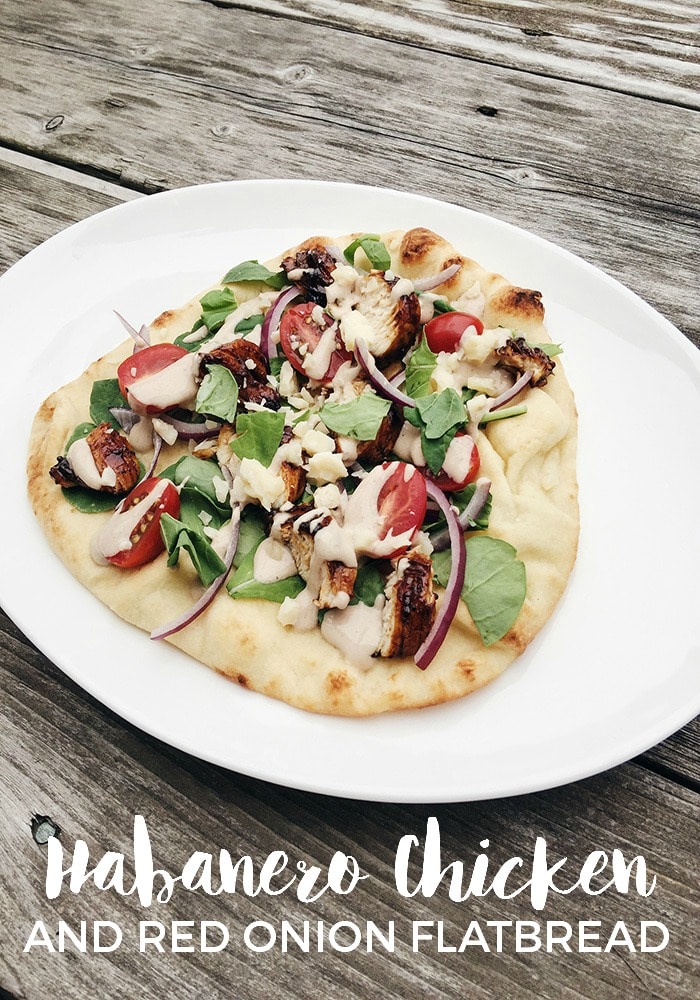 Summer is right around the corner and that always makes me want to scour the market for fresher ingredients to make a relaxed dinner that doesn't heat up my whole house! This Chicken Flatbread recipe fits the bill!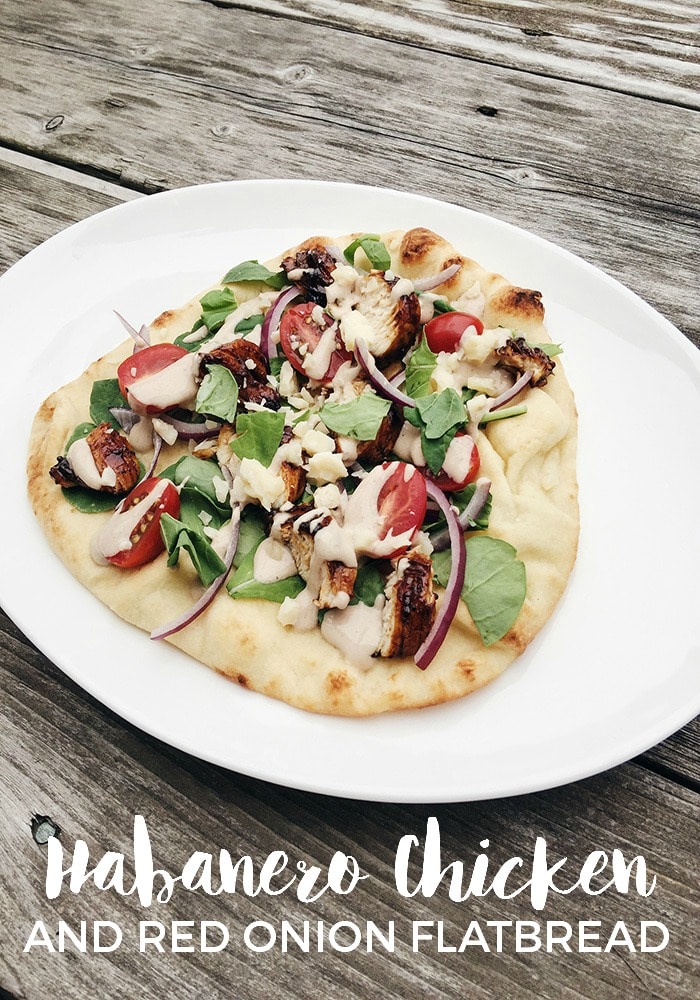 Don't let the title scare you..the spiciness really isn't too much. It just offers some flavorful heat and paired with the peach preserves and a cooling yogurt drizzle, they balance out nicely, And speaking of balance, try balancing a triangle of this deliciousness on your fingertips as you nibble away. A word to the wise, be quick…this flatbread doesn't last long!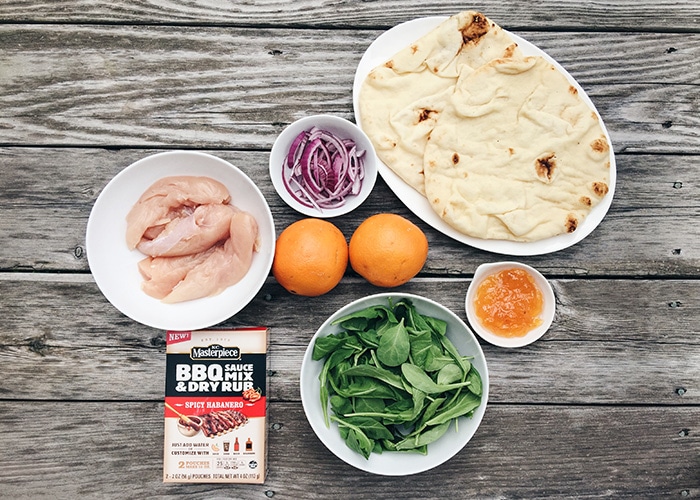 Habanero Chicken Flatbread with Red Onions
INGREDIENTS:
1 package Naan Bread or flatbread (2 count)
2 Tablespoons Olive Oil (divided)
3/4 lb. Chicken Tenders or Chicken Breast
3 Tablespoons Spicy Habanero Flavor KC Masterpiece® Sauce and Dry Rub Mix (divided)
Juice of 1 Orange
2 Tablespoons Peach Preserves
1/2 cup Plain Yogurt
1/2 small Red Onion, sliced thin
2 cups Arugula, torn
1 cup Grape or Cherry Tomatoes, halved
Salt and Pepper to taste
Cheddar Cheese Crumbles, if desired
DIRECTIONS:
In a medium bowl, place chicken, 1 Tablespoon olive oil, 2 Tablespoons dry rub mix, and the juice of 1 orange. Season with salt and pepper. Cover and let marinade in the fridge for at least 30 minutes, up to 2 hours.

Meanwhile, in a small bowl, combine yogurt, and remaining dry rub mix. Season with salt. Set aside. You might want to use a little water to thin the mixture to your desired consistency.
After the chicken has marinated, heat remaining 1 Tablespoon of olive oil in a pan over medium heat. Place the chicken in the pan and cook, flipping halfway, until cooked through, about 8-10 minutes.
Once the chicken is cooked, add the peach preserves to the pan and a couple tablespoons of water. Stir, creating a glaze to coat the chicken. Once the chicken is coated, remove from heat, and slice into smaller pieces.
Preheat the oven to 375 degrees. Place Naan directly on the oven rack to heat for 5 minutes. After it has warmed, remove the Naan from the oven.
Pile on the sliced chicken, red onions, arugula and tomatoes. Drizzle with the yogurt and season with cracked black pepper. Sprinkle on crumbled cheese, if using.
Cut into triangles and serve.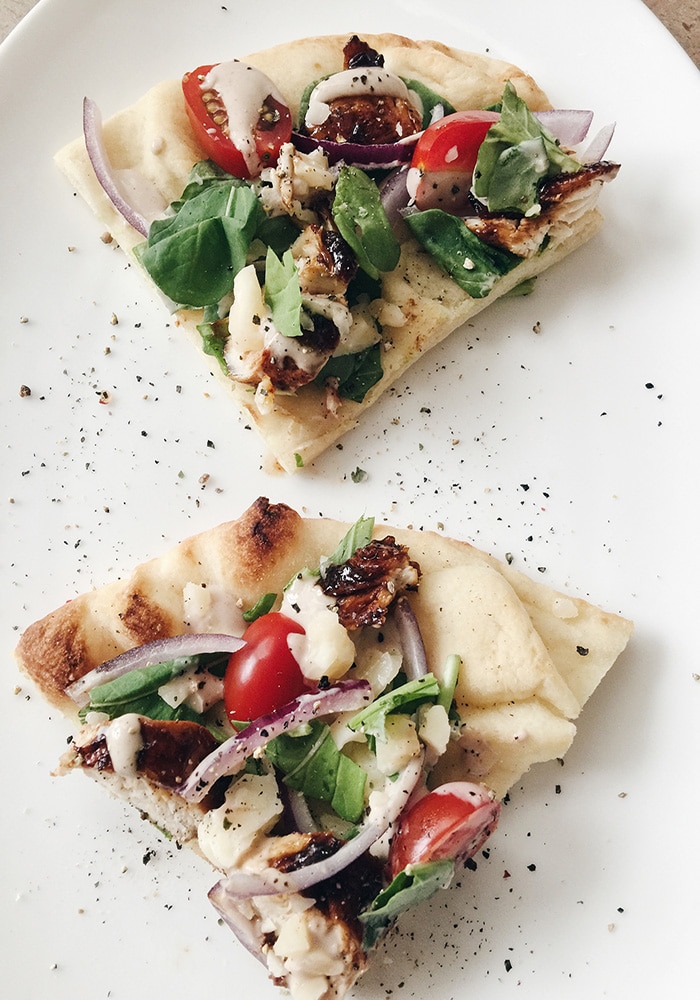 Looks delicious, right?
ENJOY!!!
// ]]>