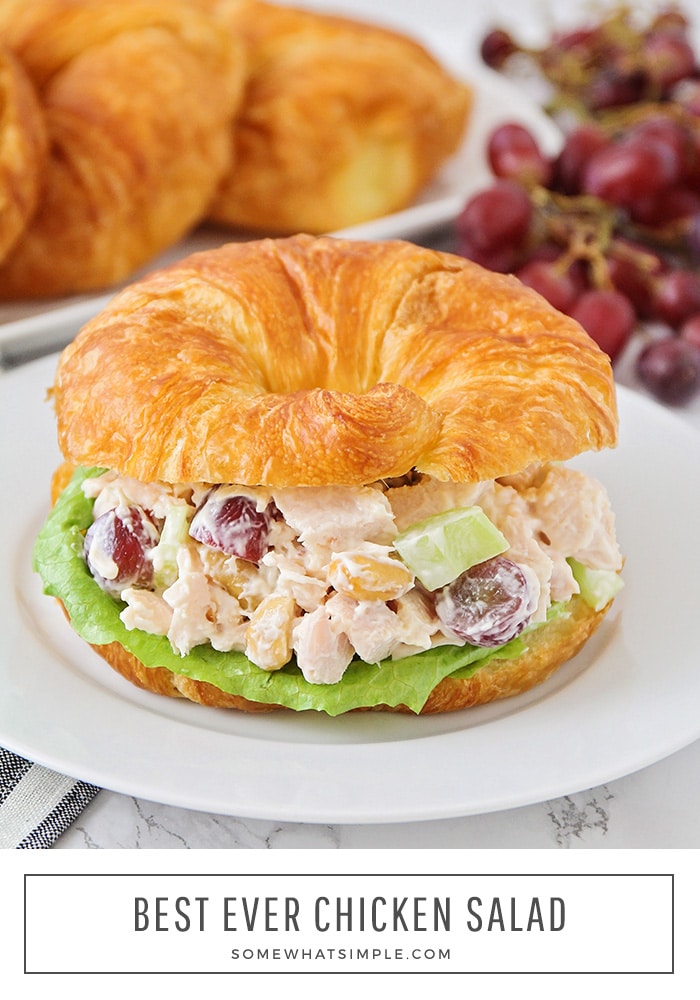 This chicken salad sandwich recipe is made with grapes, cashews and is stuffed between buttery croissant rolls. They are light and delicious and perfect to eat year round!
Looking for more simple sandwich recipes? Here are a few of our favorites – Hawaiian Ham Sandwiches, Sandwich Sushi, and The Best Caprese Sandwich Recipe.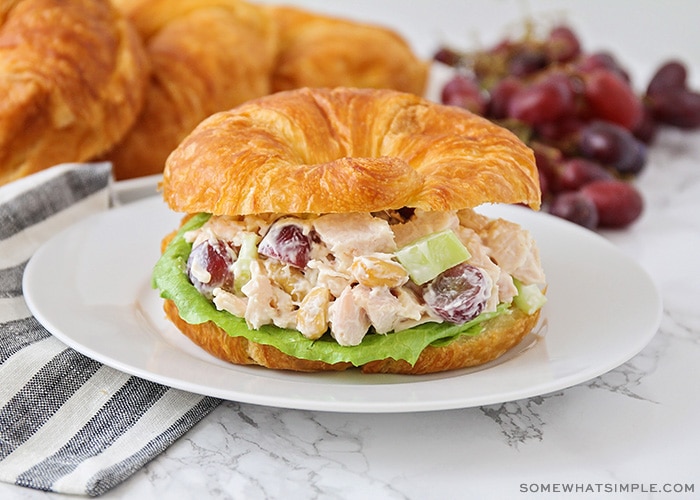 The Best Summer Sandwich
Growing up, my mom never made chicken salad sandwiches, so I never even knew they existed until I moved out of the house. The first time I tried this delicious dish was when my roommate in college made them using this exact recipe. The sandwich was AMAZING and I was hooked on my very first bite!
I now make them all the time – they are great party foods, or simple family dinners, and everyone I've ever served these too seems to agree – they are simply delicious! These sandwiches are perfect for a warm, summer day, but here in my home we love them so much I make them year-round.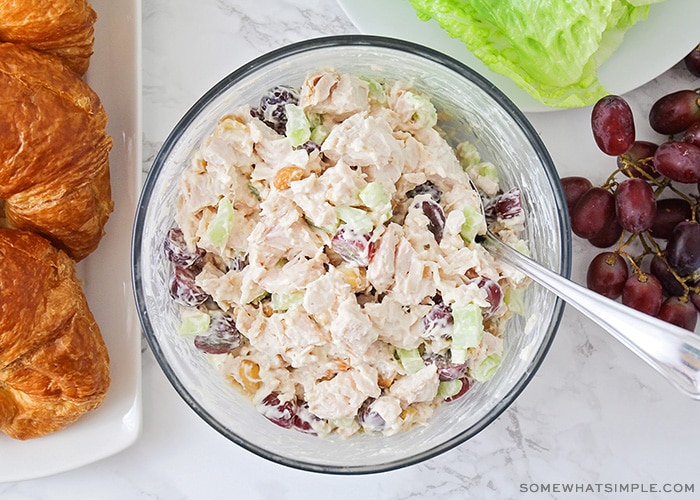 How To Make A Chicken Salad Sandwich
Prep The Chicken – Start by taking about a pound of cooked chicken and cutting it into bite-sized pieces. You can use leftover chicken, canned chicken, or my favorite, rotisserie chicken from Costco.
Mix – Place the chicken, celery, red grapes, cashews, mayo, salt and pepper into a mixing bowl. When I want a little sweeter taste, I will sometimes add some crushed pineapple to the mix. (Don't knock it 'til you try it! It is amazing!) Stir everything together until everything has blended well together.
Chill -Let the chicken salad cool in a fridge for 2 hours. The hardest part about this recipe is waiting the 2 hours for your chicken salad to chill! I always want to dive into it right away!
Make Your Chicken Salad Sandwich – Once ready, place the chicken salad mixture between two slices of your favorite bread and lettuce, if you want some extra crunch. I always use croissant rolls as they not only taste so good, they hold up well and don't get soggy. Serve and enjoy!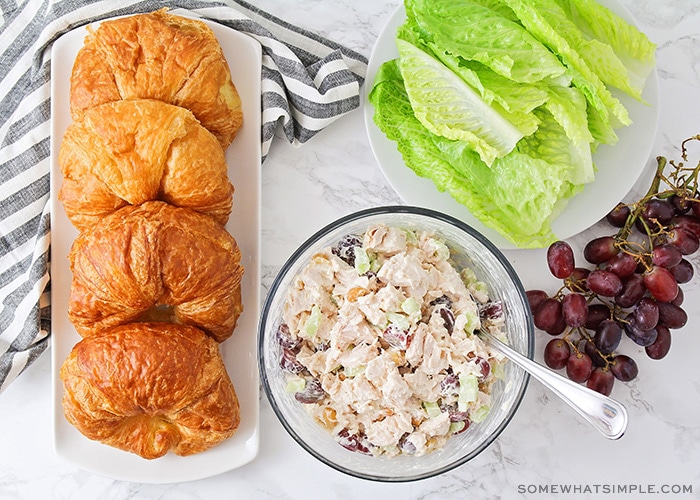 Recipe Tips
Mix It Up – The great thing about these chicken salad sandwiches is that you can mix up the ingredients and it still tastes great! If you don't like cashews, substitute them for almonds. Not a fan of celery? Try using cucumbers instead.
Low Carb Option – If you are looking for a healthier option, ditch the croissant and wrap it in a large leaf for a wrap or just eat it like a salad.
Cook Chicken Ahead Of Time – Just make sure you have cooked chicken ready to go before making this recipe. If you need to make chicken ahead of time, it will stay fresh in the fridge for 3-4 days.
Storage & Freezing
Storing – You can store any leftover chicken salad in the fridge for about 3-4 days so you can make more sandwiches another day. However, if it has been sitting out for more than 2 hours, you should just throw it away.
Freezing – Because chicken salad is made with mayonnaise, it's not something you should freeze. This recipe is super simple and can be whipped up in a few minutes, so there's no reason you would want to make it ahead of time and freeze it.
More Summer Salads
Let us know if you enjoyed these chicken salad sandwiches as much as we do by leaving us a comment in the section below.
Chicken Salad Sandwich Recipe
This Chicken Salad Sandwich recipe with grapes and cashews is stuffed between buttery croissant rolls. They are light and delicious and perfect to eat year round!
Ingredients
1

lb

cooked chicken

,

chopped into bite sized pieces

3/4

cup

diced celery

1 1/4

cup

red grapes

,

halved

1/2

cup

salted cashew pieces

1

cup

mayonnaise

salt and pepper to taste

3/4

cup

crushed pineapple

,

drained optional
YOU WILL ALSO NEED -
croissants or your favorite bread

lettuce

,

optional
Instructions
Place all ingredients into bowl. Stir until just mixed.

Cover and chill for at least two hours.

Serve in-between two slices of bread lined with lettuce if you want some extra crunch!
Nutrition
Other Notes
ENJOY!