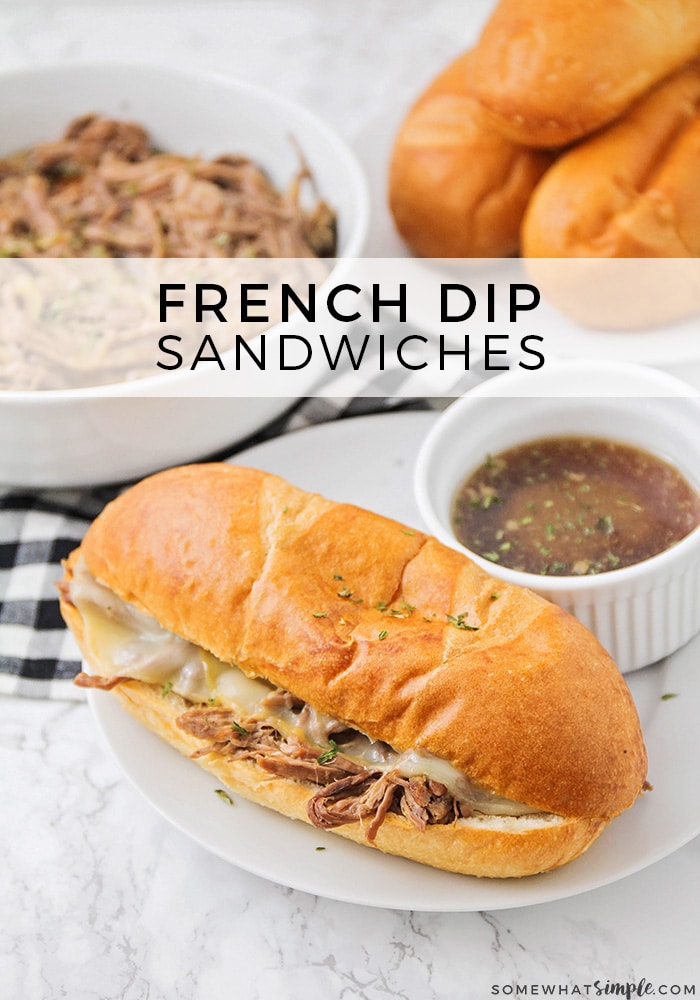 These crock pot french dip sandwiches are the perfect no-fuss meal that can be thrown together in the morning and ready for dinner in just seconds! Made with tender beef, melted cheese and served on a toasted bun with a side of au jus, this sandwich is irresistible.
French dips are a fun and unique sandwich recipe to make. A few of my other favorite sandwiches to make that are full of flavor are these Monte Cristo Sandwich, Caprese Sandwich and Crock Pot Meatball Sandwich recipes.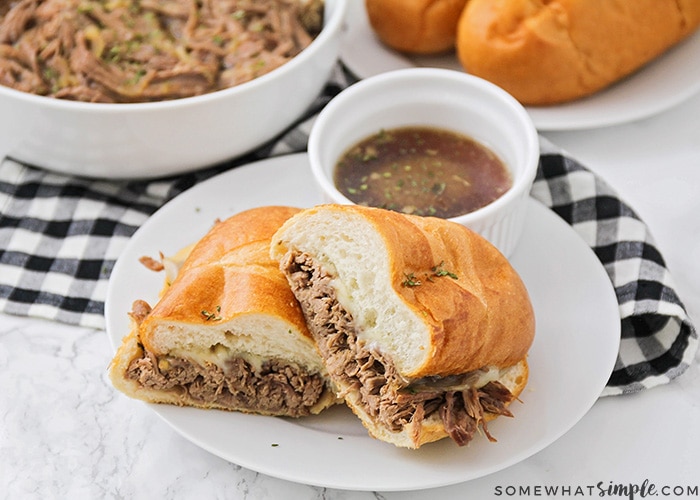 Easy French Dip Sandwich
My family loves these French dip sandwiches so much, I make them year-round. And what I love most about this recipe is that it's made using a slow cooker. The prep time for this meal is only about 10 minutes but then you get to smell the sweet aroma of the beef cooking all day.
These sandwiches are great to make in the summer if you want a nice dinner that doesn't require turning on your oven, but they are also great in the fall or winter when everyone has crazy schedules and you need a filling meal for people to grab and go and eat at various times.
And don't let the simple ingredient list fool you, the beef au jus dipping sauce is super flavorful. This is perfect proof that you don't need to use fancy ingredients to make a delicious dinner! Plus, there's melted cheese. So there's that. 😉 My kids LOVE to dip the foods in sauces, so this Au Jus get's them busy dipping and eating until their whole sandwiches are completely GONE! (Though I suppose they would do the same thing had I given them ketchup too, but whatever!)
How To Make A French Dip In A Slow Cooker
Place the beef roast into the shred
Using a mixing bowl, combine the au jus mix, onion soup mix, water and beef broth
Pour the mixture over the roast into the crock pot
Cook the roast on low heat for 6-8 hours
About 30 minutes before you are ready to serve the sandwiches, remove the roast from the slow cooker and shred the meat
Return the shredded beef back to the crock pot to continue cooking and soak in the juice while you prepare the rolls
Preheat the oven to 450 degrees F
Cut the hoagie rolls in half lengthwise and place them face up on a baking sheet
Spread Dijon mustard on the bread and then place slices of provolone cheese on one side
Place them in the oven to toast and remove them once the cheese has melted
Place the beef on the sandwich and serve with a cup of au jus from the crock pot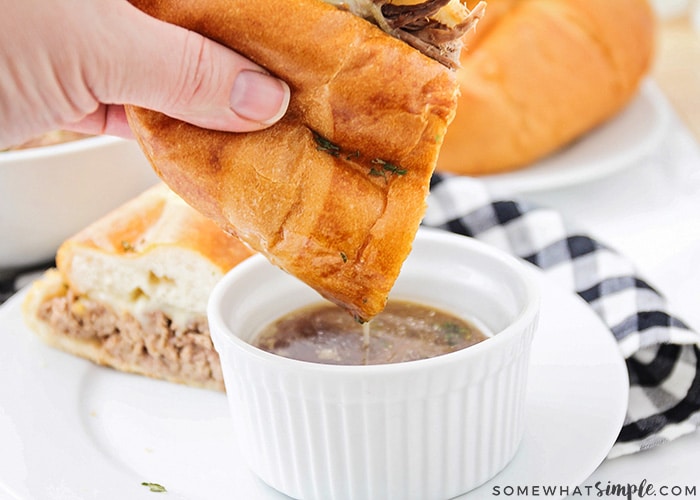 What Is The Best Meat For A Crock Pot French Dip
I always use a roast to make these delicious sandwiches. When you're cooking the beef for these french dip sandwiches in a slow cooker, it really doesn't matter which cut of roast you use because it will be cooking for several hours and it will always turn out super tender. I always grab whichever type of roast is on sale and it has always turned out perfectly.
Which Type Of Cheese Should I Use
My favorite type of cheese to make a french dip sandwich is provolone cheese. I like it because it's a mild cheese so it won't over power the flavor of the beef or au jus sauce. Mozzarella cheese is another one that makes a great compliment for this sandwich. I would stay away from stronger cheeses like pepper jack and a share cheddar because they will dominate the flavor of the sandwich.
Best Bread For A French Dip Sandwich
You'll want to use a French roll or baguette when making a french dip sandwich. These breads have a thick crust that's tough and the inside isn't light and airy. You'll need this type of texture for the bread to hold up when you're dipping the sandwich into the au jus. If you were to use a fluffy type of bread, like regular sandwich bread, for a french dip, the bread would disintegrate in the juice and completely fall apart.
What To Serve With A French Dip Sandwich
Crock Pot French Dip Sandwich Recipe
Let us know when you make these sandwiches by leaving us a comment below telling us how much you loved these! This french dip recipe is perfect for a meal with the family or to serve when you're hosting a party so tag us on social media when you serve these because we always love seeing you enjoy one of our recipes!
Best French Dip Sandwich Recipe
These Crock Pot French Dip Sandwiches are the perfect no-fuss meal that can be thrown together in the morning and ready for dinner in just seconds!
Ingredients
1

4 lb. beef roast

1

package onion soup mix

1

package Au Jus gravy mix

2

15 oz cans Beef Broth

2

cups

water

8

hoagie rolls

8

slices

Provolone cheese

dijon mustard

,

optional
Instructions
Place beef in slow cooker.

In a separate bowl, combine onion soup mix, au jus mix, beef broth & water. Pour over roast.

Cook on low for 6-8 hours.

30 minutes before serving, remove the meat from slow cooker and shred well.

Place the shredded meat back in the juices and let it cook while you prepare the hoagie rolls.

Preheat oven to 450. Slice hoagie rolls in half lengthwise and place them face-up on a baking sheet.

Spread some Dijon mustard on each slice (optional), then add a slice of Provolone cheese.

Toast them in the oven until the cheese is melted.

Remove the rolls from the oven and top the bottom section of each roll with the shredded beef.

Place the top sections over the beef and serve these french dip sandwiches with the reserved juices from the crock pot in small bowls for dipping.
Nutrition
Other Notes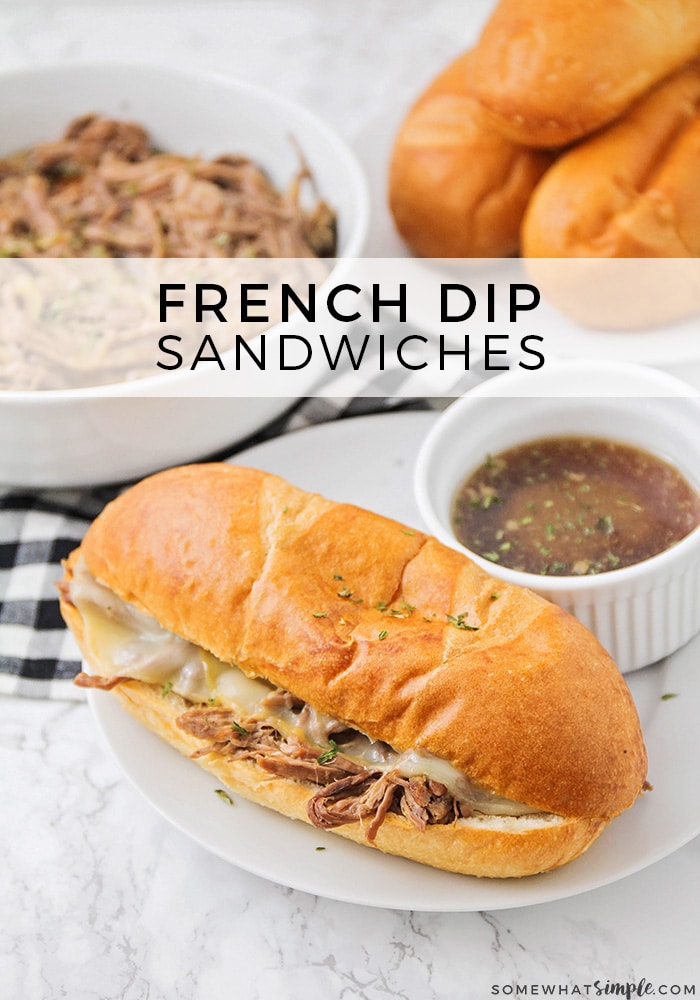 This recipe originally published on Somewhat Simple in August 2009.